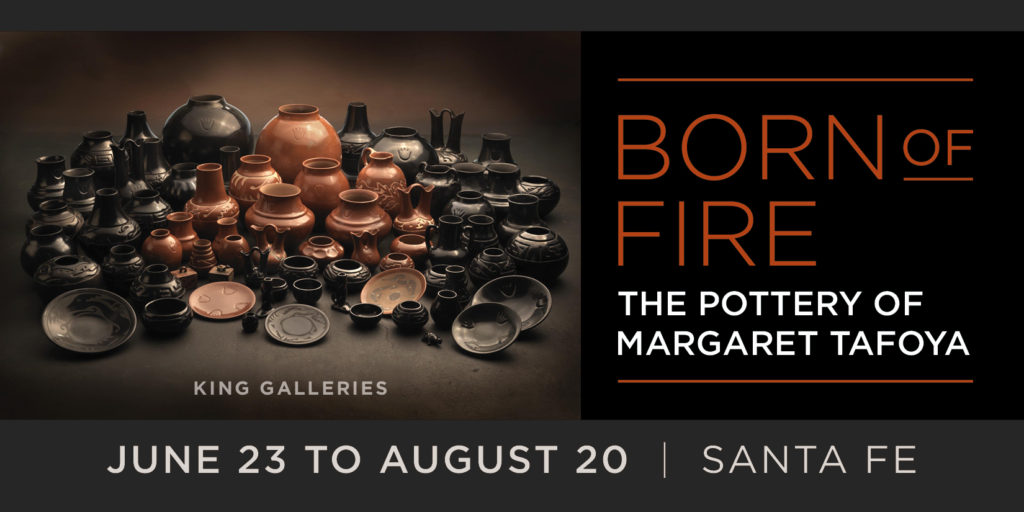 "Margaret Tafoya, a name that brings to mind a woman known for her strong will, stoicism, and traditional pottery. For her, respect and honor were earned through a lifetime of hard work, perseverance, and dedication. Small in stature, her imposing reputation increases with each passing year. She became a potter through circumstances of fate, yet it was the clay that enabled her family to survive a century of cultural, social, and economic change. The mother of a dozen children of her flesh and hundreds of the clay, she kept both tightly intertwined throughout her life. Hailed as a Pueblo matriarch, she was the progenitor of a dynasty of potters, committing her life to the preservation of traditional Santa Clara pottery forms, designs, and techniques.
Among the matriarchs of Pueblo pottery, Margaret Tafoya is unique. She neither innovated a style like Maria Martinez, who created the black-on-black pottery at San Ildefonso Pueblo, nor revived an art-form from its prehistoric antecedents like Nampeyo of Hano at Hopi. She did, however, bind herself to the cultural traditions of Santa Clara Pueblo. Despite changes in styles and techniques over time, she held firm to her faith in the clay. As a result of this commitment, she created some of the largest pieces of Pueblo pottery in the twentieth century. She demanded perfection from the clay in its form, polish, and design.

Margaret's commitment to quality, precision, and beauty in pottery has been transferred to subsequent generations in her family. It has been said of her that "Excellence was the operative word. She raised the bar so high and required the next generation to rise to that level" (Nancy Youngblood 2007). As a matriarch, Margaret passed on her knowledge of the clay to numerous members of her family, not only how to make pottery but, more importantly, the social, spiritual, and cultural connection of the potter to this pliable earth. For her descendants, there has been no erosion in quality, creativity, or tradition, but an intensification of the strict standards taught to them by a woman bound to the clay.

Artistically, Margaret continued a legacy of creating traditional Santa Clara style shapes and forms. In collaboration with her husband, Alcario, the designs on her ceramics reflected the oral and visual cultural history of their pueblo. Belief in the clay left her uncompromising in her utilization of native materials, construction methods, and firing techniques. In the world of art where innovation is sought after and highly valued, she courageously tied her success to pottery that scarcely changed in form or design over fifty years. Yet her skills as a potter continually refined the quality and elegance of her work, culminating in visually stunning, massive vessels, stone polished to a mirror-like finish.

The pottery of Margaret Tafoya is transcendent. It bridges the gap between the present-day viewer and the past, giving momentary insight into Pueblo culture while providing an aesthetic elegance for the eye. Her long career followed the evolution of contemporary Pueblo pottery from utilitarian craft to folk art and finally into a fine art.
The quality of her work mirrored these changes, culminating in two consecutive Best of Show wins at Santa Fe Indian Market in 1978 and 1979. These award-winning storage jars, massive in size and near perfect in form and polish, seemed to announce the arrival of Pueblo pottery as a "fine art." Within ten years of these awards, the face of the pottery art world would be transformed forever. Her legacy of perfection in the clay would change not only how potters created their work, but the quality demanded and expected by collectors, galleries, and museums. The trickle-down effect would influence virtually every Pueblo potter, as they struggled to create more dynamic and precise works in clay.
Initial reactions to viewing Margaret's pottery are visceral. The impact of the size, balance, shape, and polish create a dynamic combination. Her pottery does not rely exclusively on surface designs or patterns but on the essence of form. While Margaret often had assistance from various family members in polishing and designing her pottery, it was still her hands in the clay shaping every vessel.
On one level the refined symmetry of her forms, from the double-shouldered water jars to the long-spouted wedding vases, are visually enchanting and elegant. The shape defines the angles for the light to reflect off a vessel once it is polished and provides a canvas for deeply carved patterns to encircle and complement the form.
On another level, the sheer scale of her pottery is at times overwhelming. Finding pieces by Margaret that are twelve, fifteen, or eighteen inches tall and equally as wide is not uncommon. Amazingly, it was not just for a single decade but for over fifty years that she consistently created ceramics of this size.
However, to say that Margaret is only relevant for her large pottery or classic shapes belies the depth within each piece. Artistically, the balance of form and design meet on the surface of her pottery. Culturally, these same shapes and designs are the foundation of Santa Clara Pueblo traditions, legends, and history. When Margaret said, "I don't want this pottery to die," it was a statement that rings out from each of her pieces, inviting the person viewing or holding her pottery to understand the time, emotion, and commitment of her life to the clay.

For Margaret Tafoya, the clay was a physical manifestation of her cultural and religious beliefs. Each vessel was a connection between herself and Mother Clay. Passing on the knowledge of making pottery to her children and grandchildren solidified the continuation of her heritage. A courageous heart enabled her to maintain an uncompromising faith in Pueblo cultural traditions and their artistic expressions in clay.

Today, Margaret's pottery continues to be viewed as among the most dynamic and formidable of the past century. Each piece remains an iconic testament to her strength and commitment to the values of family, clay, culture, and religion, all of which kept her focused and determined for a lifetime. Upon reflection, it can be safely said that both Margaret's character and her pottery were "Born of Fire."
The pottery by Margaret Tafoya in this show encompasses work from her entire career, spanning the 1920's to the 1980's. Most of the pieces are featured in the book, "Born of Fire: The Life and Pottery of Margaret Tafoya". The pieces were amassed through the collecting eye of John Krena. He acquired pieces directly from Margaret and other sources for over 30 years. Each piece was selected to add to the overall story of Margaret's life and art. The provenance of having a piece from this collection, is an opportunity to own a unique piece of history.
The show will run from June 20 to August 20 in Santa Fe, NM, with various pieces being released throughout the two months.
The show will be located at King Galleries, 130 Lincoln Ave, Suite D, Santa Fe, NM. 480.440.3912.