Brand
Aguino, Diego (1948-2007)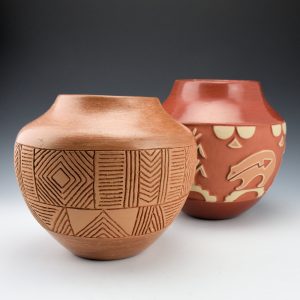 Diego "Soe-Khuwa" Aguino was a son of noted potter Martina Aguino.  In the 1960s and 70's he designed the pottery for his mother.  The pieces are both incised and more deeply carved.  After Martina passed away in 1997, he made sgraffito-designed pieces using his Tewa name, "Soe-Khuwa".  Over the years they won numerous awards for their pottery at Santa Fe Indian Market, Gallup Ceremonials, and the New Mexico State Fair.
Aguino, Martina Cata (1915-1997)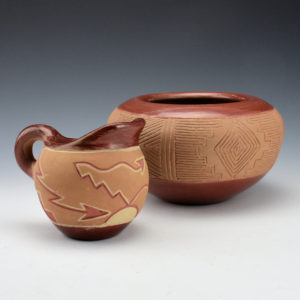 Martina Aguino was a daughter of Jose and Maria Guadalupe Cata.  She was married to  Marcelino  Victoriano Aguino and the mother of Lupita, Juan, Mary, and Diego Aguino.  She began making pottery in the 1940's and in the 1970's continued to make pottery which was designed by her son, Diego Aguino.