Brand
Aguilar, Rosalie Simbola (1898 - 1946)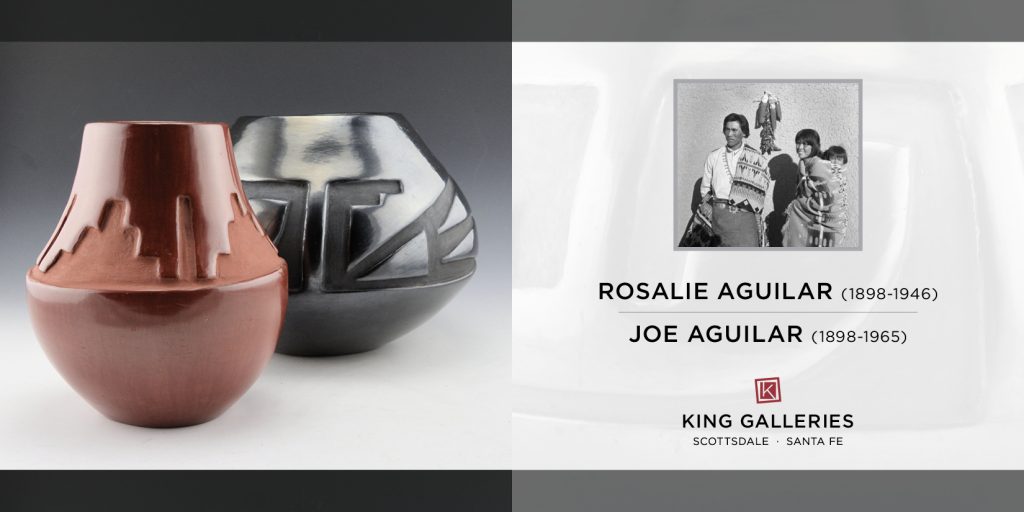 Rosalie Simbola Aguilar was originally from Picuris Pueblo and married Joe Aguilar in 1922. Joe Aguilar (1898-1965) was the son of noted potter Susana Aguilar. Together they had 11 children. She learned to make pottery from her mother-in-law Susana and Joe painted most of their pieces of pottery. In the 1930's Rosalie was among the first to make carved pottery, along with Rose Gonzales (1909-1989).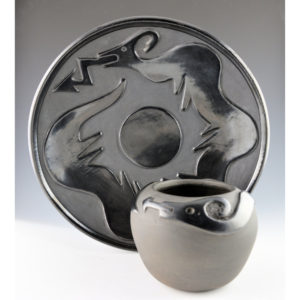 Aguilar, Susana Martinez (1876-1947)

Susana Martinez Aguilar
Susana Martinez Aguilar was the wife of Ignacio Aguilar (1872-1945). She began making pottery in the 1890's and later taught her daughter-in-law Rosalie Aguilar how to make pottery. She had been making more traditional utilitarian San Ildefonso pottery, as can be seen in the photograph to the above right. However, she began making black-on-black, polychrome and red-on-red style pottery in the 1920's. In 1925 she began to sign her pottery. Jonathan Batkin wrote of her pottery, "Susana was a skilled potter whose work has been unfairly overlooked by many. Her pots are among the most finely made of the 1920's and 1930's.". While she made the vessels and decorated some of them, most were also painted by her husband and also her son Joe Aguilar.
Martinez, Maximiliana "Anna" Montoya (1885-1955)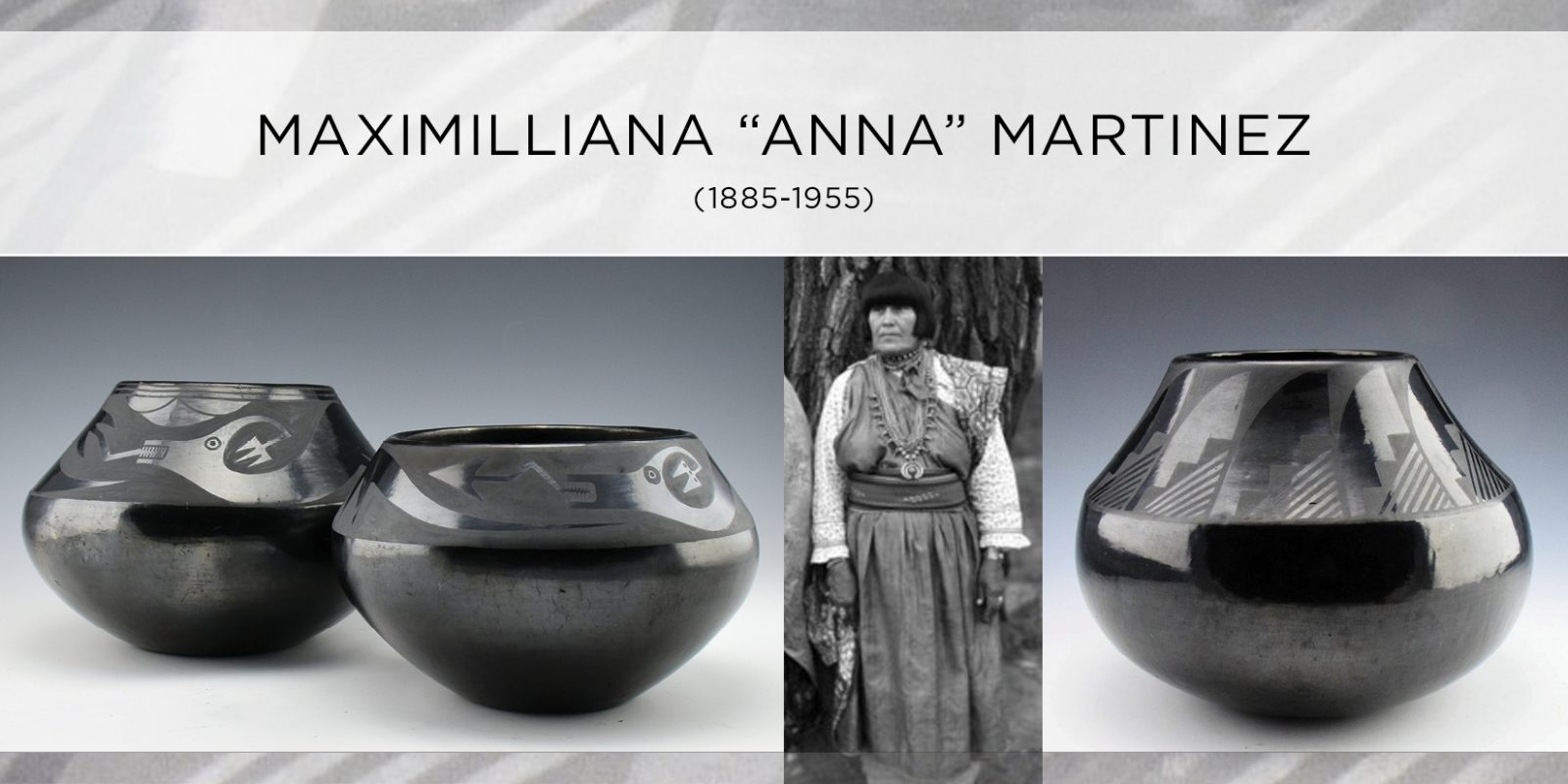 Anna Martinez
Anna Martinez (Maximiliana "Anna" Montoya) was the eldest sister of noted potter Maria Martinez (1887-1980). She was married to Cresencio Martinez (1879-1918), who was a brother of Tonita Roybal. After the discovery of the process of making black-on-black pottery, Anna quickly adopted the style. Cresencio painted many of their early polychrome pieces, but after his death in 1918, Anna painted her pieces. She became an accomplished painter, and Maria noted that "everyone bothered Anna to put designs" on their pottery.
Roybal, Juan Cruz (1896-1989)
Juan Cruz was the son of Regino and Ramona Roybal. He married Tonita Roybal in 1916. Beginning around 1930 he would paint the pottery of Tonita. Together, they would sign their work, "Tonita and Juan".
Roybal, Tonita (1892-1945)

Tonita Roybal (1892-1945)
Tonita Roybal (1892-1945) has been called, "One of the finest potters of the twentieth century." She learned to make pottery from her mother, Dominguita Pino Martinez (1860-1948). Her brother, Cresencio Martinez (1879-1918), married Anna Montoya (Maria's sister). She was also an aunt to Santana Roybal, who later married Adam Martinez (Maria's son). Tonita was married twice. Her first husband was Alfredo Montoya (1890-1913), and then in 1916, she married Juan Cruz Roybal (1896-1990). Among her descendants are JD Roybal (painter) and Margaret Lou Roybal-Gutierrez (potter). Tonita began making pottery in 1909. Starting in 1917, Juan started to paint some of her pottery, and after 1930 he painted a majority of the pieces. When Tonita made the pottery and did the painting, these pieces were signed, "Tonita." When she made the vessel, and Juan painted it, then they were signed, "Tonita and Juan." Kenneth Chapman commented in a letter on the quality and value of her work at the time, "Tonita Roybal does equally fine work, and I may be able to get just what you want from her if Maria does not get back to work soon. Tonita won first prize for her oldfashioned red San Ildefonso ware, with decorations in black (black-on-red pottery). Her husband, Juan Cruz, runs Julian a close second in decorating pottery. She put a price of $12.00 each on jars 8" in diameter and got it! It is hard on some of us poor ethnologists who have been encouraging it, but it has made an incredible difference in San Ildefonso life, and we are strong for it". Tonita's mother was famous for her "black-on-red" style of pottery, and this was a style that Tonita quickly mastered. After 1920 and the advent of black-on-black pottery, Tonita invented the red-on-red technique with the white outlines. Both Tonita and Juan were fascinated by pre-historic pottery. Those designs and their influences can often be seen in their work. After 1913 she began, "combining the layout of Nampeyo's Sikyatki Revival style with elements from Acoma and elsewhere." By 1925 Tonita was at the peak of her career. Her early death in 1945 left only a small amount of creative and innovative work that still inspires us with a unique use of varied Native designs from pre-historic to regional influence.
Click Here to Learn More about Early San Ildefonso Potters!