Brand
Lopez, Arthur (b. 1971)
Arthur Lopez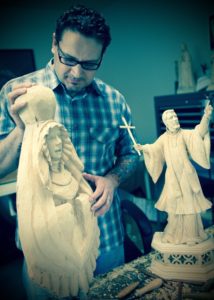 Arthur Lopez has said, "I am a firm believer that you can still use traditional methods to create contemporary work."
Though the majority of his work is of Saints, you do not have to be of any particular religion to appreciate them as art." Equally important to López is his need to transcend the bounds of the traditional Santero, and use his art as a medium for expressing the full range of his culture and the world around him. López has exhibited in numerous shows throughout the Southwest and is in many prominent museum collections throughout the country. His work has recently been exhibited internationally at the 2nd International Triennial of Kogei - "The Arts Grounded in Region", 21st Century Museum of Contemporary Art, Kanazawa, Japan, "Song of the West," Kohi Kulturaum, Karlsruhe, Germany and "The Saints From a Land So Remote" - LAProjects, Landshut, Germany. Arthur Lopez was born and raised in Santa Fe, New Mexico, López is proud to be working in the long tradition of New Mexico santero artists. His high attention to detail has garnered him many awards and is highly esteemed as one of New Mexico's most popular santero wood sculptures. In 2015 he was awarded the City of Santa Fe's Mayor's Award for excellence in the Arts.
"My work comes Out of my faith."
---
Sanchez, Russell (b. 1963)

Russell Sanchez
Russell Sanchez (b. 1963) continues to be one of the master innovators in Pueblo pottery. Each piece he creates is perfectly hand-coiled, stone polished, then etched, inlaid, designed, and fired with utilizing traditional Native American pottery methods. Russell learned to make pottery from his great-aunt, noted potter and pottery matriarch Rose Gonzales (1900-1989.) He started making pottery at the early age of 12 years old on the San Ildefonso Pueblo. Russell has received numerous awards and recognition for his pottery throughout his career. Including such distinctions as 'Best of Division' at both the Santa Fe Indian Market and the Heard Indian Market. In 2007 Russell's art was presented in the feature article of the Fall issue of Native People's Magazine. In 2011, Russell was awarded the exclusive 'Tony Da Award' for Pottery in Santa Fe. Most recently, Russell was a recipient of the 'New Mexico Governor's Award for Excellence in Art 2017.  In 2019 he won "Best of Pottery" at Santa Fe Indian Market.  At the same time, he was involved in a major exhibition of historic San Ildefonso pottery at the Museum of Indian Arts and Culture in Santa Fe, NM.  His work remains on a continued path of excellence and creativity.
(Subscribe to new additions for this artist.)