Artist
Youngblood, Mela (1931-1990)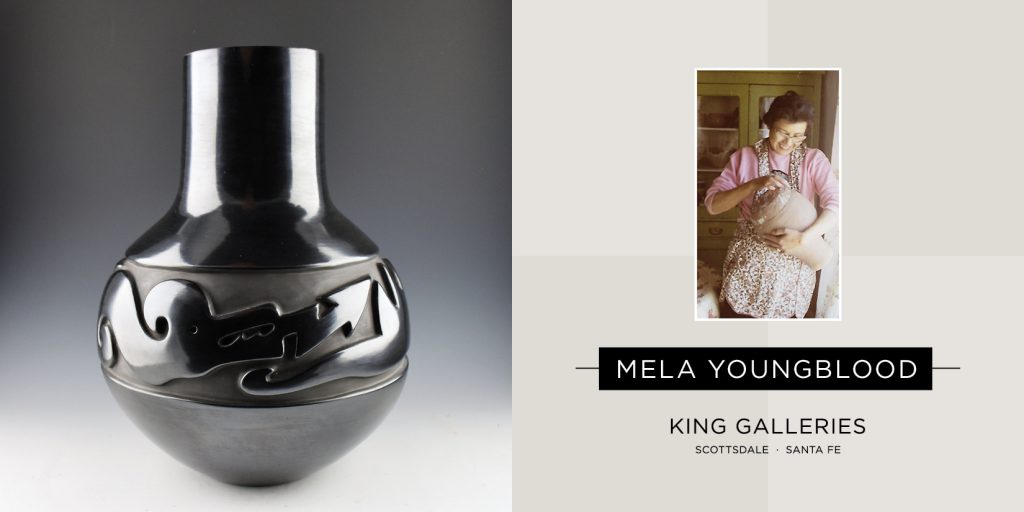 Mela Youngblood began making pottery in the late 1960s and quickly achieved a distinctive style for her work. As an artist, Mela took the process of making her pottery very seriously. She decided that each piece she made had to be perfect, a trait which she passed on to her children, Nathan Youngblood, and Nancy Youngblood. Mela was a daughter of Margaret Tafoya and the mother of Nathan Youngblood and Nancy Youngblood. Of all of Margaret's daughters, she was the first one to create a storage jar which survived the firing process. Mela made pottery for such a short time so it is always exciting to see her distinctive pieces of influential pottery!
Youngblood, Nancy (b. 1955)
Nancy Youngblood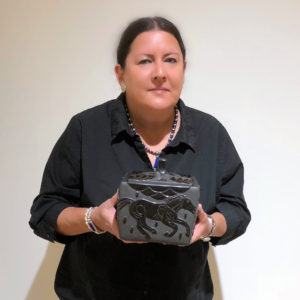 Nancy Youngblood is a daughter of Mela Youngblood and a granddaughter of Margaret Tafoya.  She was inspired to begin making the swirl melon bowls when she saw one made by her great-uncle Camilio Tafoya.  Each piece is coil built, carved, stone polished and native fired.  Nancy is focused both on the artistry of her pottery but also on the traditions of Santa Clara Pueblo and her family. When Nancy Youngblood first began making pottery, she started with miniatures, focusing on creating very intricate form and tightly carved designs.  Her melon ribbed vessels are among her best-known forms.  There are a variety of styles, including straight ribs, swirl ribs and "s" swirl ribs.  Each variation required different techniques.  Nancy also creates "free form" designs, which allow her to use the melon rib concept of abstract designs. In 1989 she won "Best of Show" at Santa Fe Indian Market. The was a testament to the quality and integrity of her pottery art.  As well, it was ten years earlier that Margaret Tafoya, her grandmother, also won "Best of Show". Today, Nancy Youngblood continues this amazing legacy.  Her sons, Christopher, Sergio, and Joseph, have all worked with the clay.  It is important to her that each of them learns the techniques and cultural importance of the clay.  Nancy's pottery can be found in museums worldwide.  She has also been featured in numerous books including, "Crafted to Perfection", "Born of Fire" and "The Art of Clay".  She won "Best of Pottery" at the 2015 Santa Fe Indian Market for a large jar with melon ribs and a horse design. In 2018, once again she won "Best of Pottery" at Santa Fe Indian Market for a swirl water jar.
Youngblood, Nathan (b. 1954)

Nathan Youngblood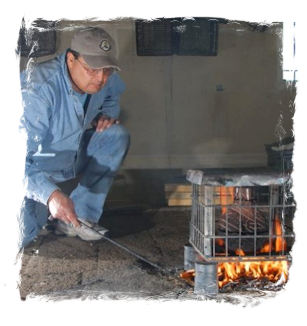 A grandson of noted potter Margaret Tafoya and the son of Mela Youngblood, Nathan Youngblood has a traditonal legacy of highly polished deep carved pottery.  In 1976 he moved in with his grandparents and began an intense apprenticeship making pottery under their guidance.  Attention to the small details was also imparted to him by his mother and grandmother. The precision of his work is particularly evident in his forms, which have near geometric perfection in shape and symmetry.  Nathan says, "I realize I don't make pots, I'm just involved in the process. The clay does what it wants to do, goes where it wants to go.  I stick my hands in the clay and where it goes, I follow."
Nathan's clay art has evolved dramatically throughout his career.  His early work focused on classic Santa Clara shapes and designs. In the early 1990s, Nathan re-examined his experiences with art from around the world and how it could be incorporated as part of his designs.  His love of Asian ceramics influenced how he designed his pottery and how he utilized matte and polished surfaces to emphasize form.  The designs seemed to be more complicated, less linear, and more ethereal in concept.  He "opened the door for other potters to use clay as a vehicle for their personal and cultural experiences."
Over the years Nathan has won over 140 awards for his pottery. He is one of only a handful of Santa Clara potters who use natural clay slips to create color contrasts of red and tan in his pottery.  This combination of polished red and tan sections with matte or micaceous surfaces has become the new Santa Clara "polychrome."  Throughout his career, he has continually built on the lessons learned from his mother and grandmother. This legacy has created a solid foundation for the evolution of his pottery and "he has set the bar high for any potter to balance creativity, innovation, and technical expertise."
Cli.https://kinggalleries.com/brand/youngblood-nathan/