About King Galleries
"Celebrating An Over Twenty Year Commitment to Classic and Contemporary Native Art"
King Galleries is pleased to represent the Pueblo pottery of many of today's leading potters.  Over the years, we have taken the time to get to know each of our gallery artists. As each new piece comes into the gallery, we talk with the artist, finding out about the time and thought that goes into their work.  It is important with contemporary pottery to understand the designs and motivation of the artist and their work. Over time, we feel as if we have a friendship as well as a business relationship with most of the potters.
Each piece of pottery that we have in the gallery is hand coil built, stone polished, painted and almost all are traditionally fired.  One of our goals here at the gallery has been to encourage the use of traditional methods of making and firing pottery while encouraging the potters to be creative and innovative in their forms and designs.  With each Native American potter, there is so much history, culture and tradition in their work, it often takes some time to interpret the full depth of any one piece!
Since its inception, King Galleries has been committed to represent work by potters who create the highest quality and greatest innovation in their pottery. Charles King has been a judge in various years since 1996 for pottery at the most prestigious Indian art events, such as Santa Fe Indian Market, the Heard Museum Indian Market, and Gallup Ceremonials. He has also given numerous talks on Pueblo pottery at the Heard Museum, Museum of Indian Art and Culture (MIAC), the Pueblo Grande Museum, Rockwell Museum of Western Art, The Booth Museum, The Philbrook Museum and The Denver Art Museum.
Charles served on the Board of Directors of the Indian Arts and Crafts Association (IACA), which has the mission of encouraging and preserving authentic Indian art. He was elected in 2008 to the Board of Directors for SWAIA (Southwest Association for Indian Arts), which is the group which puts on Santa Fe Indian Market.
He first wrote about Pueblo pottery in the book "Collecting Authentic Indian Art" and this was followed by the seminal article, "Pueblo Pottery: Folk Art to Fine Art" for the thirtieth anniversary of American Indian Art Magazine. His first book, Born of Fire: The Life and Pottery of Margaret Tafoya, was published in 2008. His articles, "Santa Clara and San Ildefonso Pottery: Black is Beautiful"-2009, and "Four Emerging Potters: Gen Next"-2010 were published in Native Peoples Magazine. His second book, "The Art and Life of Tony Da" was written with Richard Spivey and published in 2012.  His most recent book, "Spoken Through Clay" will be released August 1, 2017.
While King Galleries is pleased to represent many of today's leading potters, we also encourage the work of many talented, younger potters. We have long felt that it is very important to encourage those potters who are just beginning their careers. We take the time to talk about their pottery and discuss ways to improve their technique, designs, and their future. Mr. King works closely with all of the gallery potters. They are given feedback on what collectors think of new work, they discuss where the artist is going with their work, new trends, new ideas and providing an understanding of the market. We are always excited when we have work by these younger artists in the gallery and can watch them grow over time!
For over eight years, King Galleries and Native American Collections jointly sponsored the "Artist's Choice Award" at Santa Fe Indian Market. This was a tribute to potter Kevin Trancosa, who was amazingly talented and passed away very young. Our hope was not only to encourage other young artists, and also to reflect on the importance of the artist's vision and intention of their artwork.
Today, the gallery hosts both in-gallery and online events.  Our space in Scottsdale, Arizona is open year around.  Each year we also have a show in Santa Fe during Indian Market.  King Galleries website has become the "go-to" site for museums, appraisers, and collectors seeking out accurate information about artists and their art.
Please let us know at kgs@kinggalleries.com if you have any additional questions on any of the artwork featured on our website. We are constantly communicating with our artists and would be glad to let you know what we are expecting here in the gallery. We do not encourage special orders, as they often take longer to create than expected and often are not nearly as exciting as the artist's current body of work and direction.
Some Highlights over the Years…
 2018
2018
Spectrum Award Winner
"Excellence in Customer Service"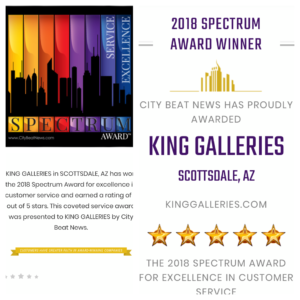 ____________________________
May 2018
Phoenix Home & Garden Magazine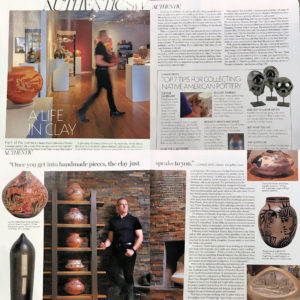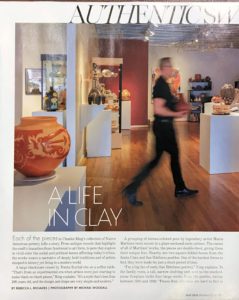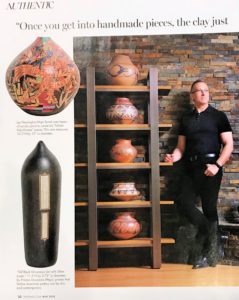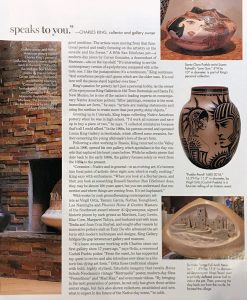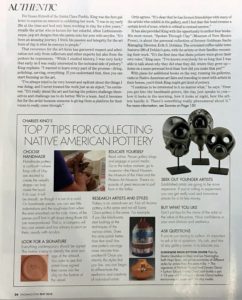 ______________________________________________________
The 10 Best Art Galleries in Arizona!
"King Galleries showcases the best of Pueblo pottery and features the work of many of the top potters in the world. Founded by Charles King, this Scottsdale gallery represents work by potters renowned for their skill and innovation to the art of pottery. The Native American pottery gallery accepts only the best works in the field and each piece is hand coil built, stone polished, and painted."
2017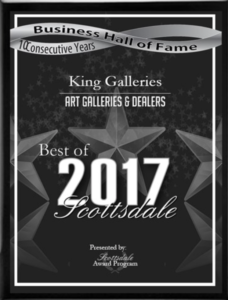 "Best of Scottsdale: 2017
"10 Consecutive Years"
2017
_____________________________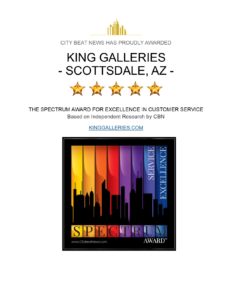 Spectrum Award
"Excellence in Customer Service"
2017
_____________________________
"This exceptional gallery not only showcases Native American pottery, but it successfully manages to elevate the underappreciated art form beyond the Southwestern clichés that have overshadowed its beauty. Owner Charles King is a noted collector of Native American ceramics, and his gallery's pieces, which range from traditional to contemporary, shouldn't be missed." Travel & Leisure Magazine
__________________________________________

Review  March 2017
"If you have any interest in Native American pottery either as a collector or someone new to this wonderful art form this is a MUST stop. The gallery is full of light and wonderful space to show every piece of pottery. There is old collectible pieces as well as the finest in contemporary pottery

The owner is willing to share his vast knowledge and expertise. A highly recommended stop on Marshall in Scottsdale
If you have any interest in Native American pottery either as a collector or someone new to this wonderful art form this is a MUST stop. The gallery is full of light and wonderful space to show every piece of pottery. There is old collectible pieces as well as the finest in contemporary pottery The owner is willing to share his vast knowledge and expertise. A highly recommended stop on Marshall in Scottsdale."
______________________________
Ceramics Monthly
"Twenty Years of Native Excellence"
February, 2017
____________________________________________________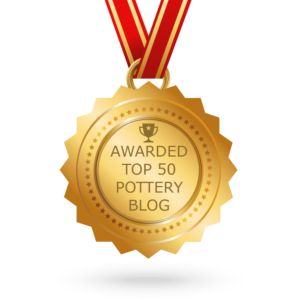 FeedSpot Blog
King Galleries: #9 Pottery Blog on the Internet
The King Galleries Pottery Blog was selected as #9 out of 50 pottery blogs on the internet by Feedspot.
That included pottery blogs from all over the world and the New York Times was number 3!
_____________________________________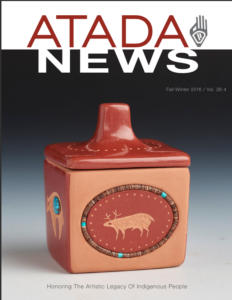 ATADA Art News
Russell Sanchez:  Contemporizing the Pueblo Pottery Past
by Charles S. King
Fall/Winter, 2016
_____________________________________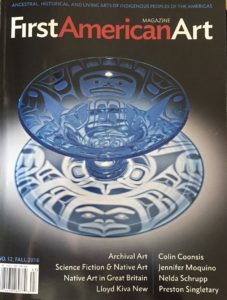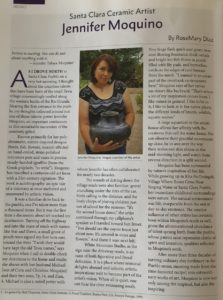 First American Art Magazine
Santa Clara Ceramic Artist Jennifer Moquino
by RoseMary Diaz
Fall, 2016
"Similar sentiments come from Charles King, owner of King Galleries in Scottsdale, Arizona, where Moquino's work is currently represented among the best of the best in Pueblo pottery.  He describes her work this way, "Jennifer picks up where potters such as Joseph Lonewolf and her father Ray Tafoya left off. There is a sophisticated realism that dominates the surface of her pottery.  Her work is different from those in the past as her focus isn't just on the detail, but recognizes the importance of color and even the surrounding landscape."  King continues, "Sometimes the best part of her design is how she captures the shading on a cactus or the subtle shifting of a cloud".
"The sculptural aspect of her pottery, specifically in her lids, is dazzling in [its] refinement," observes King.  "Having worked with her for over ten years, it's impressive to see the growth in her design style and her vessels.  I can't wait to see where her work transitions in the next ten years!"
_________________________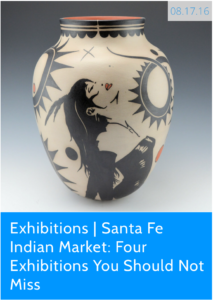 Exhibitions | Santa Fe Indian Market: Four Exhibitions You Should Not Miss
August 18, 2016
"This week in Santa Fe culminates with the Indian Market, a Native art extravaganza that has taken place every year since 1923 in the town's Historic Plaza area. However, there are four exhibitions in galleries outside the Plaza that we recommend as must-see for visitors and market-goers.
The leading dealer in Native pottery, Charles King, has teamed up with Cochiti artist Virgil Ortiz and has produced a large, elegantly appointed pop-up gallery, KG&VO, two blocks from the Plaza. The big excitement is ceramics by Ortiz that are made for the first time in non-native clays, allowing him sculptural possibility and a new level of control that was denied to him with pit-fired Pueblo clays.
Also in the gallery are works by other leading contemporary Native ceramists —Nathan Youngblood, Virgil Ortiz, Les Namingha, Tammy Garcia— and choice pieces by the early matriarchs such as Marie Martinez and others. And do not miss the mezzanine where Ortiz's leather and fashion creations are on show."
________________________


Scholar to Illuminate Mysteries of Pueblo Pottery
Teresa Dovalpage
Aug 6, 2016
Charles King is an author, potter and expert on Southwestern Pueblo Indian pottery as well as the founder of King Galleries in Scottsdale, Ariz. He is planning a lecture titled "Visionary Pueblo Potters, Past and Present" Saturday (Aug. 6), 10 a.m., in the Arthur Bell Auditorium at the Harwood Museum of Art, 238 Ledoux St.
The lecture is presented in conjunction with the Couse-Sharp Historic Site exhibit, "Visionaries in Clay."
"I will focus on Native Pueblo potters from around 1900 to the present and talk about the creative changes in the art over the past century," King said. "The lecture will deal both with artists and art trends."
King opened King Galleries in 1996 with the goal of representing work by artists of the highest quality. He has degrees from the University of Colorado and the Thunderbird School of Global Management. He has been a judge at a number of art events, including Santa Fe Indian Market, the Heard Museum Indian Market and Gallup Ceremonials.
In 2008, he was elected to the board of directors of the Southwest Association for Indian Arts. He also served on the board of the Indian Arts and Crafts Association.
King is the author of "Born of Fire: The Life and Pottery of Margaret Tafoya" (2008), "The Art and Life of Tony Dá" (2011, co-written with Richard Spivey), "Virgil Ortiz: Revolt 1680/2180," which was presented in conjunction with the exhibition at the Denver Art Museum, and "Voices in Clay," which will be published in 2017. He has researched about both traditional and innovator artists.
"'Voices in Clay' is about contemporary potters and the same time period as the lecture," King said.
The presenter was asked by the Couse Foundation and museum consultant Davison Koenig to give the lecture. He is indeed the right person for the job.
"Besides writing these books and many articles, I have been involved in world of Native [American] pottery for over 20 years, giving lectures nationwide on contemporary trends in the art form," King said.
The presentation at the Harwood will include information about many of the historic pieces from the Couse Foundation collection. "The collection at the Couse Foundation is truly remarkable and a hidden gem," King said. "There are significant clay vessels there of historic importance, so this will be a nice opportunity to give them more public exposure."
The fact that he will include information about present-day pottery makes the lecture particularly interesting for curators, art students and those who want to learn more about this ancient art form that hasn't yet stopped developing. "I want to encourage people to think about Native pottery as something alive and evolving," King said. "I also encourage them to check out the amazing pieces in the current Couse exhibit and think about how they are part of this evolution in clay."
Such evolution will be covered in detail during the lecture. For a scholar like King, who has researched the lives of Margaret Tafoya and Tony Dá (the grandson of Maria Martinez, legendary potter of San Ildefonso Pueblo), among other iconic artists, this is a special opportunity to share his knowledge with the Taos audience. He also makes the art of pottery relevant for younger generations and inspires them to find out more on their own.
"It's great to make people think more about the creative spirit of the artists and the dynamic changes in the Pueblo pottery in a very short period of time," he said. "In less than a century, it has evolved from utilitarian to folk art to fine art pottery."
Meanwhile, at the Couse-Sharp Historic Site, the exhibit "Visionaries in Clay" will feature Native American artists whose work helps to define the understandings of Native identity and cultural expression. It contains pieces from Taos Society of Artists founder E.I. Couse's collection and from the work of contemporary Native artists in Northern New Mexico. The exhibit is open Saturdays from 10 a.m. until 4 p.m. and otherwise by appointment. It will remain on view through Oct. 29, 2016.
__________________________________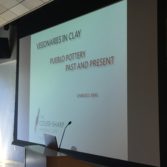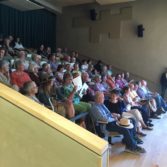 August 5, 2016
"Visionaries in Clay: Pueblo Pottery Past & Present"
Lecture
_________________________________
May, 2016
Art & Antiques
"Charles King, founder of King Galleries in Scottsdale, Ariz., notes that artist Virgil Ortiz "brings all his nieces and nephews. Even if they don't make pots, they know where the clay is. Everybody goes, and everybody participates."
"This is not to imply that wannabe Native American contemporary ceramic artists can prosper just by leaning on a family tree. "You may have a famous last name, but you had better be doing something interesting," says King, whose gallery specializes in contemporary Pueblo pottery. "In order to get a career out of it, you have to be doing your own style of work."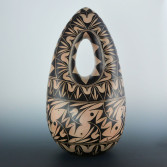 "Lisa Holt and Harlan Reano keep a traditional division of labor, she doing most of the pot-making and he handling the graphic design and painting, but their work is very much a collaboration. Their Endless Loop jar, which earned an Honorable Mention at the 2015 Santa Fe Indian Market, shows how far Holt has advanced as a potter. It was difficult to shape and difficult to fire with traditional methods. Reano may not have painted the jar right away, however, possibly preferring to hold the shape in his mind for a while before picking up his brush. "Sometimes a piece will sit there, and he won't design it for several months," says King. "Finally he tries something, and it's the perfect design."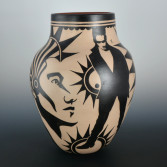 "A stargazer "Tsin" jar from his Modernly Ancestral series boasts graphics as bold as those from a rock show poster. The jar employs traditional clay, traditional pigments, and traditional firing and has a Cochiti decoration around its neck that is known as a "spirit line." It also has a less traditional profile of a man with spiked hair and a male figure shown full-length in what may as well be a leather jacket."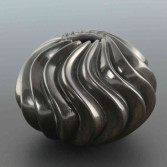 "The labor-intensive nature of contemporary Native American ceramics is rarely evident on first glance. Nancy Youngblood's ribbed jars and pots are easy on the eyes but definitely not easy to create. She uses a ruler and standard math (not a computer) to ensure that the ribs are equal in size. Polishing the ribs to her own exacting standard is the real pain—Youngblood can complete three per day. "She's very much a perfectionist in what she does, and she does it all herself," says King. Indeed, most contemporary Native American ceramicists do all the work involved in producing their ceramics—from digging the clay to sculpting to polishing to firing to painting—themselves, with no assistants, not even for the most tedious tasks. Understandably, this practice seriously limits their output. The artists under discussion generally produce between one dozen and maybe a bit more than three dozen pieces per year."
"While the ways of their ancestors remain important to Native American contemporary ceramicists, some have confronted the limitations of traditional materials and techniques and have chosen to step beyond them. Faced with the choice of toiling over her red clay pieces only to subject them to the risks of outdoor firing, Garcia began employing an electric kiln around the year 2000. "She wanted to create an aesthetic and a particular look, and kiln-firing was the way to do it," says King. "She spends a lot of time making [her works] and she didn't want to lose them. She's very upfront about it, and it's had no impact on her popularity or her sales."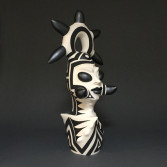 "Ortiz has ventured even further from Native American ceramic traditions for his ongoing Pueblo Revolt 1680/2180 series. He wanted to create figures that measured two feet or more, but Native community clays aren't elastic enough to support artworks of that size. Instead, Ortiz turned to commercial clay to achieve his aims, and he fired these larger works in an electric kiln. Watchman: Luminus, which is 28 inches tall and 15 inches wide, is a compelling piece that would not have been possible to make otherwise. King expresses confidence that collectors will accept the new Ortizes "because it's Virgil, and there's a reason behind it. He's doing something so different that couldn't be done with normal clay. I think people will go along with him." King notes that these Ortiz pieces are "selling fairly well."
____________________________________________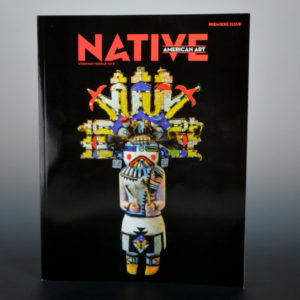 February/March, 2016
"Modernly Ancestral"
Native American Art Magazine
"Charles King of King Galleries wrote the catalog for Revolt 1680/2180 and has sold Ortiz's work for the past 10 years.  "Virgil's recent works are redefining the public's perceptions and expectations about Native art.  They are opening the door for the next generation of artist to push boundaries", King says.  "Indian art is often seen within an ethnographic or narrow ethnic context. Virgil is breaking these perceptions as he uses futuristic imagery combined with his story of the Pueblo Revolt. He is forcing people to look for the content withing the art piece in addition to an appreciation for techniques, form and surface, which make a great piece of pottery".
King also says that Ortiz is not just creating new art, but creating a new vocabulary for themes for his audiences.  "it is easy to say an artist is 'cutting edge'.  Virgil has been groundbreaking throughout his career.  His erotic and S&M figures were unheard of at that time.  Today he blends history with the future to tell the story of the Pueblo people.  He has incorporated items like gas masks in his figures to make commentary on the environment," says King.  "His ability to go from clay to fashion and other art mediums has opened door for other artists to realize they did not have to be limited to one medium as an artist".  pp 88-84.
_________________________________________________________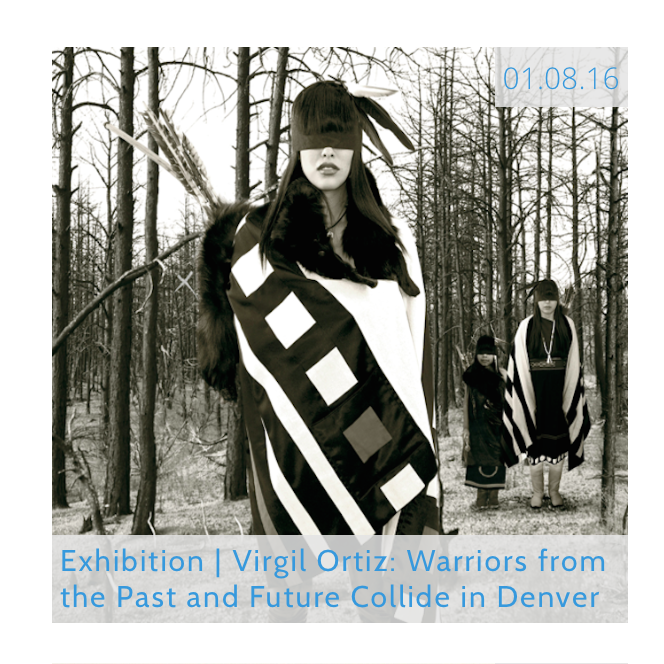 January, 2016
"Virgil Ortiz: Warriors from the Past and Future"
C-File
"Promotion for the exhibition had the dynamism and directness of circus posters, albeit raising the sophistication bar. A catalog supports the exhibition and contains an important essay by Charles King. He takes on the challenge of drawing the past, present and future into a narrative of Indian rebellion and the personal journey of Ortiz. It's a tale of warriors and visionaries, of clowns and heroes and will be published in full in our forthcoming cfile.critical series."
_____________________________________________________
May, 2015
"Crafted of Clay"
Phoenix Home & Garden
"Native American pottery is, variously, artistic, religious, social, personal, political or cultural expression, says Charles King of King Galleries in Scottsdale. 'While shapes, forms and designs are constantly evolving, there remains an ancient legacy inherent in the clay and each vessel.  It is the clay and the time-involved process of digging it locally and refining it to make it usable for coil building the vesssel that forms the bond of the artists with their cultural past', he says."  p. 106-109
_____________________________________________________
May 13, 2015
Virgil Ortiz: Revolt 1680/2180
Lecture with Virgil Ortiz & Charles S. King
_____________________________________________
May, 2015
Virgil Ortiz: Revolt 1680/2180
Charles S. King
_______________________________________________
April 23, 2015
"Present in the Past: The Pottery Art of Maria Martinez, Margaret Tafoya and  Tony Da"
Lecture by Charles S. King
Scottsdale's Museum of the West
_______________________________________________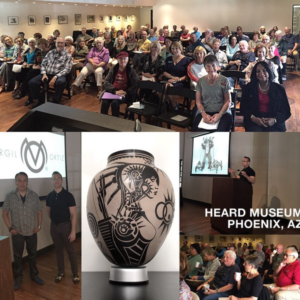 April, 2015
Virgil Ortiz: Revolt 1680/2180 Lecture at Heard Museum
Virgil Ortiz & Charles S. King
____________________________________________
"Pueblo Pottery:  Attentive listeners get a crash course in Arizona/New Mexico tribal geography and geneaology at King Galleries in Scottsdale. Charles S. King is a published authority on Pueblo pottery, and can recite family lineages by memory.  King's repetoire features important historic pieces, three inch miniature works, vessels by living elders as well as potters in their 20's and 30's and schemes not typically thought of as "Indian art" (e.g. Virgil Ortiz's human figures with exaggerated limbs or pots with tattoo-like graphics).
April, 2015
Where Magazine: Phoenix + Scottsdale
___________________________________________
February2015
"City Focus: Desert Bloom"
Art & Antiques Magazine
"King Galleries of Scottsdale, owned by Charles King, a scholar of Native pottery, shows the work of the foremost Pueblo potters, including black-and-white designs of Acoma and black-on-black decorated pots from Santa Clara."
___________________________________________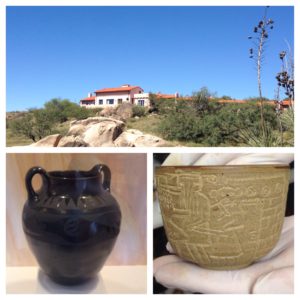 December, 2014
Pottery Collector's Workshop
_______________________________________________________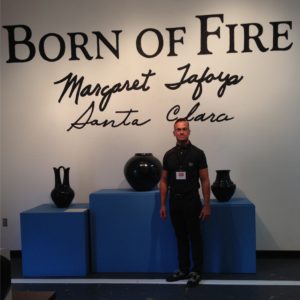 August, 2014
Book signing for "Born of Fire"
Santa Fe, NM
_______________________________________________________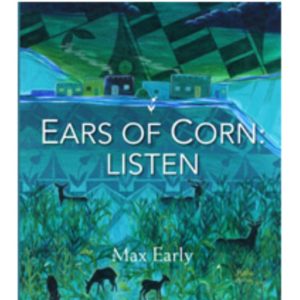 June 2014
"Ears of Corn: Listen" by Max Early
'Poetry and pottery are art forms simultaneously ancient and yet made for the moment. The words flow like coils of clay to surround the reader and build a vision of the mind and soul of the poet. Potter Max Early's poetry in 'Ears of Corn: Listen" reveals much about life in his native Laguna Pueblo. More importantly it gives a modern voice to an ancient culture making it relevant for both a new generation and also those outside the Pueblo. The poems tell his story of how, "Breaking gender taboos didn't turn me to stone" and the delicate balance he finds between embracing modernity and reveling in the past. The use of native Laguna words adds grace to the poems, much like a perfectly painted vessel; they lyrically draw the eye, create balance and provide a connection to the viewer. Not only is Max's collection of poems worth a read, but a second read as well. The first time they may just seem pretty, but the second time the novelty is gone and the substance remains. Much like Max's pottery.'
Charles S. King, Author of "Born of Fire: The Pottery of Margaret Tafoya" and "The Life and Art of Tony Da"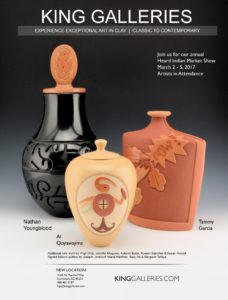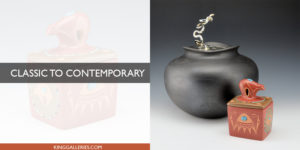 We can also be contacted by phone at (480) 481-0187!