From 1922-4, Sarafina Tafoya (1863-1949) created a series of "carved" vessels. These were among the first to incorporate a style of animal figurative designs and denoted the first step to a carved style which would become part of the Pueblo's artistic lexicon in the 1930s.  The idea of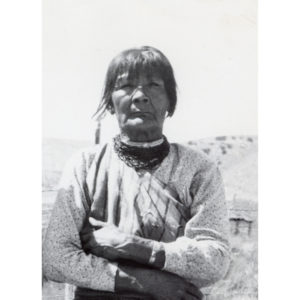 "space" can be viewed as the clay area removed from the surface to create deeply carved imagery.  The "space between" denotes the larger time period of the generations of potters who have taken this technique in new directions.  Margaret Tafoya (1901-2004) expounded on the idea and techniques of carved pottery and her grandson, Nathan Youngblood (b. 1954) has furthered the genre with his own creative ideas.  Today, "The Space Between" also becomes a reflection of Nathan looking back for inspiration at the early carved work of his great-grandmother (Sarafina) and other early Santa Clara Pueblo potters.  With the centenary of these first carved vessels approaching, it's the perfect time to pursue a better understanding of the history surrounding their initial creation.
From Raindrop Rims to Rainbow Ridges
Santa Clara Pueblo had a small, mostly agrarian population of 264 in 1910 and 242 in 1920.  Pottery at this time was made by women and it was either red or black in coloration. The pieces were thin-walled and the surfaces were typically fully stone burnished.  While some were made for utilitarian or ceremonial use in the home or village, much of it was made for sale.  The pottery was primarily sold in Santa Fe or Taos, and through businesses like the Fred Harvey Company which disseminated pottery across the US.
While Santa Clara pottery was primarily plain on the surface, there were some stylistic designs which had a cultural connection:
Water jar by Sarafina Tafoya with a rainbow ridge on the shoulder and and raindrop rim.

"Beyond the cultural importance imbued in the shape of the vessel, the myths and legends of Santa Clara Pueblo inspired Sara Fina and were incorporated into her pottery. On the shoulder of her water jars, a second raised section or "double shoulder" created a "rainbow band," representing a prayer to prevent the water from evaporating from the jar. She often pinched the clay on the rims of her jars, calling this a "rain drop rim"—the significance was to keep the water sweet and drinkable."

"The symbol most directly associated with Sara Fina is the bear paw, which has been used on Santa Clara pottery since at least 1200 ad (Peterson 1997, 55). Its use comes from an old legend: during a time of drought at the pueblo, a bear led the people to a freshwater spring and saved them.

Sarafina Tafoya water jar with impressed bear paw and 'raindrop' rim.

As Margaret explained it, "The bear always knows where the water is, and this is a design we put on the water jar, the storage jar, the wedding vase" (New Mexico Governor's Award, press release, 1986). This symbol has deep significance within the Tafoya family, and it is only put on vessels that could store or carry water as a sign of remembrance. It is a family tradition that the matriarch of the family makes the largest bear paws on her vessels. In each generation, the first daughter in the family to make a storage jar would be the one to have the largest bear paw when her mother passed away. This would then be passed down through her lineage." (Born of Fire).
In addition to these designs, potters would also use impressed circles and geometric shapes or create nodules in relief (pushed out from the inside) to add an additional dimension to the surface.  The shape of the bear paw varied from potter to potter as a sort of early "signature" to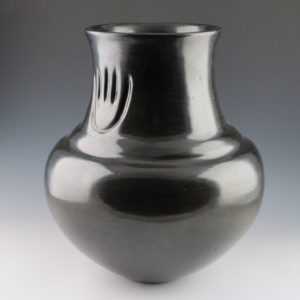 their work.  Overall, these designs were not specific imagery, but simple enhancements of the form.  That was about to change.
First Impressions
The years 1918-21 saw dramatic changes in the Pueblo world.  The ending of World War I, the deadly impact of the Influenza Epidemic of 1918, a nascent booming economy, a strong interest in Native Art in the Santa Fe area; all set the stage for change.  In 1919-20, Maria and Julian Martinez from San Ildefonso Pueblo experimented to create a painted black-on-black pottery.  By the first Indian Market in 1921, nearly every potter at San Ildefonso was creating this new style of pottery.  It certainly raises the question of whether the new "carved" vessels which Sarafina began to make in 1922 were a reaction to this other "new" style.  As I wrote in "Born of Fire":
"By the 1920s, when she was in her sixties, Sara Fina began to embark on a new style that would revolutionize Santa Clara pottery. There was renewed interest in Pueblo

One of the "Original Twelve" carved jars by Sarafina Tafoya.

pottery among tourists to New Mexico and Arizona, and Maria and Julian Martinez at nearby San Ildefonso Pueblo created a black-on-black process for painting designs on the polished surface of their pottery. Sara Fina produced an equally important innovation. In 1922-4, she created a series of twelve pieces of pottery, each with impressed animal imagery. The design was gouged into the clay and then painted with a black, mineral clay slip. The remainder of the bowl was fully polished. This was the beginning of "carved pottery" at Santa Clara Pueblo and the beginning of a stylistic change that would bring renown to future generations of her family." (Born of Fire)
These first twelve carved vessels are an important transition in the art.  They are fully designed images, no longer just accents to the form.  They are cognitive, in that they are each designed to match the shape of the vessel and tell a visual story.  As Nathan Youngblood expressed when he saw one of these pieces, "They are the 'missing link'.  They are the link which brings us from simple geometric patterns to fully carved and designed work.".
The First Twelve
While it has been noted that Sarafina made twelve of these pieces between 1922-4, not all of them are currently located.  I have come across at least five which were either collected at the time from Sarafina or are strongly attributed to her work.  They each have a similar design technique and impressed carving style.  The design concepts are such a dramatic departure for the time that their identification is much easier for attribution once they are seen.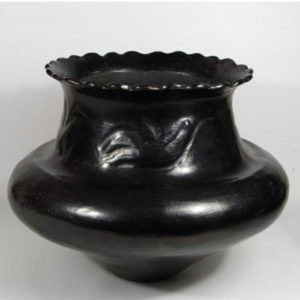 What do they look like?  Two of the pieces have a snake or water serpent.  There is a water jar with a bird and a wedding vase with a dog (?) and star, and there is a jar with fish.  These are no longer just geometric shapes on a vessel, but actual figurative impressions.   It is interesting that most of the shapes are varied but the style of carving remains the same on each piece.  It is enticing to imagine what the other pieces look like, or if they have survived!
| | | |
| --- | --- | --- |
| One of the "Original Twelve" carved jars by Sarafina Tafoya. | One of the "Original Twelve" carved jars by Sarafina Tafoya.  Star Design on one side of the wedding vase. | One of the "Original Twelve" carved jars by Sarafina Tafoya. Possibly a dog design on the opposite side. |

From Impressed to Carving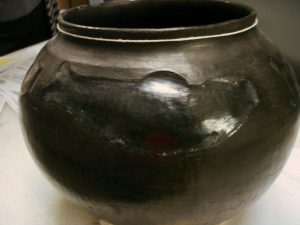 Why only twelve? On the surface, it seems strange that there would only be twelve carved pieces by Sarafina in these few years and then very little carved work from 1924-30.  Then again, maybe it is not so surprising.  The novelty of the new black-on-black pottery was at its height and was surpassing interest in historic polychrome pottery.  Then in 1925, the red-on-red style of pottery was originated at San Ildefonso Pueblo.  The potters at Santa Clara tried their hand at painted black-on-black and polychrome pottery.  It was only in 1924 that Margaret began to work with her mother on making pottery.  It was also said that "Sara Fina always remained in the background, never wanting to "show herself" at trade shows, markets, or fairs. Her husband,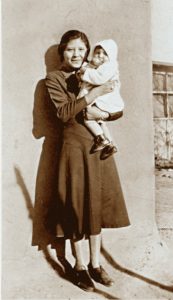 Geronimo, and later Margaret's husband, Alcario, marketed her pottery." (Born of Fire).  In contrast, San Ildefonso potters Maria Martinez and Tonita Roybal were traveling the country to various World Fairs and Expositions.  Sarafina and Margaret stayed close to the Pueblo.  All these factors acting together could easily have reduced interest in the sales and promotion of 'another innovative style" at this time when there already were so many new additions to the oeuvre.
The onset of the Great Depression in 1929 was an outside force which impacted the Pueblos and those potters who were making a healthy income from their art. As a booming economy quickly became a bust, potters were now seeking new ways to attract buyers.   It has been noted that around this same time there may have been a landslide which covered the then current clay source at Santa Clara Pueblo. (Margaret Tafoya: A Tewa Potter's Heritage and Legacy).  When the potters sought out a new location to dig their clay the new clay was not as elastic or pliable as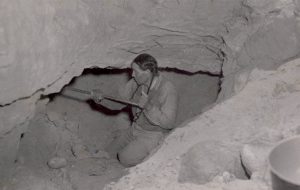 in the past.  It now required thicker coils to create structural integrity in the vessels.  This certainly seems the case as there is a point around 1930 when there is a noticeable change in the clay used in Santa Clara pottery.
Together, these two events may have been an impetus for Santa Clara potters to seek a new style to generate sales.  The earlier impressed pieces by Sarafina would certainly have been remembered by her and the family.  It was not necessary to create something new, but simply refine what she had done less than a decade earlier.  Thicker clay simultaneously allowed for deeper carving.  Earlier use of designs such as the avanyu (water serpent) and imagery created for the painted pottery, would have been easily transferred to the new carved ware.  The "new" carved pottery now found a voice in the clay and an interest among collectors.   Between 1930 and 1990, Margaret Tafoya would become one of the great names in Santa Clara carved pottery.  She would pass this legacy on to her children, grandchildren and future descendants.
The Space Between:  Nathan Youngblood
"Over six generations of tradition lie within the pottery of Margaret Tafoya's descendants.  Among Margaret's ten children, eight continued in the tradition of making pottery.  Nathan is the son of Mela Youngblood (1931-1990), a daughter of Margaret Tafoya."

Nathan Youngblood jars inspired by the work of Sarafina Tafoya.

"Nathan Youngblood has cut deep into the clay and carved his own path in the world of Pueblo pottery.  The precision of his carving and the brilliance of his stone polished surfaces are unparalleled.  He remains respectful of his culture and the clay and mindful of the traditions of his ancestors."

In 1976 Nathan decided he was ready to dedicate himself to making pottery.  He returned to Santa Clara Pueblo to live with his grandparents, Margaret and Alcario, beginning an intense apprenticeship under their guidance.  Nathan gave total commitment to learning every aspect of making, carving and firing traditional pueblo pottery.  His early vessels were primarily large and highly polished with deeply carved designs, and very heavy.  Each new body of work refined his technique for making pottery and strengthened the imagery.  The vessels became more even in thickness but still sturdy enough for him to deeply carve into the clay.  Attention to the small details was also imparted to him from his mother and grandmother. The precision of his work is particularly evident in his forms, which have a near geometric perfection in shape and symmetry.  However, regarding the control of any pottery, Nathan says, "I realize I don't make pots, I'm just involved in the process. The clay does what it wants to do, goes where it wants to go.  I stick my hands in the clay and where it goes I follow." (Born of Fire)
Today, Nathan has taken time to research some of the early Santa Clara pottery from 1900 to 1930.  The collections at the Museum of Indian Art and Culture (MIAC) and the School of Advanced Research (SAR), both in Santa Fe, New Mexico, have provided an amazing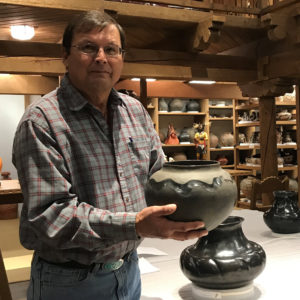 opportunity to personally examine the pieces.  It is the shapes which initially inspired Nathan.  But the forms are only half the story and the early designs and how and where they are used add to the relevance of his search.  He has created a new body of work taking inspiration from these pieces from his Pueblo's past and specifically the work of his great-grandmother Sarafina.
While examining the historic pieces, Nathan relies on his experiences as a Pueblo potter. "The carving on the early Santa Clara pieces became more technically exact as they developed better tools to carve.  When I look at the polishing on a larger jar, I look for something like a seam.  A lot of times when there is a rainbow band, you can burnish the whole piece at once. You start at the shoulder and then do the neck then the inside of the lip. But to make it look right you must join the polished sections so doesn't look like a seam. They easily achieved this over and over without a seam, which is very difficult to do."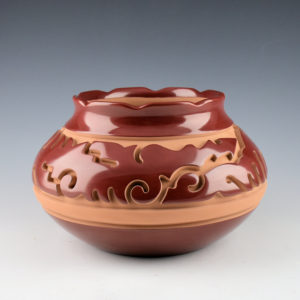 However, he also provides a deeper cultural insight into the designs on the pottery.  "The water serpent (avanyu) is not what people think of a 'water snake'.  It is a reference to the way the rivers run.  They are all integrated and connect everything.  Creeks become streams, streams become rivers which become oceans.  The oceans are fed by everything around the world.  It binds us. That is why when we go to the water and throw in cornmeal and pray.  The water and water serpent connect us to the entire world."
In addition to culture and technique, Nathan also views the pottery through the lens of being a scion of this great family.  When viewing the work at SAR and asked about the personal impact of holding these historic pieces he said, "I think about what that was potter doing. What was going on in their life at that time? What influenced them in their personal lives, or in the Pueblo, that would make them think to make such dramatic design changes.  They were remarkable".
Today, Nathan is creating a distinctive series of twelve pieces directly inspired by these important historic works.  It is less a revival of shape or design than a projection of the past through the lens of his creativity and expressed in the clay.  His new works fills in some of the gap of "The Space Between" the past and present and provide a provocative look at how much has changed in less than a century!  As the new pieces in this series are finished, they will be added to this page.  It will be fascinating to see where the history, culture, and research take him and combine with his dynamic carved and highly polished clay art.
Nathan Youngblood's "Twelve" Carved Vessels inspired by the early carved work of Santa Clara Pueblo.​
| | |
| --- | --- |
| | 1.  Wide bowl with carved cloud and rain designs above the shoulder. |
| | 2.  Water jar with carved avanyu in four panels around the shoulder and four rain clouds near the base. |
| | 3.  Water Jar with a bear paw medallion and a carved water serpent below the shoulder. |
|   | 4.  Wide Jar with Raindrop Rim |
| | 5.  Tall Jar with four impressed designs |
| | |
| | |
Charles S. King
Thanks to the Museum of Indian Art and Culture and the School of Advanced Research for allowing us to research in their collections.  Thanks to Native Art Magazine for their brief article, "The Space Between" in the Dec/Jan 2018/9 Issue.