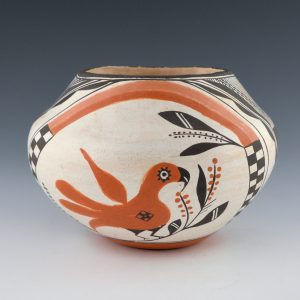 Vera Chino Ely is the youngest daughter of Marie Z. Chino. Vera learned to make pottery from her mother. In the late 1970s she worked with her mother doing fine-line painting on some of her pots. In 1979, she participated in the "One Space: Three Visions" exhibition at the Albuquerque Museum. A collection of her works can be seen at the Peabody Museum of Archaeology and Ethnology at Harvard University in Cambridge, Massachusetts.
Vera's sisters, Carrie Charlie (b. 1925), Rose Garcia (b. 1928), and Grace Chino (ca 1929-1994), are also potters.
No products were found matching your selection.