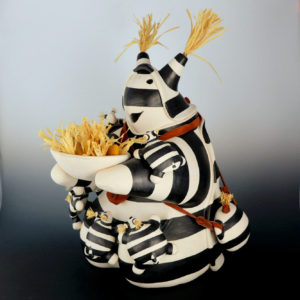 Randall Chitto began his career by drawing in the dirt under his family's Mississippi home.  He would draw in the blank pages of any book he found was the next. When the budding artist's family relocated from their Choctaw Reservation home to Chicago as part of the Indian Relocation Act of 1956 it soon gave Chitto the opportunity, while still in high school, to be chosen in a citywide competition for admittance into specialized art classes. These included classes at the Chicago Art Institute and the Illinois Institute of Technology.
When Chitto enrolled in The Institute of American Indian Arts in Santa Fe, NM, his primary medium was painting but it was while studying here that he discovered clay; he graduated with degrees in both two- and three-dimensional work. His clay work is now in the collections of numerous museums including The National Museum of the American Indian in Washington, DC, The Denver Art Museum and the Heard Museum in Phoenix, AZ. Chitto is the winner of a Southwestern Association for Indian Arts Fellowship and is also a Dubin Fellow at the School of American Research.
For the Mississippi Choctaw people, the turtle is the keeper of stories and history and it is the turtle that has become Chitto's primary subject. They appear as Koshares (sacred clowns in Puebloan cultures) and Storytellers, alongside an occasional bear Storyteller. Each one appears in the playful manner that Chitto confesses may be a simple caricature of himself.
"I am deeply proud of the art pieces I make," Chitto notes, "even after all these years. The amount of work and the craftsmanship I put into each piece is so immense the finished piece is very exciting for me." For Chitto there is no greater feeling than that of putting in a full day in his studio – and the creation of his meticulous and joyful clay turtles has allowed him to do that, to live life as the artist he has always been.
No products were found matching your selection.