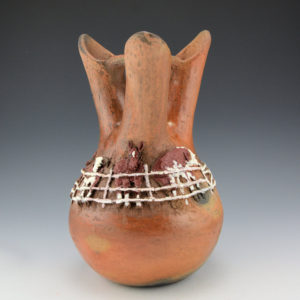 Silas Claw and Bertha Claw were from the Shonto/Cow Springs region of the Navajo Reservation. Although both her grandmother and stepmother were potters, Bertha did not make pottery until early 1970s when she learned the craft from her neighbor Rose Williams. She began by making traditional Navajo style pottery and cooking vessels.
In 1968, Silas began making pottery and was one of the few Navajo men involved in the craft. Bertha assisted him throughout his career. Together they made pottery in a variety of shapes and styles. Bertha would make the pottery while Silas would create the designs. The designs are applique, which means the clay is added to the surface of the vessel. The colors were often oil paint applied after the firing to give the pieces a more "realistic" appearance. They would then be coated with varnish or a more traditional pinon pitch.
No products were found matching your selection.