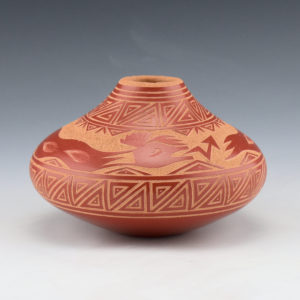 Dennis Daubs, "Oboweya" is half Jemez and half San Ildefonso. His mother is Gerry Gauchupin, his sister is Patricia Daubs and his brother Steve Daubs. He was inspired to make pottery from his great grandmother Maria Sanchez and his grandmother Elvira Gachupin.
Dennis specializes in the handmade sgraffito red or black polished pottery. He mixes, hand coils, shapes, etches, fires and polishes his own pottery using traditional techniques.
No products were found matching your selection.