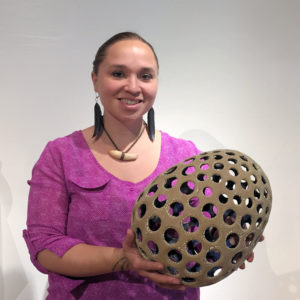 Courtney M. Leonard (Shinnecock, b.1980) is an artist and filmmaker, who has contributed to the Offshore Art movement. Leonard's current work embodies the multiple definitions of "breach", an exploration and documentation of historical ties to water, whale and material sustainability. In collaboration with national and international museums, cultural institutions, and indigenous communities in North America, New Zealand, Nova Scotia, and the United States Embassies, Leonard's practice investigates narratives of cultural viability as a reflection of environmental record.
"Courtney M. Leonard is one of the strongest emerging voices in the field of ceramics today," said Garth Johnson of the Ceramic Research Center (AZ). "Her art manages to be both poetic and political, and also simultaneously personal and universal. 'Breach: Log 16' is meticulously crafted to contain historical and cultural references, but also to make the viewer reflect on their own relationship with nature and sustainability.
Her background includes an MFA in Ceramics, Rhode Island School of Design, Providence, RI  and her BFA in Ceramics at Alfred University NY College of Ceramics, Alfred, NY, along withAFA in 3D Design, Institute of American Indian Arts, Santa Fe, NM.
No products were found matching your selection.