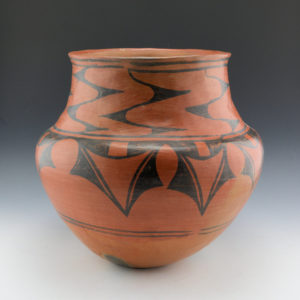 Dominguita Pino Martinez
was a granddaughter of Maria Lujan and the wife of Santiago Martinez. She was the mother of Cresencia Martinez and Tonita Roybal. She was the grandmother of Alfonso Roybal (Awa Tsireh), Tomasita Montoya Sanchez, JD Robyal and Margaret Lou Gutierrez. She was known for her black-on-red pottery. While she did not sign her pottery, her shapes are distinctive with straight necks and round shoulders.
No products were found matching your selection.