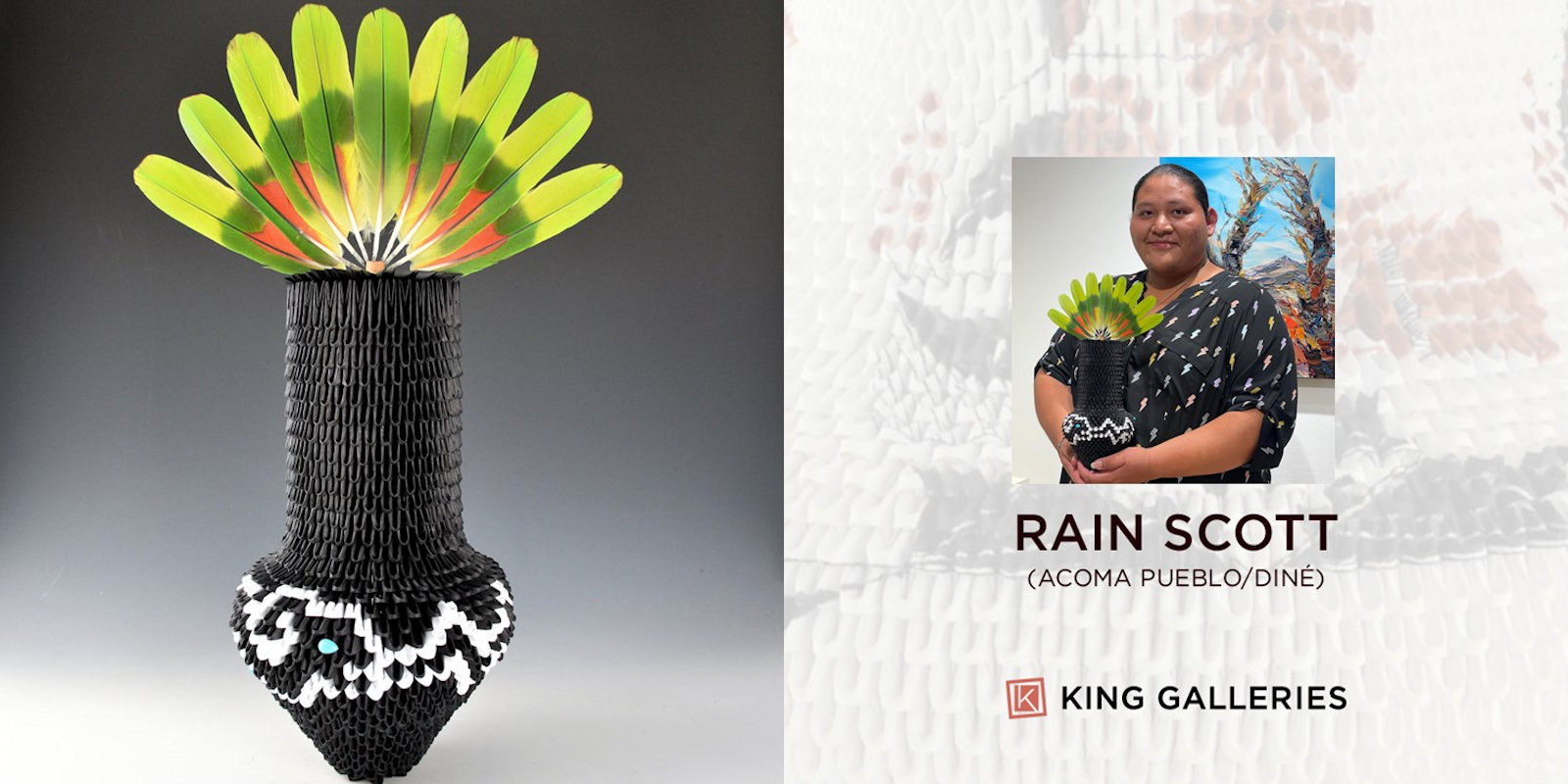 Rain Scott is half Navajo and half Acoma. Growing up, he would watch his father, Navajo silversmith Raynard Scott, make countless jewelry pieces out of silver, turquoise, and other precious gemstones. His upbringing sparked a passion for art, taking a particular interest in painting and still life drawing. In 2011, he developed a new interest in Japanese origami art and traditional Acoma Pueblo ceramics. For the next couple of years, he tried and failed to find a teacher to teach him the traditional art form of Acoma pottery. Instead of giving up on his aspirations, he called upon his talent for origami art and knowledge of conventional Acoma pottery designs. As a result, he created an entirely new style of Native American art.
From 2013 to 2018, Rain experimented with his newfound artform. He sculpted simple peacock and swan forms, ultimately winning a youth award in the 2014 Heard Museum student art show. In 2018, he cut his first contemporary origami vessel in the shape of a white corrugated Acoma pot with a rounded shoulder and a short neck and finished with a simple black rim. Thus, his art form was born.
Since 2018, Rain Scott has combined the traditional Acoma Pueblo pottery designs with individually cut and folded origami modules into an art form that he calls "contemporary Indigenous origami." The thick, sturdy walls and corrugated texture of his origami pottery make every piece pleasing to the eye and gratifying to touch. He pushes the boundaries further with every art piece he creates, incorporating new designs, shapes, colors, and components, including parrot feathers, turquoise, and natural sinew. Rain Scott's creations have been awarded many awards at juried art shows in the Southwest, including the 2020 Alan Houser Innovation Award at the Heard Museum Guild Indian Fair and Market.