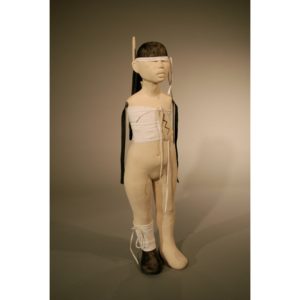 Rose Simpson
Rose Simpson (b. 1983), daughter of clay sculptor Roxanne Swentzell and Patrick
Simpson, a wood and metal contemporary artist, Rose has experienced art throughout her
life in Santa Fe and on the Santa Clara Pueblo Reservation. Being from both Indigenous
and European descent, with art and philosophy primary in both families, she applies her
abilities in ceramic and mixed media sculpture, installation, drawing, aerosol painting,
writing, music, and performance to further her exploration and dedication to finding the
relationship between aesthetic expression and life.
After studying at the University of New Mexico in Albuquerque and the Institute of
American Indian Arts in Santa Fe, NM, she received a BFA in Studio Arts in 2007, and
an Honors MFA in Ceramics from the Rhode Island School of Design in 2011.
Simpson has participated in many exhibitions, including "Relations; Indigenous
Dialogue" at the Museum of Contemporary Native Arts in Santa Fe, NM, in 2006, which
was featured in Art In America magazine. She was chosen as part of a collaborative art
team chosen to participate in the 2008 SITE Santa Fe Biennial, a global invitational
exhibit. In the summer of 2010 she kicked off the Institute of American Indian Arts
"Visions" project with "Matterings" a solo exhibition at the Museum of Contemporary
Native Art. Her work is in several museum collections including the Heard Museum,
National Museum of the American Indian, the Clay Art Center, Portland Museum of Art,
and most recently the collection of the Denver Art Museum, coinciding with a Native
Arts Residency and performance. In the Spring of 2015 she installed work in the SITE
Santa Fe kickoff exhibition of their respective 20th anniversary series.
Her international exposure includes foreign study, resulting in a group show of work in
Kashihara-Jingumae, Kansai Prefecture, Japan. In the Spring of 2012 she participated in
"Emnowaangosjig/Coming Out; The Shifting and Multiple Self", a group invitational at
the Toronto Free Gallery, Toronto, ON, Canada, and in 2014 she attended Kokiri Putahi,
a gathering of artists in Kaikohe, New Zealand, also resulting in an exhibition.
No products were found matching your selection.