Discovering what inspires an artist is always fascinating.  When Padloo Samayualie was in New York in 2015 for the first Cape Dorset Legacy Project, a creative residency at the Brooklyn Museum, I had the privilege of spending time with her and I often noted how interested she was in the buildings in Manhattan.  It was only later that I discovered that she had also been intrigued by other sights as well.  Although Padloo resides in Cape Dorset, a small, geographically isolated hamlet, I found her to be extremely curious about the world beyond her Arctic home.  During her time at the Brooklyn Museum Padloo was shown many works of art from various cultures and time periods and made drawings of a number of them.  She was particularly attracted to Egyptian pieces and to Yup'ik Eskimo masks.  Her drawings of these works are filled with closely observed details and reflect the artist's ever-inquisitive mind.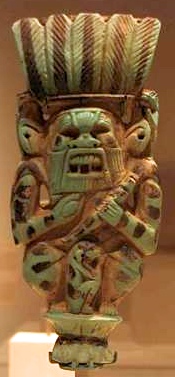 Protective God, ca. 945-718 B.C.E., Faience, glazed, 5 15/16 x 2 1/2 x 15/16 in. (15.1 x 6.4 x 2.4 cm) Egypt, Charles Edwin Wilbour Fund, 58.171  Photo courtesy of the Brooklyn Museum.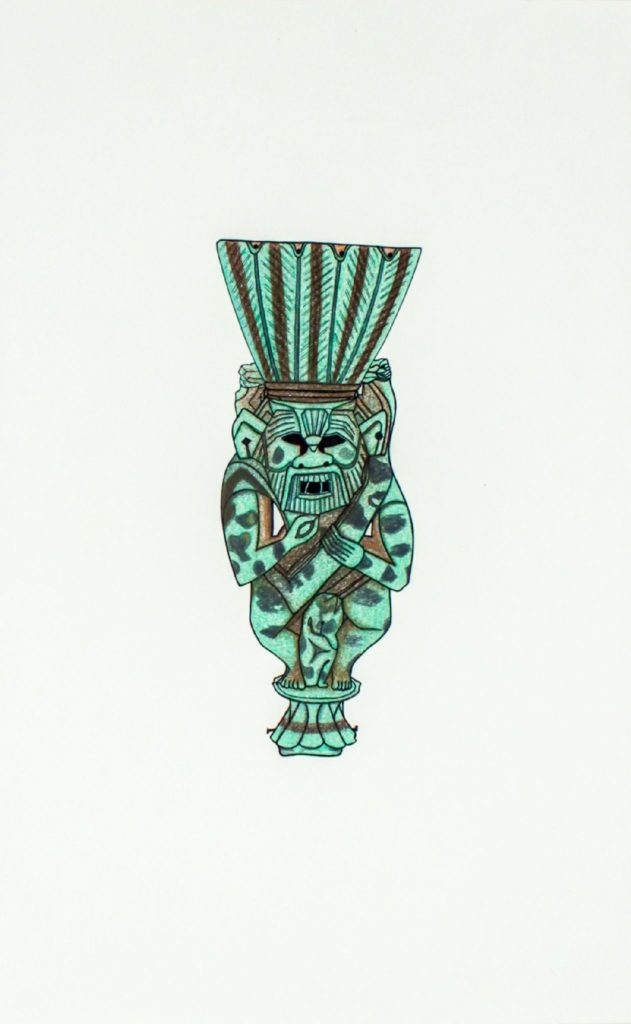 Brooklyn Museum by Padloo Samayualie, Inuit, Cape Dorset, colored pencil and ink, 23" x 15" (2017).  Photo courtesy of Feheley Fine Arts.
Amid all of the huge Egyptian statuary at the Brooklyn Museum a small, faience statue of a protective god caught Padloo's eye.  This figure might very well portray the god Bes, a complex being considered a deity, but often described as a demon though not considered evil.  In fact, Bes was the champion of all that was good and the enemy of everything that was wicked.    Generally depicted as a bearded dwarf sticking out his tongue and brandishing a rattle, Bes was a god of war and also of childbirth.  He was the protector of women and children as well as the pharaoh and the Egyptian people.  One of Egypt's most popular gods, Bes is associated with sexuality, humor, music and dancing.  Although he had no temples or priests, Bes was so popular that his image is found on a wide variety of household items such as mirrors, cosmetics containers, knives, and furniture.
Padloo often employs photographs as part of her creative process, later using them as a starting point to produce meticulously rendered drawings.  Clearly, this was what she did to create Brooklyn Museum, a highly detailed, beautifully executed drawing that captures the artist's fascination with a work of art thousands of years old, from a culture so very different from her own.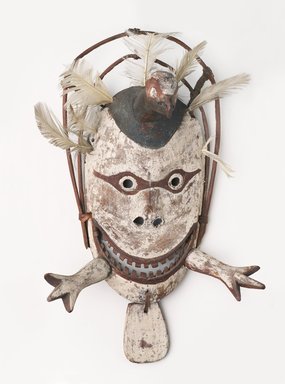 Yup'ik Eskimo (Native American). Mask of a Valley Ptarmigan, late 19th century. Wood, feather, pigment, 15 3/4 x 10 1/4 x 5 1/2 in. or (40.0 x 28.0 cm). Brooklyn Museum, A. Augustus Healy Fund, 44.34.7. Creative Commons-BY (Photo: , 44.34.7_PS9.jpg).  Photo courtesy of the Brooklyn Museum.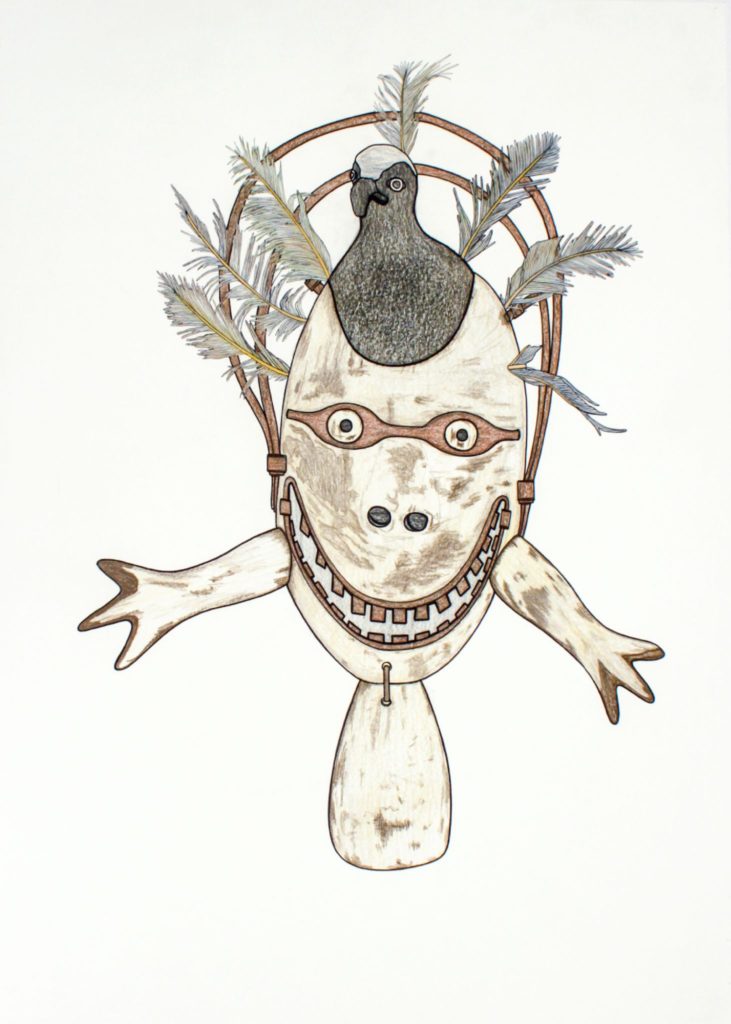 One Of The Masks I Saw In The Brooklyn Museum by Padloo Samayualie, Inuit, Cape Dorset, colored pencil and ink, 30" x 23" (2016).  Photo courtesy of Feheley Fine Arts.
          Padloo is just one of the many artists who have been drawn to Yup'ik masks.  Having fled Europe during World War II, many of the Surrealist artists were living in New York where they saw Yup'ik masks in galleries and at the Museum of the American Indian.  Artist's such as Max Ernst, André Breton, Robert Matta, Enrico Donati and Dorothea Tanning, writers George Duthuit and Robert Lebel as well as anthropologist and ethnologist Claude Levi-Straus became avid collectors.  The Surrealists saw in the Yup'ik masks a connection between the material world and that of the subconscious or spiritual, something they were trying to achieve in their own work, and they were drawn to the dream-like imagery employed by Yup'ik artists.
It is hard to know why this particular Yup'ik mask attracted Padloo's attention.  Perhaps it was because the Inuit and Yup'ik are related.  However, I think that it is more likely that it is simply the artistic power of the mask – the same thing that attracted the Surrealists – that captivated Padloo.
Nightmute (contemporary spirit mask) by Jack Abraham, Yup'ik Eskimo, Nelson Island, Alaska, wood, acrylic paint, feathers, 9"h x 5"w, excluding feathers (2003).  Brooklyn Museum,    2014. 76.23, Gift of the Edward J. Guarino Collection in honor of Josephine M. Guarino.  Photo courtesy of the Brooklyn Museum.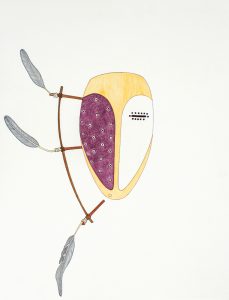 MASK I SAW IN THE BROOKLYN MUSEUM by Padloo Samayualie, Inuit, Cape Dorset, ink and colored pencil, 30" x 23" (2016).  Photo courtesy of Feheley Fine Arts.
In 2003, I acquired Nightmute, a contemporary Yup'ik spirit mask by Jack Abraham, during one of my trips to Alaska.  On the same trip I had collected a traditional Yup'ik spirit mask and when I saw the one by Jack Abraham I felt that the two works complimented each other.  In 2014, I donated both masks to the Brooklyn Museum.  A few years later, Feheley Fine Arts presented an exhibit of works by Padloo Samayualie and, much to my surprise, among them was a drawing of Nightmute.  I was surprised and delighted that Padloo was so moved by one of the masks I had donated that she felt compelled to draw it.  With exquisite line and color, she captured the essence of Nightmute.  It was wonderful to see how the work of one artist had influenced that of another.
Although Padloo Samayualie often produces images of her community and the surrounding landscape, her art reflects wider interests.  She is also inspired by advertising, magazine covers, product labels, and the geometry of architecture.  Her drawings combine an astonishing sense of color with an exploration of form and line.  Padloo is among the most promising of the newer generation of Cape Dorset artists and her work has already caught the attention of gallerists, collectors, and curators.
The author would  like to thank Nancy Rosoff, Andrew W. Mellon Senior Curator, Arts of the Americas, Brooklyn Museum, for her invaluable help with this article, and Pat Feheley, Feheley Fine Arts, Toronto for supplying images of Padloo Samayualie's drawings.