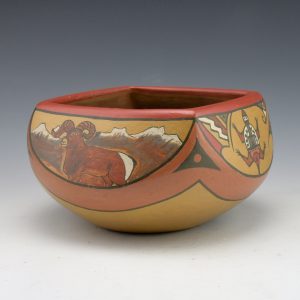 Lela Gutierrez & Van Gutierrez began making polychrome pottery in the early 1930s. There had been a tradition of doing polychrome work at the Pueblo, but few potters continued to paint in this style, and the popularity of the black-on-black pottery quickly overtook it. Lela would make the pottery, and Van would paint the designs using native clay slips. Lela and Van's pottery have influenced potters to this day, including descendant Jason Garcia, who continues in a similar polychrome pottery style, updated for the new century. Lela and Van's work can be found in museums nationwide.
UPDATED NOTE:  We have corrected the birth year for Van Gutierrez to 1885 from further research through both SS and Census dates.
No products were found matching your selection.