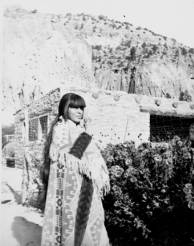 Juanita Monotya Vigil was a daughter of Reyes Pena and Tomas Montoya and the youngest sister of Maria Martinez, and a sister of Desideria Sanchez (1889-1982), Clara Montoya (1909-1997) and Maximilliana "Anna" Martinez (1885-1955). She was married to Romando Vigil, who was a famous painter. She was the mother of Carmelita Dunlap (b. 1925) and Albert Vigil (b. 1927).
https://kinggalleries.com/search-juanita-montoya-vigil-18981933/
No products were found matching your selection.