In the early years of San Ildefonso signed pottery, there are three individual potters of the same name who were all active at the same time: Juanita Gonzales (1909-1988), Juanita Pena (1900-1987) and Juanita Vigil (1898-1933). However, over the years, there has been a continual mix-up and misidentification of their work. They all simply signed "Juanita" to their pottery which has added to the confusion. Yet they each created very distinctive styles of pottery. So why so much confusion? It is the pottery of Juanita Vigil which is actually the mysterious variable in this equation. She was a sister of Maria Martinez (1887-1980), and so her work, much like other Martinez family members, has been actively sought after. However, 80 years after her passing, nobody seems to be able to turn up a piece of her pottery which can actually be authentically identified as hers.
Searching the Museums
The issue of confusion begins with the museums. Let's start with the most reliable and well-documented collections from the 1920's, such as the Denver Art Museum, the School of Advanced Research, the Museum of Indian Art and Culture, the Heard Museum or the National Museum of the American Indian. You would think one of them would have a piece by Juanita Vigil, collected during her lifetime and easily identified and that would be that. Strangely, none of them have one of her pieces! So, the search expands out from there to other museums which were not actively collecting in the 1920's but have received pieces from donation. Here the real problem arises. There are numerous museums who have pieces which were donated and identified as "Juanita Vigil", but they are definitely not her work. Without much investigative work, the signatures or style give them away as Juanita Pena or Juanita Gonzales. Both museums and collectors want to have a "Juanita Vigil" yet it seems they have not done their homework or that they relied on the collectors or appraisers, who were probably more eager to facilitate the donation of a Vigil than a Gonzales or Pena piece. So, incorrect attributions plague one's research into Juanita Vigil's pottery.  Each false "Juanita Vigil" means you must look at the bowl, the signature, the style of painting/carving and the date of acquisition and then determine its true identity. I have reviewed pieces (in photo form, vessel and signature) from museums in Florida, Kansas, New York and Illinois, just to name a few. They each have a "Juanita Vigil" in the collection, but each is actually either a Pena or Gonzales vessel. I even spoke with Johnathan Batkin, who is one of the top scholars on early San Ildefonso pottery and asked if he had ever seen a piece by Juanita Vigil, and if so, where (hopefully in giving me some focus or reducing the places I needed to search). His answer was that he had never seen an authentic signed piece of hers in person! I also asked Richard Spivey about her work, when we were working on the Tony Da book project, he had never seen a signed piece of her pottery either. So, how do we find the real Juanita Vigil?
Auctions and the Internet Add Confusion
Museums which have misidentified pieces have nothing on the errors found on the internet. Again, everyone wants their "Juanita" vessel to be Juanita Vigil and so auction houses and the internet simply add to the confusion and errors. Just type in a quick google search of "Juanita Vigil San Ildefonso" and numerous pots come up, and all can quickly be determined to be the other two Juanitas, without even looking at the signatures. I think auction houses have slowly come to be more cautious about which Juanita it is at their sale. However, overall, those who should know better (museums, galleries, e-bay, etc) have been exceedingly slow to educate themselves and accurately attribute signed Juanita pieces correctly. I suppose it is that it is a very small area with a very small field of art. But, as I have often stated when writing about unsigned work by Margaret Tafoya or SaraFina Tafoya when a piece is misidentified in an attribution, it clouds the entire research field.
Juanita Gonzales (1909-1988)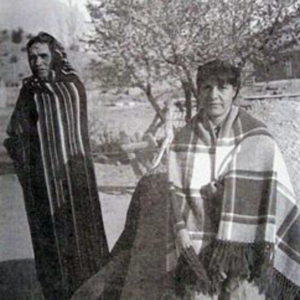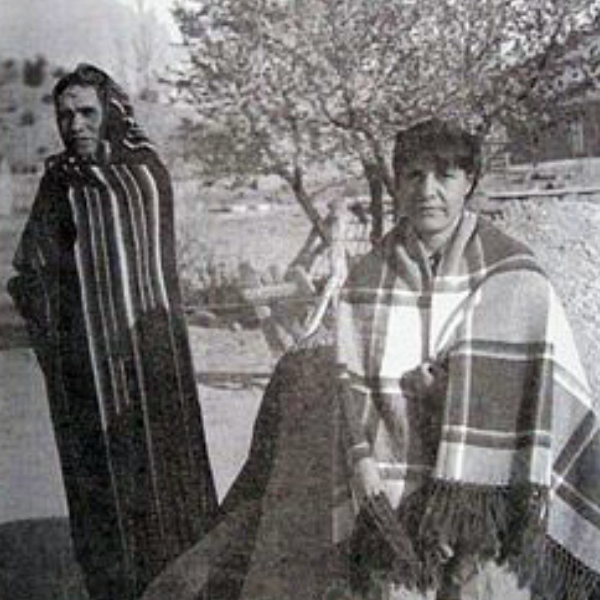 Before going further, it is best to take a moment to look briefly at the lives and pottery of the other two Juanitas. Juanita Gonzales was originally from Taos Pueblo. She married Louis "Wo-Peen" Gonzales (1907-1990) who was a son of Juan and Philomena Gonzales. She met him in a hospital after he lost his arm in a hunting accident. Louis was a gifted artist and attended the San Ildefonso School of painters in the 1920s. After he lost his right arm in an accident he taught himself to paint again with his left hand. Juanita learned to make pottery from her sister-in-law, Rose Gonzales (1909-1989). Rose is credited with beginning the carved pottery style at San Ildefonso in the early 1930's.
Juanita Gonzales created very distinctive pottery. Her carved pieces (beginning in the mid 1930's) were very similar to those of Rose Gonzales (her mentor) in style and design. The painted vessels were done by Wo-Peen, and again, have a very distinctive style of design work. There are many fewer painted pieces than her carved pottery. More importantly, her signature is very distinctive and seen below. Matched up with consistent style of her pottery designs over the years, it is easy to determine a vessel by Juanita Gonzales.
Juanita Pena (1900-1987)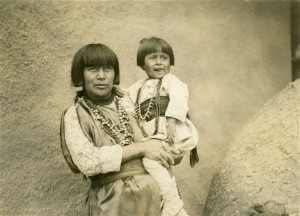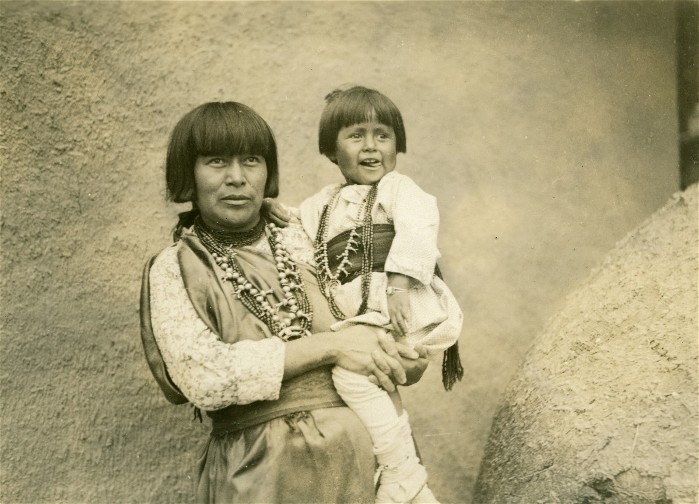 Juanita Pena is nearly as enigmatic as Juanita Vigil. It's not that her pottery is difficult to find, but it is often misidentified as that of Juanita Gonzales! For Juanita Pena there is almost no documented information on her life or family. Juanita was related to Martina Vigil Montoya (1856-1916) & Florentino Montoya (1858-1918) (who were known for their polychrome pottery). Tony was related to Encarnacion Pena (Soqueen), who was famous as a traditional style painter and part of the San Ildefonso school of painters. They had at least four children but none continued the pottery making tradition.
The pottery created by Juanita and her husband Tony was distinctive in both form and design. They began with black-on-black ware in the 1920's and then in the 1930's their work evolved into complex carved designs. Juanita and Juan continued to make pottery into the 1950's, but then they stopped as they both were very involved in religious and Kiva activities at the Pueblo which required full time participation. While their painted work, and especially her shapes, are very distinctive, the confusion here is the signature. It is very similar to that of Juanita Gonzales, which has caused some confusion. However, looking at vessel form, design style and especially carving style, it is easy to differentiate their work. Examples of their carved pottery and signature are below.
​
Juanita Montoya Vigil (1898-1933)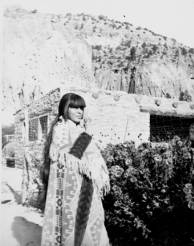 So, what do we know about Juanita Montoya Vigil? She was a daughter of Reyes Pena and Tomas Montoya and the youngest sister of Maria Martinez, and a sister of Desideria Sanchez (1889-1982), Clara Montoya (1909-1997) and Maximilliana "Anna" Martinez (1885-1955). She was married to Romando Vigil, who was a famous painter. She was the mother of Carmelita Dunlap (b. 1925) and Albert Vigil (b. 1927). She was known for making pottery and there is even a Harmon Parkhurst photo of her polishing a piece of pottery (plate # 022706). It is a large jar, but is it a reliable photo? Many of his photos are staged and while it is often the work of the potters in the room, to see just the polished jar and no design on the surface does not give much additional information for identification.
If other potters of the period are an example, Juanita Vigil would have begun making pottery by the 1920's. She is not mentioned in  Carl Guthe's "Pueblo Pottery Making" in 1925, while it does focus on Maria Martinez, Anna Martinez and Tonita Roybal. In Richard Spivey's books on Maria Martinez, Juanita is scarcely mentioned.
What kind of pottery would she have been making? Most likely she would have learned to make polychrome pottery before 1920. From 1920 to 1930, she would have probably continued with polychrome pottery along with the new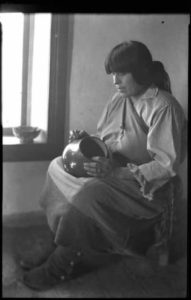 black-on-black and then after 1925 the red-on-red. It was not until after around 1932-3 that carved pottery was introduced at the pueblo, and as she passed away in 1933, it would probably eliminate the potential any carved pottery. In the photo she is shown polishing pottery, so we can assume that she did create at least polished vessels, whether or not she painted them herself.
The Case for the Pottery of Juanita Montoya Vigil
As has been noted, at the moment, I know of are no authenticated pieces of her work in museums or public collections. However, my thesis is that the pieces featured below are potentially works by Juanita Vigil. The plate is polychrome and the bowl is black-on-black. The style of painting is that of San Ildefonso. The small bowl is an early 1920's black-on-black piece with a fully polished base. The matte base typically seen today came along later. The plate is polished and painted with mineral slips, which again was typical of post 1920's San Ildefonso pottery. Signatures on San Ildefonso pottery also developed early so that by 1922 almost every potter from the pueblo was signing their pottery. Since all of her sisters were signing their pottery, it would be expected that Juanita would as well. The signature on both of these pieces is identical, so the pieces can be determined to be from the same potter. As well, the style of the "J" is a capital "J" and not a cursive one. This is distinctive from the signatures of the other two Juanitas. It is also a signature that I have not found on any other San Ildefonso pottery or associated with any other artist. At the moment, I would contend that this is the authentic signature of Juanita Vigil and that these are two of her pieces.
Conclusion, or Just the Beginning
The conclusion here is really just the beginning. I would hope that anyone with pieces with a similar signature might send them along and they can be posted. Much like with my article, "Signed Sarafina", the more information, the more accurate the assessment. Seeing more pieces and associated factual historical provenance would add to the accuracy of this hypothesis. As I have written before, attributions on unsigned work should change over time as more information is available and academic research is conducted about the pueblos and artists. Inaccurate attributions remain a problem as they distort the historic record while well researched attributions create greater integrity and understanding of the history of Pueblo potters.
I would also hope that museums who continue incorrectly attribute the work of Juanita Pena or Juanita Gonzales as the work of Juanita Vigil would reassess their attributions. It does not help the field to have inaccurate attributions and even if it is on a small scale like the "three Juanitas", it clouds the available information for those seeking to find work by real Juanita Vigil. It would also more greatly honor the work of the other Juanitas and the elegance of their pottery. Unfortunately, as with any attributions, there is also financial side to all this, as Juanita Vigil and her association with Maria Martinez, would certainly give them a different valuation. So, I look forward to hearing responses to this article and hopefully seeing more work with this Juanita signature! Maybe with more information, we can turn my hypothesis into documented fact!