"With Cats, some say, one rule is true:
Don't speak till you are spoken to."
T.S. Eliot, Old Possum's Book of Practical Cats
Just about anyone who knows me is aware of my affinity for cats.  If I see one, I can't resist talking to it and petting it.  There are quite a number of photos of me doing this in various locations around the world.  I made a cat friend while visiting the Navajo Nation; in Italy I met a Venetian cat while visiting the island of Burano, and a Florentine cat while visiting his home city; most recently I became acquainted with two Portuguese felines who were luxuriating in the sun (something cats are wont to do) while I was on a day trip to Sintra from Lisbon.  It is also hard for me to resist artwork involving cats if, and only if, I feel that the artist has in someway captured their essence.  I purchased a print of a cat in Sienna and tiles bearing the image of cats in Lisbon.  However, until recently, I had never seen these animals portrayed in art produced by Native American artists.  Happily, that changed in 2018 when I acquired two works from T. C. Cannon's sketchbook and a drawing by Terran Last Gun.
Starting on August 2016, the Case Trading Post at the Wheelwright Museum in Santa Fe has offered for sale pieces from T.C. Cannon's sketchbooks as well as other previously unseen works.   Since then, I have been acquiring works from the sketchbooks whenever possible.  When I first looked into T. C. Cannon's work, I had the impression that he was predominantly interested in Native American subjects.  However, seeing the drawings in his sketchbooks revealed so much more.  Cannon was a complex artist and I believe it is important to acquire works that show the wider range of his creativity and reflect his desire to express his feelings about all aspects of life.  The sketchbooks reveal the artist's private reflections.  The works in his sketchbooks show that the artist's interests were varied and wide-ranging.  They include portrayals of Indians, but there are also drawings of nudes, portraits, self-portraits, studies for larger works, abstracts, and studies of animals, including cats.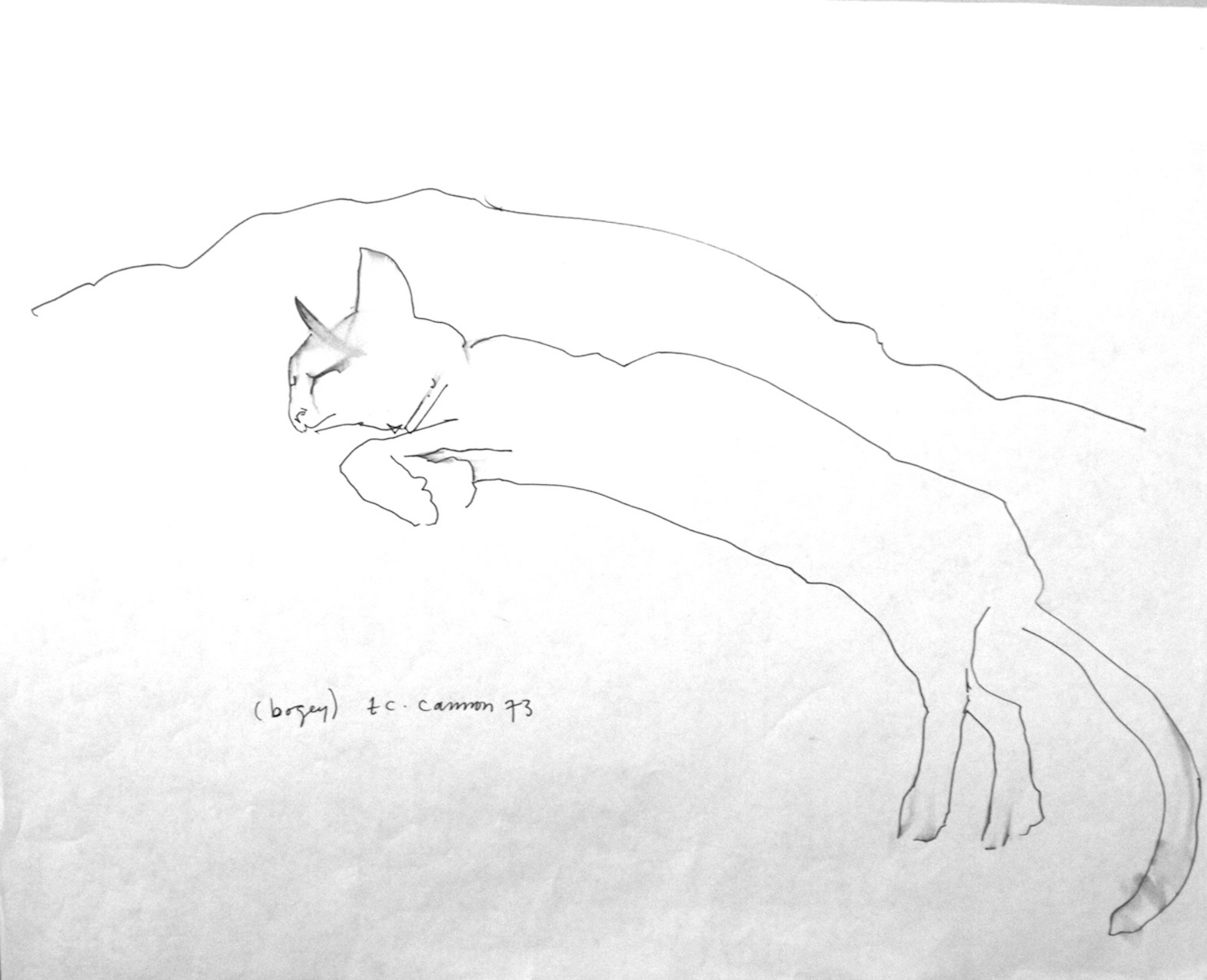 T. C. Cannon captured the nature of cats in Bogey the Sleeping Cat. Bogey, who may be named after the actor Humphrey Bogart, has been rendered with a few deft strokes of the artist's pen.  The expression on Bogey's face while asleep is certainly one that any cat lover would recognize as well as the placement of the paws, hind legs, and tail.  Bogey is off somewhere in cat dreamland, but his ears are pointed up, indicating that he is still well aware of his surroundings.  Like any other cat, nothing gets past him.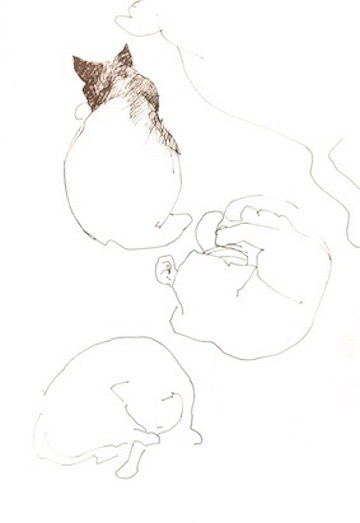 Sleeping Cats by T. C. Cannon, Kiowa Caddo, ink on paper, unsigned, 6" x 8"  (circa mid-1970s).  Collection of E. J. Guarino
Unlike humans, cats do not spend most of their time frantically running about.  Instead, a large part of their day is devoted to sleep, which conserves energy, allowing them to stalk invisible prey around midnight much to the chagrin of the humans with whom they live.  Sleeping Cats is a study of felines in repose.  To my eye, the drawing is reminiscent of portrayals of cats in Japanese prints.    Clearly, the artist was fascinated by the many poses assumed by cats while they are asleep.
T. C. Cannon's sketchbooks are an extremely important resource since they reveal a great deal about the artist's interests, ideas, and feelings. Cannon always carried one of these books with him so that he could capture an image or idea as it occurred to him.  Executed in pencil, various colored markers, diverse inks or watercolor on a range of papers, including graph paper, construction paper, and tracing paper, the drawings in the sketchbooks give us insight into Cannon's thoughts and creative process.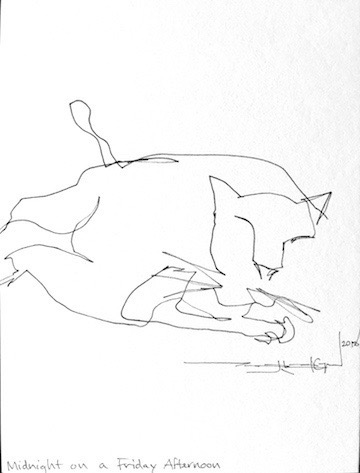 Midnight on a Friday Afternoon by Terran Last Gun, Piikani, pen and ink, 6.75w x 7.75 h (2018).  Collection of E. J. Guarino.
I was already familiar with Terran Last Gun's abstract work when I encountered his series of delightful representational drawings inspired by his cat, Midnight.  In Midnight on a Friday Afternoon, the cat's eyes are closed and (like T. C. Cannon's Bogey) he may be asleep or he may be intently licking his paw.  Last Gun's drawing style differs greatly from that of T. C. Cannon, particularly in their portrayal of cats.   I find it interesting to look at each artist's response to these quirky creatures.  Cannon's cats are made of soft curves and appear to have been drawn slowly and carefully while with Last Gun's Midnight one gets the impression that this cat was drawn quickly with bold strokes, especially with regard to his ears which are essentially triangles.  Last Gun's feline almost has a cartoon quality about him.
According to the artist, "Midnight is our male black cat, we adopted him about a year and a half ago. I've always been a cat person . . . .  I drew Midnight for my love of cats and for him since he is our best friend and baby. I've enjoyed doing continuous line drawings and thought it was a perfect opportunity to turn Midnight into a drawing . . . .  The image, Midnight on a Friday Afternoon, was my first time turning the drawings into a small series of cat images that were all created on the day before Indian Market weekend began."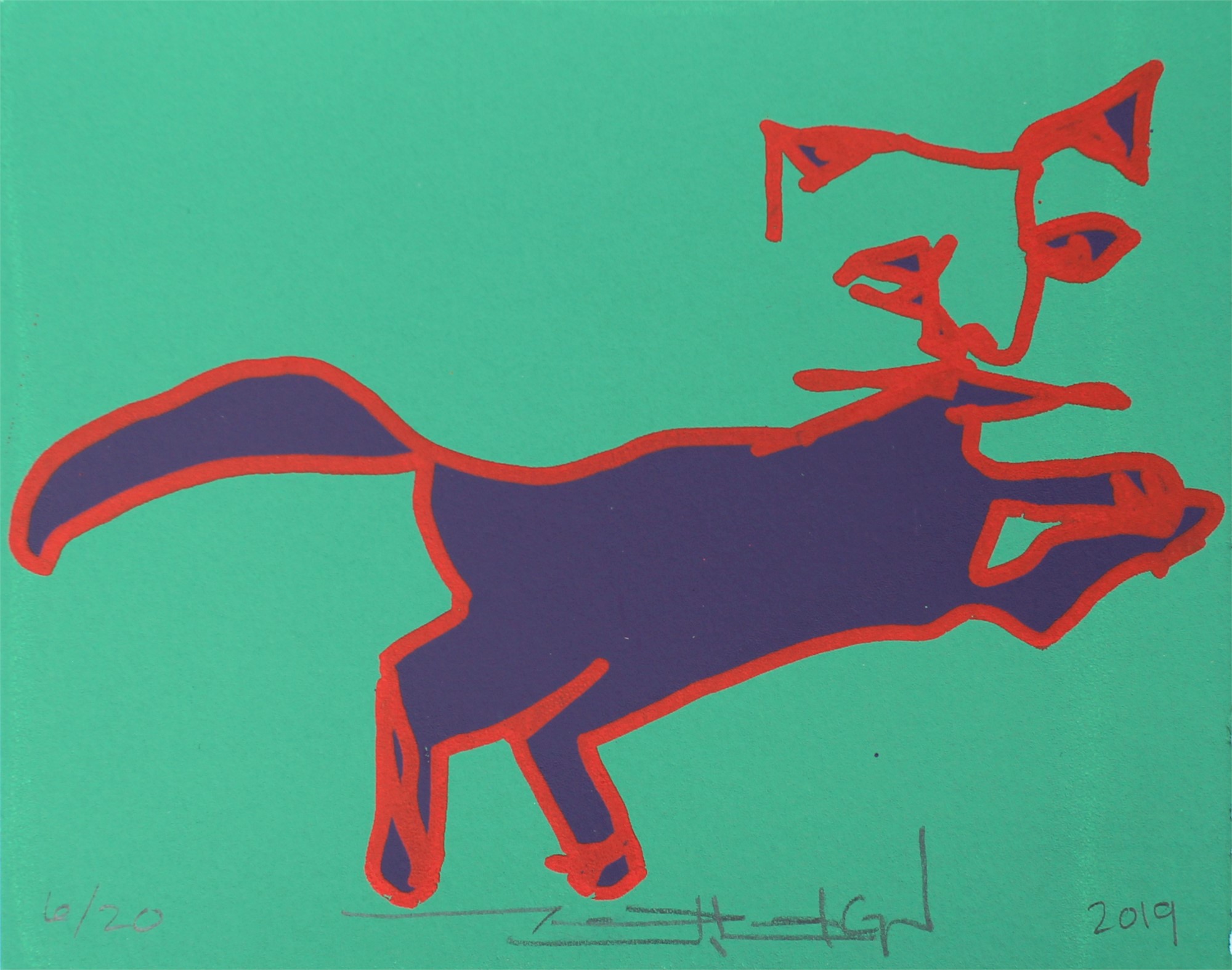 Midnight: Sunday Funday by Terran Last Gun, Amskapi Piikani, serigraph, 12/20, 4" x 5" (2019).  Collection of E. J. Guarino.
The year after acquiring Midnight on a Friday Afternoon I again once again saw Terran Last Gun at the Santa Fe Indian Market and couldn't resist asking, "So, how's Midnight?"  Turns out that not only was he doing well, but he was still a model for the artist with whom he lived.  Midnight now appeared in a print.  The artist had created a colorful and somewhat expressionistic serigraph of his feline friend that suggests, through the use of green, red and blue, that Sunday must certainly be a fun day for Midnight and his human.  I have become a fan of Midnight's and plan to continue following his artistic appearances.
If someone asked me if I liked artworks with images of animals my first impulse would be to say that I don't.  However, that would not be true.  Although I avoid overly sentimental representations of animals, various and sundry creatures are have made their way into my collection, most recently cats.  It's a matter of a particular work having a unique charm.  Art can be serious, even controversial, but sometimes, as in the case of T. C. Cannon's and Terran Last Gun's cat portraits, it can just be fun and that is fine, too.