When I first started collecting Native American art more than thirty years ago, I was drawn to do so by the spectacular pottery that I saw at the time in a few Manhattan galleries and at the Brooklyn Museum.  I became fascinated by ceramics and I still am.  Although I have broadened my collecting to encompass other media, particularly works on paper, I always consider pottery in its many forms to be the heart of my collection since it is what led me to become a collector in the first place.
Ceramic art created by Native artists is usually simply referred to as pottery.  However, that humble term can be misleading, suggesting that the art form is simply a craft.  Of course, some ceramic works are more craft than art, but many more are masterpieces of the medium.  Scores of artists from prehistoric times to the present have reached into the earth, taken out clay, processed it, and formed it into exquisite works of art.  Ancestral Puebloan pottery, although intended for use, is among the world's masterworks of ceramic art.  Many contemporary Native American artists have used the ceramic medium as a vehicle for social, historical, or political commentary or to offer biting satire.  I have a variety of such works in my collection.   Then, too, there are pieces that can be enjoyed for their sheer visual beauty and I recently decided to take another look at such pieces in my collection.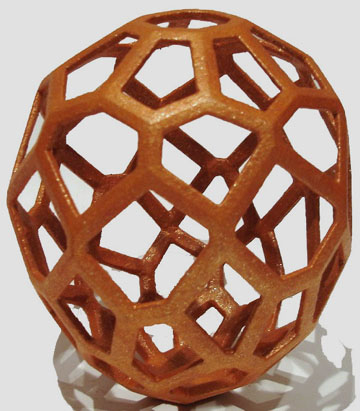 Octagonal "holey" seedpot by Hubert Candelario, San Felipe, 8"h x 6"w (2007).  Collection of E. J. Guarino
Whenever anyone comes to my home to see my collection, invariably the first piece I show them is the "holey" pot by Hubert Candelario and I always place the piece in their hands so they can see exactly how light it is.  Besides being visually stunning, this holey pot is also a tour de force, which seemly defies the rules of the ceramic form since it appears to be more holes than pot.  With his holey pots Hubert Candelario has pushed the boundaries of the medium to the very edge of it's possibilities.  How these pieces survive the firing process remains a mystery.  I have seen more than one visitor gasp when one of these light, airy and utterly amazing works was put into his or her hands.  Holding such a piece many people are struck with a sense of disbelief and are so astonished that they blurt out, "How does he do this?"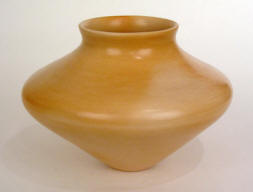 Pot by Garret Maho, Hopi, 5" x 6.5" (2005).  Collection of E. J. Guarino
To some collectors the very idea of an unpainted Hopi pot is unacceptable.  They simply turn up their nose and move on to the more traditional, highly painted pieces.  I was just such a collector until I came upon a small, unpainted pot by Garrett Maho.  Though I could not tear my eyes from it, I resisted buying it.  However, something about the piece kept drawing me back until I finally did purchase it.  I've never regretted my decision.  I think the piece is exquisite.  I am still drawn to its intrinsic beauty and the subtle, yet daring experiment on the part of the artist.  There is no decoration to distract the eye from any imperfections and it is a bold decision to attempt such a pot.  The piece is solely about form and hue – the perfection of shape and the delicate variations of yellow and orange known as the "Hopi blush," produced by firing iron-rich clay outdoors, using aged sheep dung.
Such artistic exploration is accepted with regard to painting.  Canvases that investigate variations of one or more colors have become the hallmark of a number of artists such as Agnes Martin.  However, ceramic artists, particularly those who are Native American, have not been afforded the same latitude when it comes to artistic expression.  Any variation from the expected norm is often dismissed.  Fortunately, more and more collectors have rejected such outmoded attitudes.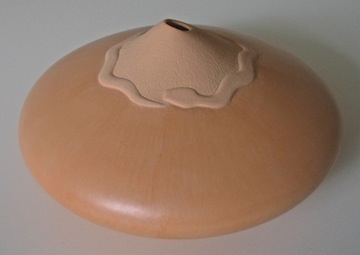 Seed pot with Serpent by Preston Duwyenie, Hopi, 7"w x 3.5"h (2013). Collection of E. J. Guarino
I have always found it close to impossible to resist acquiring one of Preston Duwyenie's incredible pieces.  That was the case at the 2013 Heard Indian Market. I had no intention of buying any pottery at all since what I already owned had started to extend in a line across a wall of my living room floor.   Nonetheless, as soon as I saw Seed Pot with Serpent there was no question that I had to acquire it.
I particularly liked that a large section of the piece had a high sheen while a smaller portion had a matte quality.  The seed pot was unusual since it evoked the earth itself with the mouth, surrounded by a serpent, resembling a volcano.  The serpent is an allusion to the avanyu, the Pueblo water serpent, a being that is regarded as the guardian and bringer of water.  As such, it is represented as a horned or plumed serpent, the zig-zag lines of its body suggestive of flowing water and lightning.  I consider this ceramic wonder one of the treasures of my collection.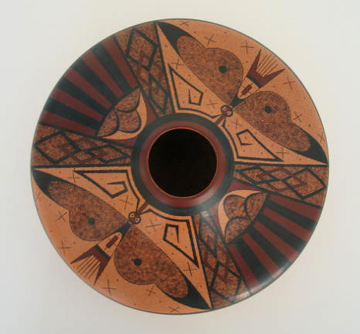 Shoulder jar with butterflies and abstract designs by Stetson Setalla, Hopi, 5"h x 9"w, 28" circumference (circa. 1998).   Collection of E. J. Guarino.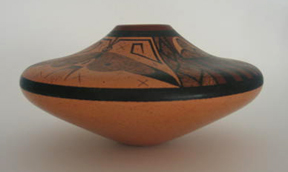 Shoulder jar with butterflies and abstract designs by Stetson Setalla.
When I came upon an elegant shoulder pot by Stetson Setella I found the piece so beautiful that I immediately purchased it.  What first attracted me to the piece was its graceful, sophisticated shape but seeing the finely painted butterflies and abstract designs on the jar's shoulder made acquiring it irresistible.  Because of its exceptional symmetry and finely rendered imagery, this piece exudes sheer elegance.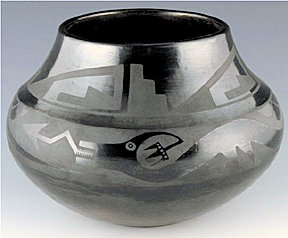 Black-on-black pot with prayer feather and mountain pattern on neck and avanyu below shoulder by Maria and Julian Martinez, (signed "Marie" on bottom), San Ildefonso, 8.5"w x 6.5"h (circa 1920s).  Collection of E. J. Guarino.
To most collectors of Native American ceramics the fact that it took me quite a number of years to appreciate the work of Maria and Julian Martinez may be shocking and tantamount to blasphemy, but it is nonetheless true.  I had just started collecting and I became obsessed with pottery from Acoma Pueblo, particularly the work of Lucy Lewis.  Maria and Julian's black as well as black-on-black pieces just didn't move me.  One of the most exciting aspects of collecting is that it is a learning process.  The more I became aware of the work of a wide range of Native ceramic artists my admiration grew for their individual forms of artistic expression.  I eventually did add a piece by Maria and Julian to my collection that I feel is exceptional.  What drew me to this piece is that it has areas that are highly polished and those that have a matte quality.  However, what most attracted me was the image of the avanyu.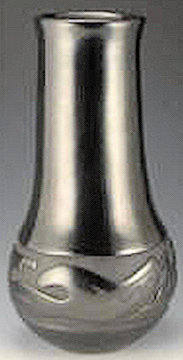 Black long neck jar with carved avanyu by LuAnn Tafoya, Santa Clara, 5 ½"w x 11¼"h 2009).  Collection of E. J. Guarino.
Often I have an idea in my head of what kind of piece I want by a particular artist.  In the case of LuAnn Tafoya, it was one of her large pots for which she is most noted.  As is often the case with my collecting, what I wish for and what I eventually acquire are quite different.  As soon as I saw a long-necked jar by this artist I knew that it was a very special piece.  It is visually elegant and I was struck by the image of an avanyu carved in deep relief around the base of the jar.  Besides water and lightning, this creature symbolizes many things: rain, fertility, and rebirth.  While snakes in Western culture represent evil, Native cultures take a more nuanced view of this reptile.  Like everything in the cosmos, it embodies duality – nothing is pure good or pure evil.  This jar is utterly beautiful in its simplicity.  The piece is highly polished and the deeply carved avanyu coils sinuously around the lower portion of the work.   Within the collection, I find this piece an interesting contemporary reference to the work of Maria and Julian Martinez.
Tan bowl with carved and etched water serpents (avanyu) by Nathan Youngblood, Santa Clara, 7"w x 4¾"h (2009).  Collection of E. J. Guarino.
Sometimes with collecting, one thing leads to another.  That was the case with carved pottery.  I had no examples of it in my collection and 2009 was the year that I started moving in that direction, becoming fascinated with the highly carved and polished work of LuAnn Tafoya and Nathan Youngblood.
A number of aspects make the tan bowl with carved and etched water serpents by Nathan Youngblood rare and quite special.  The artist's love of Asian ceramics has been an important influence on his work, especially with regard to how he employs matte and polished surfaces and his intricate designs.  The avanyu that encircles the bowl is deeply carved and its design is abstract as well as extraordinarily complex, suggesting Asian representations of dragons.  Whether or not one knows what the avanyu designs mean, they can be appreciated because they are visually arresting.  In addition, Youngblood incised an old-style water serpent just above the head of his more contemporary version.  However, it is the coloration of the piece that makes it particularly special.
According to Charles King, "It is not often that Nathan does a fully tan polished vessel….  The tan is achieved by stone polishing the surface of the bowl with water, not a clay slip as is used to create the red or the black.  This is technically one of the most difficult accomplishments in Pueblo pottery, as the tan can appear 'streaky' if it is not polished to a high enough shine and it will also absorb more of the smoke during the firing, which can alter the coloration. . . ."                   Nathan Youngblood's pottery is traditionally fired, which gives the piece it's deep tonality and richness of color.  After forming a pot he draws a design on it in pencil when it has completely dried.  Then, using a knife and small screwdrivers he cuts into the clay.  The depth to which he carves is daring and often astonishing. The piece is next sanded, covered with slip or. in the case of tan pieces, water.  Next, it is stone polished and then individually fired.  At each step in the process something can go wrong and the piece would be ruined.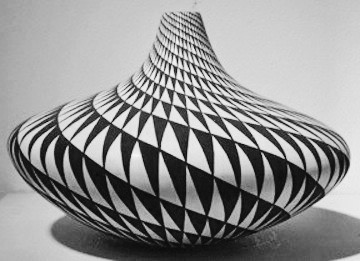 Black-on-white "eye dazzler" design vase by Dorothy Torivio, Acoma, 4¾" h x 7"w (ca. 2002).  Collection of E. J. Guarino.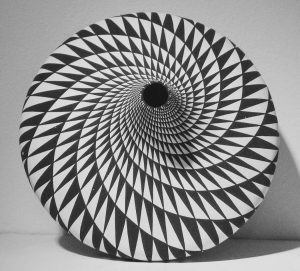 "Eye dazzler" vase by Dorothy Torivio.  Collection of E. J. Guarino.
                Considered one of the modern masters of Pueblo pottery, Dorothy Torivio is noted for pots that are usually referred to as "eye dazzlers" since their graphic quality is mesmerizing.  Reminiscent of Op Art, Torivio's pieces are a tour de force because the complex abstract designs, all drawn freehand, are not created on the flat surface of a canvas, but must swirl around a three-dimensional object while remaining balanced and visually interesting.  Torivio's work is decorated with finely painted geometric patterns that are repeated over and over as they encircle or spiral up the neck of a piece.  She always used the same number of repetitions regardless of the size of her creation, adjusting their dimensions accordingly.  Often called vases, according to the artist, her pots are more accurately elongated or exaggerated seed pots.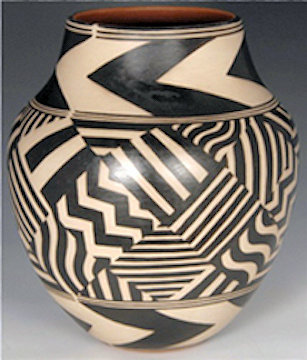 Water jar by Lisa Holt & Harlan Reano, Cochiti & Santo Domingo; modernistic interpretation of traditional form and designs: lightning design painted on the neck and near the base; center has a series of water designs, each one different in the various panels; the red and cream are both native clays while the black is wild spinach; 8"w x 9.25″h (2009).  Collection of E. J. Guarino.
            Lisa Holt & Harlan Reano are among the most experimental contemporary Pueblo potters.  Although their pots are constructed using traditional techniques, they are decorated with decidedly unusual imagery.  Some are variations of classic designs; others are wholly original or inspired by non-Native influences.
I had already owned a piece by Holt and Reano when I came across a pot that appeared to me to be a cross between an optical illusion and a unique take on the "eye-dazzler" style of pottery painting that Dorothy Torivio made famous.  The water jar is an ancient Pueblo pottery form, which the artists created using native clays and paint made from wild spinach.  However, the geometric lightning patterns painted on the neck and near the base as well as the panels of water designs in the center are contemporary (some might say "radical") interpretations of classic Cochiti and Santo Domingo imagery.  Pieces by Holt and Reano are highly sought after because they are elegantly formed, larger than most contemporary potters are willing to attempt, and their precise painting makes them both delicate as well as dramatic.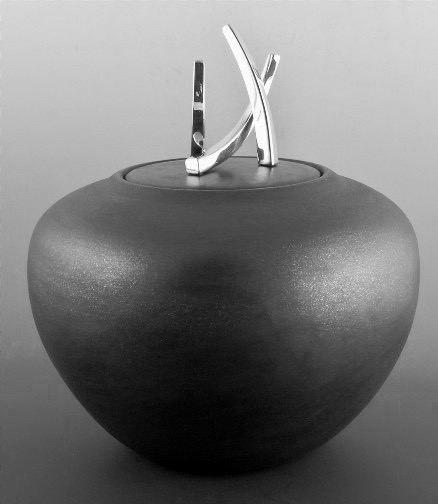 Three Fingers by Joel McHorse, black micaceous pot with silver finial comprised of three rectangles, Navajo/Taos, 8.5"w x 10"h with lid (2013).  Collection of E. J. Guarino.
Three Fingers by Joel McHorse is unique.  The piece exudes refined elegance.  I did, however, wonder about the unusual title.  In an Email interview Mr. McHorse said, "Odd name, I know.  Most times you are pressed and need to make decisions about names.  This piece is one of my favorites.  For me it serves as one of several pinnacles of my design ideology. . . .  I see it as encompassing the elegance of Asian Design. . . . .  The simple and subtle curve of a blade of grass; add another and you have a relationship; add a third and you have movement, a dance, a party. . . .  I enjoy the naming process, and for me it is never really complete.  I could refer to Three Fingers as Fat Grass, The Three Graces . . . or French Fries, which was the first thing that jumped to mind when I had to discuss it with others.  I do enjoy Grace, Harmony, or anything that speaks to the balance or subtle relation of the three elements.  I am tempted to let you name it, since you appreciated it enough to add it to your collection.  No one could argue the difference.  And I wouldn't either if the name spoke to elegance, peacefulness, and refinement."
Creating a ceramic form is only part of McHorse's art.  "The silverwork is a different story," he continued.  "I feel like I am in control, creating some very elegant and complicated designs which match any conceptual sketches or models I have designed.  The sterling silver is so beautiful that it is hard to create something ugly. . . . .  The silverworks on my pieces are fun and expressive.  Regarding Three Fingers, I carved two forms into a piece of tufa stone and cast two of one and one of the other. . . .  I have described the lidded bowls as pedestals for the sterling silver constructs.  And I have said that the silver compliments the ceramic form.  And again, I have said that the silver accents the black micaceous potter; subtle but worlds apart.  I guess it depends on the presence that both materials command when they are married. . . .  The first time I placed sterling silver against a piece of micaceous pottery I knew I would continue to play with the combination.  I liken it to a tuxedo: silver on black."
Mr. McHorse is equally committed to the creative as well as practical aspects of his art.  In his case, it is doubly complex.  In order to produce his visually elegant pieces McHorse had to master the intricacies of pottery-making as well as the technicalities of metalworking.  Three Fingers is a testament to his having achieved both.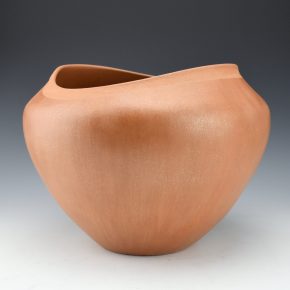 Asymmetric bowl with lightning rim by Christine McHorse, micaceous clay and vertically polished, Navajo, 10.5"w x 7.75" h (date unknown).  Collection of E. J. Guarino
The work of Christine McHorse has intrigued me for years.  Much of it can rightly be called ceramic sculpture.  I had longed for one of her pieces, but that goal always seemed to elude me.  Either the piece was beyond what I could afford or it sold before I could acquire it.  Finally, in August 2018 I was able to add a work by Christine McHorse to my collection.  The asymmetrical bowl is considered a transitional piece since its style falls somewhere between the artist's earlier creations, which resemble traditional Navajo pottery, and her later sculptural work.  The shape and color of the bowl and the irregular line of the rim give the piece a sensuous quality.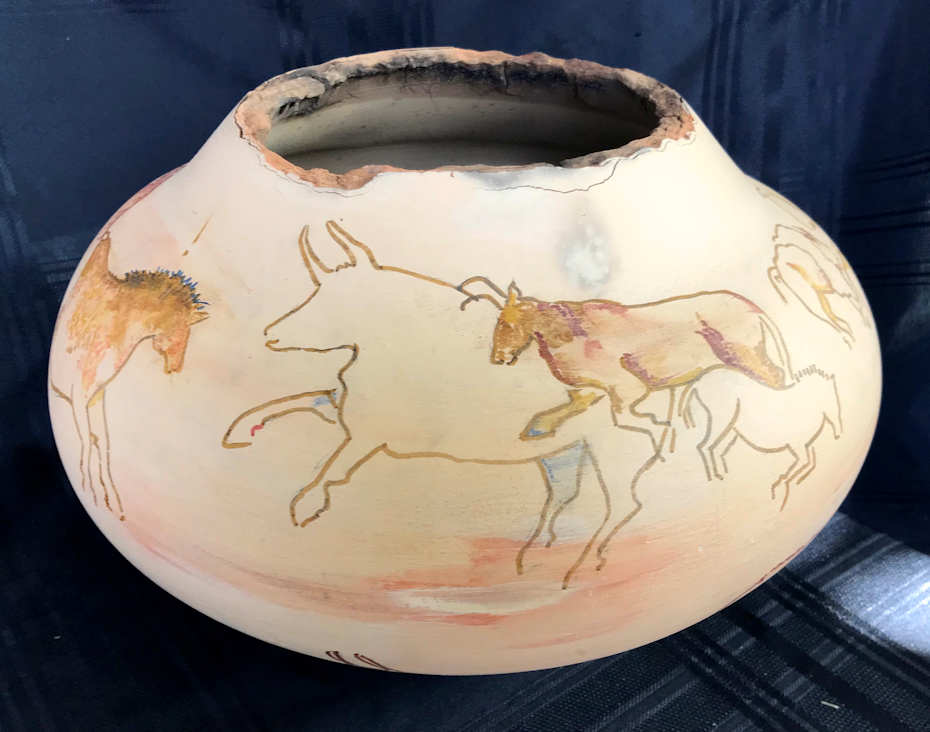 Pot with images of animals from prehistoric European cave paintings by Jody Folwell, Santa Clara, 6"h x 11" at widest point x 34" in circumference (2018).  Collection of E. J. Guarino
Each year my very first stop at the Santa Fe Indian Market is the booth of Jody, Susan, Kaa and Tonka Folwell.  I never know what to expect, but I am never disappointed.  The 2018 market was no exception.  I was immediately struck by a pot covered with images inspired by cave drawings.  Jody Folwell explained that she decided to create the piece after seeing photos of European cave paintings such as those in Lascaux, France.  I was not only astonished by the figures on the pot, but by the fact that the artist had created a rim that has a raw, earth-like quality, another allusion to the caves that inspired its creation.  The delicacy of the body of the pot and the roughness of the rim create a tension in the piece.  It exemplifies the artist's status as a pioneer of ceramic art.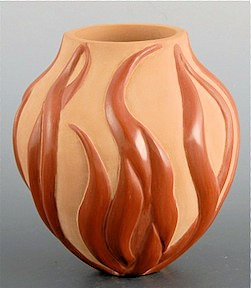 WildFire, jar with fire and flames, by Christopher Youngblood, Santa Clara, 4"w x 4.5"h (2013).  Collection of E. J. Guarino
WildFire is an unusual contemporary piece though Christopher Youngblood has a different view with regard to his work.  "Some people refer to my designs as contemporary," he stated in an email interview, "but I strongly disagree.  The definition of traditional and contemporary should only apply to the materials and techniques used to create pieces of pottery, not the designs used.  My designs are representations of what I see and feel."
As a collector, I found WildFire to be spectacular.  I had never seen anything quite like it and wondered what had inspired the artist to create such a striking work of art.  "The piece that you have in your collection," Youngblood stated, "is the first of what I like to call WildFire.  I first got the idea for making that piece from all the wildfires we have every year in New Mexico.  I made earlier pieces depicting mountains and fire, but never a piece that depicted the fire itself.  I love the piece because the flames are like melon ribs and the matte area is sanded to give it that buckskin look."
After acquiring Wild Fire, I saw a number of other pieces by Mr. Youngblood and was impressed that each was unique and visually striking.  Clearly, he is someone who has a strong sense of himself as an artist.  I asked him what he wants people to know about his art.  "I strive to keep traditional pottery alive," he said.  "By this, I mean using all the techniques and methods taught to me by my mother and my family.  We do not buy our clay; we dig it ourselves.  We use woodcarving tools to carve the designs.  We also hand polish without the use of any non-traditional materials.  We fire using traditional techniques rather than a kiln.  We are proud of the traditional techniques and . . . strive to keep them alive."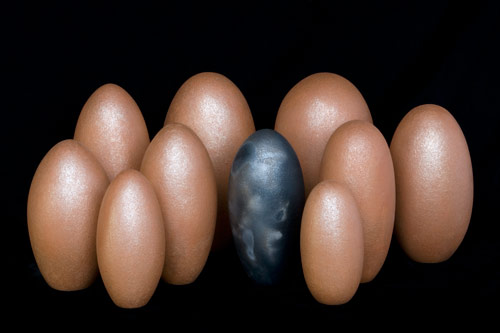 One of a Kind, installation piece by Yellowbird Samora, Taos Pueblo, natural micaceous clay, largest 10"h x 5½"w, smallest 6½"h x 3"w (2008).  Collection of E. J. Guarino.
I had been completely unaware of the work of Yellowbird Samora until a friend who works at the Heard Museum suggested it was something I should know about.  The first pieces I saw amazed me not only because they were unlike anything I had ever seen done by any ceramic artist, but because they were so asymmetrical that I couldn't believe that they didn't just tip over.  Unfortunately, by the time I learned of Yellowbird Samora's work such pieces had been sold.  I didn't give up, however.  In the meantime, I saw another unusual work by the artist titled One of a Kind.   It was not only new in shape for pottery created by a Native artist but its concept was also radically different.  Consisting of ten individual forms of varying sizes, the work is an installation piece that makes us consider what it means to be different.  Clearly, the artist's intention is to address as wide an audience as possible, refusing to be confined by other people's ideas about Native art and artists.  In terms of Native American ceramics, the work is revolutionary.
Pottery is what I first attracted me to collecting art created by Native American artists and over thirty years later I still discover new aspects of this wonderful art form.  Many of the artists in my collection have taken traditional forms and turned them into something new and exciting.   I am also pleased that more people are realizing that Native American ceramic art is not simply a craft, but fine art as well.  Skill and craft are certainly involved, but these are not enough to raise a piece to the level of art.  Today, museum-goers, collectors and curators are looking at Native American pottery with new eyes and open minds and contemporary Native ceramic artists are demanding that their work be given the respect and recognition it deserves.  The spectrum of Native American pottery is extremely diverse and offers many opportunities to those who collect it to broaden their knowledge as well as to educate others.