In Western art cannon erotic art has had a long history, but such works have often elicited controversy and, sometimes, even outrage.  Nonetheless, artists have used this genre to explore a wide range of themes – power, gender relations, religion, and sexuality.  Some erotic works convey themes through suggestion rather than by being explicit.  Rick Bartow, never one to shy away from the difficult and controversial subject matter, produced a number of works employing eroticism and nudity – some explicit and others not.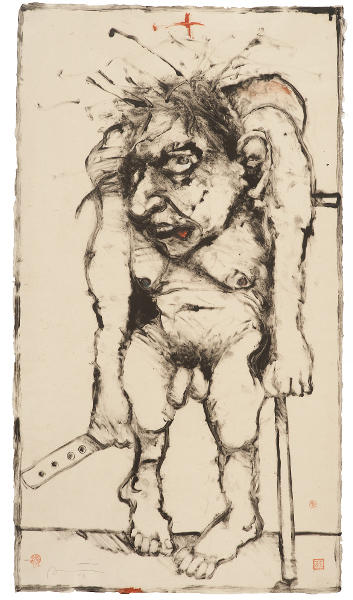 Kokopelli at Sunset by Rick Bartow, Wiyot, monotype, 39" x 21.5" (2003).  Collection of E. J. Guarino.  Image courtesy of the Froelick Gallery, Portland, OR and the Bartow Trust.
Kokopelli, usually depicted as a humpbacked flute player, is an important cultural figure for a number of Native American tribes of the Southwest, and petroglyphs of this figure appear throughout the area.  Depictions of Kokopelli are even found as far east as Cahokia, a Mound Builder archaeological site located in present-day Illinois.  Associated with fertility, agriculture, music, and storytelling, Kokopelli has many guises – trickster, healer, seducer, teacher, musician, and bringer of rain.
Why Rick Bartow would choose Kokopelli as a subject is a bit of a mystery.  Evidence suggests that this monoprint may be another of Bartow's self-portraits. The fact that the artist used the word sunset in the title is extremely telling.  That time of day is often a metaphor for the later years of life and Rick Bartow was well aware of his mortality at the time he produced this piece because of a number of medical issues.
Whether or not Kokopelli at Sunset is a self-portrait is debatable, but a number of elements suggest that it is most likely one of Bartow's quirky self-depictions. In this work, the artist presents himself completely naked, symbolically exposing himself, and making himself vulnerable to the viewer.  His hair is wild, with two strands resembling an antenna sticking up as frequently seen in images of Kokopelli.  Antennae are devices that receive or send signals and in this work may represent inspiration which is then transformed into art that is "sent" to others.
Bartow presents himself as a hunchback with a daub of red at his mouth and a sagging chest.  With his right hand, he leans on a cane for support and in his left hand he holds a flute.   Kokopelli's nose is very much like the ones seen in other Bartow self-portraits in which a large nose denoted that the artist was, in fact, depicting himself.
Although Kokopelli at Sunset may not be overtly erotic, the image of a hunchbacked flute player, who has clearly seen better days, suggests the erotic since he had a reputation of seducing young maidens.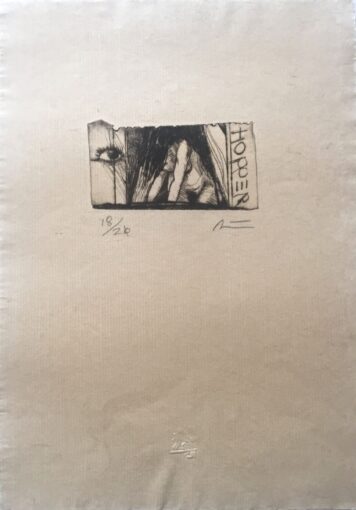 Nach Hopper by Rick Bartow, Wiyot, drypoint etching, ed. 18/20, 2" x 4" (2001).  Collection of E. J. Guarino.  Image courtesy of the Froelick Gallery, Portland, OR and the Bartow Trust.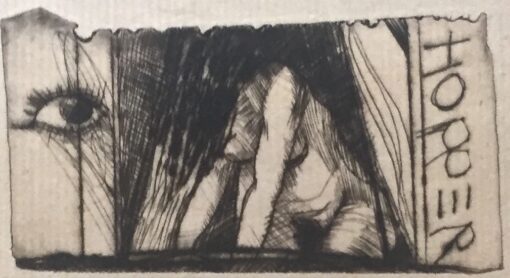 Nach Hopper (detail)
Edward Hopper (1882 – 1967) was among the many artists who influenced the work of Rick Bartow.  Mostly known as a painter, Hopper was also a printmaker who created etchings. His prints had a gritty quality, not unlike etchings created by Rick Bartow.
Nach Hopper (translated from German to mean After Hopper) reflects the impact Hopper's realistic urban scenes had on Bartow's work.  In much of his work Hopper presents an uncompromising vision of city life – lonely, isolated, and often with a suggestion of furtive sexuality.
In Bartow's Nach Hopper all of these elements are evident – the nude woman, whose face is obscured, is flanked by a disembodied eye – a symbolic Bartow trademark whose interpretation is left up to the viewer.
The woman in the print is a mystery.  She may be leaning out of a window, but the viewer is not sure.  Although the figure's face is hidden by her hair, her breasts and genitals are exposed.  Should the viewer infer from these elements that she is a prostitute?  Perhaps, perhaps not.  The disembodied eye on the left side of the page is disturbingly surrealistic, suggesting voyeurism.  In a sense, by depicting this nude woman, Bartow has made the viewer a voyeur as well.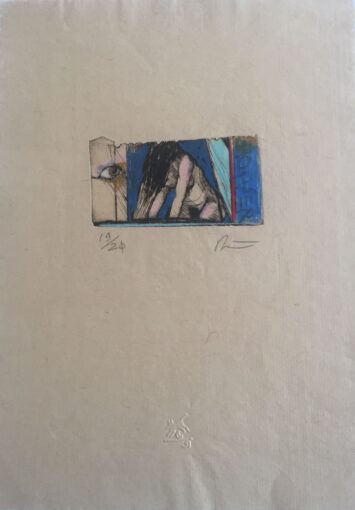 Nach Hopper by Rick Bartow, Wiyot, hand colored drypoint etching, ed. 19/20, 2" x  4" (2001).  Collection of E. J. Guarino.  Images courtesy of the Froelick Gallery, Portland, OR, and the Bartow Trust.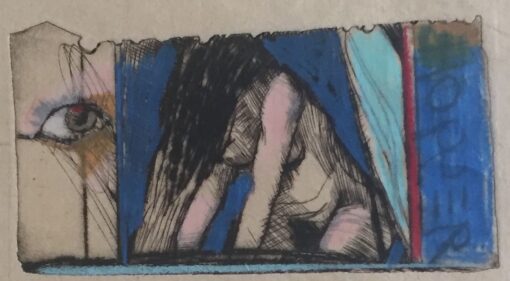 Nach Hopper (detail)
Bartow created two versions of Nach Hopper – one in black-and-white and one in color – something he frequently did with his prints.  In the color version of Nach Hopper, the addition of pink, brown, blue, and turquoise heighten the work's eroticism.   The use of pink to indicate flesh gives the work a tactile quality and the eye on the left side of the page is even more bizarre with the addition of pink, blue, and brown around it.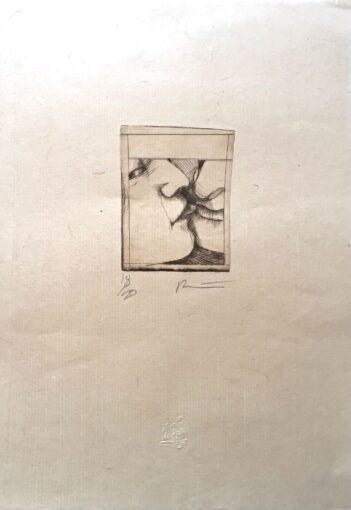 Eros by Rick Bartow, Wiyot, drypoint etching, ed. 18/20, 4" x 3" (2000).  Collection of E. J. Guarino. Image courtesy of the Froelick Gallery, Portland, OR and the Bartow Trust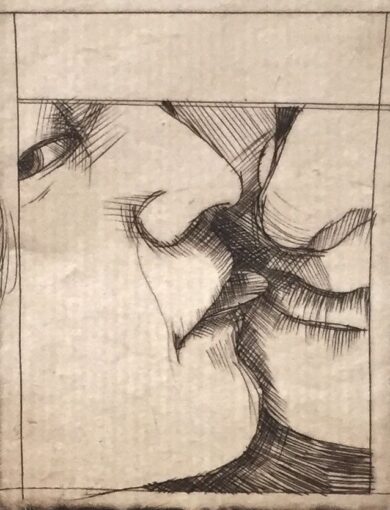 Eros (detail)
            Rick Bartow did something quite interesting in Eros, whose title is the name of the god of sexual love in Greek mythology.  Generally, erotic works are quite explicit, showing partners performing various sexual acts.  Bartow, however, takes an unusual approach that amounts to the difference between a long shot and a close-up in cinema.  The focus of Eros is not on the body, but on the face.  The sexual nature of the couple's encounter is evoked through a simple gesture – the extension of the female's tongue towards the male's lips.  Because the print is, in essence, the equivalent of an extreme close-up, we cannot see anything else – hairstyles, clothing, jewelry – that would give us information about the couple being portrayed.  Most viewers assume that they are seeing a man and a woman.  However, that may or may not be the case.  It is yet another way in which Bartow toys with his audience.
There are also other intriguing elements in the print.  The eye of the figure we assume to be female seems to be giving a side glance, suggesting she is looking at the viewer rather than her paramour. This detail draws the observer into the sexually charged atmosphere of the work. The depiction of what we assume to be the male figure is even more curious.  Little of his face can be seen and what is apparent resembles the artist's own features, intimating that this print may be portraying some sexual encounter Bartow experienced in his past.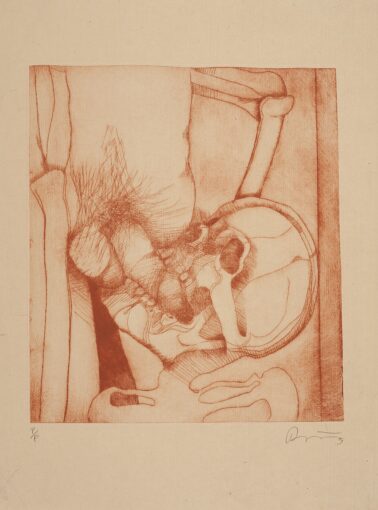 Old Sex by Rick Bartow, Wiyot, drypoint etching printed with red ink, ed. of 4, image size:12" x 10 1/2"; Paper size app. 18.5" x 14.5" (2009). Image courtesy of the Froelick Gallery,Portland, OR and the Bartow Trust.
            In Old Sex Rick Bartow created one of his most darkly erotic works; it is also one of his most shocking.  Some may even go so far as to deem it pornographic, but it is clearly not intended to titillate. It may seem odd that this work was printed using red ink, but this artistic choice not only softens the visual shock, it suggests blood.  In an email on July 9, 2022, Charles Froelick wrote, "Old Sex is one of those images that makes many people squirm.  Rick said he didn't want to confront people in a negative way, and he didn't want to turn people off, but he knew he had to make the images that came to him while he was in the studio. . . .  People are used to seeing erotic 'death and the maiden' or 'dance with death' images with skeletons and women, and Rick made some that are incredible, but this one shocks so many. What? 'Man-on-man' death/sex?  This one was made from Rick's personal experience of losing someone close to AIDS.  It's striking, arresting, terrifying, nothing benign, nothing 1/2 way –  it's a strong message, but I also think it's so rare that I don't consider it 'heavy-handed.'  This is an amazing work, and definitely causes strong responses… and I love that… the shock of looking at it reminds me of the universality of death."
Rick Bartow's work is always visually powerful and intellectually intriguing.  This is particularly true of his erotic pieces.  Whether these controversial works are self-portraits, a portrait of a loved one, or anonymous figure, they are always unique, fearless, and brimming with meaning.  Bartow's works on paper are among his most significant creations, particularly his drypoint etchings.  It is in these small works, erotic and non-erotic, that Bartow was, perhaps, his most daring as an artist.  Many of the images he produced would not have been artistically appropriate for a large painting.  Nonetheless, Rick Bartow did not shy away from creating them and found a suitable medium in which to do so.
The author would like to thank Charles Froelick for his invaluable help with this article.