It appears that my fascination with all things Rick Bartow is limitless.  Although my collection contains fifty-five works on paper, two sculptures, and a small painting by this artist, I can never resist acquiring another Bartow work that captures my attention.  One could say that I have an insatiable appetite for the artist's work.
In terms of art, my tastes are wildly eclectic.  While some collectors limit their acquisitions to one very specific type of art, what I add to my collection depends on the particular piece.  It either resonates with me or it doesn't.  I don't care whether the artist is famous or not, nor does the genre of the work matter.  There are realistic, expressionistic, impressionistic, and surrealistic pieces in my collection and some that combine more than one of these genres.  Although I have voices that I trust (Charles King, Charles Froelick, Wilder Schmaltz, Pat Feheley, Elaine Blechman, Elyse Jacobson, and Emily Lawrence come to mind), I have learned to trust my own instincts and I never concern myself with what others are collecting.  In fact, in the more than thirty years that I have built my collection, I have only been in contact with three other collectors, all of whom I respect and admire.
For almost twenty years, one constant in my collecting has been the work of Rick Bartow.  For some, his work is too disturbing, but I was mesmerized by it the first time I saw it in 2003 as part of Continuum: 12 Artists at the National Museum of the American Indian in Manhattan.  My passion for Bartow's art continues to this day and when I saw Untitled (Self, Red Nose) I was instantly captivated and immediately decided that, if I could afford it, I would add this piece to my collection.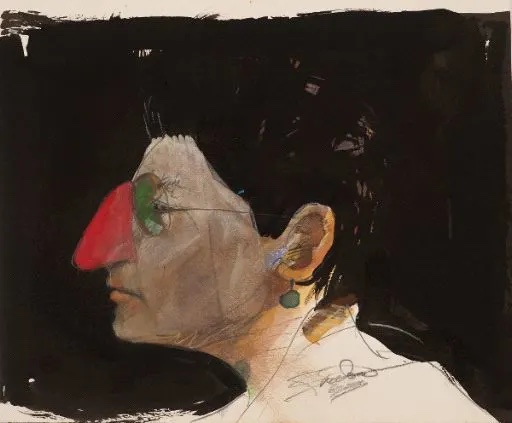 Untitled (Self, Red Nose) by Rick Bartow, Wyot, mixed media – ink, watercolor, gouache and graphite on handmade paper, 10" x 12" (1983).  Collection of E. J. Guarino.  Photo courtesy of the Froelick Gallery, Portland, OR.
          As usual, the first thing I did was to contact Wilder Schmaltz who, at the time, was Assistant Director of the Froelick Gallery in Portland, Oregon, to see if Untitled (Self, Red Nose) was available.  I was delighted to learn that it was.  "This is a fantastic piece," Wilder wrote back "- and I would call it an important one, as well.  With the exaggerated red nose, Rick was acknowledging that he was an alcoholic at a point when he was four years into the sobriety that he would maintain for the rest of his life.  There may be a sort of self-humbling at play here, a reminder to himself of the destructive path he was on previously, and the changes that he'd worked so hard to achieve since. He carved this striking profile out of India ink and fleshed it out with those touches of gouache and rapid-looking graphite lines. The purple underpainting and minimal windows of negative space that suggest his hair are particularly nice touches."
Some artists create numerous self-portraits over the course of their lifetime; others may produce a few or only one; and there are those for whom self-portraits hold no artistic interest.  Rick Bartow was among those artists who left posterity a profusion of self-portraits, including those that were purely symbolic, as well as one in which he portrayed himself as a monkey and another in which he depicted himself wearing a dunce's cap.  The self-portraits show Bartow at various points in his life – post-Viet Nam, his years of sobriety, the death of his wife, and his approaching death.
Untitled (Self, Red Nose) is a small, early self-portrait in which the artist chose to represent himself wearing his iconic eyeglasses, something he often did though in this work they are tinged with green, which is an unusual touch.  Bartow also gave himself a big red nose (something he was to do often).  It is a reference to his alcoholism.  This physical feature is something that the artist often exaggerated, perhaps as a reminder to himself of his addiction and the role it had played in his life. This particular self-portrait is notable for the opaque blackness that surrounds the figure and blends with the sitter's hair.  Looking closely, one can detect the artist's crewcut, the hairstyle that he had throughout much of his career.
One particularly curious aspect of Untitled (Self, Red Nose) is that Bartow chose to represent himself wearing a green earring.  Although it compliments his eyeglasses, what significance it may have, if any, remains a mystery.
Bartow had many influences – artistically, musically and literarily.  When I first saw Untitled (Self, Red Nose) the work of Hieronymus Bosch, Johannes Vermeer, and Francis Bacon sprang to mind.  I have no idea why; it was purely instinctual, but these and many other artists were an influence on Bartow's art.
Over the course of his career, Rick Bartow produced a significant number of self-portraits.  Many are representational, showing how the artist looked at a particular point in his life while some are symbolic and others display elements of surrealism.  Quite a number of Bartow's self-portraits are more expressionistic than realistic and contain any number of puzzling elements.  Bartow frequently exaggerated his features, particularly his nose, as in Untitled (Self, Red Nose), but each self-portrait captures the emotionality of a particular time and reflects the concerns of the artist trying to sort out the complexities and disappointments of life.  In some of the self-portraits, Bartow presents himself looking directly outward, confronting the viewer, while in others he faces left seemly focused on something beyond the frame, which only he can see.
Rick Bartow's self-portraits are a visual biography of the artist's life both physically (we can see him age in them) and, more importantly, emotionally.  Like the rest of Bartow's work, his self-portraits are mysterious, complex, and defy categorization. Many are serious; some are humorous; a few are self-deprecating; but all of Rick Bartow's self-portraits command the viewer's attention.  During most of the 1970s Bartow was struggling with alcoholism and, although he continued to produce art, he burned what he created, making Untitled (Self, Red Nose) an early and rare work.
The author would like to express his sincere gratitude to Wilder Schmaltz, former Assistant Director of the Froelick Gallery, for his invaluable help with this article.