It is no secret that I am a great admirer of the work of Rick Bartow, especially his drypoint etchings and other small-scale prints, so much so that my collection contains thirty-seven works on paper by the artist – thirty drypoint etchings, four lithographs, two mixed media works, and one carborundum print.  Bartow's drypoint etchings and small lithographs are particularly interesting because of the limitations the artist placed on himself by using these printing techniques.   Since the artist was drawing directly on an etching plate rather than on paper, there was no possibility for erasure.  As the image came from Bartow's head it went directly onto the plate.  Also, only a small number of good impressions can be taken from one plate.  For this reason, drypoint etchings are done in limited runs, usually twenty prints or less.  The artist also restricted his lithographs, a medium in which an image is also done on a stone or metal plate, to runs of ten or less.
Though modest in size, I believe these prints are among the Rick Bartow's most important work.  They explore a wide range of themes and subject matter and reflect the artist's many interests and influences – his Wiyot heritage, Vermeer, Klimt, Chagall, Max Beckmann, Francis Bacon, Odilon Redon, Horst Janssen, Edward Hopper, Hieronymus Bosch, Expressionism, Surrealism, Japanese Ukiyo-e prints as well as music and literature.  Bartow created portraits of writers he admired such as Franz Kafka and Bertolt Brecht as well as of his favorite composers such as Giuseppe Verdi, Gioachino Rossini, and Niccolò Paganini as well as of fellow artists Claude Monet, Käthe Kollwitz, Egon Schiele, and Hans Holbein the Younger.  He also created portraits of characters from his favorite books.
A number of years ago, Rick Bartow told his friend and gallerist Charles Froelick that he was not a conceptual artist, but that he "tells stories through marks and images."  Throughout his career "mark making," as Bartow referred to it, became a hallmark of his art.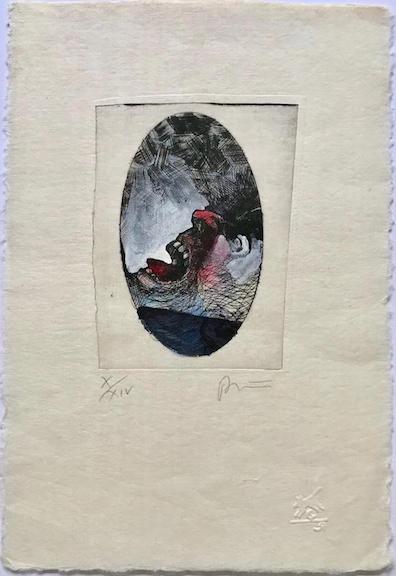 Ahab by Rick Bartow, Wiyot, hand colored drypoint etching, ed. 10/14, 9.5" x 7" (2003).  Collection of E. J. Guarino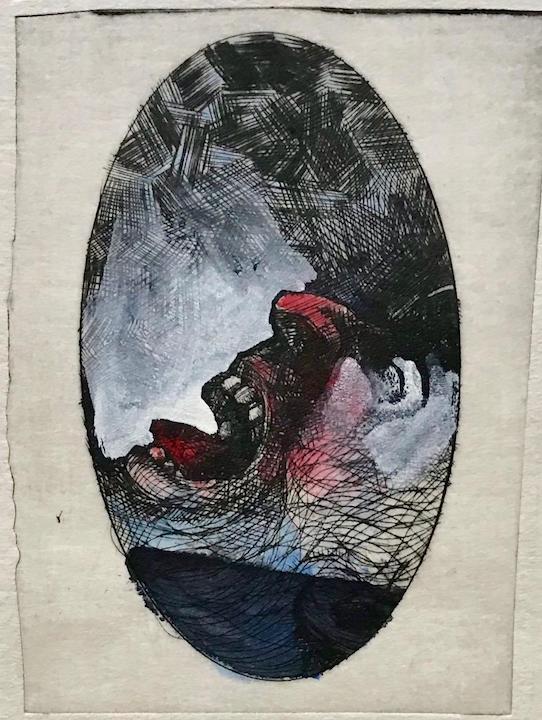 Ahab (red state) detail.
Rick Bartow often did "imaginary portraits" of characters from his favorite books.  Among them was Ahab, the obsessed captain from Herman Melville's Moby Dick.  A few years ago I was able to add Bartow's portrait of Ahab (see below) to the collection.  However, the artist also did hand-colored versions of the print (one red, one blue) using colored pencils and gouache.  Knowing this, I was determined to add one of these colored versions of the print to my collection.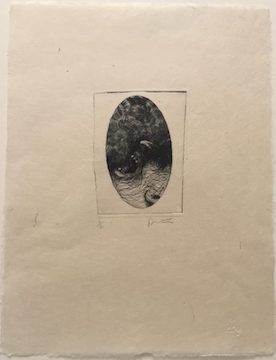 Ahab (non-colored state) by Rick Bartow, Wiyot, drypoint etching, ed. 1/6, image: 4.5" x 3.5";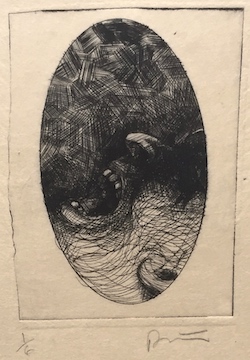 paper: 9.5" x 7" paper (2003).  Collection of E. J. Guarino
I felt that the addition of color to this drypoint etching intensified the emotional tone of the work.     After considering both the red and blue versions, and after some discussion with Charles Froelick, I decided on what has come to be called the "red state" Ahab.  Wilder Schmaltz, Assistant Director of the Froelick Gallery, commented on this version stating, "The gouache application in the red piece adds an additional layer of articulation around the eyes, the nose, cheeks; the tongue that he defines in this is not present in any of the other impressions, and the white around the mouth really gives a sense of a cry or release. The dark blue at the bottom suggests near-submersion."
One of the aspects of all three versions of the print that intrigued me is Bartow's use of lines.  The marks on and above Ahab's face give the print a visceral quality that would be absent if they were not there.  The markings above Ahab resemble a foreboding storm cloud while those on the figure's face appear as anger lines.  Looking at Bartow's Ahab elicits an emotional reaction.  One can feel the anguish, hatred, and fanaticism of Melville's character.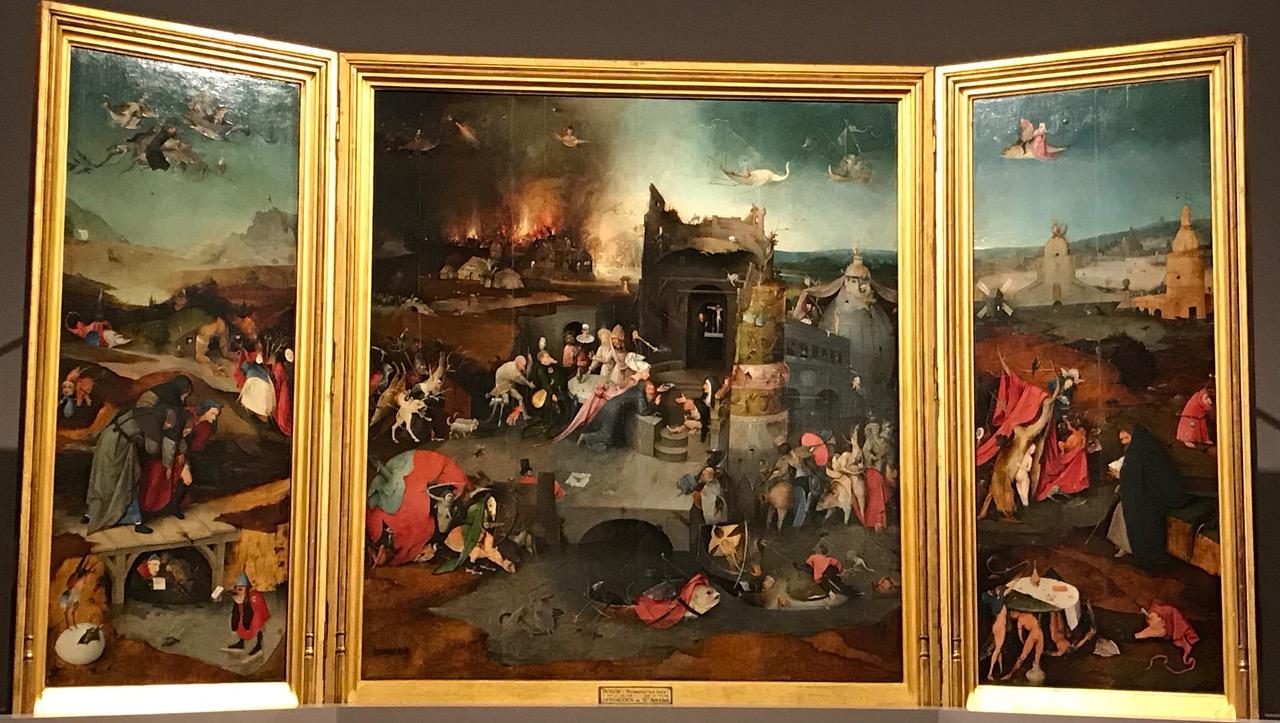 The Temptations of St. Anthony by Hieronymus Bosch, Early Netherlandish, oil on panel, triptych, left panel: 57" x 26" central panel: 57" x 52"; right panel: 57" x 26" (circa 1501), Collection of the Museu Nacional de Arte Antiga, Lisbon.  Photo courtesy of Jeff VanDyke.   
Rick Bartow frequently paid homage to artists he admired either by creating their portrait or by referencing their work through imagery.  Bartow created a number of prints as well as sculptures that allude to Hieronymus Bosch.  Bosch's paintings are filled with bizarre imagery and populated with weird, hybrid creatures that are part human and part animal.  Bosch's work was  surreal hundreds of years before the term was coined.  My guess is that these unorthodox creations filled with strange creatures and terrifying visions of the hell appealed to Bartow's artistic sensibilities since he often used unusual and mysterious symbols in his own work, including beings that had both human and animal attributes.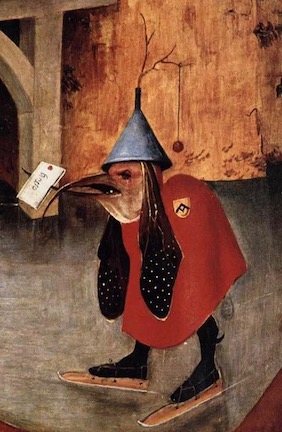 Detail from the left panel of The Temptations of St. Anthony by Hieronymus Bosch.
             Bosch's most famous works are the tryptic The Temptations of St. Anthony (circa 1501) and The Garden of Earthly Delights (1515).  Rick Bartow drew inspiration for his print Bosch Bird from a long beaked bird creature wearing a funnel on its head in the triptych The Temptations of St. Anthony.  Often referred to as the Bosch Bird, this strange creature with dog ears seems to be wearing ice-skates as he delivers a paper bearing the word fat on it to the meditating saint.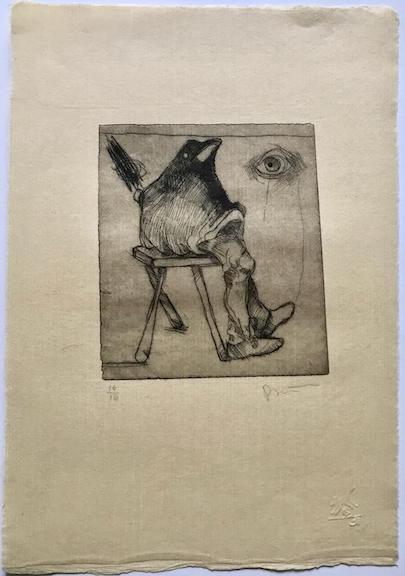 Bosch Bird by Rick Bartow, Wiyot, drypoint etching on handmade mitsumata paper, ed. 16/16, 10.5" x 7" (2015).  Collection of E. J. Guarino.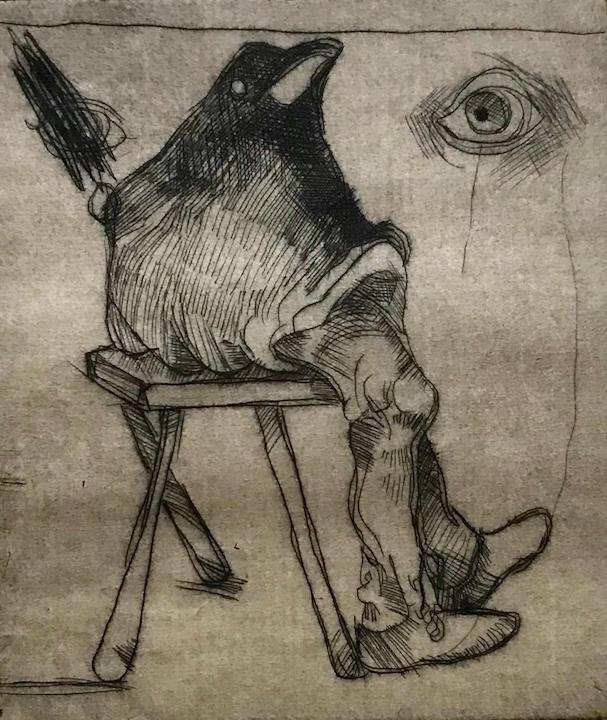 Bosch Bird (detail).
Bartow's Bosch Bird is a curious work for a number of reasons beyond the fantastic creature that dominates the print.  In the upper right-hand corner of the page there is an eye with lines drawn around it, which might suggest wrinkles.  A line descends from the eye and another, longer one, goes down the page slightly to the right of the eye.  In the upper lefthand corner is another eye, which the artist has scratched out.  There is also a line that goes across the top of the page.  What the lines mean, if anything, is anybody's guess, but Bartow often used eyes as symbols in much of his work.  In Bosch Bird, since one eye is blackened out and the other is not, they may represent what can be seen and understood and what cannot be understood.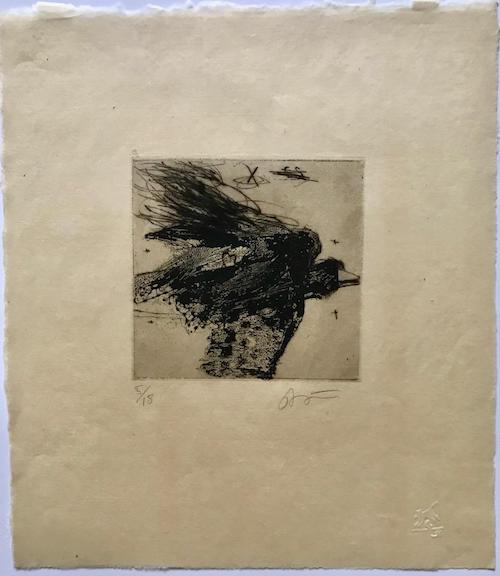 CH Crow by Rick Bartow, Wiyot, intaglio etching with some drypoint, ed. 5/18, 11" x 9.5" (2007).  Collection of E. J. Guarino
CH Crow (detail).
CH Crow typifies what Rick Bartow termed "mark-making".  The print has an amazing textural quality and a sense of movement, making it seem that the crow is flying across the page.  There are a number of unusual aspects to this work.  The imprint on the bird's lower wing as well as on part of its body resembles patterns on fabric.  The upper wing, however, is made up of a series of lines as if they were scribbled on the page.  This is something that the artist frequently did when drawing on the printing plate, which imparts a sense of spontaneity.  The print contains a number of other mysterious marks: an X in the middle of two circles, the letters C and S scratched out, and four small crosses in various places on the page.
I was curious as to what the letters CH stood for in the title so, once again, I e-mailed Wilder Schmaltz who wrote back the following: "I don't have an idea of what CH might mean off the top of my head, perhaps a dedication to a friend, an artist? He's being a bit obscure by using these initials… I do see in the initial record that he had not titled the piece at the time he brought it in, so he must have decided on the title and passed it along to us at some later time.  CS might refer to Crow's Shadow Institute of the Arts, though as far as I know he did not produce print work there that year. . . .  This is a fairly mysterious one!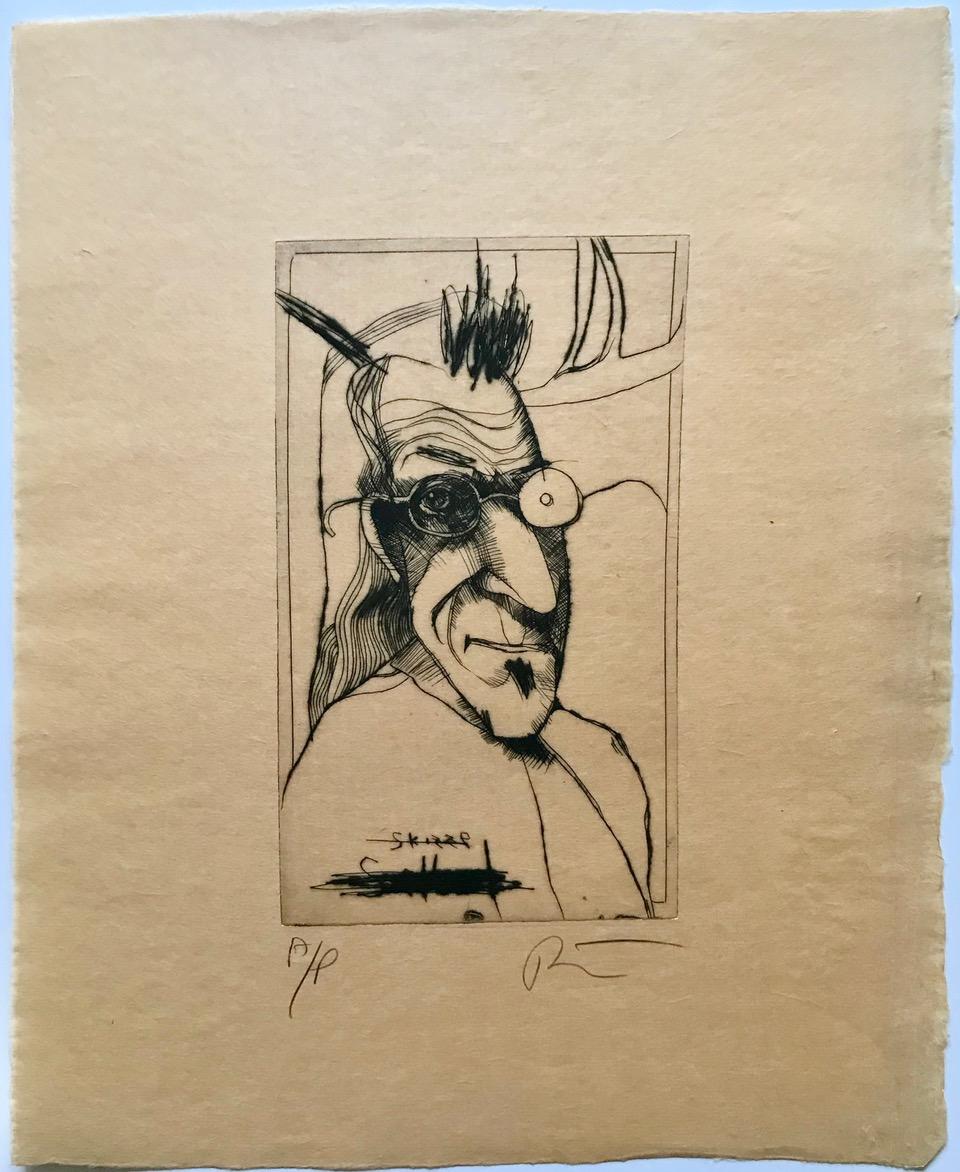 Me by Rick Bartwo, Wiyot, drypoint etching, 0/18 (Artists Proof), 11" x 8.5" (1999).  Collection of E. J. Guarino.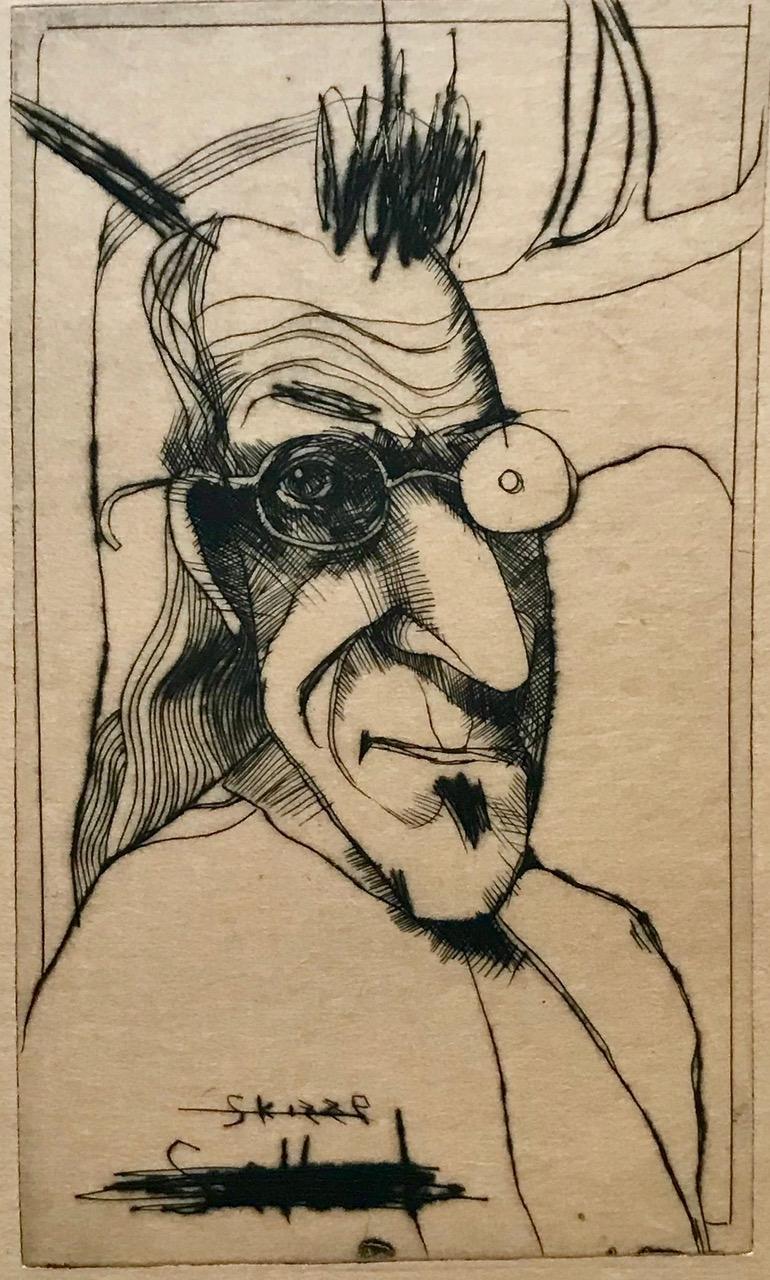 Me (detail).
          Over the course of his career, Rick Bartow produced a number of self-portraits.  Generally, these works are more expressionistic than realistic and contain any number of puzzling elements.  Me typifies Bartow's approach to self-portraiture and printmaking.  The artist exaggerates the length and shape of his face, uses undulating lines to suggest wrinkles, and gives himself what appears to be an antler on the right side of his head.  The concept of transformation was an important aspect of Bartow's work and he often portrayed figures caught somewhere between human and animal.  On the right side of the artist's head are scratch marks that are hornlike and similar marks in the middle of his head suggest the spiky hairstyle that he had throughout much of his career.                          Bartow often incorporated words into his work, sometimes crossing them out.   At the bottom of Me the artist boldly scratched out something he had written while above it he wrote the word skizze, which means sketch in German, and then put a line through it.  This reinforces the idea that, although it may resemble a drawing, the work is a print.  Wilder Schmaltz wrote that Bartow "made a handful of floral drawings titled Skizze Magnolia."  As for that scratched out word, he added, "It looks like he's scratched out what might have been selbst (self) and written skizze . . . above.  The small form at the bottom could be a small eye or a shirt button – I can't be entirely sure.  It's interesting to imagine Rick taking this image in a more playful direction than he'd originally intended (though that's just my own imagining)."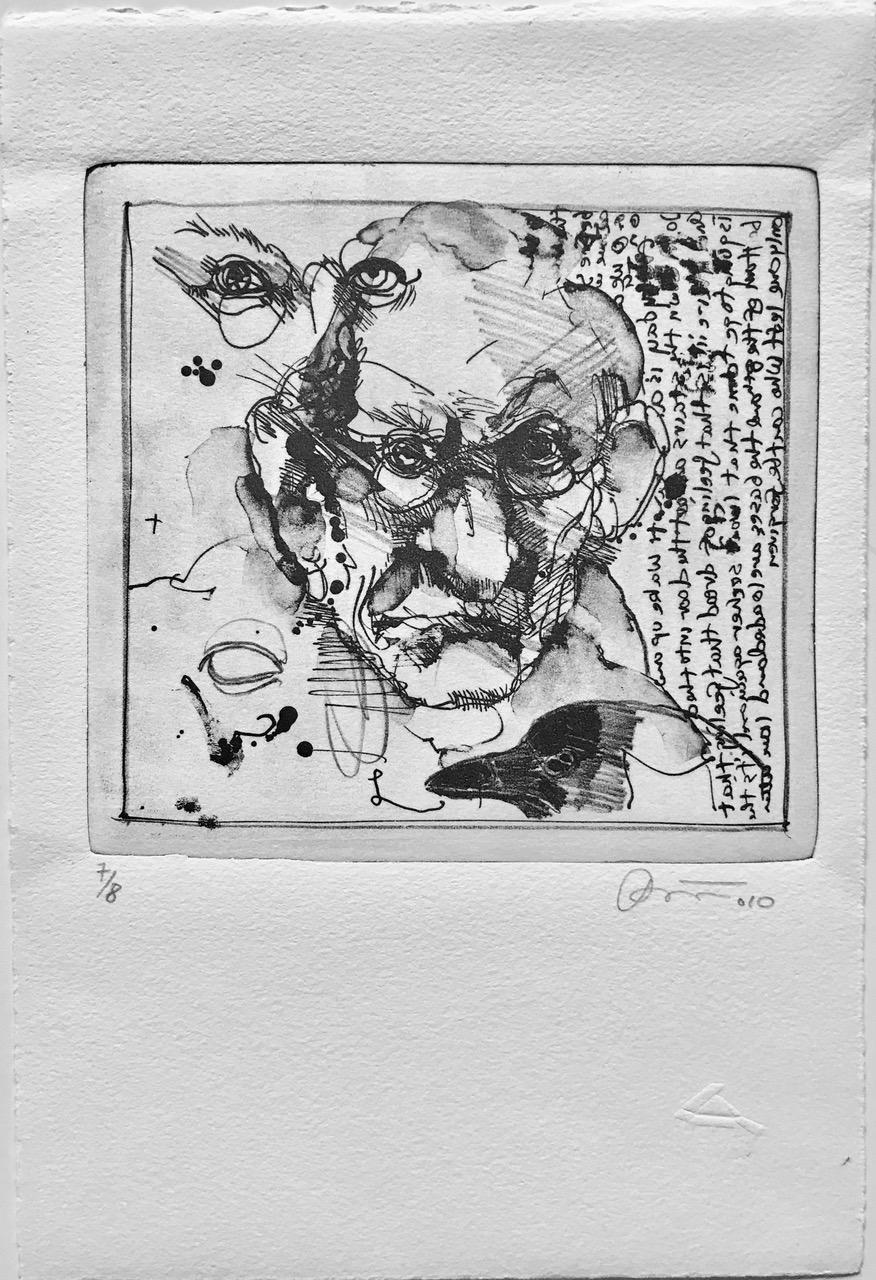 Grumpy by Rick Bartow, Wiyot, lithograph, ed. 7/8. 11.25" x 7.5" (2010).  Collection of E. J. Guarino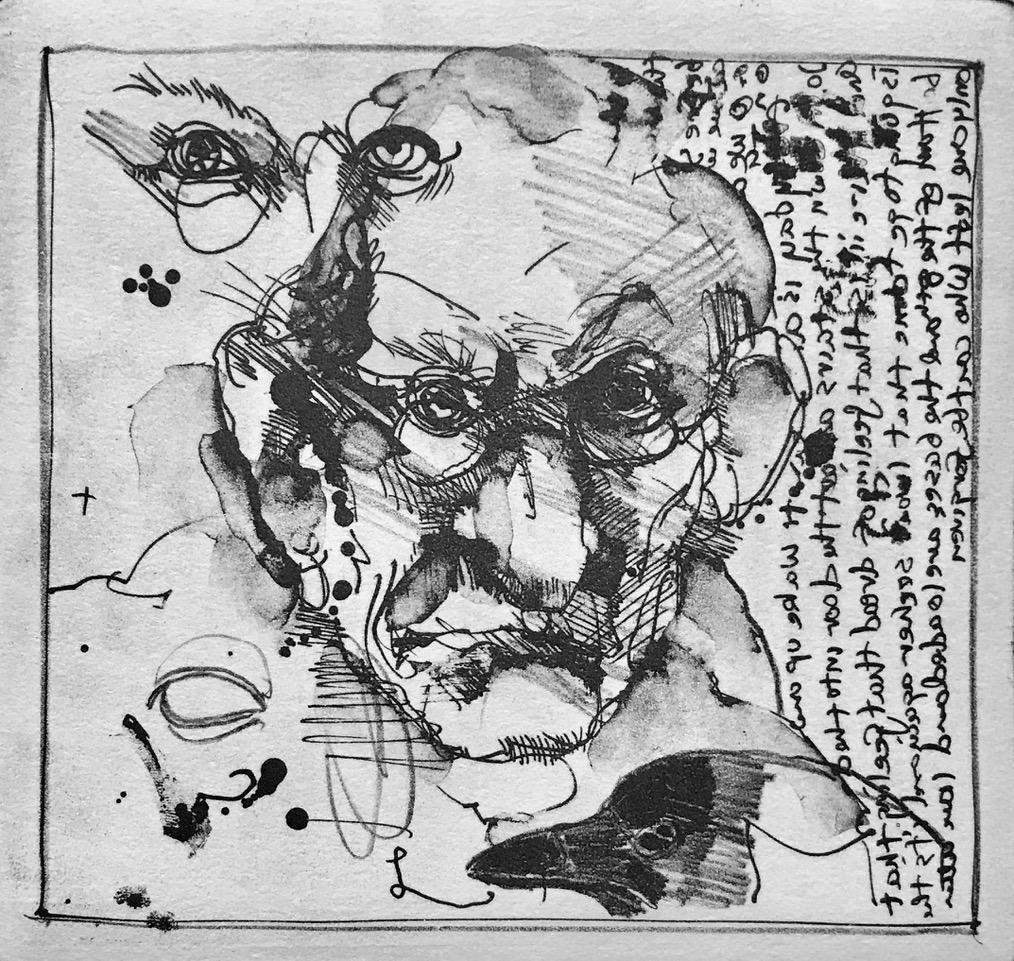 Grumpy (detail).
Produced eleven years after Me, Grumpy is another self-portrait.  The print contains a number of interesting and even cryptic elements.  A crow's head appears at the bottom right of the print.   When looked at closely (a magnifying glass helps) the crow, like Bartow, appears to be wearing spectacles.  The artist often used animals as a sort of stand in for himself.  Various animals represented different aspects of his personality.  Considered among the most intelligent of species, crows can easily outsmart other creatures, including humans, and have been known to circumvent any obstacles devised by people.  This clever creature is regarded as a mischievous trickster and has consistently been a subject in Rick Bartow's work, often used as a symbolic self-portrait.
On the bottom left of the page is another image that is even more enigmatic: an eye without a pupil, which might represent an inability to see.  Eyes are a frequent symbol in Rick Bartow's work and there are two pairs of bespectacled eyes in Grumpy.  The artist's eyes in his self-portrait look angry, while those in the partial face above it appear happy.  These images may represent the artist's different moods.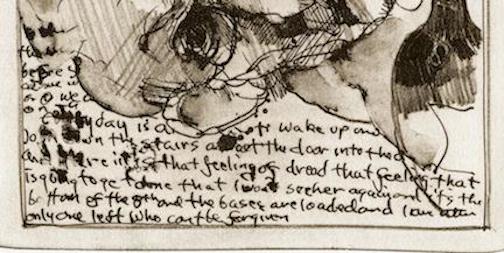 Cropped and flipped image of Grumpy courtesy of Wilder Schmaltz and the Froelick Gallery.
Perhaps the most puzzling detail of Grumpy is that words are written vertically down the right side of the print.  Reminiscent of Japanese prints, which had a strong influence on the artist, the writing makes no sense.  At first I thought that what I was looking at was some sort of code.  Then, it dawned on me that the words appear to have been written backwards so I held the print up to a magnifying mirror and I was able to decipher most of what the artist wrote.  Some of it was obscured by ink splotches, which give the work a spontaneous feel.   The writing begins illegibly and, then, continues as follows: "Everyday is a (illegible) Wake up and go down the stairs into the (illegible) it is that feeling of dread that feeling that is going to get done that two secher [sic] and it's the bottom of the 8th and the bases are loaded and I am the only one left who can't be forgiven."   
As I so often do, I decided to contact Wilder Schmaltz about Grumpy.  He responded as follows: "I took the liberty of cropping and flipping the image, but I agree that some of the illegible areas might still remain a mystery. This piece was executed during a residency at the Pilchuck Glass School, in 2010 – the darker tone of this text could be related to a couple of factors: That was a fairly volatile moment for Rick's personal relationships. He didn't particularly like working in glass. . . and what's more, the banging, popping, roaring glass studio noise, unfortunately, set off his PTSD.  To get away from all of that, he set himself up in the Pilchuck print shop and made a number of quite strong images, including this one."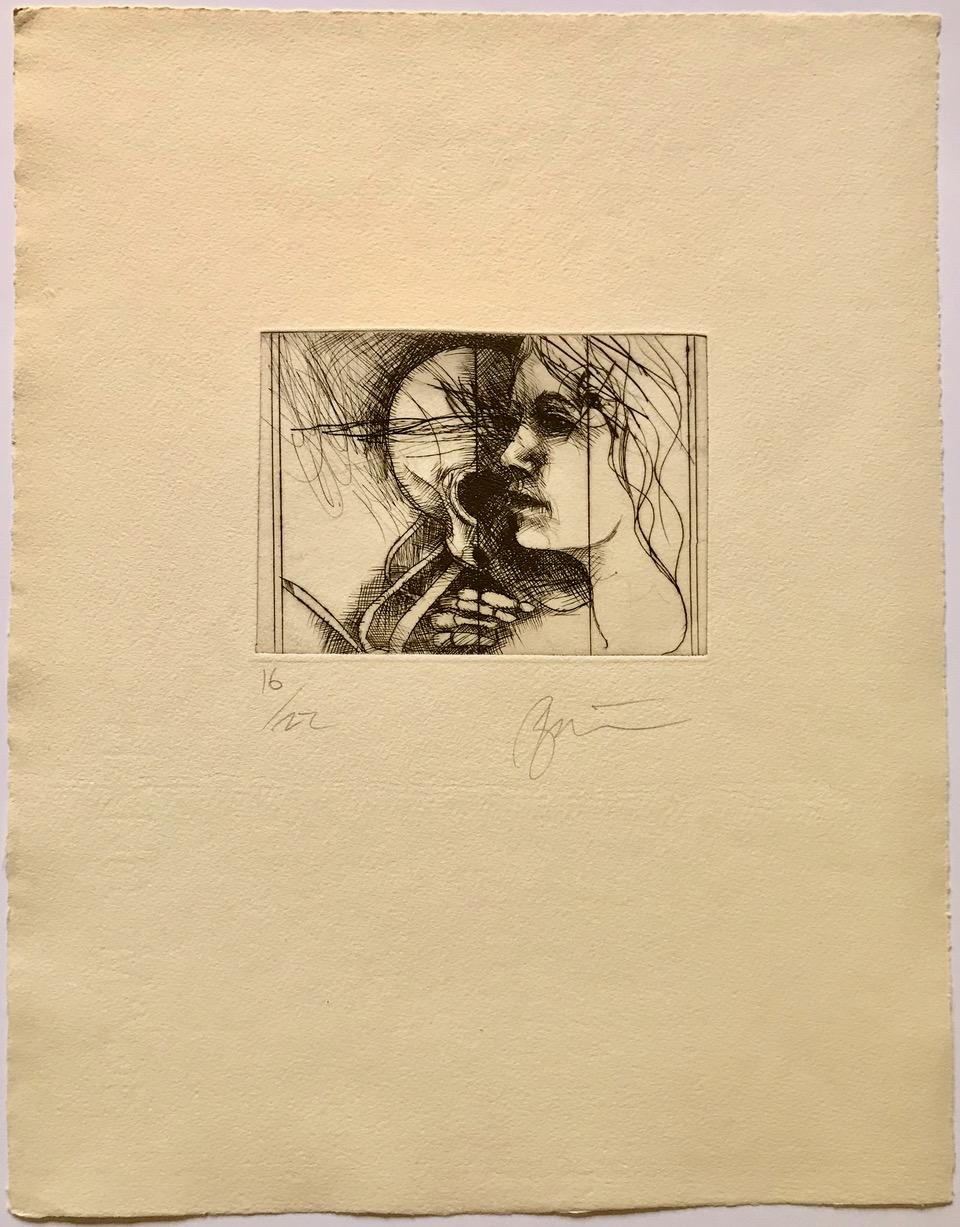 Sie und Tod (She and Death) by Rick Bartow, Wiyot, drypoint etching, ed. 16/22, 12.5" x 10" (1998).  Collection of E. J. Guarino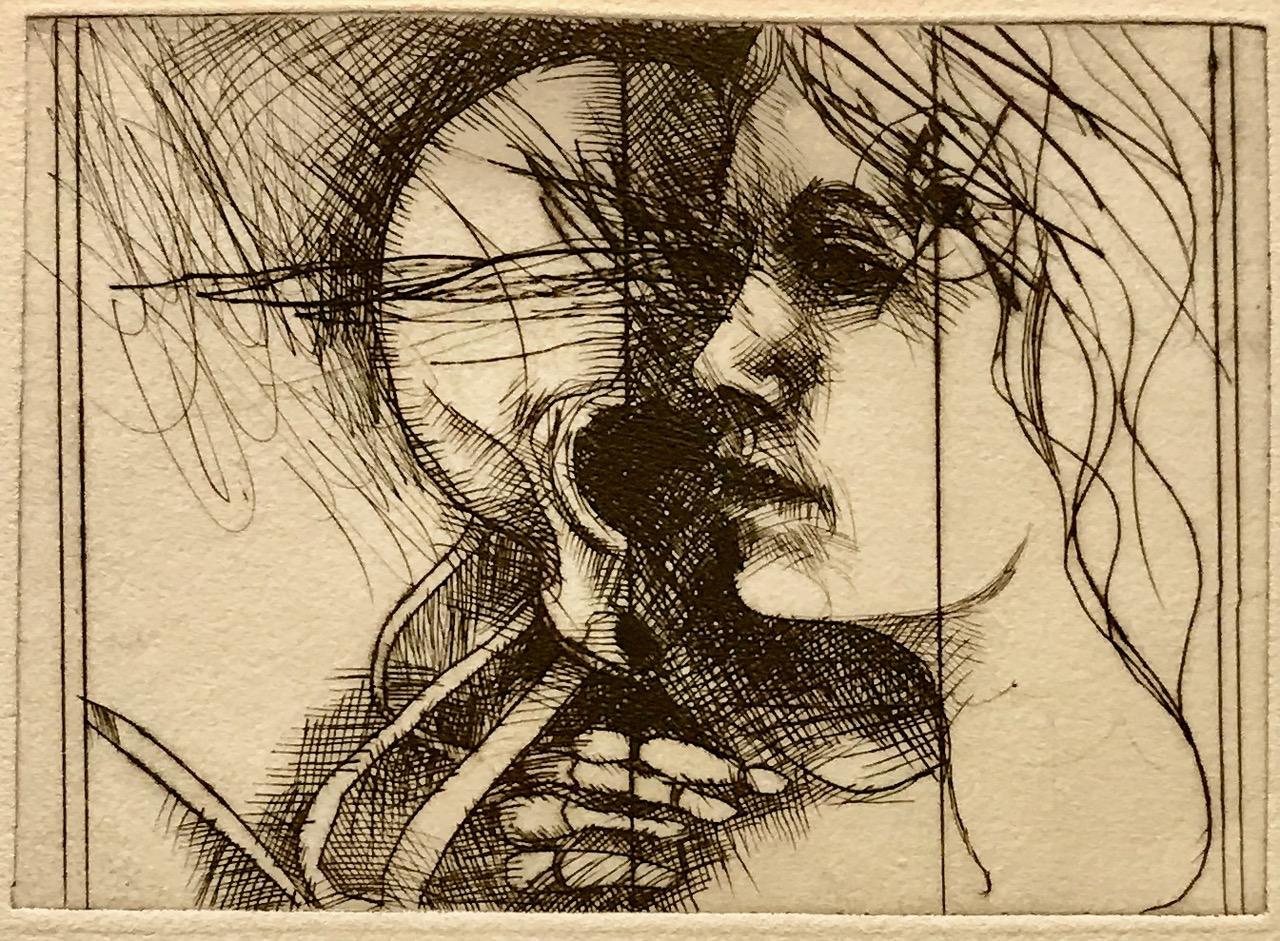 Sie und Tod (detail).
Having served in the Viet Nam War, suffered the loss of his wife to cancer, and having to deal with his own health problems, it is not surprising that death was a frequent theme in Rick Bartow's work.   Sie und Tod (She and Death) references an idea that can be traced back the ancient times.   A Greek myth tells the story of Persephone who must spend half the year in the Underworld with the god Hades.  Often referred to as Death and the Maiden, the concept of a beautiful young woman being taken to the grave by Death was popularized during the Middle Ages in the "Dance of Death".  In many of these dances, the figure of Death was paired with a well-dressed lady or an innocent maiden.  The subject also made its way into art.  In 1517 both Hans Baldung Grien and Niklaus Manuel Deutsch produced paintings titled Death and the Maiden.    The topic has resonated with many artists through the centuries.  In 1893 Edvard Munch produced Death and the Maiden and the following year made an engraving based on the painting.  In 1915, Egon Schiele painted Der Tod und das Mädchen.  The theme even made its way into music.  Franz Schubert's String Quartet No. 14 in D minor, composed in 1824 and based on an earlier song by the composer, is known as Death and the Maiden.  In more modern times, Chilean playwright Ariel Dorfman's 1990 psychological thriller is titled Death and the Maiden.  Roman Polanski directed a film based on the play in 1994 and an opera based on the play premiered in 2008.
Rick Bartow's wife, Julie Swan, died from breast cancer in 1999 at the age of fifty.  When the artist produced Sie und Tod in 1998, it is more than likely it was she he was thinking of.  In keeping with the traditions of Death and the Maiden imagery, a skeleton has his boney hand on the shoulder of a beautiful young woman.  However, Bartow superimposed an eye in a circle on the maiden's temple, perhaps as a sign that he would never forget her.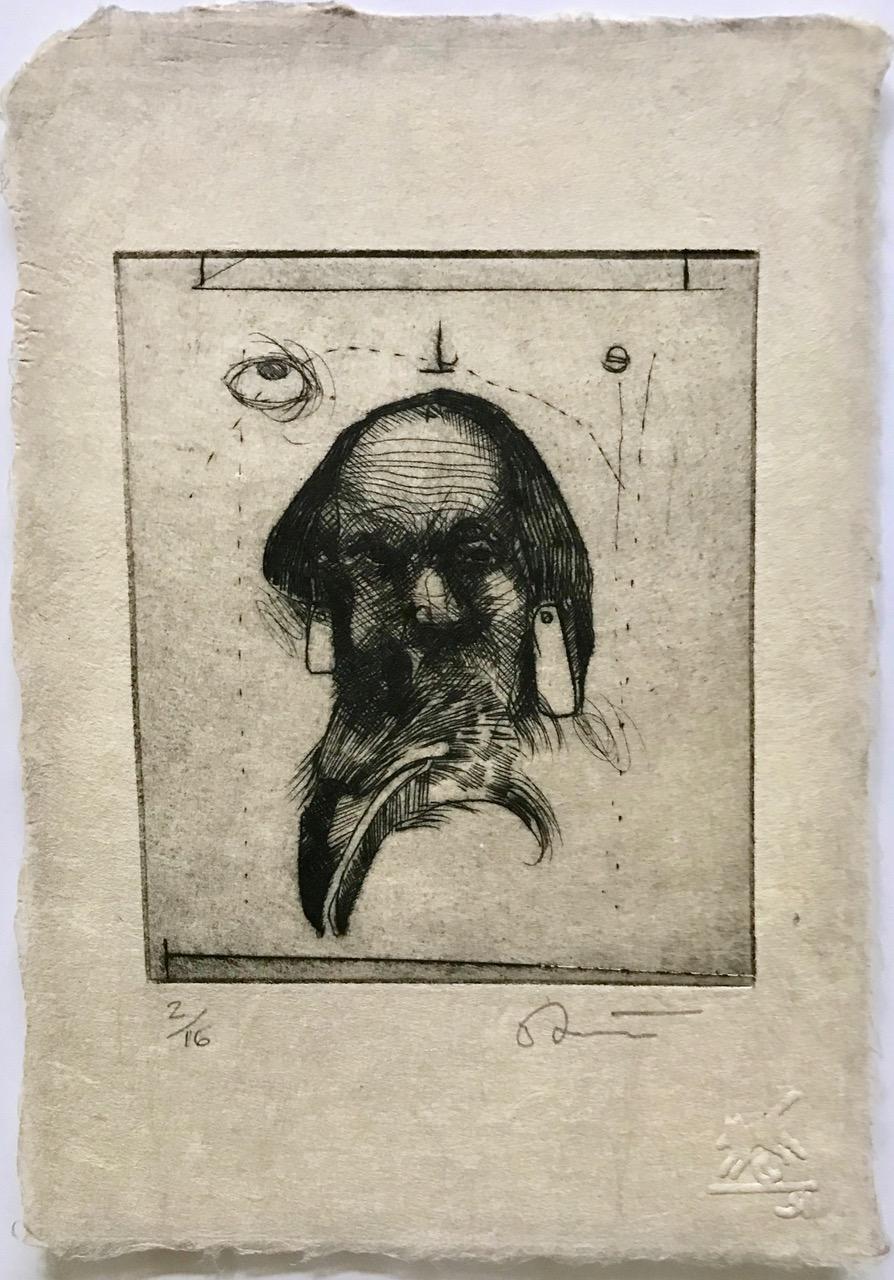 Song Approaching by Rick Bartow, Wiyot, drypoint etching, ed. 2/16, 7.25" x 5" (2012).  Collection of E. J. Guarino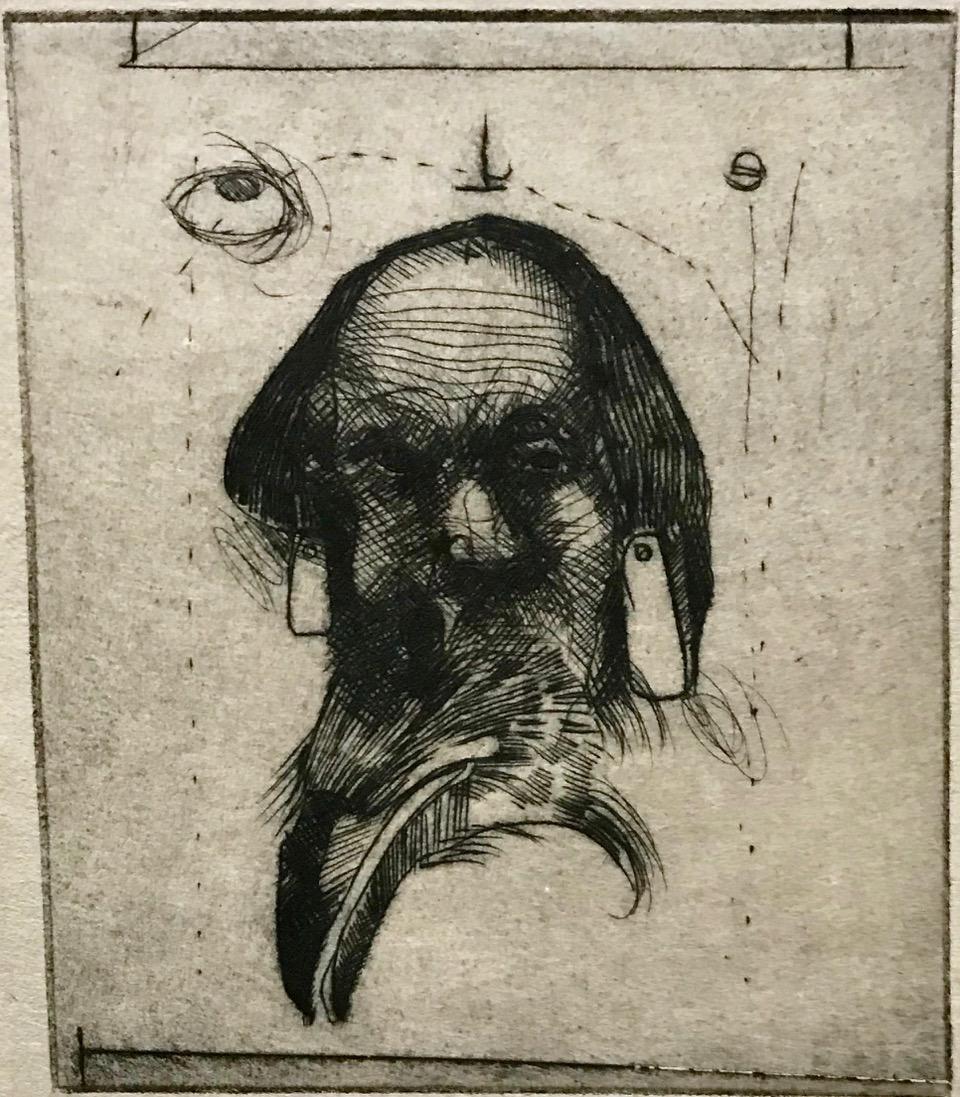 Song Approaching (detail).
Song Approaching is one of Rick Bartow's most mysterious prints.  It portrays an elderly long-haired man wearing ear pendants.  The figure has no visible mouth and where it should be there is the head of a crow.   I wondered if the print was actually a portrait and questioned Wilder Schmaltz about it.  "He may have used a historical photo reference for this," he wrote back, "but I would say that he didn't intend it to be a portrait of that particular person. The articulation of the raven's feathers and the face, the unusual conjunction of bird and man- the unknown song being channeled from the mouthless one through the beak of the other- very compelling."
I also contacted master printer and gallery owner Seiichi (Seii) Hiroshima who had worked closely with Rick Bartow for many years. "I don't know if it is a portrait of a particular person," he wrote.  "As you know, Rick initially portrayed many musician portraits, and their titles have their names. There is no specific name for this work's title. I have never heard from Rick who he is."  This is only one of the print's many mysteries.
The print also contains a number of strange markings: a straight line at the bottom of the page while at the top there are straight lines that seem to form part of a box and a series of tiny dashes that go up and partly around the main images as well as other lines and markings.  All of these elements add to the mysterious tone of Song Approaching leaving the viewer to wonder if the print is alluding to death.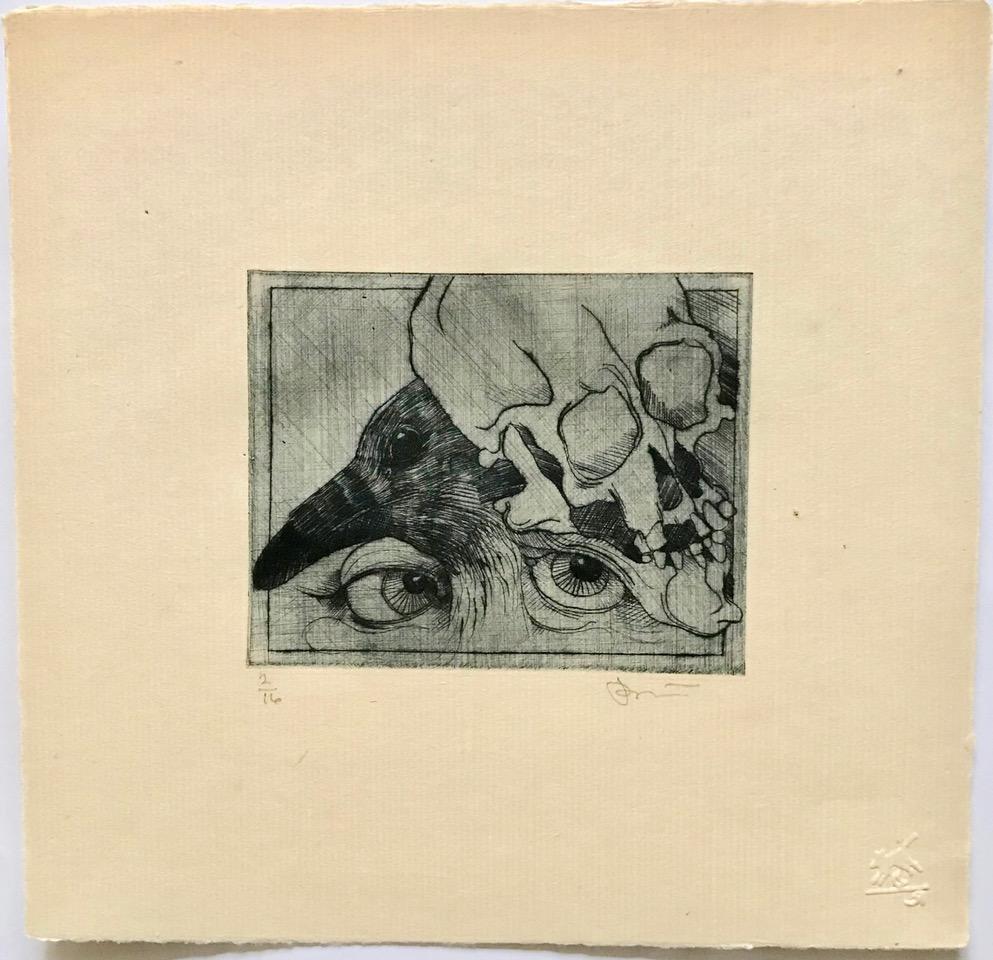 Last Observation by Rick Bartow, Wiyot, drypoint etching, edition of 16, plus 2 artist's proofs, 2/16, 4" x 5" (2012).  Collection of E. J. Guarino.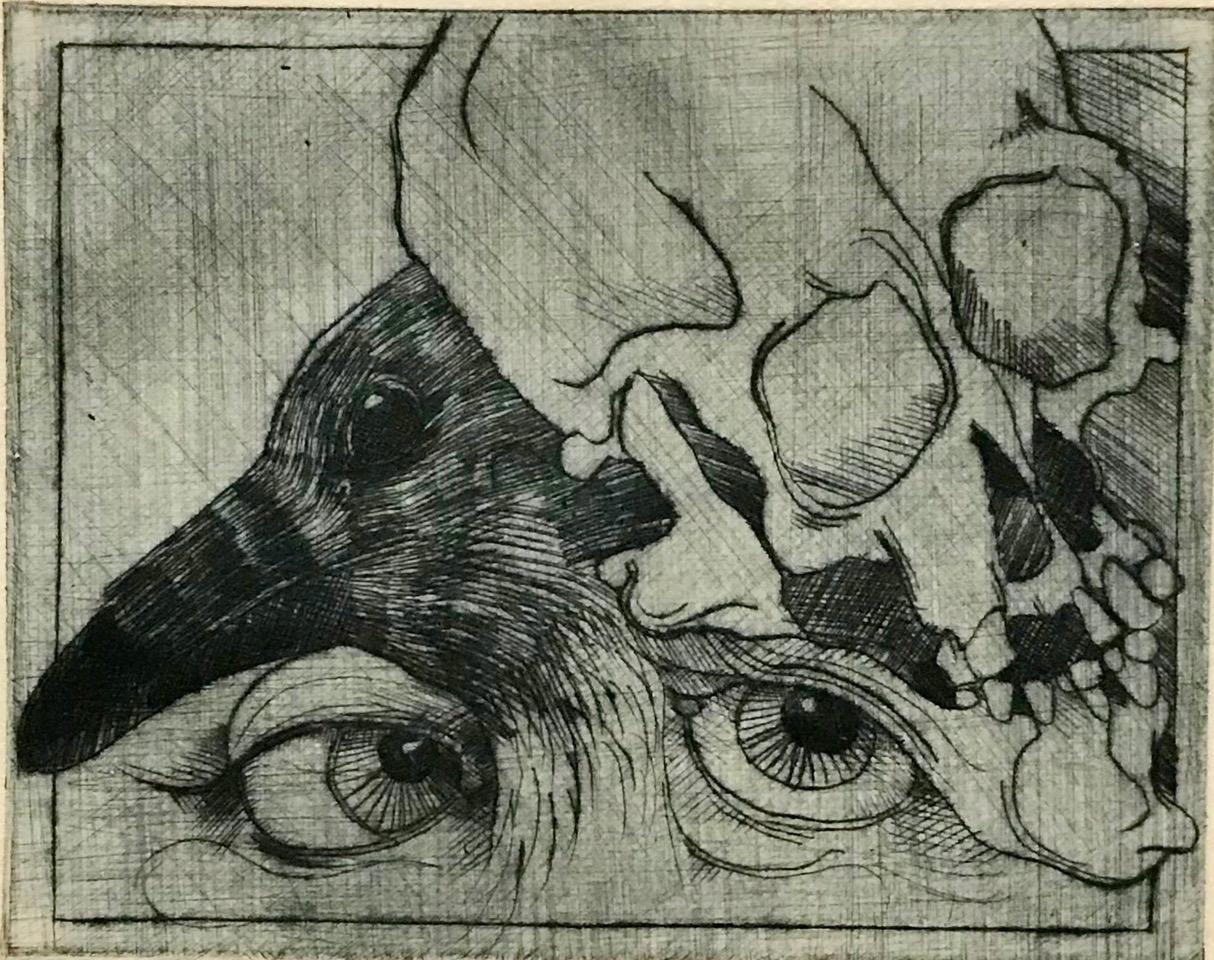 Last Observation (detail).
           Much of Rick Bartow's art indicates that he was well aware of his mortality long before he passed on as indicated by Last Observation.  Produced four years before his death in 2016, the print contains many of Bartow's most iconic symbols – eyes, a crow, and a skull.  The artist created what is essentially a frame within the print, but parts of the imagery appear to escape either under or over it.  The skull is an obvious and ancient symbol of death while the crow's head is more complicated.
Although crows are not noted for singing, they are considered part of the songbird family.  In many Native American stories, Crow is a character who is a trickster, but he is also wise and often helps humans.  Crows are so smart that they can mimic the calls and songs of other birds, the sounds made by mammals, including humans, and they can even imitate a car alarm.  Once again, the artist may have used the crow as a stand-in for himself.
The eyes in Last Observation look out at the viewer, which is a bit unsettling, mostly because they appear sad and weary.  This is in keeping with the tone of the print, which is a meditation on mortality.
Rick Bartow's small prints are among the artist's most powerful creations.  They are intense, highly charged emotional works that have a strong psychological impact.  Mysterious and complex, these prints defy categorization.  Bartow took his personal difficulties – nightmares from his Viet Nam War experiences, struggles with alcohol, and the death of his wife from cancer – and told those stories through his art, particularly his smile-scale drypoint etchings and lithographs.  Ever the iconoclast, Bartow continually thumbed his nose at convention.  One way he did this was through the numerous curious marks found in his drypoint etchings and small-scale lithographs.  What may appear to be stray marks on the page are not the result of carelessness.  Making a mark, any mark, is a way of saying, "I exist."  It is something that even the earliest humans did.  Like so many artists before him, Rick Bartow was compelled to tell stories of our shared humanity by making marks on paper and canvas.  Our lives are richer because he did so.
The author would like to express his sincere gratitude to Wilder Schmaltz, Assistant Director of the Froelick Gallery, Portland, Oregon, for his invaluable help with this article and to Charles Froelick, owner of the Froelick Gallery, for his assistance in acquiring so many prints by Rick Bartow.  A special thank you is offered as well to master printer and gallery owner Seiichi (Seii) Hiroshima.