For collectors of contemporary Inuit prints, October is the most important time of year since this is when the Annual Cape Dorset Print Collection, consisting of over thirty works, is released.  Anticipation is high among aficionados in Canada, the U.S. and Europe.  The prints are produced in editions of fifty, with the rare exception of one or two prints with a run of one hundred.  Over the last fifty years, Cape Dorset has been the only Arctic community that has consistently been able to attract and maintain a large group of international collectors.  This is due to the support of the West Baffin Eskimo Co-operative, the marketing and promotion of Dorset Fine Arts and, most importantly, the willingness of the Cape Dorset artists and printers to embrace creative and technical innovation and experimentation.  I number myself among those who, each year, impatiently wait to see what the Dorset artists and printers have created.  Because the quality of Cape Dorset prints is always artistically exceptional, choosing which works to acquire is always a challenge.  Not only must the pieces selected be artistically significant, they must also fit into the rest of my collection.  Each year over thirty works must be considered.
The 2017 Cape Dorset Print Collection contains many works that are brilliantly executed as well as visually strong.  This is usually the case with Cape Dorset prints.  Such excellence is a joy, but it makes it difficult to winnow down so many fine works to a final few choices.  I always find the process difficult, but ultimately extremely satisfying.  Whether or not I buy a piece greatly depends on my immediate intuitive response to it; analysis comes later.  I can say in all honesty that I never know what will attract my attention.  Lately, I am mostly drawn to abstract works rather than those that are representational.  Also, I often acquire works that are atypical because I feel they are artistically significant.  However, I sometimes surprise myself by choosing works that exemplify common themes and practices.  That was the case with the 2017 Annual Cape Dorset Print Collection.  After repeatedly looking at the 2017 offerings, I chose Ancient Beluga and Ornamental Owl, two works that epitomize the Cape Dorset printmaking practice of isolating one iconic image of Arctic wildlife on the page.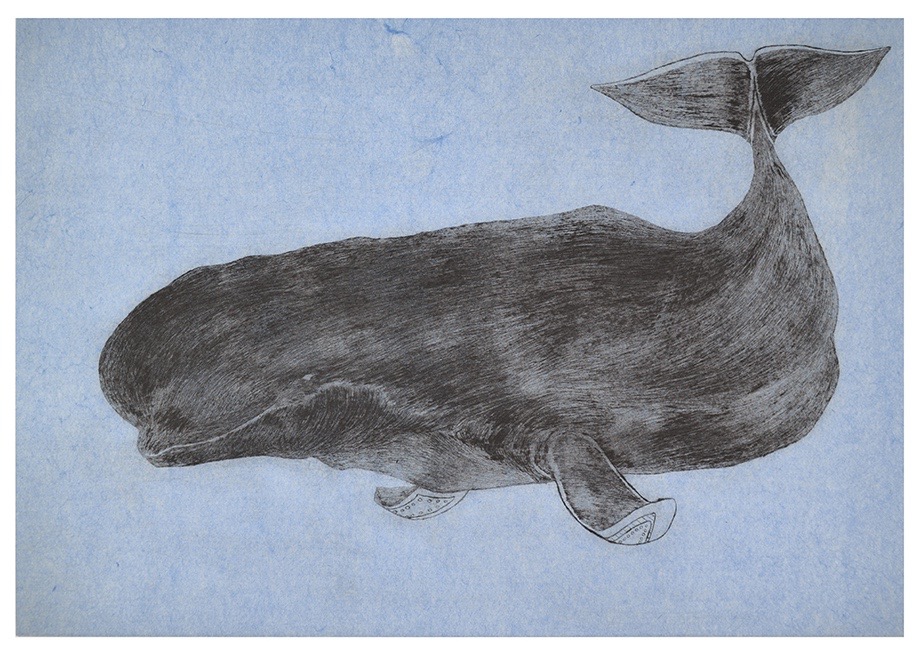 Ancient Beluga by Tim Pitsiulak, Inuit, Cape Dorset, etching with chine-collé, /50, Paper: Arches White & Tengu-Jo Tissue Blue; Printer: Studio PM, #4, 25"x 31.5" (2017). 
Collection of E. J. Guarino
Looking very much like Monstro, the Whale, in Walt Disney's classic 1940 animated film Pinocchio, the creature in Tim Pitsiulak's print Ancient Beluga is at once ominous, mysterious, and somewhat playful.  Upturned flippers and an eye that seems to be warily looking back at the viewer give the leviathan a lighthearted quality.  The black whale swims through murky depths suggested by the color blue.  With the use of just two colors, Tim Pitsiulak created an enigmatic work that is more than the realistic representation of a marine mammal.
As an artist, Pitsiulak was extremely eclectic.  He created works dealing with a wide range of subject matter –  Inuit myths, views of Cape Dorset, landscapes, portraits, images of Arctic wildlife, and scenes of contemporary life in the Arctic, including the incursion of technology.  ATVs, trucks, construction vehicles, supply ships, motorboats often appear in Pitsiulak's work.  However, he was particularly drawn to northern whales, which he presents as noble and mystifying creatures,  and icebergs, which he depicted in a series of monumental drawings.  Tim Pitsiulak was an incredible draftsman with a strong line and an unfailing eye for composition.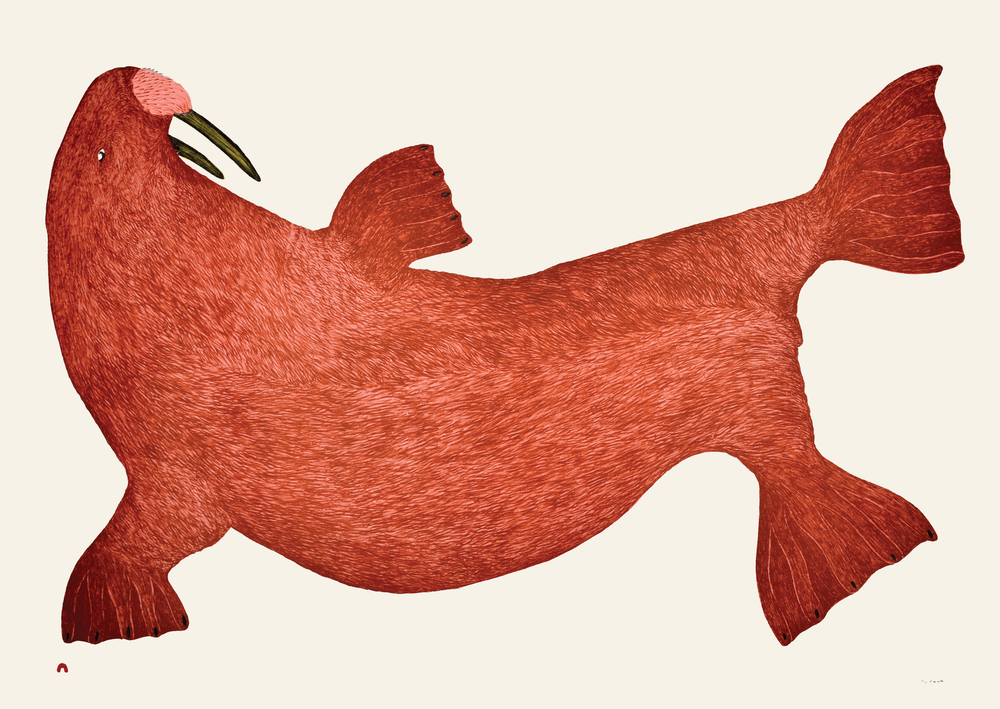 Red Walrus by Tim Pitsiulak, lithograph, 49/50, Paper:  Arches Cover White; Printer: Niveaksie Quianaqtullaq, #2, 29.5" x 41.75" (2016).   Collection of E. J. Guarino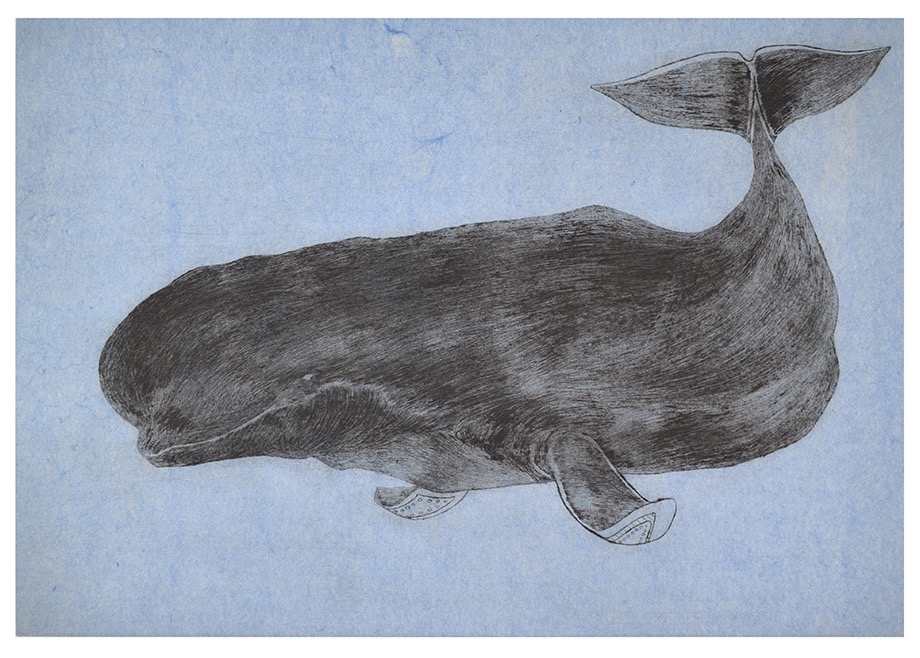 Ancient Beluga by Tim Pitsiulak   Collection of E. J. Guarino
Timootee (Tim) Pitsiulak died on December 23, 2016 of pneumonia.  He was 49.  On many occasions he credited his aunt, Kenojuak Ashevak, as his inspiration for becoming an artist.  Pitsiulak bridged the bridged the traditional and the contemporary in his art and in his life.  He spoke Inuktitut, but also learned English.  Although he was comfortable with modern machines, he  knew the Arctic terrain and its animals intimately and consistently hunted to provide food for the family.
Although I am drawn to animals, as a collector I am particularly selective when it comes to portrayals of them, avoiding overly sentimental as well hyperrealistic works.  I am drawn to representations of animals that have a quality that is hard to put into words, but that I know is unique.  The prints in my collection by Tim Pitsiulak are two such works.  In addition to Ancient Beluga, last year I acquired Red Walrus, a print that is both whimsical and humorous.  It is a dream of mine one day to see Red Walrus and Ancient Beluga exhibited together.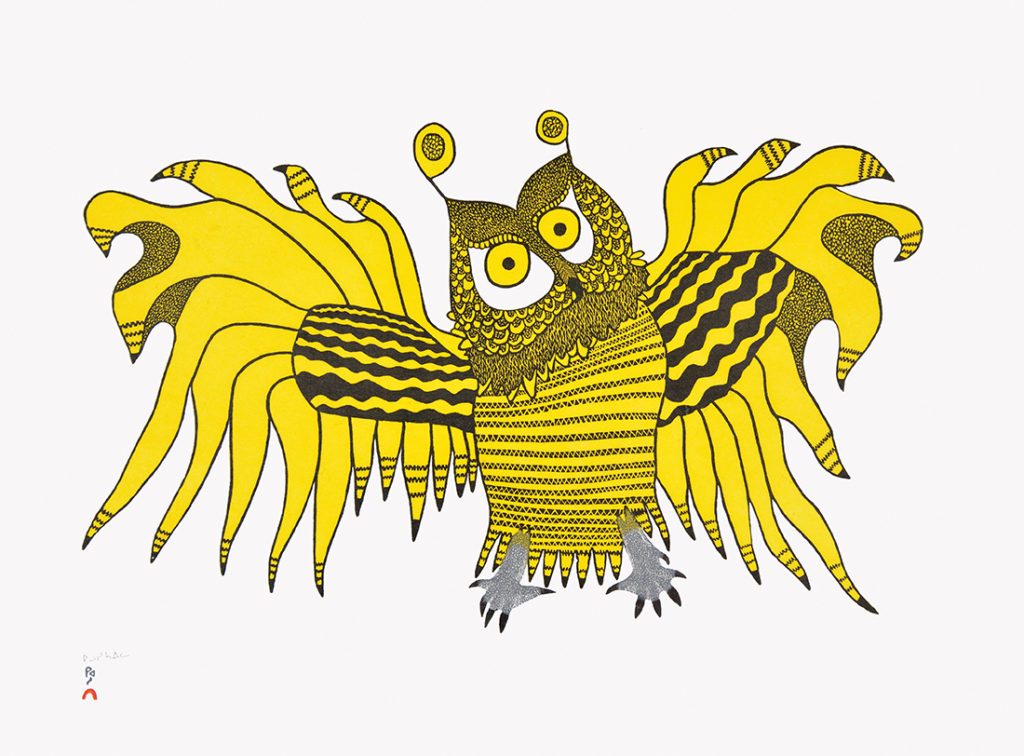 Ornamental Owl by Ooloosie Saila, Inuit, Cape Dorset, stonecut, /50, Paper: Kuzuki Kozo White; Printer: Qiatsuq Niviaqsi , #13, 18"x 24.5" (2017).  Collection of E. J. Guarino
Born in 1991, Ooloosie Saila is one of the youngest artists in Cape Dorset.   She started selling her drawings to the Co-op (the West Baffin Eskimo Co-operative) in Cape Dorset in 2015 and in 2017 her drawing of a fanciful yellow owl was chosen to be developed into a print.  The process of transforming a drawing into a print is collaborative.  The printer and the artist must work together, making decisions that will convey the original drawing's artistic intent.  The first determination to be made is what print technique – stonecut, lithography, stencil, engraving or etching – should be employed.  The artist and printer must also choose the colors to be utilized and whether one section of the original drawing or the entire image will be converted into the print.  For Ornamental Owl, Ooloosie Saila and stonecutter/printer Qiatsuq Niviaqsi chose the stonecut, a print technique developed in Cape Dorset and unique to Inuit printmaking.  This process requires technical expertise, diligence, restraint, and time, often taking up to two months to complete.
Ornamental Owl is a striking work reminiscent of prints and drawings produced by Kenojuak Ashevak.  In fact, Ooloosie Saila may have intended her creation to be a sort of homage to Ashevak.  She has stated that she was inspired to draw because, as a child, she visited the home of the celebrated artist where she watched her draw.
When I decided to acquire Ornamental Owl, Ooloosie Saila was unknown to me so I Emailed Elaine Blechman, owner of the Arctic Artistry Gallery in Hastings, New York.  Elaine, who is a friend and one of the mentors of the Inuit portion of my collection, immediately got back to me, stating, "Ooloosie Saila is a new treasure!!!"
Like Kenojuak Ashevak's fantastical birds, Ornamental Owl is about happiness – the sheer joy of living.  The owl's bright yellow color, outspread wings, and large round eyes are sure to bring a smile to the face of any viewer.  Clearly, the image is not intended to be a realistic representation but, instead, is rendered as a phantasmagorical creature much as Kenojuak did with her birds.  The owl's brilliant yellow feathers, delineated with black markings, are are more striking because of the placement of the bird against the print's muted background.  Life and movement are suggested by the use of flowing, sensuous lines.
Unlike other artists, Cape Dorset graphic artists work side by side at the Co-op rather than in isolation.  They help, inspire, and also influence each other.  What they produce non-Inuit call art, but there is no such word in Inuktitut, the Inuit language.  Isumanivi, meaning "your own thoughts" is just one of many words Inuit use to describe what others call art.  In the 1950s, when the first generation of modern Inuit artists were given paper they wondered what they should draw.  They were told, "Whatever comes to mind," or insumanivi.  Every year Cape Dorset graphic artists put their thoughts on paper, each using a distinctive visual style, continuing what earlier generations had begun.  Their creativity is what makes collectors around the world look forward to October.
To see all of the prints in the 2017 Annual Cape Dorset Print Collection, go to the link below and scroll down.
http://www.dorsetfinearts.com/2017