Collectors become aware of artists in a variety of ways.  Often it is through museum and gallery exhibits; sometimes it is via gallery and artists' web sites; and in many instances an artist's work may be recommended by gallerists or curators.  In the case of Linley B. Logan, I just sort of stumbled upon him.  While in town for the Santa Fe Indian Market,  I decided to walk over to The Railyard, a 10-acre area offering gardens, an outdoor performance space, a park, a children's play area as well as galleries, restaurants and shops.  On that particular day it was also hosting the Indigenous Fine Arts Market.  I wandered from booth to booth, suddenly stopped by a large group of amazing prints.  After a brief discussion with the artist I bought two works – Akso:d's Strawberry Dreamin' and MANiFest Destiny.  I was completely intrigued, never having seen the work of this artist before.  Mr. Logan said that he would also be participating in the Santa Fe Indian Market and I assured him that I would be stopping by his booth in that venue as well since I was quite fascinated by his prints.  True to my word, a few days later I did so and acquired two more works –  ARTiFact Fetish and Seneca Pottery Shard File Shared.  The reasons for my choosing the four prints turned out to be very different from the artist's motivations in creating them.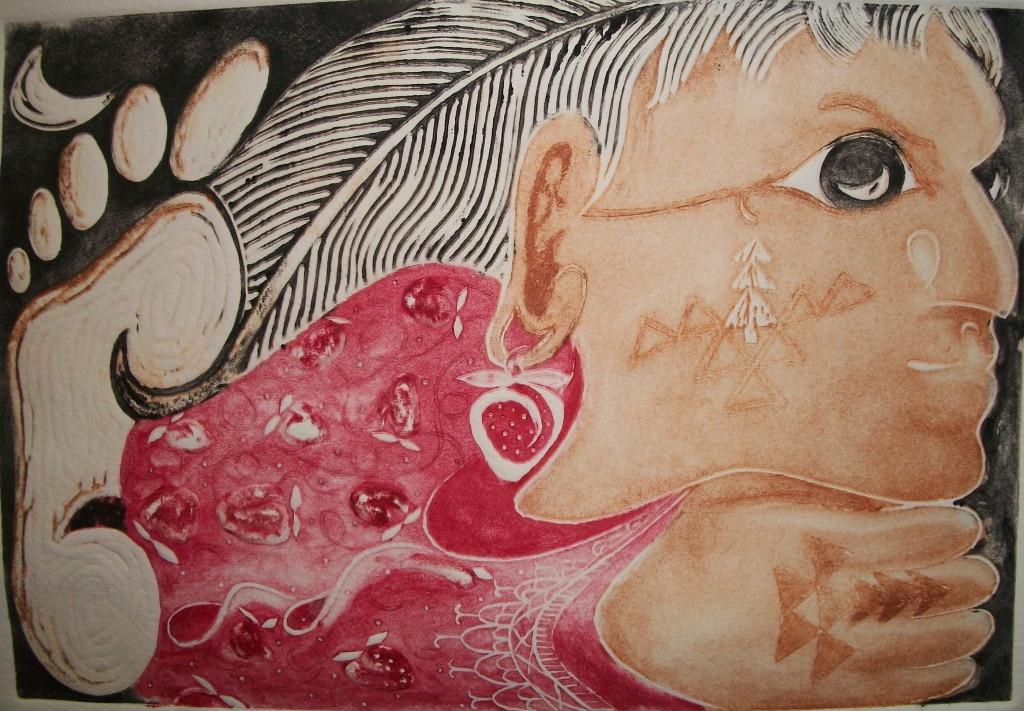 Akso:d's Strawberry Dreamin' by Linley B. Logan, Seneca, linoleum relief print, embossed, 4/6; Paper size: 12.5"w x 9.5"h; Plate size: 9"w x 6.25"h (2015).   Collection of E. J. Guarino Photo courtesy of the artist.
The very first print by Mr. Logan to catch my eye was Akso:d's Strawberry Dreamin'.  It was the reason I had stopped at his booth.  The artist explain that akso:d means grandmother in Onondowaga, the language of the Seneca people.  I was attracted to this particular work before I knew anything about it because I found it to be striking visually.  The image of the elderly woman seems compressed or boxed in, giving it more power, and her hair is rendered much like a feather.  With wide open eyes and what appears to be clenched fits, she appears determined as if moving forward.  Behind her is a footprint, which is suggestive of travel, though the body of the foot also seems abstracted and the toes perhaps suggestive of planets since there is a half moon directly above them.  Mr. Logan explained, "In Seneca language soeh:ka:'ga:hgwa' translates to the Moon which is referred to as Grandmother Moon as related to us in our creation oral tradition."  The figure's clothing is red and decorated with strawberries.  Among the Seneca and other Haudenosaunee (Iroquois), it is believed that the souls of the departed feast on strawberries on their way to the afterlife but, clearly, Grandmother is not timidly embarking on her journey.
According to the artist, "The title doesn't imply reference to my grandmother as mush as it acknowledges a grandparent or person in that stage of their life understanding their stage in their life's journey in this world and knowing their next stage of their life transition into the next world.  Culturally we believe that when a person passes from this world they travel a path to the Skyworld which is lined with berries.  When a loved one passes, we say they are eating berries, because we acknowledge they are traveling the path to the next Skyworld.  For me, and us culturally, the death of a grandparent is not as much of a mourning experience in losing a loved one as much as it is an acknowledgment that we enjoyed the life of a loved one who's life was shared with us from the Creator.  In the passing of their life from this world to the Skyworld, the passing of life is a reuniting of that life with the Creator.  We say the Creator shared their life with us in this world, and he is taking their life back to rejoin him where they belong in the Skyworld to also join their family who has also passed on."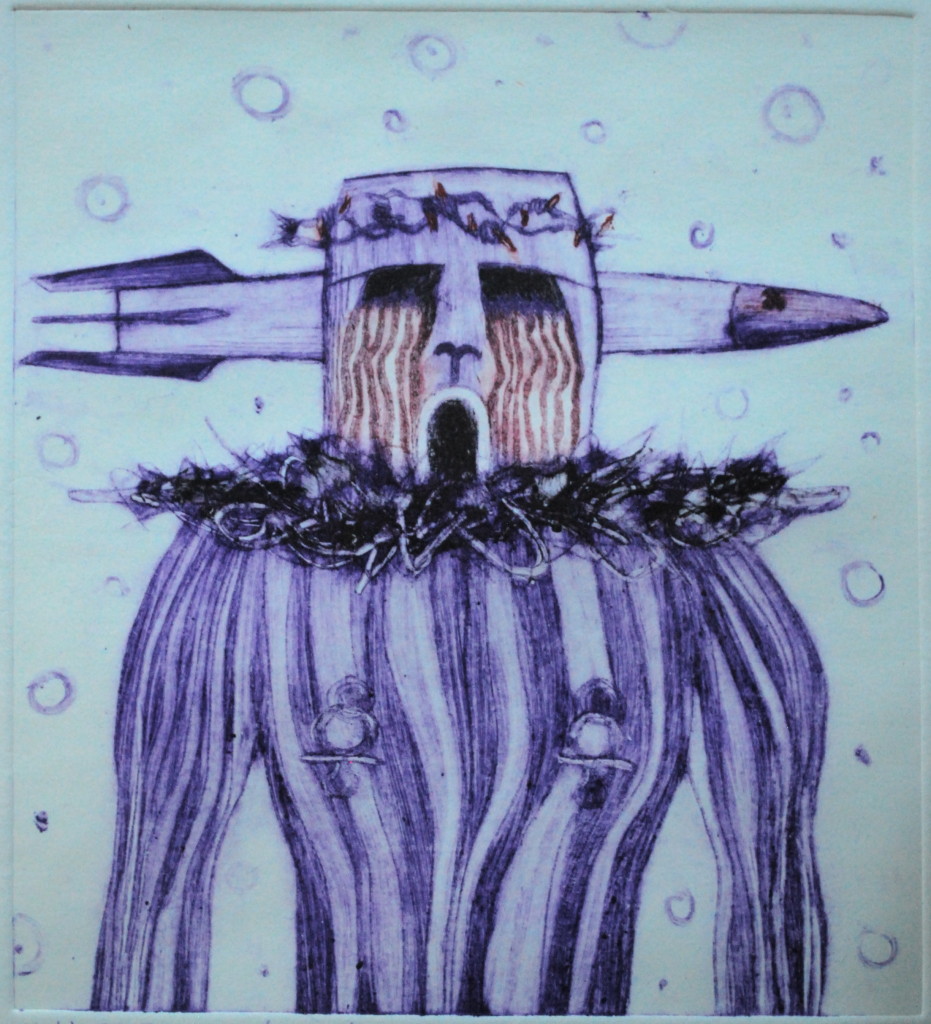 MANiFest Destiny by Linley B. Logan, Seneca, dry point etching, 7/13; Paper size: 10"w x 11.5"h; Plate size: 6"w x 6.75"h (2015).  Collection of E. J. Guarino Photo courtesy of the artist.
Because of it's visual boldness and daring, MANiFest Destiny was the next of Mr. Logan's prints that attracted my attention.  I immediately knew that this work was about war and violence but I was intrigued that the artist had chosen purple as his primary color rather than red, which has most often been associated with these themes since ancient times.  However, the artist stated that "purple as a color is associated traditionally with death or mourning." I was also fascinated with the figure's attire – a crown and neck ruff that look like barbed wire, a rocket that may be a headdress, and pacifier nipple ornaments.  Logan said that he considers MANiFest Destiny to be a character.  As such, ManiFest Destiny is a personification of aggression and all things associated with it.  Clearly, the title refers to the 19th century conviction that the United States was destined to stretch from the Atlantic coast to the Pacific.  This belief became the stimulus, not only for western expansion but, also for the removal and genocide of Native peoples as well as the War of 1812 and the Mexican – American War.  Not everyone accepted the idea of Manifest Destiny and the concept provoked bitter disagreement among the American people.  According to the artist, "MANiFest Destiny is inspired from a sketch in which only the head was drawn in my sketch book in 1985."  In an Email correspondence, Mr. Linley went on to discuss the work in detail: "The eyes of MANiFest bleed and cry blood from the realized horror of genocidal conquest and colonized culture.  There is also a hope that the conquering culture will realize their genocide . . . and be moved to tears of forgiveness.  MANiFest conquers with weapons of destruction asserting the fact that the colonizing culture has reaped havoc using weapons of war on Indigenous and ethnic cultures . . . .  His thought process of controlling resources is dominated by actions of War, he threatens War, and he and his war cronies profit from waging war.  MANifest asserts that his war is supported by his religious belief as in the conquest of the Americas in the justification of God, Glory, and Gold.  MANiFest thinks war; therefore he thinks, I am war."
The nipple ornaments seemed an odd touch to me and I asked the artist about this.  "The nipple pacifiers," Mr. Logan wrote, "reflect the idea that man asserts that man came first and that with the artificial pacifiers, man does not need nurturing from mother's milk, cutting women out from the equation of life."                Continuing, the artist added, "The circles in the background can represent multiple concepts, such as getting hit so hard with the realization of MANifest Destiny that one has a revelation in seeing stars and cries tears of blood; or, they represent the explosions of bombs falling on cities, such as in World War II. The faces of conquest are MANiFested the same as in the history of conquest"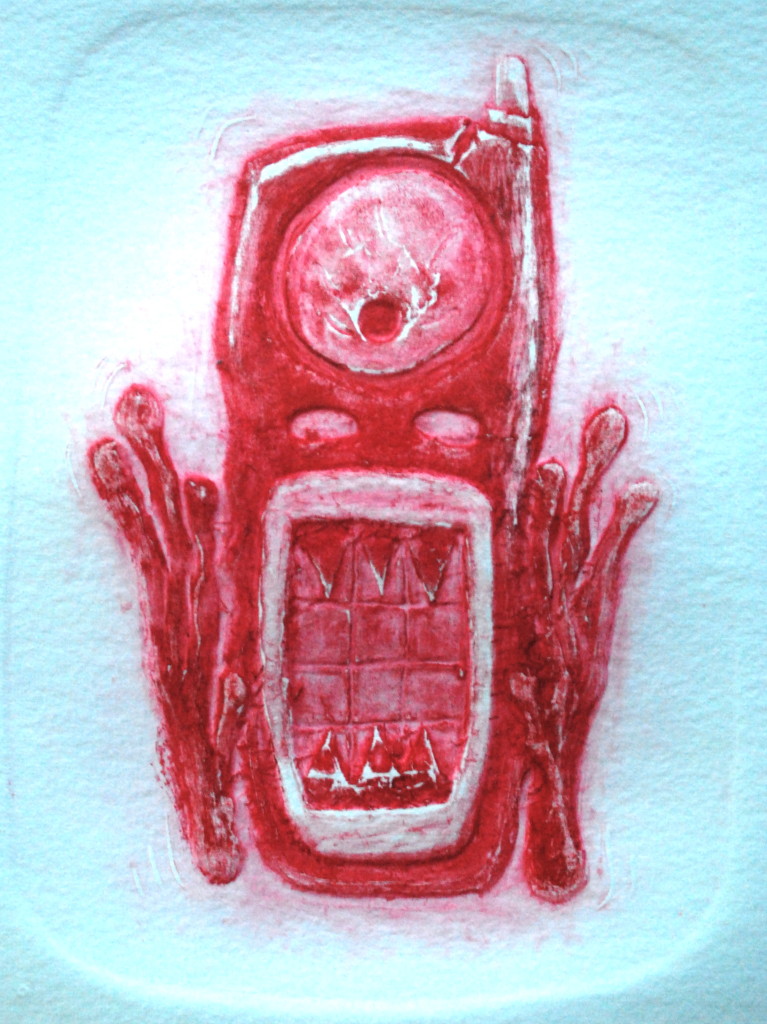 ARTiFact Fetish by Linley B. Logan, Seneca, polymer plate for an inked and embossed print, 11/25; Paper size: 9.25"w x 10.75"h; Plate size: 4.5"w x 6.25"h (2012).  Collection of E. J. Guarino Photo courtesy of the artist.
As I had promised, a few days later I was at Linley Logan's booth at the Santa Fe Indian Market and was immediately struck by ARTiFact Fetish.  My first response to the print was that it was a modern take on The Scream by Edvard Munch.  I saw a cellphone with gaping mouth eyes and frog-like hands.  However, I was interested to hear what the artist had to say about the piece.  "This piece is a historical and anthropological comment on the evolution of cell phone technology in contemporary society," he stated.  "ARTiFact Fetish is my creative realization of the old model of cordless landline phones as an anthropological effigy artifact.  My creative point in this piece is that as a Native artist, my . . . world view imagines artistically translating the older model cordless phone into an effigy artifact."
Mr. Logan went on to explain: "Effigy is a word applied by anthropologists to define Native American small sculptural animal and human form objects that were translated as giving the owner special or spiritual power based on the effigy's natural power.  The old cordless landline is translated into a contemporary artistic effigy as a representational object that provided the owner with enhanced ability or power.  With this perspective in mind, the older model and now artifact phone, has become an effigy for contemporary culture.  ARTiFact Fetish is about contemporary cultures situational and umbilical reliance on the cell phone.  Today's society is a living representation of the Matrix through our incessant connection to our cell phones."  The Matrix is a film in which sentient machines, in order to control humankind, create a simulated reality that is perceived as real.  It is interesting that the artist has connected the film to the incessant obsession of modern society with cellphones.
          "Youth today," Mr. Logan continued, "have no idea what a rotary dial phone is nor the limitations of space.  Mobility is a given.  Connection to technology is instant.  After keeping a cordless phone on my book shelf for years for artistic transformation, I finally rendered my concepts of the phone as an effigy in my sketch book.  Since I did not translate the actual phone into an effigy artwork, I decided to at least translate the image to a print to assert my artistic concept into reality."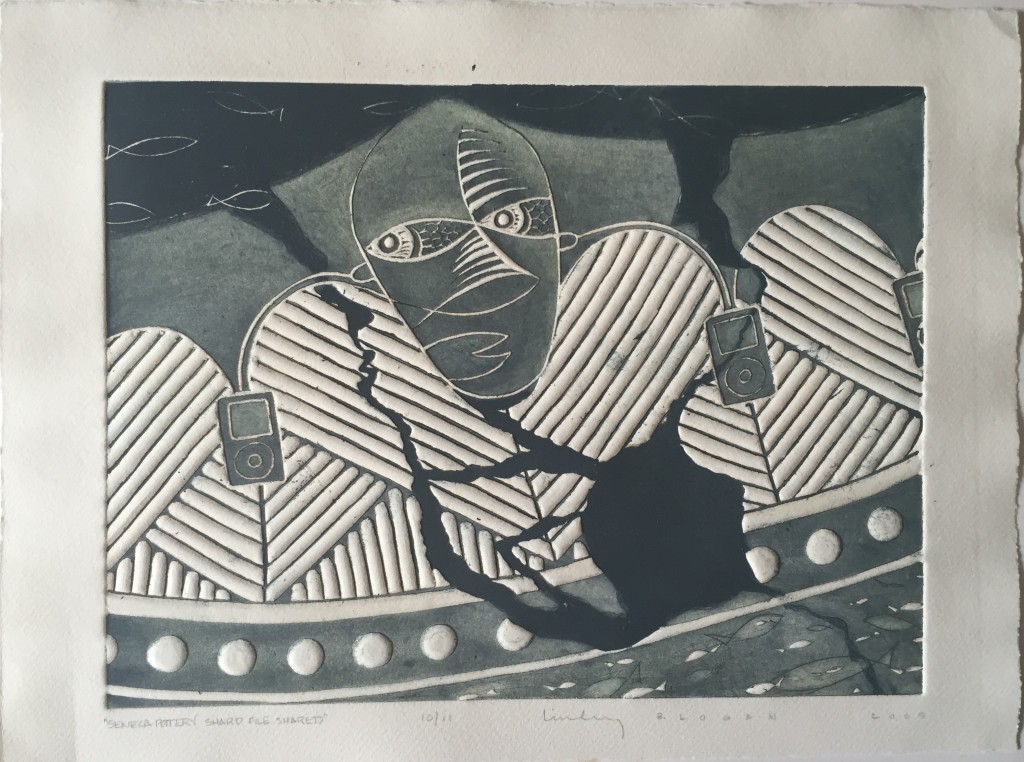 Seneca Pottery Shard File Shared by Linley B. Logan, Seneca, inked and embossed linoleum relief   print, 10/11; Paper size: 14.75"w x 11"h; Plate size: 12"w x 9"h (2009). Collection of E. J.Guarino   Photo courtesy of the artist.
 Since pottery is one of the major areas in which I collect, Seneca Pottery Shard File Shared instantly piqued my curiosity as to how and why the artist translated the ceramic medium to printmaking.  I was also curious about the face, so reminiscent of Picasso, and what appear to be cellphones.  The artist explained that the piece reflected Iroquois pottery and added that he makes ceramics based on historic pieces.  He has also translated this type of pottery into glass vessels as well as large cardboard, Plaster of Paris and paper pulp construction. Of his artistic connection to pottery Mr. Linley said,  "I have also translated the neck designs of pottery into linoleum relief prints like Seneca Pottery Shard File Shared.  The image in the neck of Seneca Pottery Shard File Shared mimics broken pottery shards reunited compositionally.  Traditionally, Seneca pots have four constellations, crowns or points.  Typically, faces are found placed at each crown of the pottery as seen in my image.  In this case the contemporary face is reflective of some of my other print artwork in which fish create the compositional areas in a face, mouth, nose, and eyes."  The artist's interpretation of his work fascinated me since I had responded instantaneously and intuitively to Seneca Pottery Shard File Shared and had not seen aspects of the piece that Mr. Linley explained.   "The historic neck incisions" the artist continued, "are replaced by more contemporary incisions that create heart designs or patterning.  The broken shards of the pottery represent a woman and a man and together create a third figure born from within the broken shard unity of man and woman.  On the right side of the pot in the shard cracks is a profile figure of a woman.  From the top of the broken pot following the crack down, you can see her nose.   As you follow the shard crack you see her breast and below that her pregnant belly.    On the left side of the pot in the shard cracks is a profile figure of a man.   Following the top of the shard crack down, you see his nose and mouth.  In between the unity of the shard cracks of the two figures you see another figure born.  The large open shard crack area at the woman's breast and belly is the head.  Follow the bottom of the head shard crack to the left, the shard crack defines a spine with a crack breaking off to define an arm to a bent elbow and a finger to the mouth of the head.  Continue to follow the shard crack from the head beyond the arm (along the spine) and the shard crack leads to the buttocks bending right to a knee and upward left to a foot resting on the chin of the face in the crown of the pottery.  These shard cracks define the silhouette of a fetus in utero.   A fetus born between the shard cracks of a man and a woman reuniting them in life's renewal.  Outside of the shard cracks there are fish scratched into the composition that imply the concept of regeneration, renewal and fertilization.  As an agricultural society Native people in the northeast used fish as fertilizer in planting their crops.  Native people also recognize the cycle of renewal that salmon bring when they spawn."  I was particularly curious about the artist's inclusion of iPods among the prints various images.  "My contemporary twist," Mr. Linley stated, "is reflected by the face in the crown of the pot being connected to iPods recognizing the contemporary culture file sharing, hence the title, Seneca Pottery Shard File Shared."
Linley B. Logan draws inspiration from Seneca traditions, the broader Native American culture, art history, and mainstream American culture.  His ability to blend all of these seemingly disparate influences gives his work artistic currency.  Besides printmaking, Mr. Logan works in a variety of media – painting, pottery, jewelry, and sculpture.  As a collector, I look forward to seeing more of his richly symbolic, multilayered art.
The author would like to thank Linley B. Logan for his invaluable help with this article.