Born of Fire: The Life and Pottery of Margaret Tafoya
Born of Fire The Life and Pottery of Margaret Tafoya, is a name that brings to mind a woman known for her strong will, stoicism, and traditional pottery. For her, respect and honor were earned through a lifetime of hard work, perseverance, and dedication. Small in stature, her imposing reputation increases with each passing year. She became a potter through circumstances of fate, yet it was the clay that enabled her family to survive a century of cultural, social, and economic change. The mother of a dozen children of her flesh and hundreds of the clay, she kept both tightly intertwined throughout her life. Hailed as a Pueblo matriarch, she was the progenitor of a dynasty of potters, committing her life to the preservation of traditional Santa Clara pottery forms, designs, and techniques.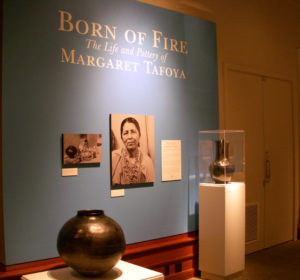 The quality of her work mirrored these changes, culminating in two consecutive Best of Show wins at Santa Fe Indian Market in 1978 and 1979. These award-winning storage jars, massive in size and near perfect in form and polish, seemed to announce the arrival of Pueblo pottery as a "fine art." Within ten years of these awards, the face of the pottery art world would be transformed forever. Her legacy of perfection in the clay would change not only how potters created their work, but the quality demanded and expected by collectors, galleries, and museums. The trickle-down effect would influence virtually every Pueblo potter, as they struggled to create more dynamic and precise works in clay.
Initial reactions to viewing Margaret's pottery are visceral. The impact of the size, balance, shape, and polish create a dynamic combination. Her pottery does not rely exclusively on surface designs or patterns but on the essence of form. While Margaret often had assistance from various family members in polishing and designing her pottery, it was still her hands in the clay shaping every vessel.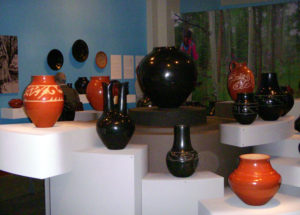 On one level the refined symmetry of her forms, from the double-shouldered water jars to the long-spouted wedding vases, are visually enchanting and elegant. The shape defines the angles for the light to reflect off a vessel once it is polished and provides a canvas for deeply carved patterns to encircle and complement the form.
On another level, the sheer scale of her pottery is at times overwhelming. Finding pieces by Margaret that are twelve, fifteen, or eighteen inches tall and equally as wide is not uncommon. Amazingly, it was not just for a single decade but for over fifty years that she consistently created ceramics of this size.
Invitation for the Born of Fire Exhibit at the Erie Museum.

However, to say that Margaret is only relevant for her large pottery or classic shapes belies the depth within each piece. Artistically, the balance of form and design meet on the surface of her pottery. Culturally, these same shapes and designs are the foundation of Santa Clara Pueblo traditions, legends, and history. When Margaret said, "I don't want this pottery to die," it was a statement that rings out from each of her pieces, inviting the person viewing or holding her pottery to understand the time, emotion, and commitment of her life to the clay.

"Born of Fire: The Life and Pottery of Margaret Tafoya". By Charles S. King

For Born of Fire: The Life and Pottery of Margaret Tafoya, Margret's commitment to the clay was a physical manifestation of her cultural and religious beliefs. Each vessel was a connection between herself and Mother Clay. Passing on the knowledge of making pottery to her children and grandchildren solidified the continuation of her heritage. A courageous heart enabled her to maintain an uncompromising faith in Pueblo cultural traditions and their artistic expressions in clay.

Today, Margaret's pottery continues to be viewed as among the most dynamic and formidable of the past century. Each piece remains an iconic testament to her strength and commitment to the values of family, clay, culture, and religion, all of which kept her focused and determined for a lifetime. Upon reflection, it can be safely said that both Margaret's character and her pottery were "Born of Fire."