For collectors of Inuit prints, each October is marked by excitement and expectation.  It is during this month that the Annual Cape Dorset Print Collection is released and collectors in Canada, the U.S., and Europe vie for works that are always artistically exceptional because of the willingness of Cape Dorset artists and printers to embrace creative and technical innovation and experimentation.  The prints are produced in editions of fifty each, though on rare occasions one or two prints are done in a run of one hundred, and deciding which works to choose becomes a challenge.  Sometimes I select two or three works, but in other years I choose only one.  That was the case in 2021.
Deciding which works to acquire is a difficult, but enjoyable process.  From one year to the next I never know what will attract me.  It might be a surreal work, one that is whimsical, or a scene from Inuit life,.  If asked whether I like images of animals my first impulse would be to say that I don't.  However, although I avoid overly sentimental representations of animals, various and sundry creatures are represented in my collection.  It's a matter of a particular work having a unique charm.
The work of thirteen Cape Dorset artists is represented in the 2021 collection: established artists Pitaloosie Saila (three prints) and Nuna Parr; beginning artists Quatusk Ragee and Olooreak Etungat; emerging artists Pee Ashevak, Quvianaqtuk Pudlat, Ohito Ashoona, and Malaija Pootoogook; fast-rising stars Saimaiyu Askesuk (four prints), Padloo Samayuak (three prints), Ooloosie Saila (two prints), and Ningiukulu Teevee (an astonishing ten prints); and superstar Shuvinai Ashoona.
The collection contains thirty-two works in a variety of print media – stone-cut, stone-cut & stencil, stone-cut & stencil with blind embossing, stone cut & lithography, lithography, etching and aquatint, etching and Chine-collé, linocut, linocut & hand-coloring, etching & sugar-lift with hand-coloring, and one work that employs stone-cut & stencil, linocut, and hand-coloring.
A diverse range of imagery also appears in the 2021 Annual Cape Dorset Print Collection: a variety of birds (some fantastical and others easily identifiable), a wolf, walruses, narwhals, bears, fish, a caribou, a dog team, bones, a spirit, spirit guides, and a dog team.  Many of the works are decidedly whimsical, bordering on the surreal, and a few are only somewhat representational.
Each year, what the Cape Dorset artists produce comes as a complete surprise.  No two years are alike and which print I acquire greatly depends on my immediate intuitive response to it; analysis comes later.  Although I never know what exactly will attract my attention, the overriding factor is that the pieces selected must be artistically significant.  After repeatedly looking at the 2021 offerings, I kept coming back one print: Song of Arrival by Pitaloosie Saila.  It seemed to mesmerize me.  In spite of my not being able to say why, I knew this was a good sign.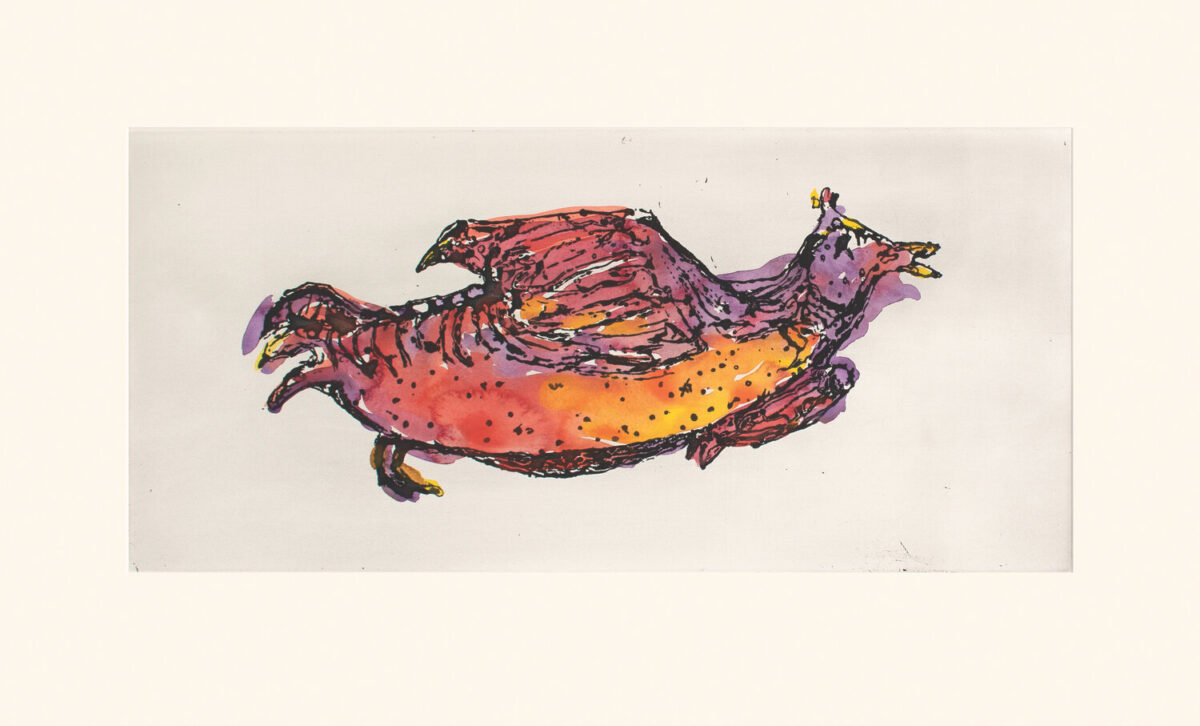 Song of Arrival by Pitaloosie Saila, etching, sugar-lift & hand-coloring, Paper: Arches White; Printer: Studio PM, /50; # 1 in the 2021 Annual Cape Dorset Print Collection, 19.75" x 32.75" (2021).   Collection of E. J. Guarino.  Photo courtesy of Arctic Artistry Gallery, Chappaqua, NY and Dorset Fine Arts, Toronto.
          Song of Arrival is a wondrous print conceived by an artist late in her career, employing sugar-lift and hand-coloring, techniques introduced to Cape Dorset artists in 2005 and first used by Kenojuak Ashevak.  The image of the bird seems to leap off the page with an inner light, which is fitting since the print portrays a time in the Arctic that is filled with sunlight, fertility, and abundance as millions of birds arrive as part of their annual migration.  Not only do the birds provide food for other animals and humans, they help control the plague of insects that also arrive with the warmer weather.
A few years ago, I was shocked to learn that Pitaloosie's work was a "hard sell" with some collectors.  I couldn't imagine why since I thought her work brilliant.  It was then that I learned that there were some who were reluctant to acquire her work because they considered it "dark".  Although some of the artist's work might be considered somber, quite a number of her other pieces can be said to be downright charming.
One never knows what will appeal to a collector.  It is a problem faced by gallerists on a daily basis.  Not only do gallerists sell art, but they must also educate the public, in particular collectors, about artists and their work.   Although much of Pitaloosie Saila's work is representational, she moved with ease between genres, creating works that were sometimes surreal as well as a print that was minimally modernist.  Perhaps best known for her lithographs and stone cuts, Pitaloosie was not afraid to experiment artistically nor was she intimidated by technical innovation.  Two of her three prints that were selected for the 2021 Annual Cape Dorset Print Collection involved sugar-lift & hand-coloring, processes that are relatively new to Cape Dorset.
There are still collectors of Inuit works on paper who are only interested in charming images of Arctic wildlife or depictions of life as it was once lived on the land.  However, thanks to gallerists such as Elaine Blechman, owner of Arctic Artistry in Chappaqua, New York; Pat Fehelely, owner of Feheley Fine Arts in Toronto; and Robert Kardosh, director of the Marion Scott Gallery in Vancouver, such views are changing.
Pitaloosie Saila's work has been in my collection since 1998.  In addition to Song of Arrival the artist is represented by five lithographs, plus another that was donated to the Brooklyn Museum in 2014.  During the course of her artistic career, Pitaloosie produced over 1,450 drawings and 165 prints.  Her art has been exhibited across the U.S., Canada, England, Israel, Belgium, and Italy to much acclaim.  When I saw Pitaloosie's Song of Arrival, for me, it was the stand out of the 2021 collection.
Sadly, Pitaloosie died on July 24, 2021 at the age of 79.
 This article is dedicated to the memory of Pitaloosie Saila.