One of the joys of being a collector is discovering a work of art that you think is not only visually spectacular but intellectually fascinating as well.  During more than thirty years of collecting, I have been extremely fortunate to have encountered quite a number of such works.  Most recently, I was struck by Rick Bartow's monoprint  Untitled (Japanese Raven).  At twenty-one and a half inches by thirty-nine inches, the work is quite large.  However, it is not only the work's size that is impressive.  The raven is beautifully drawn, taking up most of the page, and the paper is covered with kanji.  As with much of Rick Bartow's art, Untitled (Japanese Raven) involves a mystery.  In this case, it is the meaning of the Japanese characters and whether the raven was drawn over the kanji or if the characters were already on the paper and Rick Bartow drew the bird over them.  Bartow often repurposed paper, using sheets that already contained printed words and/or images.  In addition, he often added numbers, letters, and words in Yurok, Japanese, German, or English in his own hand to his works on paper as well as a diverse range of curious, enigmatic marks.  As always, I turned to my holy trinity of information on all things Rick Bartow in order to solve this mystery: Charles Froelick, Wilder Schmaltz, and Seiichi Hiroshima.  Each
had much to say on the topic.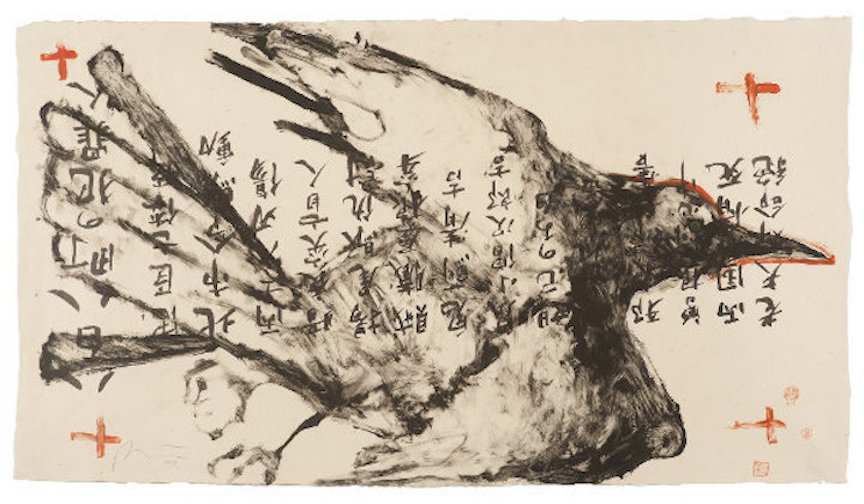 Untitled (Japanese Raven) by Rick Bartow, Wiyot, monotype, 1/1, 21.5" x 39" (2003).            Collection of E. J. Guarino.  Photo Courtesy of the Froelick Gallery, Portland, OR.
I first contacted Wilder Schmaltz, Assistant Director of the Froelick Gallery who emailed back: ". . . as to Untitled (Japanese Raven), we don't know the translation, but I will forward this to Seiichi Hiroshima and ask him about the words, and if he recalls anything about its creation.  Charles [Froelick] and I examined it just now, and it appears that the Kanji characters were written in ink with a brush, and are not part of the monotype – Rick printed over this existing text.  Seii will hopefully be able to illuminate whether this was something written with intention (by him, perhaps) or if it was simply, to Rick, an attractive surface on which to impress an image.  Now that I'm looking at it – this is a horizontal image according to Rick's signature and chops, and I think, though I'm not entirely sure, that the Kanji is upside down in this way.  Again, Seii will illuminate."
Three days later, I received an email from Charles Froelick: "Seiichi has been on a fishing trip with his dear pal, fellow gallerist Toshiaki Yanagisawa . . . between the two of them the Japanese Raven will be translated . . . I vaguely recall that Rick had asked Seii to paint in ink on several pieces of paper . . . and that Seii laughed about how bad his penmanship was, but he did do that . . . this might be one that Seii actually 'wrote.'  And I bet he'll have it translated this fall . . . .  I'm now more curious about what it says . . . wonder if it will be about Oregon beer – one of Seii's favorite things.  I love everything about Untitled (Japanese Raven)] paper, printing ink, Sumi ink, brushwork, the blackness."
On the same day I received Charles Froelick's email, I received another from Wilder Schmaltz, which contained Seiichi Hiroshima's preliminary comments on Untitled (Japanese Raven): "Speaking of the calligraphy on Rick's monotype, I did it before Rick and I worked on monotype printing.  It describes the bizarre incidents and famous thieves that actually happened in the Edo period.
BTW this calligraphy is still upside down."
          However, I would have to wait patiently (well, perhaps not so patiently) for the translation of the kanji on Untitled (Japanese Raven).   After about a month or so, I received an email from Charles Froelick, which contained Seiichi Hiroshima's explanation of the kanji on Untitled (Japanese Raven).  "I wrote these Japanese [kanji]" at Rick's request," Seii Hiroshima wrote, "probably more than ten years ago, it's very hard to translate these old Japanese social events to English.   Rick only wanted to have Japanese writings as just decorations at our monotype's background.  He even didn't want to know what I wrote on blank paper – there are some letters that I can't read because of the crow image, and the Japanese characters written in the background are upside down.  I think there is no meaning to know what (all of) these Japanese [kanji] mean.  But maybe sometimes knowing meanings makes people happy, so . . . .
"First title on the right: HAPPAKU-YACHO NO HANZAININ = Edo criminals
"Second: Chushin Naki watomi = Chushin his loyal retainer.
"The third line "Well sorry, I can't know what event this is.
"The Fourth Line:  This event is about 'CHUSHINGURA'.  You can go to the English website.
"The Fifth line: I can't understand what this means either.  I only can read 'dark night  and blind man'
"The Sixth line: 'ADAUCHI' event at somewhere in EDO
"The Seventh line: 'ZOKU KURAYANE WO UGATSU'. Means "Thieves make a hole in the treasury warehouse roof"
"The eighth line: 'ONIAZAMI NO SEIKICHI'.  The name of well known great thief.
"The ninth line: 'NEZUMIKOZO JITOKICHI'.  Also the name of the great thief.  He was the most popular thief in EDO. He stole money from the rich and gave them to the poor.
"Now the tenth line: "DAKKI NO OHYAKU".  Extremely beautiful evil woman!!
"The eleventh line: Some murder case.
"The twelfth line: "SONEZAKI SHINJU".  Written by Chikamatsu Monzaemon
"The thirteenth line: A lovers' suicide. They jump into Ryogoku river together to complete their true love.  Isn't it romantic!?
"Ok the last line: Aged couple commit suicide . . . .  I don' like this one . . . ."
Seiichi Hiroshima
And so the mystery of the kanji on Untitled (Japanese Raven) is solved – well, sort of.
Rick Bartow's work is mysterious and fascinating, often involving enigmatic marks and imagery.  More than one of the artist's pieces presents us with a mystery, which we may never solve – a portrait of an anonymous person, a name unknown to anyone who knew the artist, and strange, secret marks and shapes incorporated into much of his art, particularly his prints.  Untitled (Japanese Raven) is certainly proof of this idiosyncratic artistic process.  Bartow created works that are visceral, expressionistic, symbolic, and, often, surreal.  As far as he was concerned, everything was grist for the mill.  Nothing was off-limits for him.  He would repurpose paper by creating a powerful image overprinted and handwritten words or glue together two pieces of paper (even envelopes that had been stamped and mailed) that he found interesting.  All manner of intriguing aspects can be found in Bartow's works on paper – words in various languages, Japanese kanji characters, a paper containing commercial printing, printed and handwritten addresses, postage stamps, and names of galleries that represented his work.  All of this makes Rick Bartow's art enigmatic and thought-provoking.  It is these very qualities that drew me to Untitled (Japanese Raven).
The author would like to express his sincere gratitude to Charles Froelick, owner of the Froelick Gallery, and to Wilder Schmaltz, Assistant Director of the Froelick Gallery, for their invaluable help with this article.                                     
A special thank you is offered as well to master printer and gallery owner Seiichi (Seii) Hiroshima for his translation of the kanji on Untitled (Japanese Raven).