Collectors never know when the chance to acquire a wonderful work of art will present itself.   It is one of the most exciting aspects of collecting.  Most collectors probably rely on galleries, but for those who collect the work of contemporary Native American artists there are a variety of other possibilities available such as the Heard Museum Guild Indian Fair and Market and the Santa Fe Indian Market where collectors can purchase artworks directly from the artist who created them.  However, every so often an unusual opportunity will present itself.  That is exactly what happened in the summer of 2019 when I received a message from Axle Contemporary.  The gallery itself is unique in that it is mobile.  Often referred to as the "art truck," the 6′ x 10′ exhibition space is in the back of a 1970 aluminum stepvan that travels to various locations around Santa Fe.  Having collected work from this venue before, I was excited to learn of their newest exhibition: Steven J. Yazzie's Drawing While Driving.  The title, a positive spin on the phrase "drinking while driving," intrigued me.   I was totally surprised and amused when I learned the premise of the exhibit.  Under artist Steven Yazzie's direction, twenty-seven local artists, Native and non-Native, were invited to draw or paint while peddling around on a specially constructed recumbent tricycle.  The thought of artists I know (Jason Garcia, Eliza Naranjo Morse, and Rose B. Simpson) doing this both fascinated me and cracked me up so I definitely wanted to see the works they produced.  I was not disappointed.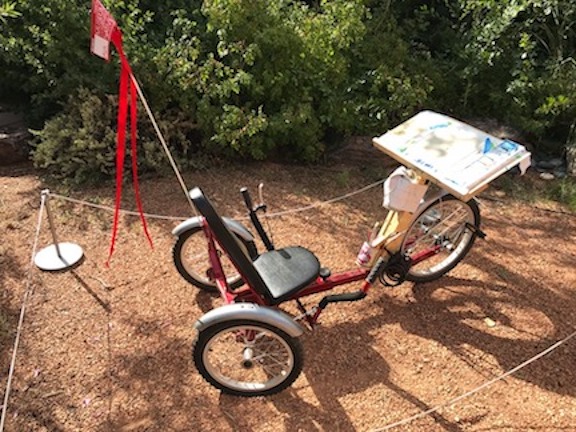 Recumbent tricycle used for Drawing While Driving, 2019.  Photo by Jeff VanDyke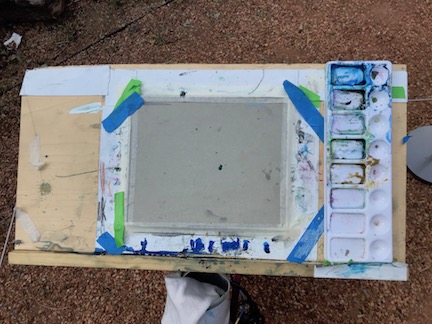 The palette on the recumbent tricycle for Drawing While Driving.  Photo by Jeff VanDyke.
Most art is seen in museums and galleries which, by necessity, place barriers between the viewer and what he or she is looking at.  Whether they are looking at paintings, sculpture, or works on paper, there is usually something – glass, a velvet rope, or tape on the floor – that keeps people at a safe distance from the artworks.  Since none of the works in Drawing While Driving were framed it provided a unique way to experience the artworks, allowing visitors to see them close up.
Entering the art truck I was confronted with a wide range of works to consider.  Some were more drawing than painting, others were more painting than drawing and quite a number were an equal combination of the two art forms.  After much thought and some discussion with Matthew Chase-Daniel and Jerry Wellman, the artist-owners of Axle Contemporary, I chose six works – two by Jason Garcia, two by Eliza Naranjo Morse, one by Rose B. Simpson, and one by Steven J. Yazzie.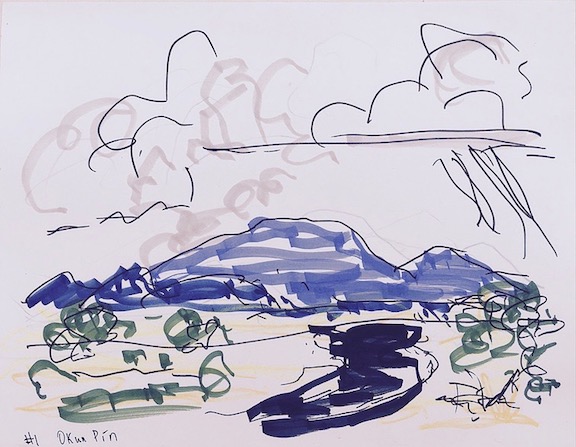 Okuu Pin Turtle Mountain #1 by Jason Garcia, Santa Clara Pueblo, painting/drawing on       paper, 8.5" x 11" (2019).  Collection of E. J. Guarino.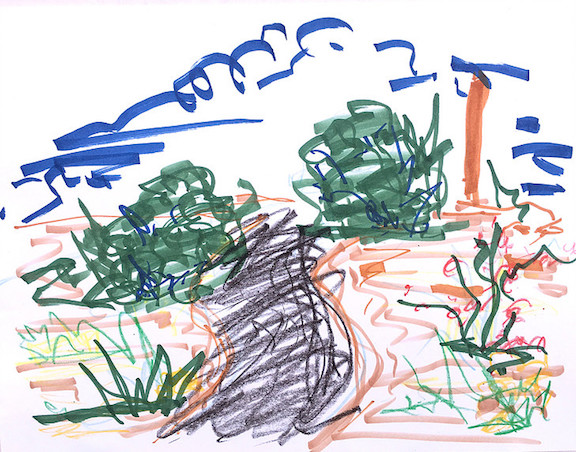 Oga Pogeh Owingeh by Jason Garcia, Santa Clara Pueblo, painting/drawing on paper,        8.5" x 11" (2019).  Collection of E. J. Guarino.
For many years, Jason Garcia's work has had a prominent place in my collection.  I have four ceramic works by the him, fourteen prints, a drawing, and now two of which that can actually qualify as paintings on paper.  In general, Garcia creates highly detailed representational works, which contain human figures.  Okuu Pin Turtle Mountain #1 and Oga Pogeh Owingeh are something quite unusual for him.  Not only are they a combination of drawing and painting, unlike the artist's earlier work these pieces are landscapes.  Perhaps it was the fact the the artist was riding on a tricycle when he was creating these works, but they seem much looser and have a sense of spontaneity.  Both Okuu Pin Turtle Mountain #1 and Oga Pogeh Owingeh are extremely colorful (a hallmark of Garcia's work), but they are also decidedly expressionistic, which is a new direction for the artist.  Both works express Jason Garcia's love for the tribal land he is portraying.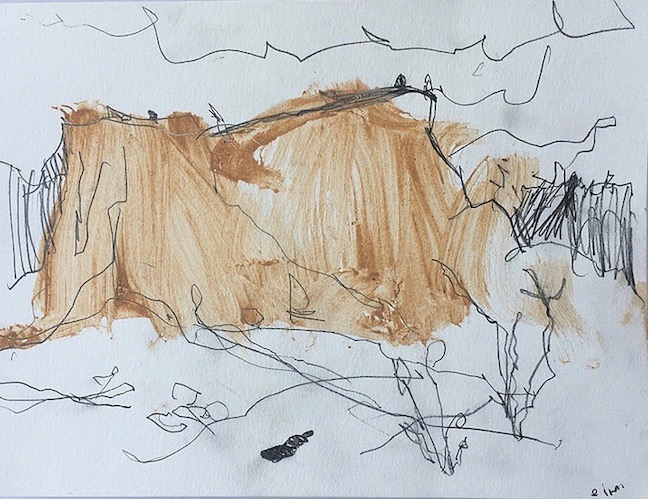 Precious Land by Eliza Naranjo Morse, Santa Clara Pueblo, painting and drawing on paper, 9" x 12" (2019).   Collection of E. J. Guarino.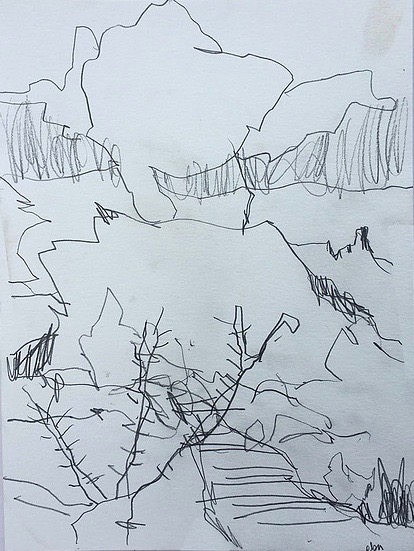 Wonderful Day by Eliza Naranjo Morse, Santa Clara Pueblo, drawing on paper, 9" x 12" (2019).  Collection of E. J. Guarino.
                  To say that I am an admirer of Eliza Naranjo Morse would be an understatement.  With a total of thirty works – drawings, prints, mixed media pieces, and a paper construction – I have more work by Morse in my collection than by any other artist.  Her art is mystical, mysterious, and mesmerizing.  She draws inspiration from her Pueblo culture, family experiences, and the world around her.  Although much of her work is grounded in representation, Morse's art is not literal.  It is highly symbolic, often containing expressionistic and surreal elements.  Some of her work, particularly in the last few years, while appearing whimsical is actually allegorical.
Both   Precious Land and Wonderful Day were a surprise in many ways.  Each piece has a wonderful fluidity and spontaneity and, depending on one's perspective, the two works can be seen as either purely abstract or semi-abstract creations.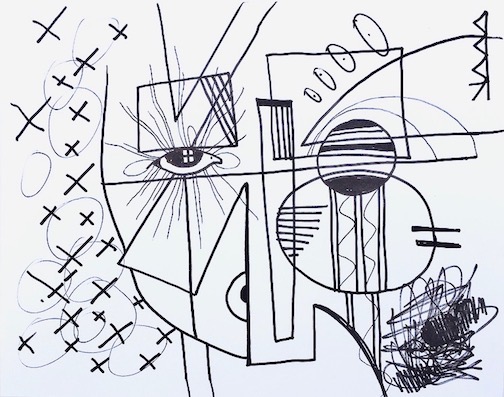 They Think I'm Crazy by Rose B. Simpson, Santa Clara Pueblo, drawing on paper, 8.5 x 11" (2019).  Collection of E. J. Guarino.
          Although Rose B. Simpson is probably most noted for her life-sized ceramic works, she is a multi-media artist.  Thanks to the encouragement of Andrea Hanley, currently Chief Curator at the Wheelwright Museum, I acquired a drawing by the artist in 2013.  Simpson rarely produces works on paper, but when she does they are immediately scooped up by collectors.  So, when I saw They Think I'm Crazy in the Axle Contemporary art truck I was not about to pass it up.  The drawing perfectly expresses the sometimes chaotic nature of creativity.  Santa Clara crosses, various lines, squiggles, circles and, at the bottom right, what appears to be something crossed out swirl around the artist's head in this work that is clearly a symbolic self-portrait.  It is a very exciting piece that is at once autobiographical, but also conveys in visual terms the nature of the creative process.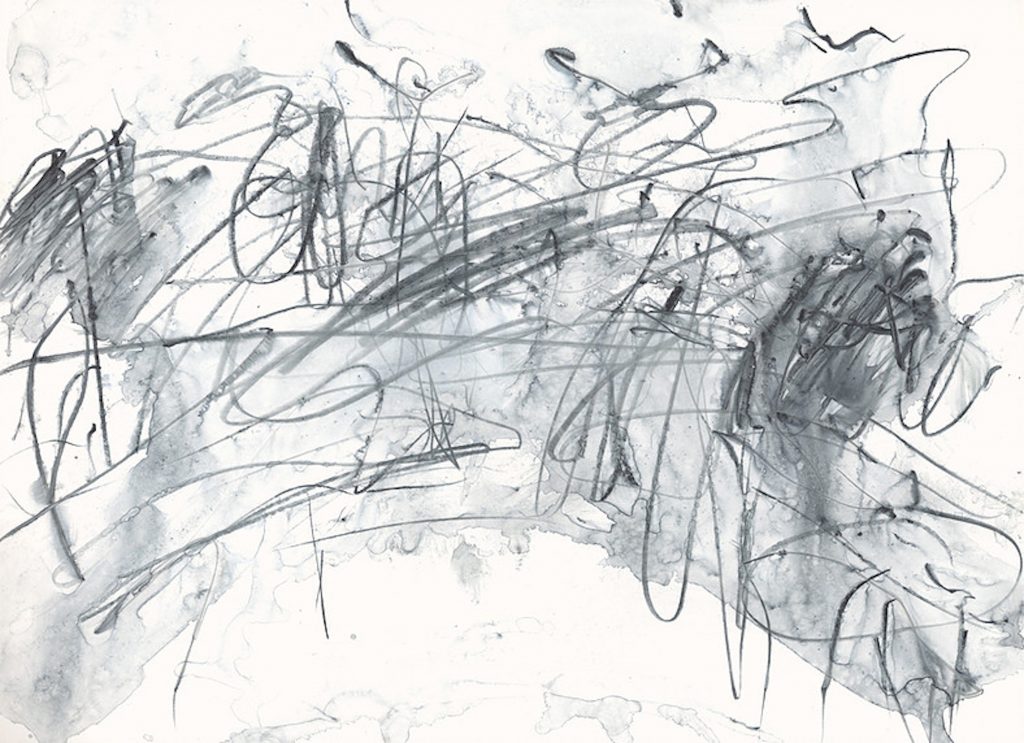 Windmill Ridge 1 SF, NM by Steven J. Yazzie, Navajo, painting/drawing on paper, 9" x 12" (2019).  Collection of E. J. Guarino. 
The work of Steven J. Yazzie was completely unknown to me when I encountered Windmill Ridge 1, SF, NM in the Drawing While Driving exhibition.  I was immediately drawn to it because the artist used a limited color palette – grey, black and the white of the paper – to produce a powerful expressionistic work.   Although it is an abstract work, the title indicates that it is a landscape.  According to the artist, much of his work "is about landscape and landform . . . ."  When I first saw Windmill Ridge 1, SF, NM all I knew was that I liked it.  As is usually the case, if I had been asked at that particular moment why I liked this piece I probably could not have put my feelings into words.  I respond emotionally to a work of art and it is only much later, after much reflection, that I figure out why I did so.
Steven J. Yazzie wrote the following about the Drawing While Driving experience and my guess is that many of the other artists involved felt much the same way.  "The drawing vehicle became a simulated version of how I often experience the outdoors (from a perspective of a moving vehicle), which touches on the notion of technology and the speed of a contemporary life.  While there are references to absurdist actions or perhaps performance, the act of drawing and driving ultimately became an organic point of contact between the natural world and the man-made one; the drawings could in a sense be created by both myself and the thrashing vehicle. The project has since become one of the most important and critical investigations in my process . . . ."
When I learned of Drawing While Driving, I was instantly intrigued.  It sounded like a fun project.  Art and fun might seem like words that don't belong together, but that is not necessarily the case.  Art can be many things – serious, shocking, offensive, thought-provoking, and, yes, fun.  Picturing some of my favorite artists riding around on a tricycle, trying something new and unusual in terms of their creative process, delighted me.  The results were certainly not disappointing.