For those of us who collect Inuit works on paper, October is a very exciting time since each year this is when more than thirty prints are released as part of the Cape Dorset Annual Print Collection.  More than any other Canadian Arctic community, Cape Dorset has consistently been able to attract and maintain a large group of international collectors and anticipation is always high when each year's collection is released.  The quality of Cape Dorset prints is always artistically exceptional because of the willingness of the artists and printers to embrace creative and technical innovation and experimentation. The prints are produced in editions of fifty each, though on rare occasions one or two prints are done in a run of one hundred.
The 2019 collection contains thirty-two works, as well as three special releases, in a variety of print media – stonecut, stonecut & stencil, stonecut & lithograph, lithograph, etching & chine-collé, and etching & acquaint.  The collection also contains a diverse range of imagery: animals (walruses, owls, ravens, as well as some imaginary birds, bears, caribou, char, a narwhal, a wolf, and a clam), the goddess Sedna creating sea creatures, an igloo, a woman braiding her hair, and two landscapes.
Deciding which works to acquire is always challenging.  From one year to the next I never know what will attract me.  It might be a scene from Inuit life, an iconic image of an Arctic animal, a whimsical work or a landscape.
The 2019 collection contains work by established artists Pitaloosie Saila, Qavavau Manumie, Nuna Parr, and Nigiukulu Teevee; emerging artists Saimaiyu Akesuk, Ooloosie Saila, Padloo Samayualie, Nicotye Samayualie; and new artists Sita Saila, Killiktee Killiktee, Ohito Ashoona, Olooreak Etungat, Enoosik Ottokie, Pee Ashevak, Mosesee Mangitak, Pauojoungie Saggiak, and Quvianaqtuk Pudlat.
Whether or not I buy a piece greatly depends on my immediate emotional response to it.  I never acquire a work based on the fame of the artist who created it.  In fact, I am more likely to buy the work of emerging or beginning artists.  However, the overriding factor is that the pieces selected must be artistically significant.  As with most collectors, money is always a consideration and I am only able to acquire a few prints from each year's collection, sometimes only one.    After repeatedly looking at the 2019 offerings, the two prints to which I was most drawn were Sedna's Creation by Ningiukulu Teevee and Sunlit Sky by Ooloosie Saila.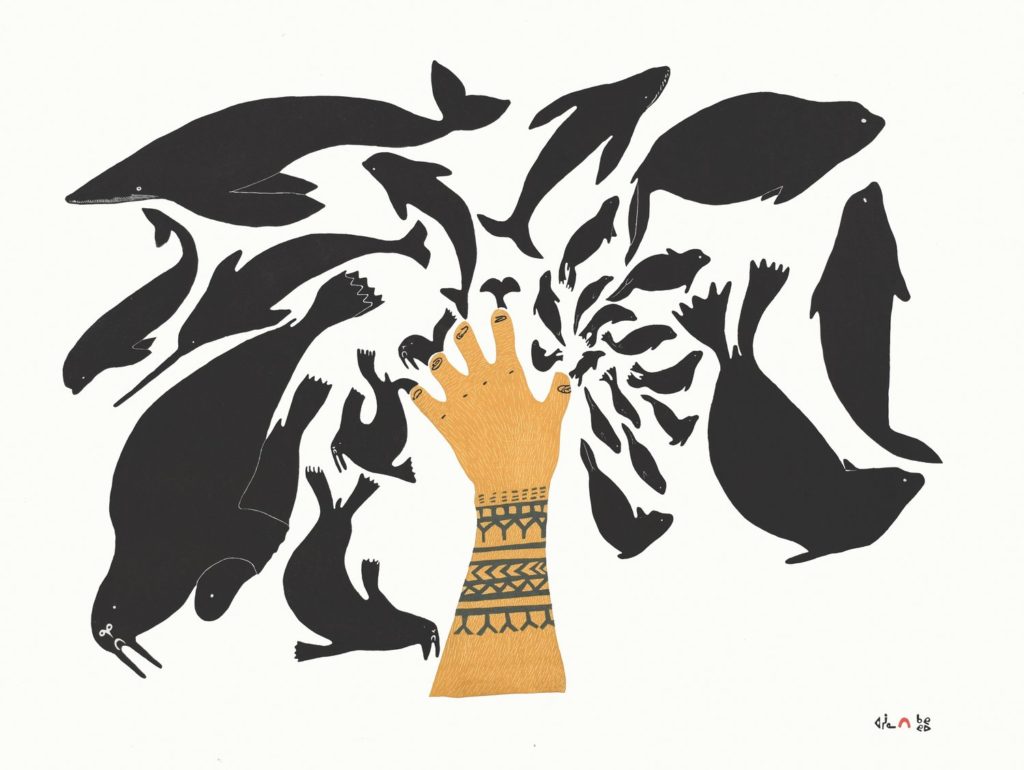 Sedna's Creation by Ningiukulu Teevee, Inuit, Cape Dorset, stone-cut; Paper: Kiziki Kozo White; Printer: Qavavau Manumie & Ashoona Ashoona, #4 in the 2019 Cape Dorset Annual Print Collection, 24 1/4 x 32 1/4 (2019).
              I was initially attracted to Sedna's Creation because of its poetic portrayal of the Inuit goddess, suggested solely by an arm, in the act of creating the fish and sea mammals upon which the Inuit are dependent.  Sedna is a fascinating being.  It was she, and she alone, who would give or withhold the ocean's bounty.  Sedna could be easily offended and if she were it was necessary to appease her with gifts before she would allow the denizens of her watery world to be caught.  For the Inuit, being in Sedna's favor was a matter of life and death.
Although Sedna's Creation intrigued me, ultimately I rejected it because I found another print that I felt was not only artistically brilliant but one that pushed the boundaries of Inuit art.  Although I often collect works that typify Inuit printmaking practices, I often choose works that advance the limits of a particular form.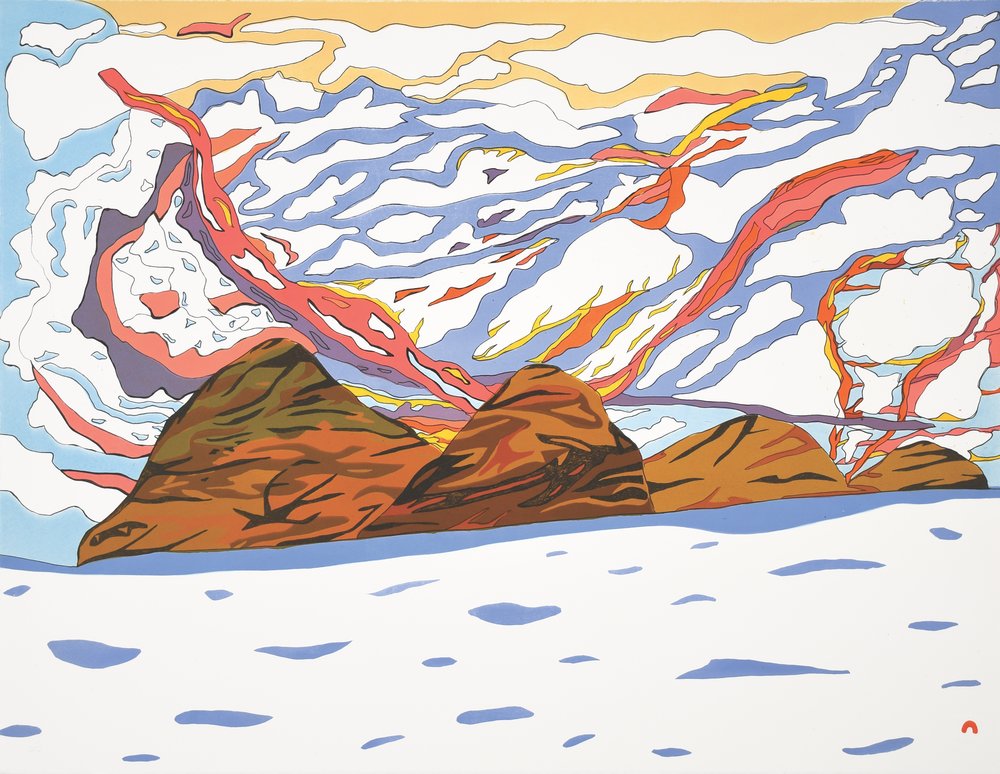 Sunlit Sky by Ooloosie Saila, Inuit Cape Dorset, lithograph on BFK Rives White paper; Printer: Niveaksie Quvianaqtuliaq; #16 in the 2019 Cape Dorset Annual Print Collection, /50, 22 1/4" x 28 3/4" (2019).  Collection of E. J. Guarino.
           Of all the prints in the 2019 Cape Dorset Annual Print Collection, Sunlit Sky caught my eye and my imagination more than any other.  The work is visually powerful.  The artist renders the brightly lit Arctic sky expressionistically in bold colors and striking lines.  The firmament seems alive with swirling energy.   Ooloosie Saila is becoming known for her unique representations of the Arctic landscape.  She is one of the new and exciting voices to emerge from Cape Dorset in the last few years.
Unlike other artists, Cape Dorset graphic artists work side by side at the Co-op rather than in isolation.  They help, inspire, and also influence each other.  These artists put their ideas on paper, each using a distinctive visual style, continuing what earlier generations had begun.  Their creativity is what makes collectors around the world look forward to October.
            The 2019 Cape Dorset Print Collection contains many works that are brilliantly executed as well as visually strong.  This is always the case with Cape Dorset prints.  Such excellence is a joy, but it makes it difficult for collectors to winnow down so many fine works to a final few choices.  The process is difficult, frustrating, exhilarating and, ultimately, extremely satisfying.
All collections are idiosyncratic; no two are alike.  Each reflects the tastes, personality, interests, and artistic biases of the collector.  This is certainly true of my own collection.  Choosing from among so many fine prints in the 2019 Cape Dorset Print Collection was time-consuming, but worth the effort.  After a great deal of careful deliberation, I feel that Sunlit Sky is the best fit for my collection.
To see all of the prints in the 2019 Annual Cape Dorset Print Collection, go to the link below and scroll down.
http://www.dorsetfinearts.com/2019-annual-print-collection-1