In August, 2016 the Case Trading Post at the Wheelwright Museum presented From the Sketchbooks of T. C., an exhibit and sale of fifty plus pieces from the T.C. Cannon Estate, including previously unseen work.  When I first looked into his work, I had the impression that T. C. Cannon was predominantly interested in Native American subjects.  However, seeing the drawings in his sketchbooks revealed so much more.  Also, in reading about the artist and his aspirations, I learned that he wanted to go to Paris and work with other painters.  He clearly did not want to be put into some limiting niche.  Sadly, Tommy (T. C.) Cannon died in an automobile accident southeast of Santa Fe on May 8, 1978 at the age of thirty-one.  I thought it important to acquire works that show the wider range of Cannon's creativity and that reflect his desire to express his feelings about all aspects of life.
Cannon was a complex artist.  Born to a Kiowa father and a Caddo/French mother, he straddled multiple worlds.  After graduating from the Institute of American Indian Arts, he attended the San Francisco Art Institute but left to enlist in the Army.  He served with the 101st airborne in Vietnam, winning numerous medals, including two bronze stars.  As an artist, Cannon's subjects were highly varied though he is, perhaps, most noted for his images of Native Americans that are a mix of the traditional and contemporary.  In scores of paintings as well as prints, Native American culture is combined with aspects of the American mainstream.  Cannon created portraits of chiefs and other Native people dressed in traditional clothing but posed with contemporary objects – umbrellas, chairs, tables, as well as a gramophone and even an opera libretto (Tosca).  The stars and stripes motif was often used by Cannon in a number of his pieces as well.  The works in his sketchbooks, however, show that the artist's interests were varied and wide ranging.  They include portrayals of Indians but there are also drawings of cats, nudes, portraits, self-portraits, studies for larger works, as well as abstracts.   The sketchbooks are Cannon's private reflections and many of the works in them led to larger, more complex pieces.  When drawings from the sketchbooks were released for public sale, I was fortunate to add Abstract-Blue, Pink Circles, and Woman to my collection.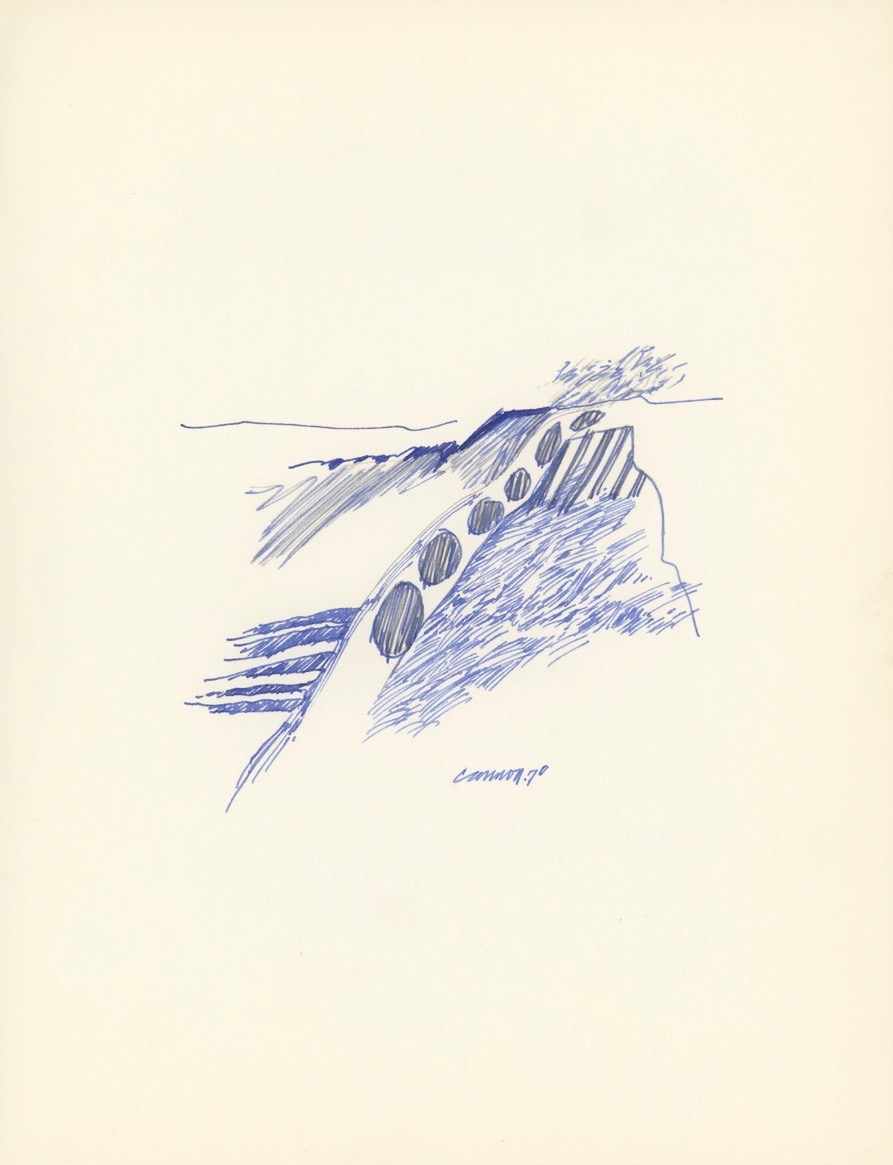 Abstract – Blue by T. C. Cannon, Kiowa-Caddo, ink on paper 8.25" x 10.75 (1970). 
Signed "Cannon 70".   Collection of E. J. Guarino
           As with all abstract art, Abstract-Blue relies on shape, form, texture, and color to move and involve the viewer.   The overriding color of the piece is blue, giving the work a sense of calm.   However, tension is created by a series of dark circles that lie between two loosely drawn lines that cut across the page.  Abstract-Blue, though an abstract work, is somewhat suggestive of a landscape.  The thin line drawn across the top of the image may indicate the horizon while the texture and shapes in other parts of the drawing evoke the land or what lies below it.  The viewer is free to interpret what he or she sees in a variety of ways and to respond to the piece on an emotional level.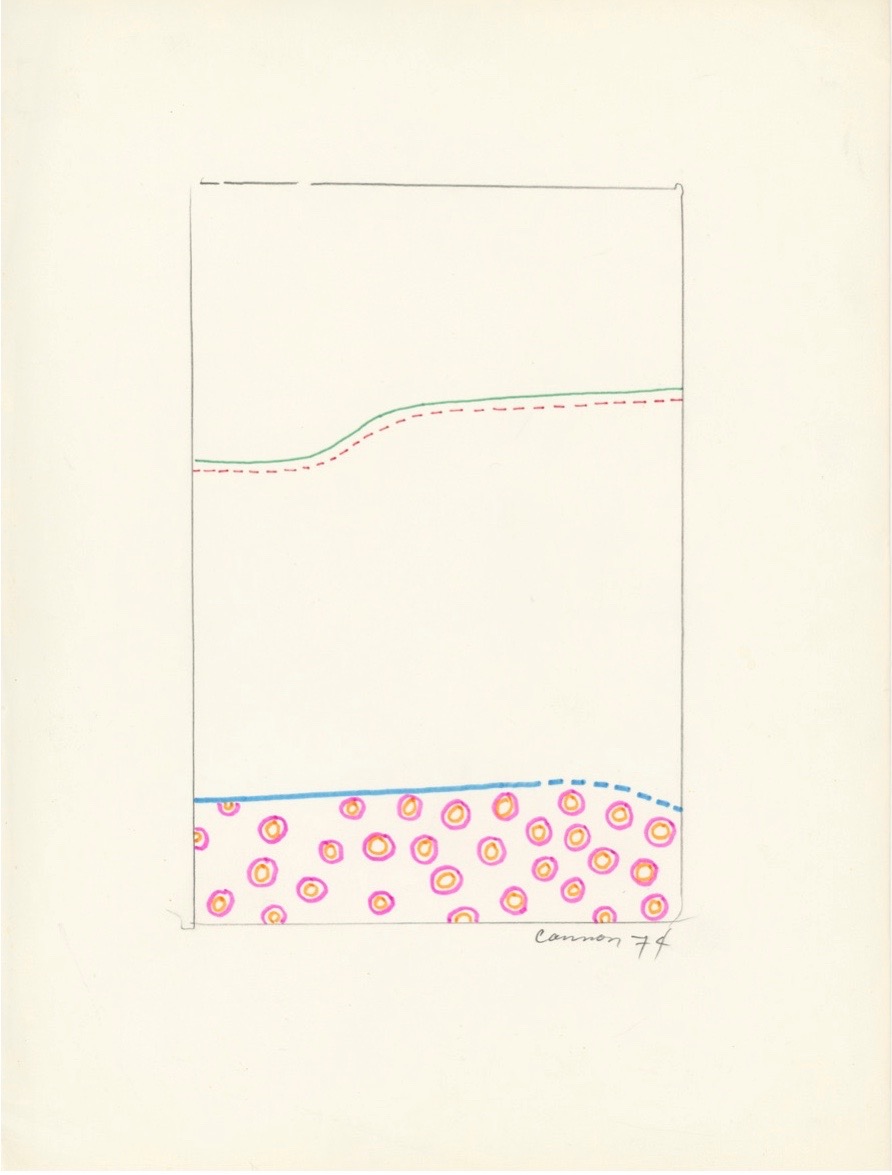 Pink Circles by T. C. Cannon, Kiowa-Caddo, pencil and marker on paper, 8.25" x 10.75" (1974). Signed "Cannon 74".  Collection of E. J. Guarino
            Pink Circles, like Abstract-Blue, has a soft, calming tone.  The work also has a minimalist quality since the artist has drawn very little on the page.  Just above the middle of the sheet, Cannon drew two lines – one solid and green, the other a series of pink dashes.  These, like the circles and lines in Abstract-Blue, create visual tension in the piece.  However, it is the series of pink circles at the bottom of the drawing to which the viewer's eye is drawn.  Each is made up of two concentric circles with yellow centers while just above them is a blue line that is partly solid and partly made up of dashes.  Once again, although it is a nonrepresentational work, Pink Circles suggests an abstracted landscape, the lines of the piece very much resembling those used on maps to depict roads and highways.
Although best known for his iconic images of Native Americans, T. C. Cannon's sketchbooks reveal that there was much more to his art.  Much of his work is decidedly representational but the artist also clearly had an interest in abstraction.  Such works have a delicacy, fluidity, and sense of freedom that is missed by those who are only familiar with his figurative works.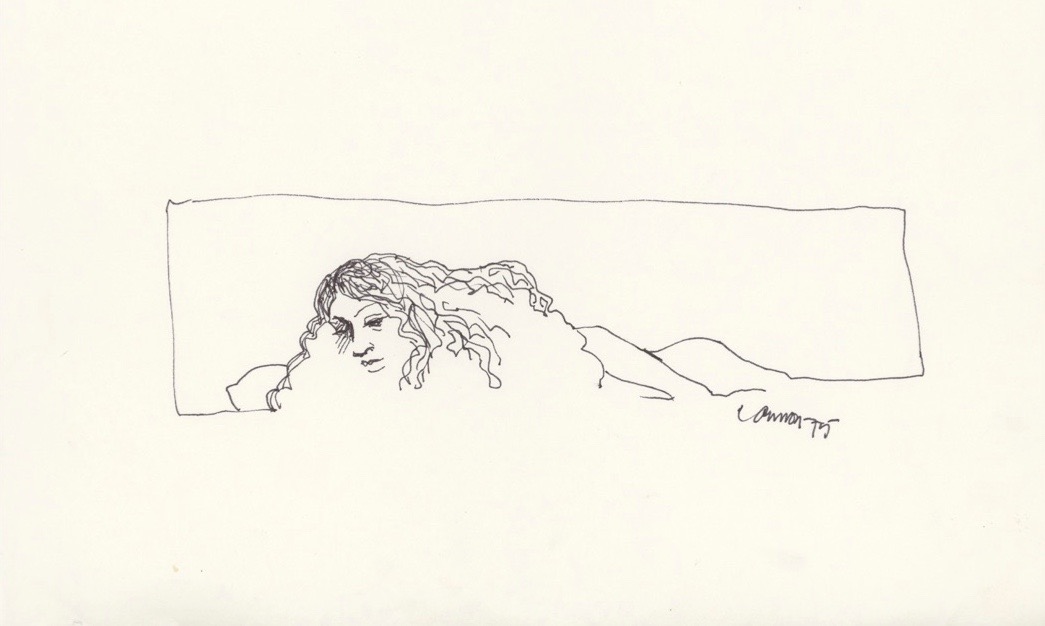 Woman (with Long Flowing Hair) by T. C. Cannon, Kiowa-Caddo, ink on paper, Page size: 10" x 13.5" (1975).  Signed "Cannon 75".  Collection of E J. Guarino
Although, in recent years, I have mostly been drawn to abstract works, I am still attracted to figurative pieces if I feel that they are particularly outstanding.  This was exactly my impression when I saw Woman, which is also known as Woman (with Long Flowing Hair).  Strangely, the artist chose to draw the image  on the bottom portion of the page.  Nonetheless, the woman has been drawn with such charm and delicacy that I could not resist it.  What appears to be a simple line drawing is, upon closer inspection, a carefully wrought portrait.  Although we may never know the identity of the woman (if, in fact, she ever existed), her closed eyes suggest a pensive quality.  Her long flowing hair and prone position add to the figure's sensuousness.  However, it is the fineness of the line with which the image is rendered that raises it from a mere doodle to a drawing.
C. Cannon's sketchbooks are an extremely important resource since they reveal a great deal about the artist's interests, ideas, and feelings. Cannon always carried one of these books with him so that he could capture an image or idea as it occurred to him.  Executed in pencil, various colored markers, diverse inks or watercolor on a range of papers, including graph paper, construction paper, and tracing paper, the drawings in the sketchbooks give us insight into Cannon's thoughts and creative process since, besides images, a number of the works contain poems, musings, notes or lyrics.  As a collector, I am grateful to Joyce Cannon Yi, the artist's sister, for releasing this exceptional material to the public and to Ken Williams, Manager of the Case Trading Post, for facilitating the process.