They have been called "miniatures," "small spirits," and "cultural microcosms" but, with few exceptions, dolls are first and foremost a child's earliest and best friend.  Being a male collector, I never really thought much about acquiring Native dolls but somehow they made their way into my collection and into my heart.  It was certainly not something I planned but it began right around the time my niece Amanda (now twenty-five) was born.  In my mind I was always buying dolls "for Amanda."  As a man, I guess I needed an excuse.  There are a few dolls in my collection that arrived before Amanda, possibly because I didn't regard them as such.  It was only recently that I became aware that even figures made of clay could be considered a type of doll.
| | |
| --- | --- |
| | |
| Modeled and painted figure with bowl, artist    unknown, Karajá tribe, Amazonia, Brazil, 3 ½"w x 6"h (ca. mid 1980s).        | Modeled and painted figurine with 0lla, artist unknown, Karajá tribe, Amazonia, Brazil, 3 ½"w x 6½"h (ca. mid 1980s). |
Donated to the Frances Lehman Loeb Art Center, Vassar College from the E. J. Guarino Collection 2011, figure on left in honor of Amanda Caitlin Burns; figure on right in honor of Kyle Aron Burns.
While on a trip to Rio de Janeiro some time in the 1980s, I discovered a government run shop that promoted and sold artwork made by Indigenous people living in the Brazilian Amazon Region.  I was captivated by what I saw and purchased a spectacular feathered headdress, a wooden mask, a painted canoe paddle, a feathered funerary "crown" and two small modeled and painted clay figures.  Although the other pieces I acquired at the time are visually more impressive, the two little unprepossessing dolls hide a treasure trove of cultural information in plain sight.  The figures, clearly female, present what among the Karajá people is appropriate work for women: one holds a bowl, indicating meal preparation; the other is seated with an olla, suggestive of pottery making, important for food and water storage.  The dolls also portray Karajá female fashion: clothing, body paint or tattoos and a distinctive headdress.  Whether or not these dolls were expressly made to be sold or collected by government agents who were gathering examples of Karajá material culture and then later put up for sale is unclear.  However, as in many cultures, the dolls are examples of teaching tools that reflect and reinforce important cultural values to children, to the tribe and, by extension, to the rest of the world. In a sense, the Karajá figures, like all dolls, make a simple but profound statement: "This is who we are!"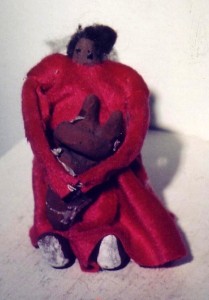 Mud figure of Navajo mother with child by Elsie & Sam Benally, Diné (Navajo), 3½" tall (ca. late 1980s – mid 1990s).  Donated to the Frances Lehman Loeb Art Center, Vassar  College in honor of Amanda Caitlin Burns from the E. J. Guarino Collection 2011.
During the same period I also made a number of trips to New Mexico where I encountered what is termed Navajo Folk Art and was particularly taken with what are called "mud toys."  With each visit I would purchase a few more figures.  One of my favorites is a Navajo mother holding her child made by Elsie and Sam Benally.  This is a universal subject that has been presented using the humblest of media, such as clay, to marble so exquisite it seems to glow with an inner life as in Michelangelo's Pietà.  I was very moved by this little doll because the artists, with a few "broad strokes," have managed to capture the very essence of the bond between mother and child.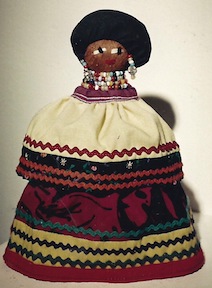 Seminole doll, artist unknown, Florida, palmetto fiber, cotton cloth, glass beads, 7.25" tall (ca. 1960s). Collection of E. J. Guarino
On one of my frequent weekend outings to New Hope, Pennsylvania   during the early 1990s, a charming little Seminole doll caught my eye mostly, I think, because I imagined it would appeal to my niece.  Wearing a colorful cotton fabric skirt and cape, the doll is elegantly dressed.  The beautiful rows of rickrack trim show what a fashionable Seminole woman would wear.  The body of the doll is made from the fibers of the palmetto palm.  Most probably made to be sold to tourists, the doll presents aspects of traditional Seminole culture that were, perhaps, unknown to those who visited Seminole lands at the time the doll was created.  Often, because of the stereotyping found in movies and on TV, non-Natives think that there is only one Native culture and that all Indigenous people dressed alike.  Dolls are a way of countering such misconceptions.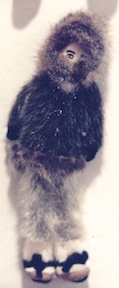 Inupiaq doll, artist unknown, Kotsebue, Alaska, bone, caribou(?) fur, cloth, 7" tall (1994).  Collection of E. J. Guarino
The next doll I acquired came with a lesson.  In the summer of 1993 I made my my first trip to Alaska.  I was so enthralled that on the flight home I decided I would return the following summer.  One of my stops on the second trip was Kotsebue, a town about thirty miles above the Arctic Circle that has a wonderful cultural center where the local people, wearing traditional clothing, performed various dances and sang songs, delighting the scores of tourists who were present.  Afterward, everyone was invited to look over the many handmade items that were for sale.  A large group of dolls attracted my attention but had also caught the eye of other visitors.  To my surprise, I suddenly found myself in the middle of what I can only describe as a "shark feeding frenzy."  One woman even went so far as to snatch a doll right out of my hand.  It was at that moment that I realized that this was not the way I wanted to acquire pieces for my collection.  When things calmed down, I did find another doll I liked and, to this day, it resides in my home as a reminder never to be a part of frantic buying.
The fur clothing on the Inupiaq doll represents life in a cold environment.  The doll wears a parka, a warm hooded pullover jacket called a "parky" throughout Alaska, as well as fur pants.  The trim on the hood of the parka is known as the "sunshine ruff" because it makes the wearer's face look like the sun with rays emanating from it.  Inupiat still wear this type of clothing because it works so well against the cold.  (Note: Inupiaq is used to refer to one person; Inupiak denotes two people; and Inupiat means three or more people.)
Plains region doll with beadwork vest, pants and moccasins, artist unknown, 7.5" tall
 (mid-20th century). Collection of E. J. Guarino
The next doll to arrive has been a bit of a mystery for over fifteen years.  Although it was sold to me as Navajo I had my suspicions that it was not Navajo, but might possibly be Sioux.  The doll's distinctive three braid hairstyle, beaded vest, striped shirt, beaded and fringed leggings and beaded moccasins did not seem indicative of Navajo culture to me.  I have traveled throughout Navajo lands, sometimes encountering men in traditional garb who looked nothing like the doll in my collection.  I have also seen many Navajo dolls in museums and in shops but, again, they were not costumed in anyway like my doll.  Finally, in deference to accuracy, I contacted Davison Koenig, Curator of Exhibits at the Arizona State Museum in Tucson; Mario Klimiades, the Librarian for the Heard Museum; and Laura Cardinal, associate/buyer at the Heard Museum Shop figuring that someone would be able to solve the mystery or, at the very least, give me a lead.
Davison Koenig forwarded my Email to Andrew T. Higgins, the Arizona State Museum's Assistant Ethnological Collections Curator, and I received the following fascinating answer: "I agree not Navajo, but the doll's dress attire does not come across solely as Sioux, so a safe term would be Plains region or something along those lines.  The leggings and moccasins are of Plains style but the vest throws me off and appears to be of a more Plateau region.  The doll is made for the tourist trade and it just might not have an exact tribal affiliation."
Mario Klimiades forwarded my Email to Clarenda Begay, Curator of the Navajo Nation Museum, who said that the doll was definitely not Navajo and concurred with Andrew T. Higgins that it was Plains Indian.
My Email was also forwarded by Mr. Klimiades and Ms. Cardinal to Janet Cantley, author of More Than Child's Play: American Indian Dolls, who sent it on to Emil Her Many Horses, a member of the Oglala Lakota tribe and a curator at the National Museum of the American Indian, who stated the following: "I am thinking a Montana or Idaho group.  Possibly Nez Perce or Crow since they often traded amongst their groups.  Looking at the beaded vest, I would say Crow."  So the mystery is solved – sort of.  When I speak to students about collecting Native art I always say that sometimes you get a great deal of information; sometimes you get very little; sometimes you get none; and sometimes you get incorrect information.  The dealer who sold me the doll was considered extremely knowledgeable about Native art by gallerists across the country, yet I did receive information about the doll I acquired that was totally wrong.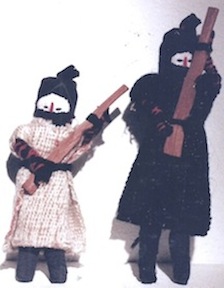 Dolls dressed as Zapotista rebels, artist unknown, made by Tzotzil-Mayan women of the municipality of San Juan Chamula, Chiapas, Mexico, doll on left 5"h; doll on right 6.5"h, (circa mid to late 1990s). Collection of E. J. Guarino
Dolls can give us a glimpse of a world different from our own and can even be controversial.  For many years I visited Mexico, collecting Native and folk art as I traveled.  However, two of the most interesting pieces I added to my collection are dolls dressed as Zapotista rebels.  They fascinated me because they captured an aspect of Mexico's political history at a specific period in time.  These dolls represent figures and, in some cases, leaders in the Ejército Zapatista de Liberación Nacional or EZLN (The Zapatista Army of National Liberation).  Often simply referred to as the Zapatistas, this group is based in Chiapas, Mexico's southern most state in which Indigenous people make up approximately one third of the population.  Named for Emiliano Zapata, an important figure in the Mexican Revolution, the Zapatistas are a leftist revolutionary movement that has demanded land reforms while incorporating Mayan beliefs into their ideology.
Overwhelmingly, the Zapatista dolls are made by Tzotzil-Maya women living in the municipality of San Juan Chamula.  The women insist that making the dolls is not a political statement and claim they are not Zapatistas but make the dolls for economic reasons.  Their creations evolved from "Chamulita" dolls dressed in traditional Tztozil-Maya clothing that were first made when tourists started coming to Chiapas in large numbers during the 1970s.  Like their predecessors, the Zapatista dolls are sold in such tourist centers as San Cristóbal de las Casas at the artisan market in the Plaza Santo Domingo and in shops along Calle Real de Guadalupe, the main tourist road.  The dolls are also sold in Puerto Vallarta, Mexico City and can even be purchased on the Internet.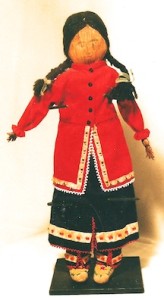 Onondaga Iroquois doll, artist unknown, corn husk, cloth, beads, yarn, 11" tall (ca, 1920).     Collection of E. J. Guarino
Historic Iroquois beadwork has been part of my collection for many years.  I am continually attracted to the artistry of the beadwork and the history of the medium.  It was only natural that I would add Iroquois dolls to the collection since they are usually decorated with beading.  As with the beadwork, Iroquois dolls were made for the tourist trade at the turn of the last century though others were certainly made for Iroquois children. Travelers to such popular tourist destinations as Niagara Falls bought the dolls as souvenirs of their trip and many were displayed in curio cabinets or an "Indian room" in a wealthy home as was the fashion of the day.  By custom, the dolls were not given faces since they were meant to teach a lesson.  According to tradition, the first doll was given to the Iroquois people by the Creator in response to Corn Spirit's desire to do more for her people.  This doll journeyed from village to village and because of the reaction to her beautiful face she became extremely conceited.  One day while she was admiring her own reflection in a pool of water the Creator sent a great screech owl to whisk away the reflection as punishment for her vanity.  To this day, whenever the Iroquois make corn husk dolls they leave the face blank to remind children not to become filled with their own self-importance.  However, some historic corn husk dolls do have crude faces that appear to have been drawn on with pencil.  This may have been done to make the pieces more marketable to White tourists or the faces may have been added later by their non-Iroquois owners.  Sometimes corn husk dolls are just that – no more than corn husk.  However, those that are most prized by collectors document traditional Iroquois clothing.  Female dolls, probably the most common and most sought after, often wear beautifully beaded jackets, skirts, leggings, and moccasins.
My first Iroquois doll entered the collection in 2000.  Originally part of the Mary Dahl Collection, it had been in a 1999 Sotheby's Auction and a 1998 Theirault's Doll Auction.  However, it was not the doll's excellent provenance that attracted me but how lovely she was attired.  Although she is not the oldest Iroquois doll in my collection, she is arguably the most beautiful and has made visits to schools when I speak to students about Native art.  She is always quite popular.

Iroquois doll, artist unknown, corn husk, cloth, beads, yarn, 13" tall (ca. 1880s).   Collection of E. J. Guarino
Seven years later, I acquired another Iroquois doll.  She, too, is clothed with great attention to detail, though not as finely as the doll I acquired first.  Her hair is pulled back rather than in pigtails, her clothing and moccasins are beaded but, again, with less artistry than her sister.  She also wears a necklace of beads, which may be a later addition.
| | |
| --- | --- |
| | |
| Pair of Iroquois dolls, corn husk, cloth, yarn, beads, sequins; female:7"tall, male: 7.5" tall (circa 1890). | Pair of Iroquois dolls, corn husk, beads,   leather, yarn (on male); Male doll: 10.5" tall,   female doll: 9.5" tall (circa 1900).Collection of E. J. Guarino |
For some reason, I had difficulty finding examples of male Iroquois dolls, but when I found them they were part of a pair which I thought fortuitous since they were dressed in similar clothing as if they were married.  Interestingly, none of these dolls had a face added.  The fact that the individuals in each pair are similarly dressed adds to their charm.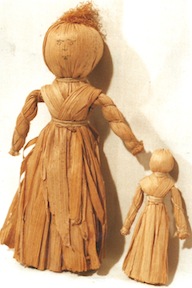 Iroquois (?) corn husk dolls, artist unknown, doll on left: 7" tall; doll on right 3.5"h; (circa 1950). Donated to the Frances Lehman Loeb Art Center, Vassar College in honor of Amanda Caitlin Burns from the E. J. Guarino Collection 2011.
Two of my favorite corn husk dolls aren't much to look at since they are simply corn husks made into dolls.  They have no ornamentation, such as beadwork, and even their clothing is made of corn husk.  For this reason, it is hard to determine if the dolls are Iroquois since other Woodlands tribes also made figures out of corn husk.  The dolls were bought as a pair but they may not have been created as such.  Looking at them, one may assume that they represent a mother and daughter but, in fact, the dolls may have simply been put together at a later date to make them more marketable.  The larger doll has had a pencil face added but there is no way of knowing when this was done.  Although they were most likely made to be sold, the plainness of the dolls also suggests that they could originally have been made for a Native child.
In general, the Iroquois dolls as well as the beadwork in my collection present some difficulties: the dates attributed to them are questionable.  I became aware of this problem during the final preparations for "Forms of Exchange," a 2006 exhibit at Vassar College's Loeb Art Center, which drew from my collection.  Sam Thomas, one of the guest speakers who is a renowned contemporary Iroquois beadwork artist and expert on historic Iroquois beadwork, pointed out that the date given for one of the historic Iroquois pouches was incorrect.  Scholars like Mr. Thomas are able to determine correct dates for Iroquois beadwork based on design styles, types and sizes of beads, and when specific materials were or were not available to artists.  It would seem that the Iroquois dolls in my collection await the research of future scholars to determine the accuracy of the dates assigned to them.

Hand carved doll, artist unknown, Tarahumara (Rarámuri), Mexico, wood, cloth cardboard, crepe paper, 10.5" tall (circa 2002). Donated to the Frances Lehman Loeb Art Center, Vassar College in honor of Kyle Aron Burns from the E. J. Guarino Collection 2011.
The Rarámuri, more commonly known as the Tarahumara, live high in the mountains of Mexico's Sierra Madre Occidental.  Although isolated from the outside world, modern life has managed to come to the Tarahumara in the form of a railroad that travels though the Barranca de Cobre (Copper Canyon) bringing hundreds of tourists who want to see the area's Native inhabitants.  The Tarahumara have neither embraced contemporary ways nor do they hide from it.  Realizing that visitors to their homeland are interested in their culture, the Tarahumara offer their arts and crafts for sale.  They are able to "market" their culture while remaining true to it.  Among the most popular items offered for sale are hand carved wooden dolls.  Dressed in traditional clothing, they portray gender-specific activities: female dolls are shown weaving or carrying a child while males hold weapons or musical instruments.  Of the Tarahumara dolls I've collected my favorite is one that is clearly dressed in religious or ceremonial garb, a flamboyant crown resting upon its head.  Although the Tarahumara sell their dolls at train stops in Copper Canyon, they are so popular that they can be found in a number of Mexican tourist areas as well as in the U.S. and on the Internet.  These little dolls, so delightfully dressed, are miniature good will ambassadors.
However, the Tarahumara homeland is under siege – by the Mexican army, drug lords, logging companies, and corporations wanting to mine for valuable minerals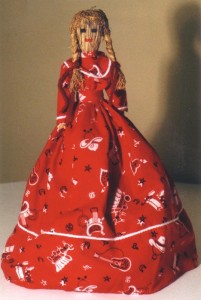 Buffalo grass doll by Lorene Drywater, Cherokee, buffalo grass, cloth, yarn, 12" tall, (circa 2002).  Donated to the Frances Lehman Loeb Art Center, Vassar College in honor of Amanda Caitlin Burns from the E. J. Guarino Collection 2011.
While traveling through Oklahoma, I became obsessed with seeing as many places as possible that were associated with Cherokee culture.  I was eager to learn so I visited museums large and small, cultural centers, and historic sites.  Along the way, I came across a buffalo grass doll made by Lorene Drywater and, once again, thinking that it would appeal to my niece Amanda, I bought it.  It was only recently that I learned that Ms. Drywater is the only person making these unique dolls and that she was named a Cherokee National Living Treasure.  The buffalo grass is cut in the first three weeks of May and then must dry, sometimes taking up to a week.  The dolls' clothing is made from pieces of fabric or cut from bedsheets.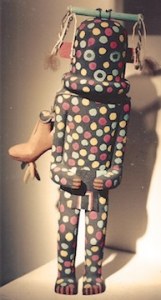 Sulawitsi (Zuni Fire Diety) katsina by Manuel Denet Chavarria, Hopi, wood, pain, string, feathers, 12" tall (1992).  Collection of E. J. Guarino
Looking over the dolls I've collected, I began to wonder just where kachinas (now more commonly referred to as katsinas) fit in.  I remembered that in 1992 I had purchased three exceptional katsinas by Manuel Denet Chavarria from the Tsakurshovi Gallery at Second Mesa in Arizona.  Because the owners, Joseph and Janice Day, had been so friendly, helpful and knowledgeable I decided to phone them for assistance in clarifying information about these important Hopi and Zuni figures.  Mr. Day concurred that calling katsinas dolls is not quite accurate.  They have religious significance and most people think of dolls as toys, which is something they definitely are not.  A Catholic child might be given a statue representing a saint for his or her First Holy Communion or Confirmation but no one would refer to it as a doll.  In speaking to Mr. Day, I expressed the typical outsider's confusion over words such as kachina, katsina and katsinam, the plural of katsina in the Hopi language.  "A katsina is an actual spirit being or spirit aspect of, theoretically, everything in the Hopi universe," Mr. Day explained.  "Katsinas represent clouds, plants, animals, astronomical features, culture heroes, ancestors, etc., ad infinitum.  They manifest themselves in a physical form and appear in the Katsina ceremonies, popularly but incorrectly known as Katsina dances, from February, when they appear in the Powamuya ceremony, until July at Niman, or going home, ceremony.  At other times they reside at Nuvatukwiovi (the San Francisco Peaks), Kiisiwu (near Black Mesa), and other locations.  Katsintihu is a katsina "doll."  The word tihu means son, daughter, child and, in the case of the katsintihu, it should, perhaps, be translated as offspring."  Mr. Day concluded by saying, "I know this all seems complicated in the analytical pahaana [non-Hopi] mind but in the Hopi mind and language it is all easily understood."
Although they are usually dismissed as children's playthings, dolls are really so much more.  They are, first and foremost, teaching tools: they can illustrate one's own culture or educate us about someone else's; they are bearers of cultural ideals, and, sometimes, religious values.  Dolls can inspire imagination, promote tolerance, and make social commentary; they can even make us laugh.  The idea that an object that may have been lovingly held in a child's hand has taken me on a complex cultural journey still astonishes me.  It is amazing to think that what once may have been owned and cherished by a little girl or, perhaps, even a little boy is something that, as a collector, I now own and prize.   I never expected to have dolls in my collection but I'm glad I do since I continue to learn from them as I discover more about each one.