In the fall of 2013 I contacted Sarah Sense with an eye to acquiring some pieces from her My Basket Story Series, consisting of sixteen works. Sarah responded that she wanted the series to stay together and go to one collector and, then shyly added, that she wanted that collector to be me.  I was honored.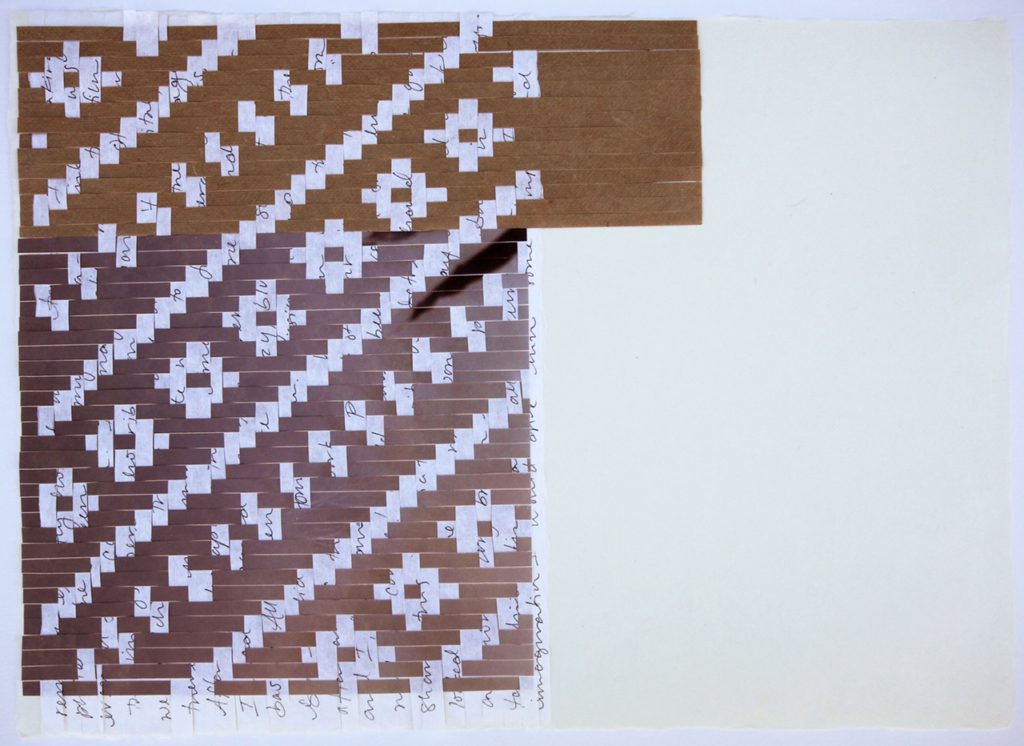 My Basket Story 1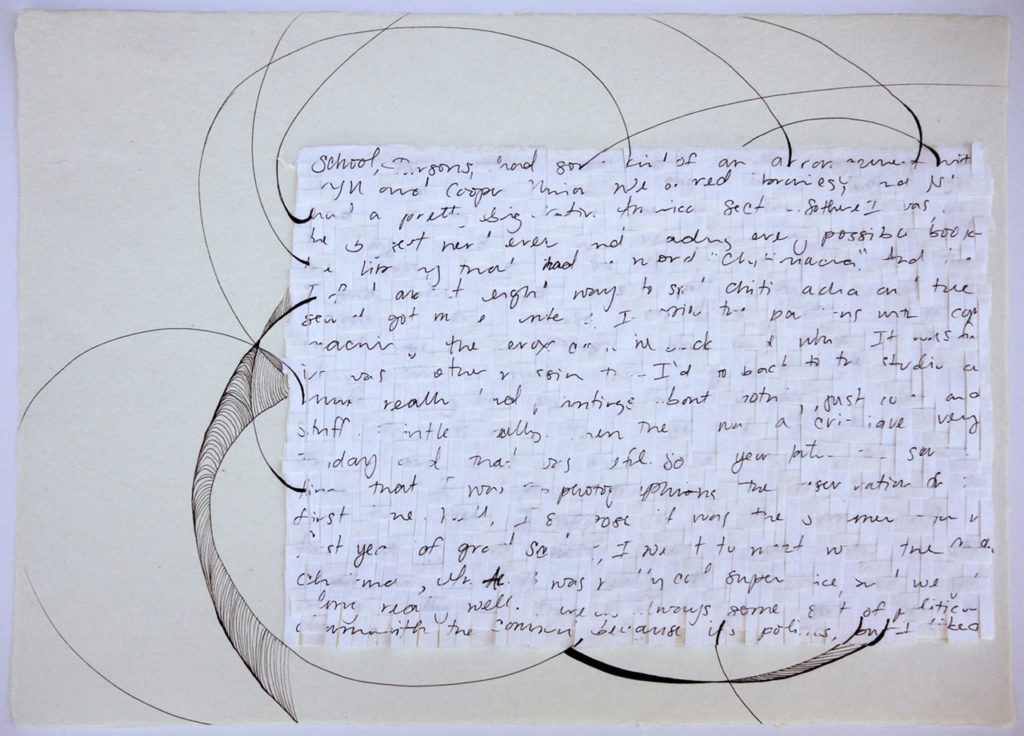 My Basket Story 2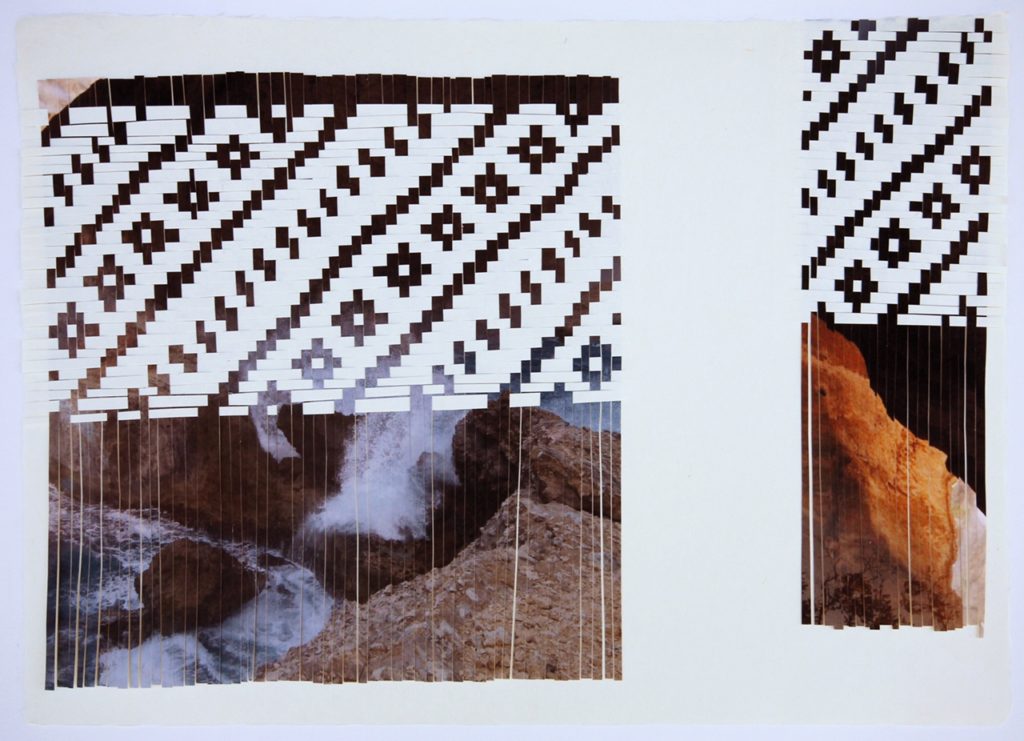 My Basket Story 3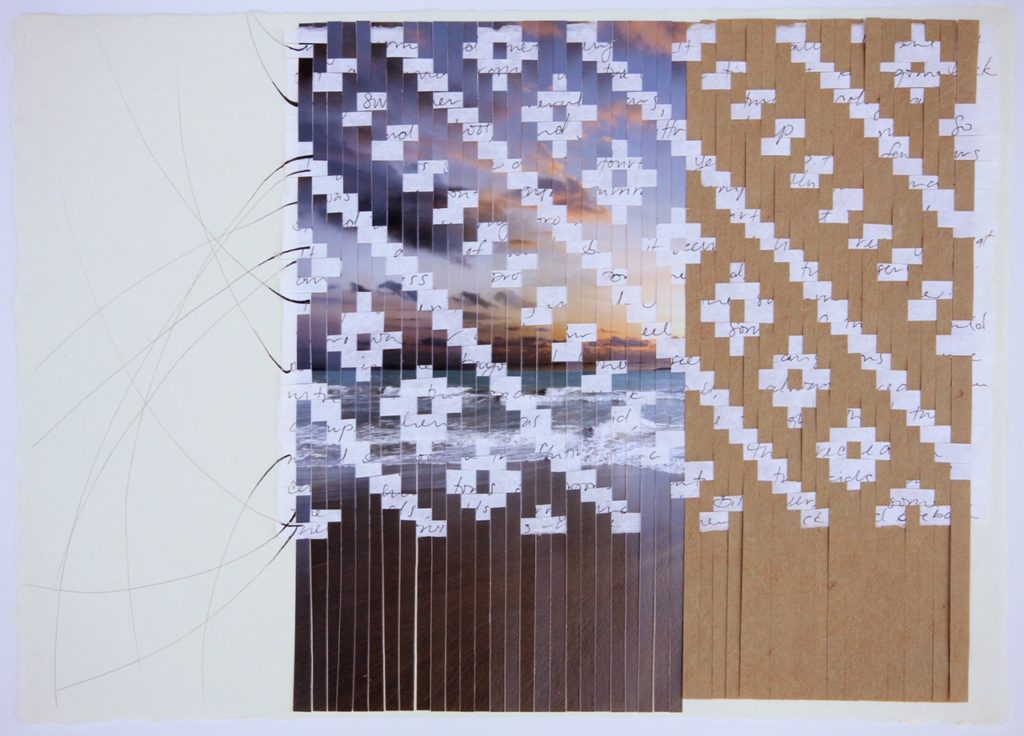 My Basket Story 4
The artist explained that one of the pieces (#14) had mistakenly been sold because of a miscommunication and that she would replace it (#17).  We worked out the details and entire series eventually entered my collection in July 2015.  I was extremely touched that Ms. Sense expressed her desire for this series, perhaps her most personal work to date, to be in my collection.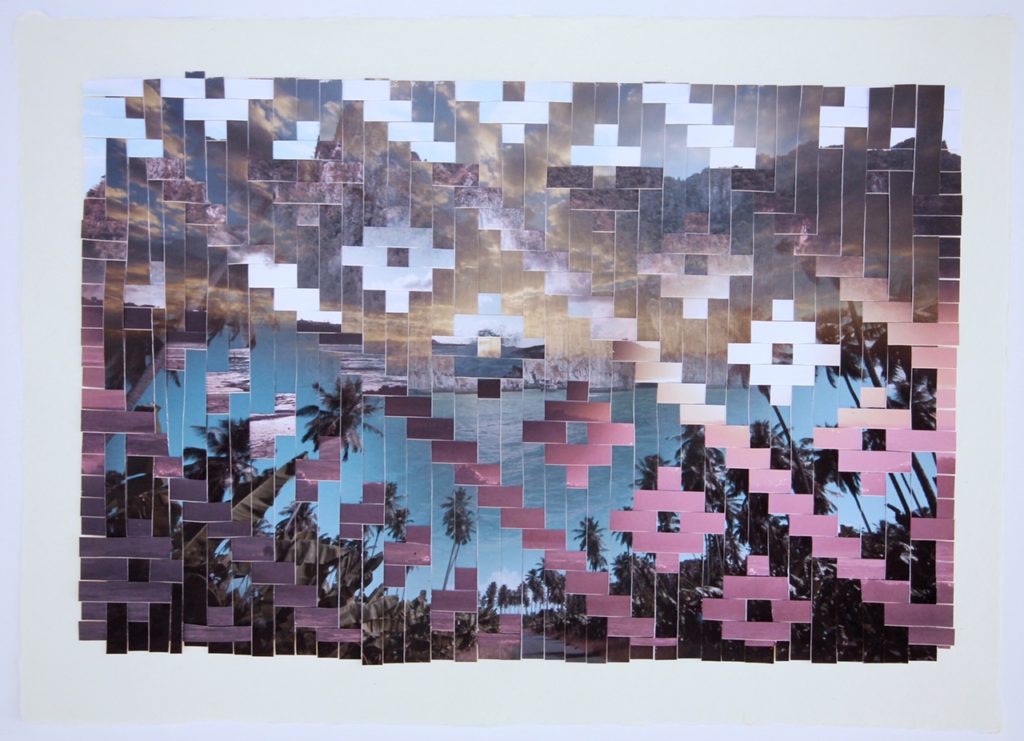 My Basket Story 5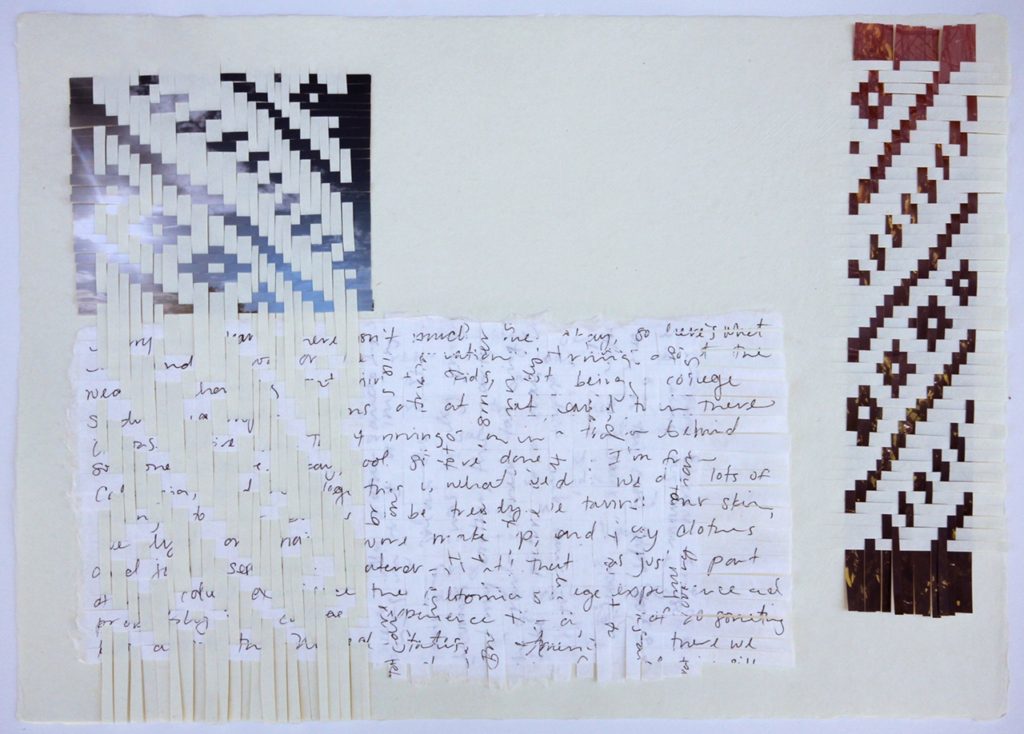 My Basket Story 6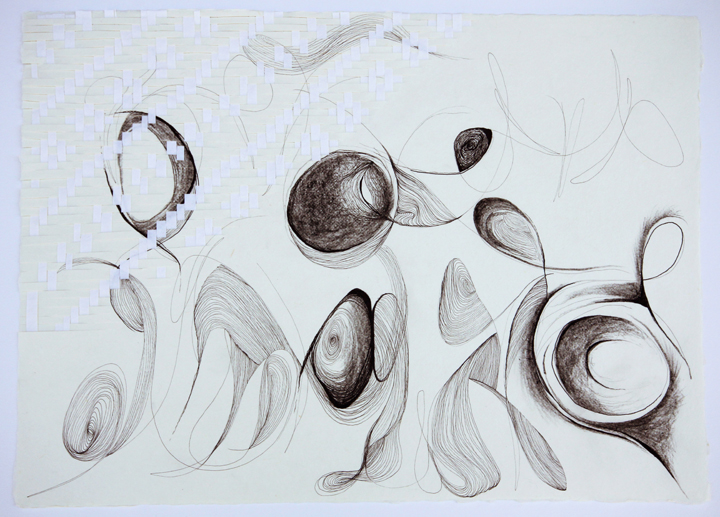 My Basket Story 7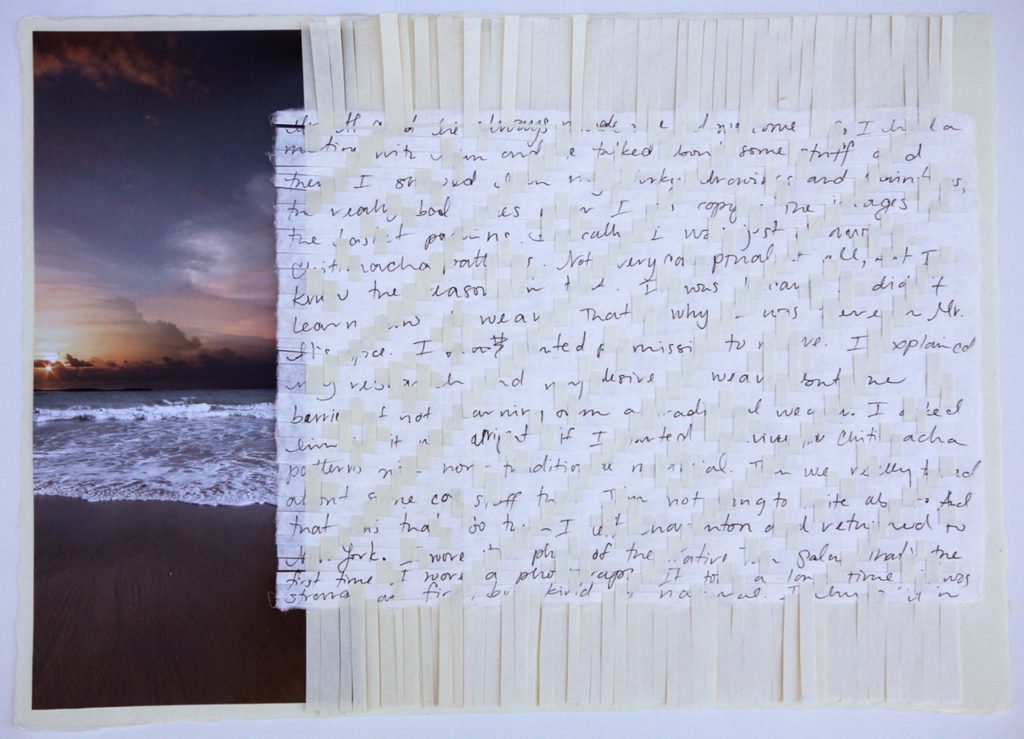 My Basket Story 8
According to the artist's statement about this series, "My Basket Story is a piece that weaves together a hand-written story of how I came to my weaving practice, beginning fifteen years ago. The bamboo paper becomes my journal of experiences since I first engaged with the Chitimacha baskets as a teenager.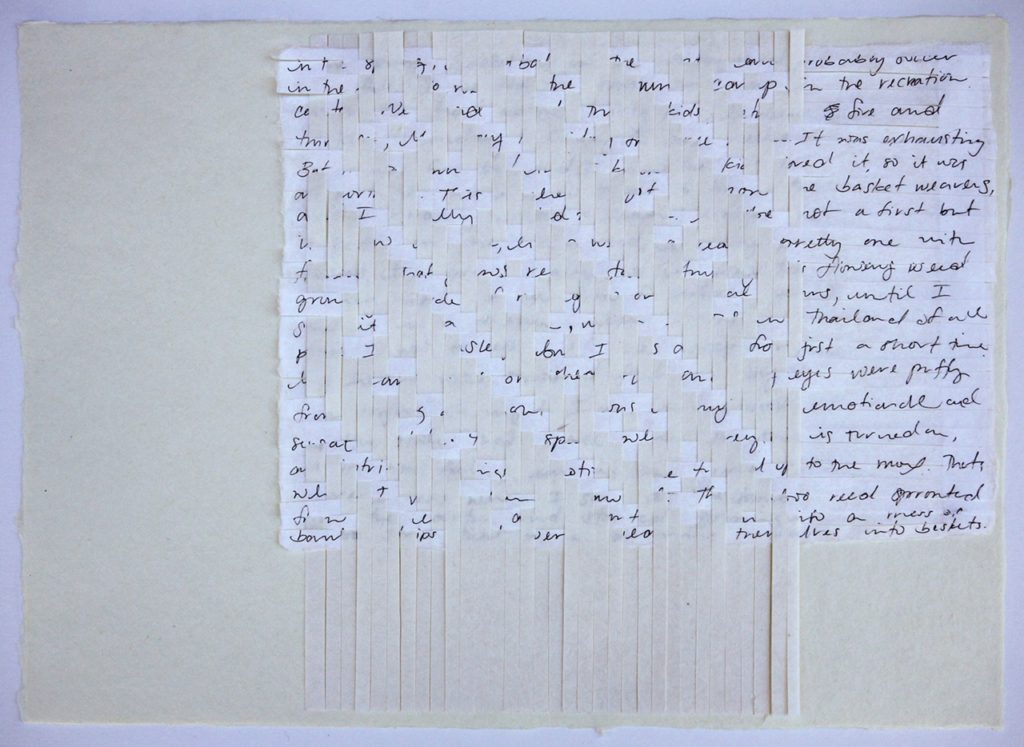 My Basket Story 9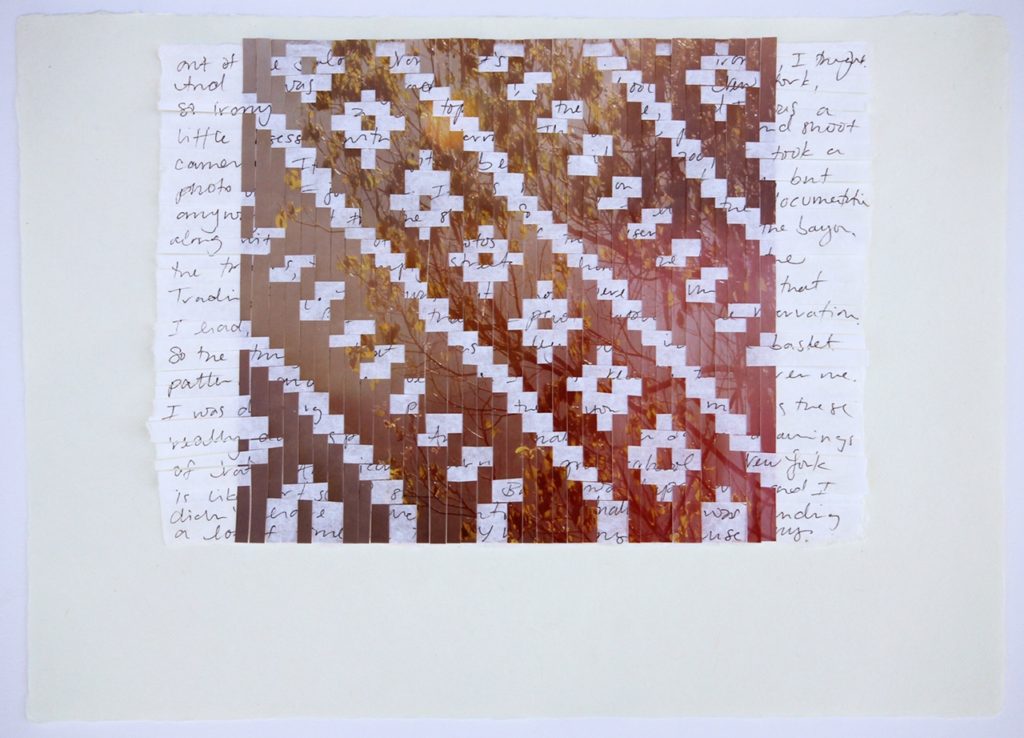 My Basket Story 10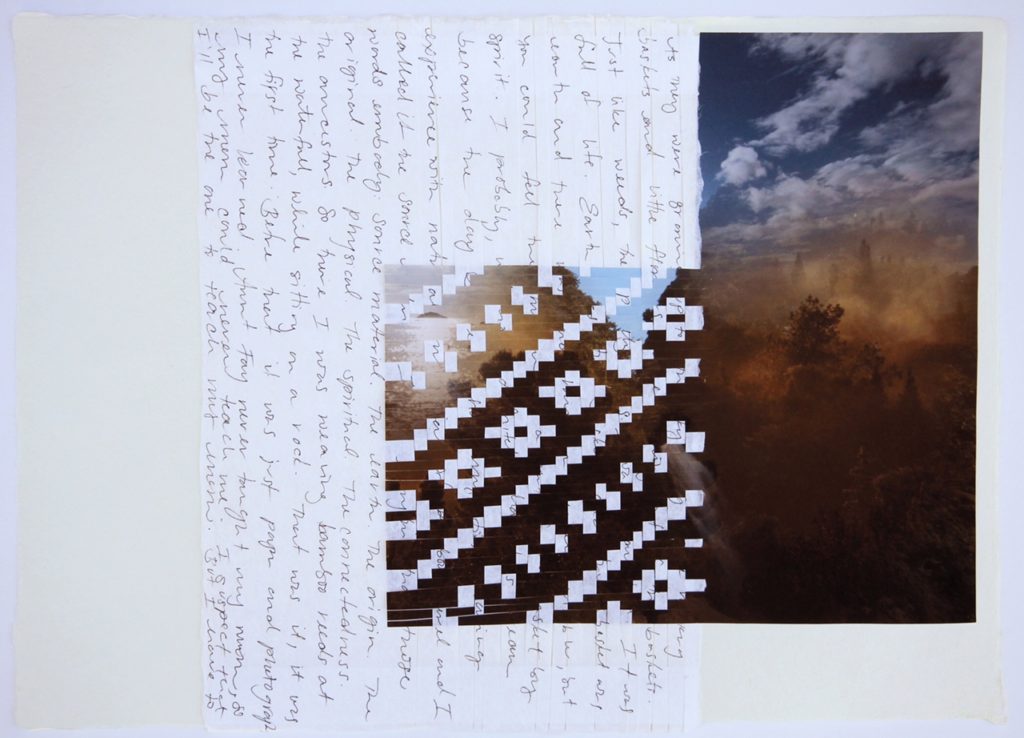 My Basket Story 11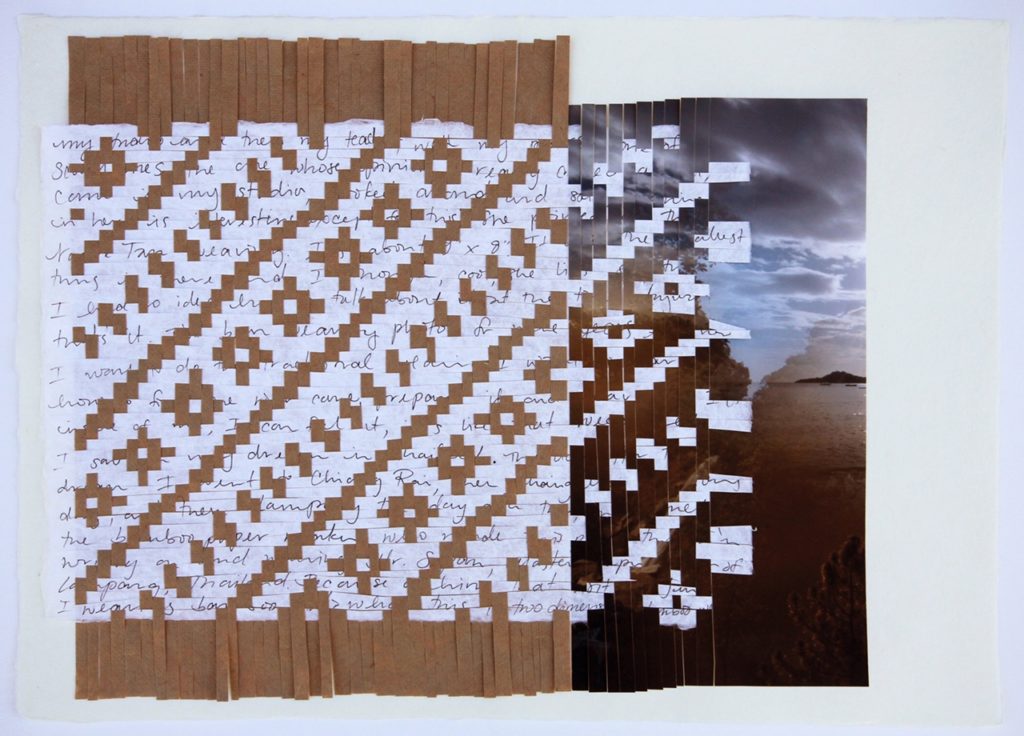 My Basket Story 12
Ms. Sense went on to add, "The piece is a part of the Weaving Water series and includes photographs from the Caribbean search project of November 2012 and Southeast Asia of January and February 2013.  All of the bamboo paper interwoven into the work is from northern Thailand, replacing the natural material of river cane, which is the material for traditional Chitimacha baskets. While my story of weaving is woven into the piece, the text can only be deciphered on two of the sixteen panels. The lost language is covered and in places laid over it self and covering my story."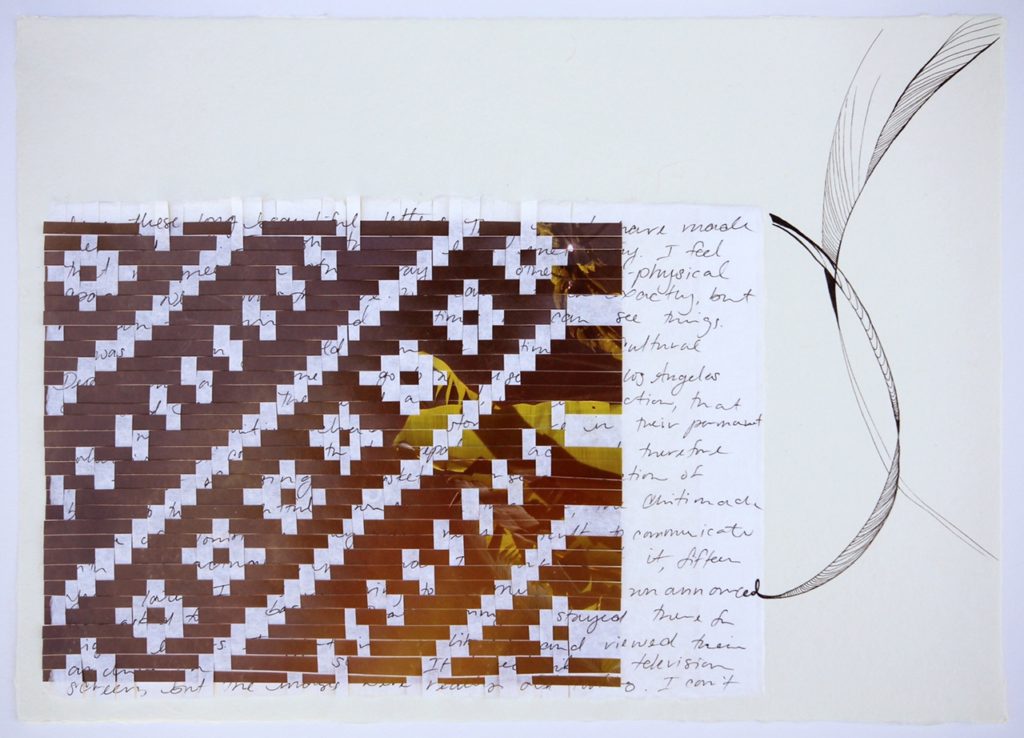 My Basket Story 13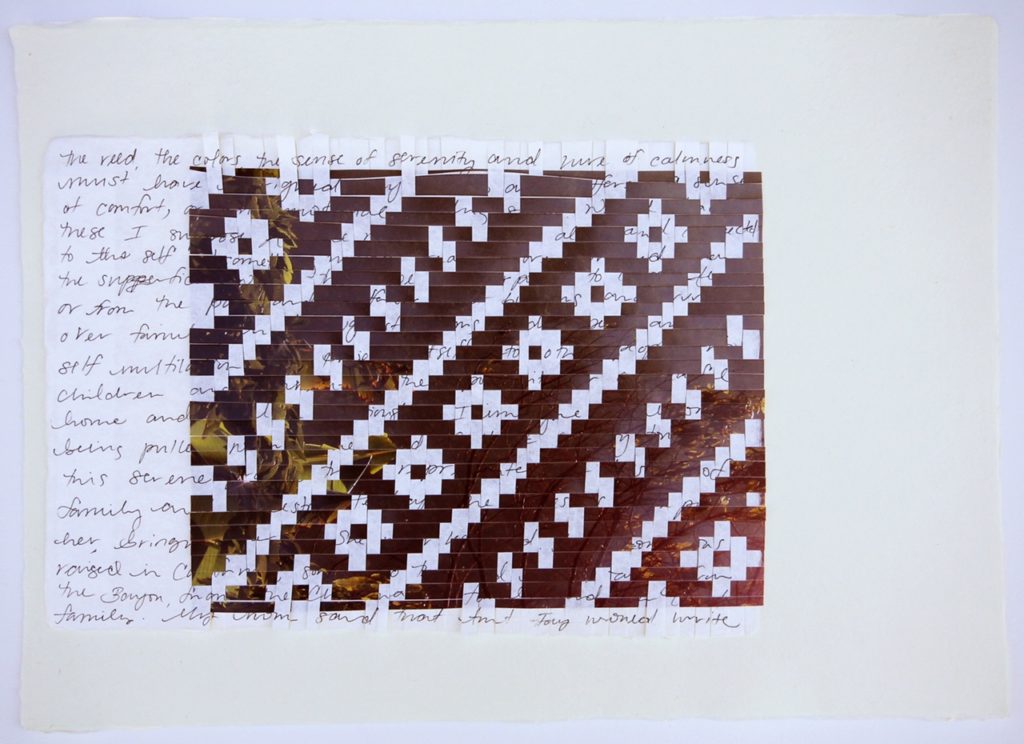 My Basket Story 14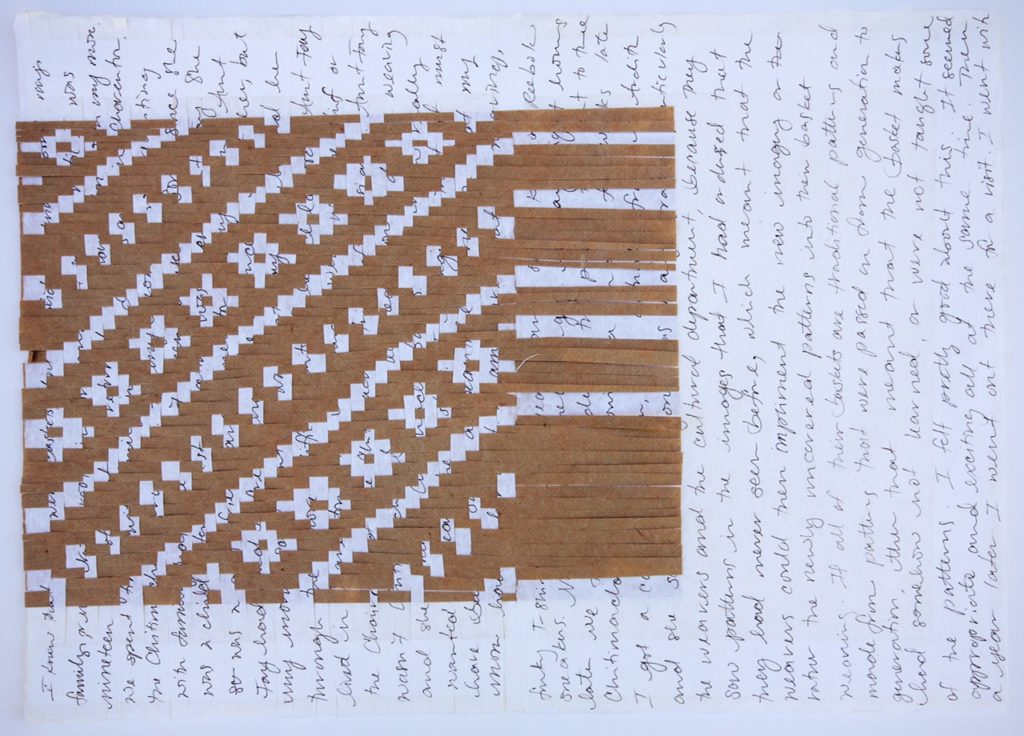 My Basket Story 15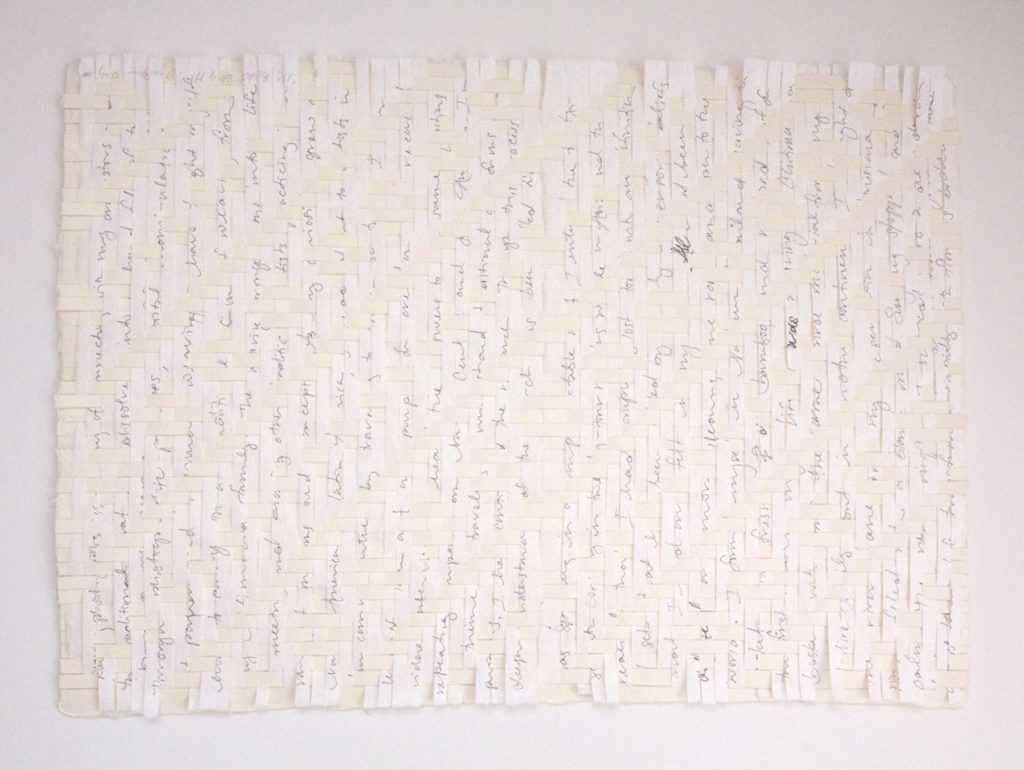 My Basket Story 16
My Basket Story (series of sixteen individual pieces each 12" x 16.5") by Sarah Sense, Chitimacha/Choctaw, bamboo paper, pen and ink, archival laser prints, artist tape (2013).  Collection of E. J. Guarino
or the final work in the My Basket Story series Sarah Sense used one of the last pieces of bamboo paper that Mr. Supan of Lampang, Thailand handmade for her for the Weaving Water project.  According to the artist, "His paper is extraordinarily lush with texture and made with skill; it can only be obtained in Thailand.  I collected this paper from him in February 2013. The text is written on another bamboo paper that I found in Chiang Mai, Thailand, which is much more thin and fragile. I wrote on Chiang Mai paper in the same literary style that I would for a travel journal.  The writing is my story of weaving baskets and mats from paper. The entire writing is fifteen pages long, and three of these pages remained when I initially completed the series. When a gallery in England sold one piece of the series, I thought it was important to use these last pages of handwriting to replace the one missing work.  My Basket Story 17 is made of two of these handwritten pages, so only one remains in my personal collection. Ironically, the final page that I wove into My Basket Story 17 had text about my dream of bamboo weaving itself.  This dream inspired the print, …and the bamboo wove itself . . . ."  The paper and wax experiments the artist employed for this print were then applied to her most recent series, Grandmother's Stories.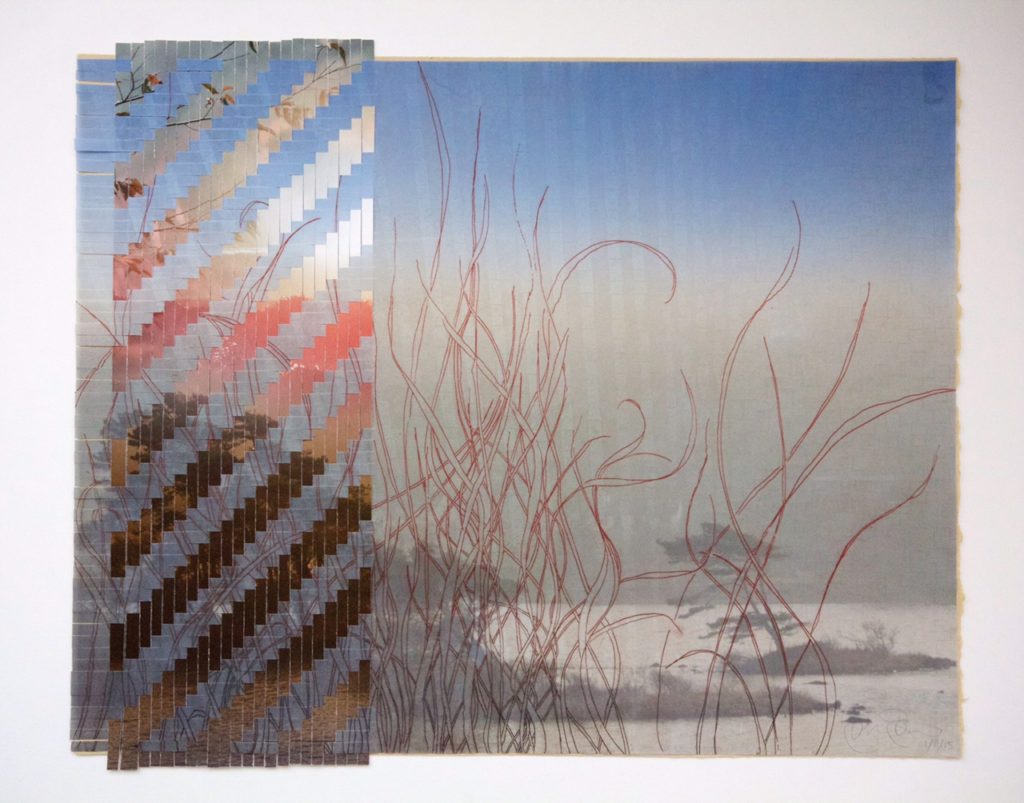 …and the bamboo wove itself, by Sarah Sense, Chitimacha/Choctaw, colligraph, copper       etching and digital print, 10/25, archival paper, archival ink, wax, tape, 15" x 19" (2015). 
Collection of E. J. Guarino.
. . . and the bamboo wove itself was made at Arizona State University during the printmaking residency, Map(ing) 2015 and directly links to the My Basket Story series.  To create this piece Sense applied three different printing methods including: copper etching, digital print and collagraph.  Each of the twenty-five prints has a hand woven element and the imagery includes the artist's photographs of Ireland, Thailand, and Chile.  In an Email interview, the artist explained the inspiration for this print.  "The work," she stated, "was based on a dream that I had in Pai, Thailand. The day before the dream I was in the northwest region of Thailand with a hill tribe. I spent the day trekking to a waterfall.  When we arrived to our destination, the guide peeled and split bamboo for us to weave a basket.  He wove a traditional basket form his hill tribe and I made a Chitimacha basket.  I had never made a basket before from bamboo, only paper.  Our natural weaving material is river cane, which is of the bamboo family.  This was my first experience of weaving with the source material.  That night we slept in a woven house in the hill tribe community.  The next night I had a dream of bamboo sprouting from the ground and growing quickly, twisting and turning itself into a basket.  It was alive with knowledge and memory and the bamboo wove itself."
As a collector, what fascinated me about My Basket Story as well as . . . and the bamboo wove itself was that both works are, according to the artist, "so emotionally driven".  The images and writing reflect an important period in Sense's life.  It also raises for the viewer the conundrum that all artists face – how much to reveal and how much to obscure.  About My Basket Story the artist stated, "The whole piece is made up of one handwritten story about my desire to learn how to weave Chitimacha baskets, but how I haven't yet learned from a basket weaver because they are guarding the tradition.  There is a lot of personal writing in the journal, but words are skewed with the weaving."
In October 2013 Sarah Sense sent me an Email in which she stated the following about the My Basket Story series: "I feel that the piece connects/comments on the collector-artist relationship."  This comment really piqued my interest and I asked her to explain what she had meant.  "I chose to live in Thailand," Sense stated.  "It was a very isolating and vulnerable time for me.  I can't remember what we were emailing about, but it came up that I was staying in Thailand and I had told you the reasons why.  You were really sympathetic with me and we wrote long emails and that's when we became close. People's lives get really busy and sometimes the people who you expect to be there to listen to you, aren't. You were a listening ear and I was shattered. I was really grateful to you and to the digital letters. During that time, I was so desperate . . . that I created a stop-motion weaving video piece . . . .  This was the first time that I had created one of these . . . .  The video is of song lyrics written on the back of photographs of the Caribbean . . . and Thailand . . . .  I shot the handwritten text on the back of the photo before weaving them together. I then flipped the photo and the Caribbean and Thai landscapes are woven together on the front, while the text weaving was on the back. This inspired the journal writing on bamboo paper that I then wove together to abstract the text to be mostly unreadable.  All of this is really personal and . . . I incorporated it into the piece My Basket Story.  The text of the story is about how I came to weave photos in 2004 and why I wanted to learn the traditional weaving technique.  This is a perfect example of how my personal life and story is a part of my work.  It was . . . the stop motion video that inspired the piece and it was the personal story of being stranded in Thailand that made me work with bamboo paper and make this series.  It was a part of my healing process and you were also there during the process with encouraging emails."
"For My Basket Story," Sense concluded, "because it was so personal, I wanted someone who is really polite with me to have it.  The idea of having it split up and sold off wasn't right, it made me really emotional to think about.   I didn't know if you'd make such a big purchase, but I thought that I would give it a shot and I was beyond thrilled when you bought the series, even though one part of it had been sold."
As a collector, I am always honored when an artist states that he or she feels a particular work of art should be in my collection.  When Sarah Sense suggested that I acquire her entire My Basket Story series I was elated but also a bit nervous since it required a large financial commitment on my part.  After a brief discussion, Sarah proposed that the best way for me to acquire the series was to pay an agreed upon amount each month until the balance was paid off.  I readily accepted the offer and it is a decision I have never regretted.