Artists never know what will inspire them. The sources are myriad – personal experience, Nature, literature, or the work of other artists to name a few. In 2011, I began to acquire a group stencils and a collage by Eliza Naranjo Morse that were part of And We Will Live Off the Fat of the Land, an ongoing series that takes its title from a quotation from John Steinbeck's classic novella Of Mice and Men. It is a book that the artist's mother, Nora Naranjo Morse, read to her children. In it, the two main characters, George and Lenny are motivated by their dream of having their own land, getting some animals and living "off the fat of the land." About the title the artist stated, "I value that quote on such a deep . . . level at this point (because I think I related to the story at such a young age) that when I started making the stencils I attached my own sense of this process being humble, good work. For some reason, when I was finishing these bugs I felt like the title was appropriate."
l
According to the artist, the insects are a type of shiny beetle she discovered while looking at photos in a National Geographic magazine. "It, of course, is not the quote all on it's own" Naranjo Morse added, "but the emotion and desire that Lenny and George attached to it that creates such a deep attachment in me." The connection between the Steinbeck quotation and the beetles does make sense since these creatures do, in fact, "live off the fat of the land."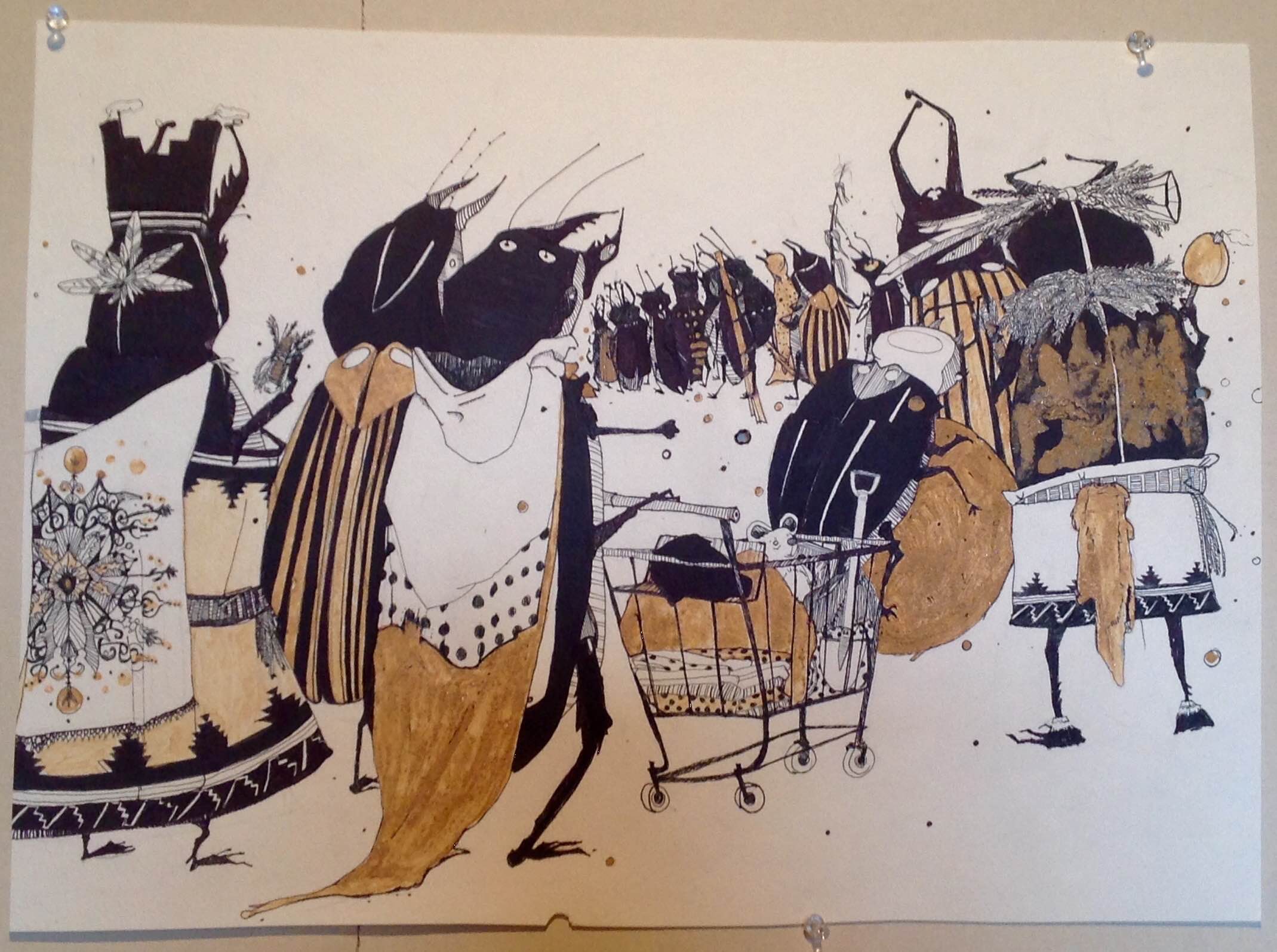 And We Will Live Off the Fat of the Land by Eliza Naranjo Morse, Santa Clara Pueblo, Sharpie and micaceous clay, 20.5"w x 15"h (2015). Photo courtesy of the artist. Collection of E. J. Guarino.
Recently, Eliza Naranjo Morse returned to the series, creating a drawing that references an 1829 print by J. J. Granville titled Famille de Scarabées (Family of Beetles). In the Granville work, a line of beetles dressed in ecclesiastical garb processes into the distance. This print and the rest of those in Le Metamorphoses du Jour satirized Paris' bourgeoisie by casting them as comic combinations of animals and humans in the clothing and settings of the early 19th century. Naranjo Morse's drawing portrays insects wearing Pueblo regalia.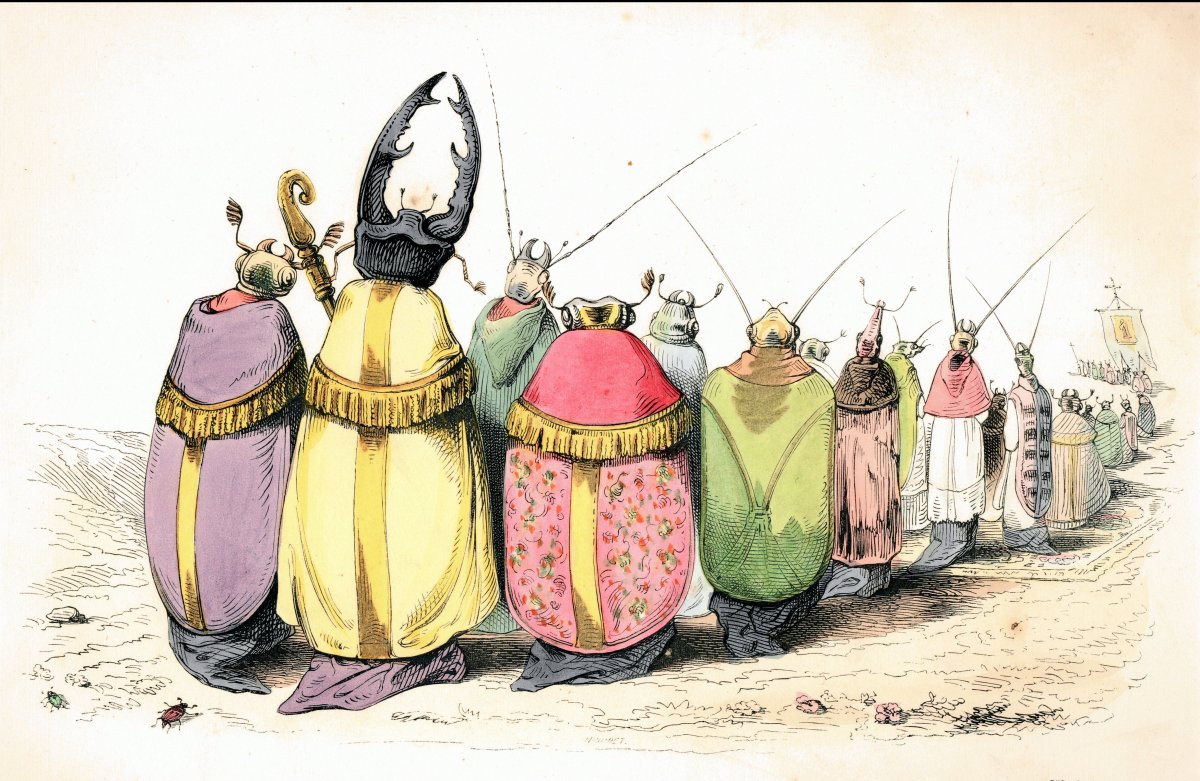 Famille de Scarabées (Family of Beetles) by J.J. Grandville, lithograph, from Le Metamorphoses du Jour (1829).
I was puzzled by Eliza Naranjo Morse's drawing, especially since, in her version, not only are the insects dressed in Pueblo garb but, one beetle is pushing a shopping cart while another is rolling a ball of dung. It should be noted that humor and earthiness are often a part of Pueblo spiritual ceremonies. In an Email correspondence the artist said, "Feast day at Santa Clara was a monumentally emotional and touching and challenging experience for me this year. There's a lot to make sense of, and this drawing was an articulation of how I am understanding my spiritual/cultural experience. It is made with pen and micaceous clay. This drawing feels important to me, l am excited to develop this form of symbolism with more maturity. My brother brought me back a book of drawings by a French artist who made animals in human situations. One drawing, insects dressed liked priests, informs this artwork."
l
I wondered whether or not the artist, like J. J. Granville, was using satire as a form a criticism, lampooning leaders of her pueblo. The artist was very clear about her intentions: "In the drawing I did not mean to satirize pueblo leaders. Our Pueblo dances are done in two lines from youngest to oldest. As children you see in front of you the stages of life exemplified in other people. As an adult you recognize whether you feel prepared or not as you are becoming an elder. The last dance of the ceremony is danced in a circle where youngest and oldest meet. This arrangement is very beautiful to me because young or old whatever is happening in your life you're a part of making up a whole and this tells a different story than the rows, which I think of as being about the individual stages recognized in the whole. And We Will Life Off the Fat Of the Land is an artwork so full of arrangement and symbolism that it really came out as a way to help me make sense of how I see life at this point. There are details that are very simple but that describe huge things, notations that I imagine only I would know or perhaps a person from my extended family would observe. . . . It's interesting that one formation of bugs in costume could be intended as satire and another as spiritual."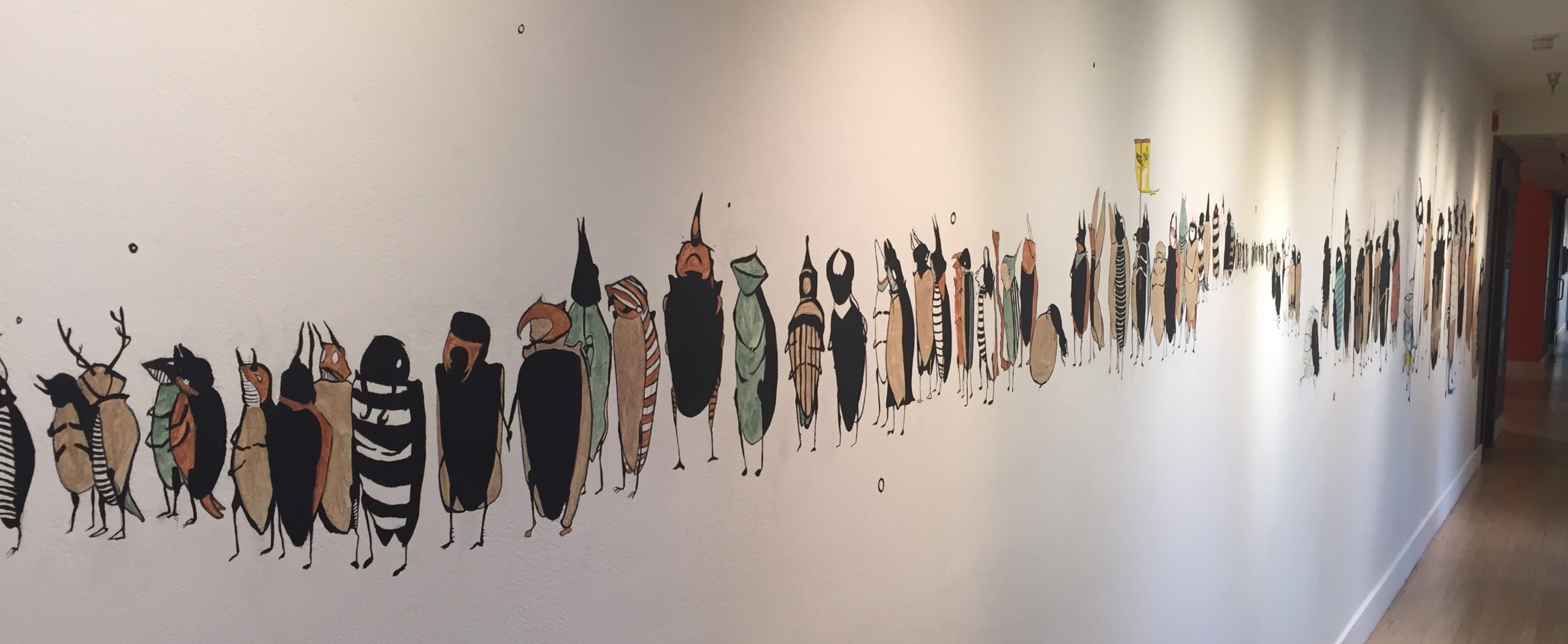 And We Will Live Off the Fat of the Land by Eliza Naranjo Morse, installation at IAIA
MoCNA Santa Fe, acrylic paint and clay from around New Mexico and beyond (2016).

And We Will Live Off the Fat of the Land

by Eliza Naranjo Morse, IAIA MoCNA
Most recently, "Eliza's bugs" have made an appearance as an installation piece titled And We Will Live Off the Fat of the Land at the Museum of Contemporary Native Arts in Santa Fe. The work is part of the exhibit "FORWARD: ELIZA NARANJO MORSE." Walking across an entire wall, the creatures have delighted museum-goers who are fascinated by their colorful regalia and by the fact that they get smaller as the line processes across the wall. About this installation, the artist stated, "This artwork was meant to express that were are all going through life together, and that going through it is a ceremony."
l
Insects have played an important part in Native American art and culture, some as omens of good and others as harbingers of evil. Ants, dragonflies, crickets, grasshoppers, bees, moths, beetles, and a variety of other six legged creatures appear in Native ceremonies, stories, and beliefs. Although insects are often reviled or simply overlooked, they clearly fascinate Eliza Narano Morse. In her art, bugs are never portrayed as pests. Her beetles symbolize industriousness, tenacity, and a connection to the earth, which is suggested by the incorporation of micaceous clay into the drawing. Doing so is also the artist's way of subtly acknowledging that she comes from a family of ceramic artists. As a collector, it has been exciting to follow the development of And We Will Live Off the Fat of the Land and I look forward to seeing more work in this series, especially since Eliza Naranjo Morse stated, "I am in the works to make another draft of this piece because it was so important to me."