An artist's vision often outpaces the expectations of collectors, curators, and critics since innovations are very different from shortcuts and often require more time, rather than less, to execute.  Truly great artists know this.  Although they may push the boundaries of their art, artists know that an innovation must be artistically grounded, not a mere gimmick.  Challenging expectations is always risky for any artist but it is even more so for Native American artists, in particular ceramic artists.  Mainstream ceramic artists are free to use store bought clays and paints and employ a potter's wheel and a kiln.  However, for Native ceramic artists, who are generally referred to by the generic term potter, it is quite different.  They are expected to dig and process their own clay, make their paints from natural materials, form their creations by hand, and fire them using traditional methods.  Unlike their non-Native counterparts, Native ceramic artists embrace the "old ways" and generally do not rebel against them.  For the most part, experimentation has occurred with regard to form, content, and paint.  Few, if any, Native ceramic artists fire in a kiln and none would use a potter's wheel.  It is a matter of cultural pride.  These artists are not willing to give up techniques that, for hundreds of years, have produced stunning works of art.  One of the first artists to challenge the status quo was Jody Folwell, an avant-garde pioneer.
Although, over the years, Ms. Folwell's work has been showered with accolades, this was not always the case.  Collectors and curators had very specific expectations with regard to ceramics produced by Pueblo artists and Jody Folwell's pieces challenged these long held notions.  Her creations were unsettling, controversial, unpredictable, and artistically thrilling – they still are.  Some pieces have an uneven lip while others are asymmetrical.  Other works are finely polished explorations of color and form, bearing no painted designs whatsoever.  At times, the artist has incorporated letters, words, symbols, and unexpected imagery on her clay works or carved imagery into a piece.  She sometimes also references pop culture as well as designs from other Native groups.  To many, Ms. Folwell's statement pieces, in which she often employs acrylic paints, are the most shocking and disturbing aspect of her art.  Such works reveal the artist's strong sense of social justice and are often bitingly satiric.
| | |
| --- | --- |
| | |
Ledger drawing pot by Jody Folwell, Santa Clara, 6.5"w x 5.5"h (2006).  Collection of E. J. Guarino
Early on, I decided that I wanted examples of Jody Folwell's work in my collection and I was immediately attracted to a pot she created that references  both prehistoric petroglyphs as well as ledger drawings.  The piece is visually striking and unique in Ms. Folwell's body of work.   Concerning it, Charles King wrote, "In making this jar, Jody was inspired by the ledger or hide drawings of the late 1800's.  She used a white slip for the body of the pot, and then fired it and let the ash from the firing create a variation of colors on the piece.  There is a sharp delineation between the neck and shoulder.  The patterns are a series of buffalo and warrior figures encircling the jar."  Since I find petroglyphs endlessly fascinating and have visited scores of rock art sites and I also own a number of  ledger drawings, Jody Folwell's ledger drawing pot was a perfect fit for my collection.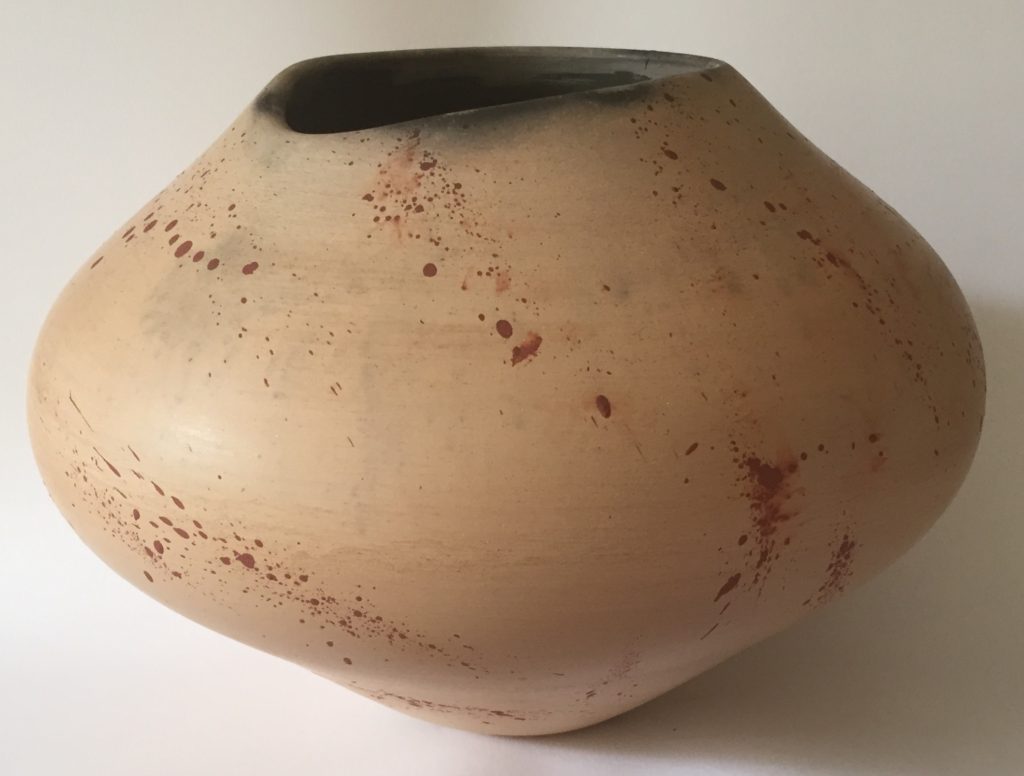 Pot with paint spatter by Jody Folwell, Santa Clara Pueblo, Native clay, acrylic paint, 10" x 11" (2015). 
Collection of E. J. Guarino
Despite her status as a major artist and a Living Legend, Ms. Folwell is amazingly unpretentious.  A few years after acquiring my first piece by Jody Folwell, I was introduced to her by her daughter Susan and was immediately struck by her warm, welcoming manner, and willingness to talk about her art.  A year or so later, I was invited to visit Jody Folwell and her family at her home.  At the time, I had no intention of buying any pottery.  However, I saw a piece that I thought was so exquisite that I inquired about it.  It was asymmetrical in that it had an uneven lip but, more surprisingly, it was a plain ware pot that was covered in drips and splatters of red paint.  I commented that as soon as I saw it I pictured the artist gleefully walking around the piece with a paint brush, flicking paint at it.  Ms. Folwell said that was more or less how it happened.  She had just finished reading a book about Jackson Pollock and it just came into her head to decorate this particular work with spatters of paint.
In many ways, ceramic art is sculpture and it very often includes the medium of painting.  What ceramic artists create out of clay is often referred to as  their "canvas."  However, they must first create this canvas.  Unfortunately, this process is often called craft but, perhaps, a better term is technique.  Jody Folwell is a master of her medium, so much so that she can successfully expand its boundaries in ways that few other ceramic artists dare.  As with all great artists, she is open to inspiration from wherever it may come.  Her work is consistently bold, daring, and breathtaking in its beauty and inventiveness.  Ms. Folwell is a continual inspiration to collectors, curators and, most importantly,  to younger artists, many of whom are in her own family.