For the most part, contemporary Inuit and Native American art tends to be circumspect when it comes to sex and sexuality.  There are many theories why.  It may be a reaction in part to the way Native people have been portrayed in popular culture: women have been depicted, on the one hand, as vixen and, on the other, as submissive while men have been presented as violent and sexually aggressive. Of course, there is also the influence of Christianity in its many denominations.  Even simple nudity is a rarity in Indigenous art.  Whatever the reason, most contemporary Inuit and Native American artists do not create sexually explicit or erotic works.  There are exceptions, however: Pitseolak Qimirpik, an Inuit artist from the Canadian Arctic hamlet of Kinngait (Cape Dorset), and Virgil Ortiz, a Native American multimedia artist from Cochiti Pueblo in New Mexico have created a number of sexually charged works.  Although familiar to collectors for other aspects of their art, neither artist has shied away from controversy.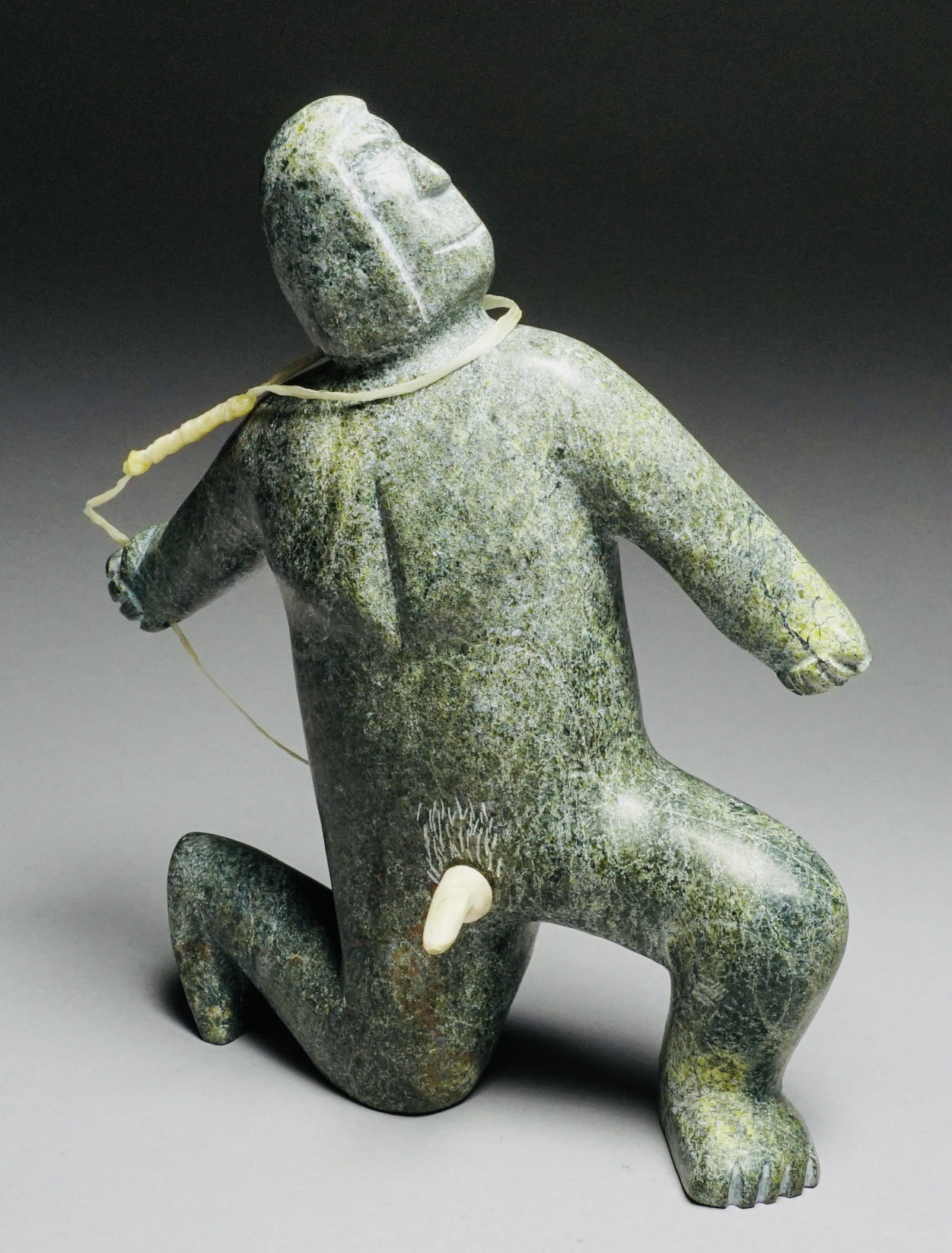 Autoerotic Asphyxia by Pitseolak Qimirpik, Kinngait (Cape Dorset), Sculpture in stone, antler, artificial sinew, 8" x 6" x 2" (2021).  Collection of E. J. Guarino.  Image courtesy of Feheley Fine Arts, Toronto.
            Most people viewing Pitseolak Qimirpik's Autoerotic Asphyxia for the first time might be shocked, but they might also very well be a bit perplexed.   Visually, it is not terribly difficult to figure out what the figure is doing.  However, the question becomes why?  I'm guessing that erotic asphyxiation, whether practiced solo or with another person is not part of the average person's sexual repertoire.  A form of sexual activity that has been practiced in many cultures over time, erotic asphyxiation is employed in the belief that the intentional restriction of oxygen to the brain heightens arousal and pleasure.  However, one should not assume that because Pitseolak Qimirpik created Autoerotic Asphyxia he is practices this fetish.  Despite the fact that he lives in the Arctic, the wider world is available to him via TV, movies, and, perhaps more importantly, the Internet.  In terms of proclivities, one can Google anything on the sexual spectrum from vanilla to heavy-duty kink. It is also possible that the artist knew of someone who died as a result of autoerotic asphyxia, which is a common result of this practice.
For the most part, Pitseolak Qimirpik is known for his sculptures of various Arctic animals – owls, eagles, muskoxen, bears, walruses, narwals, and dancing rabbits the artist refers to as Hip Hop Hares, as well as transformation pieces, Devis and human figures, including Homer, Marge Bart and Lisa Simpson.  Qimirpik has also created other erotic sculptures consisting of people in various sexual positions. However, Autoerotic Asphyxiation is his most controversial piece to date.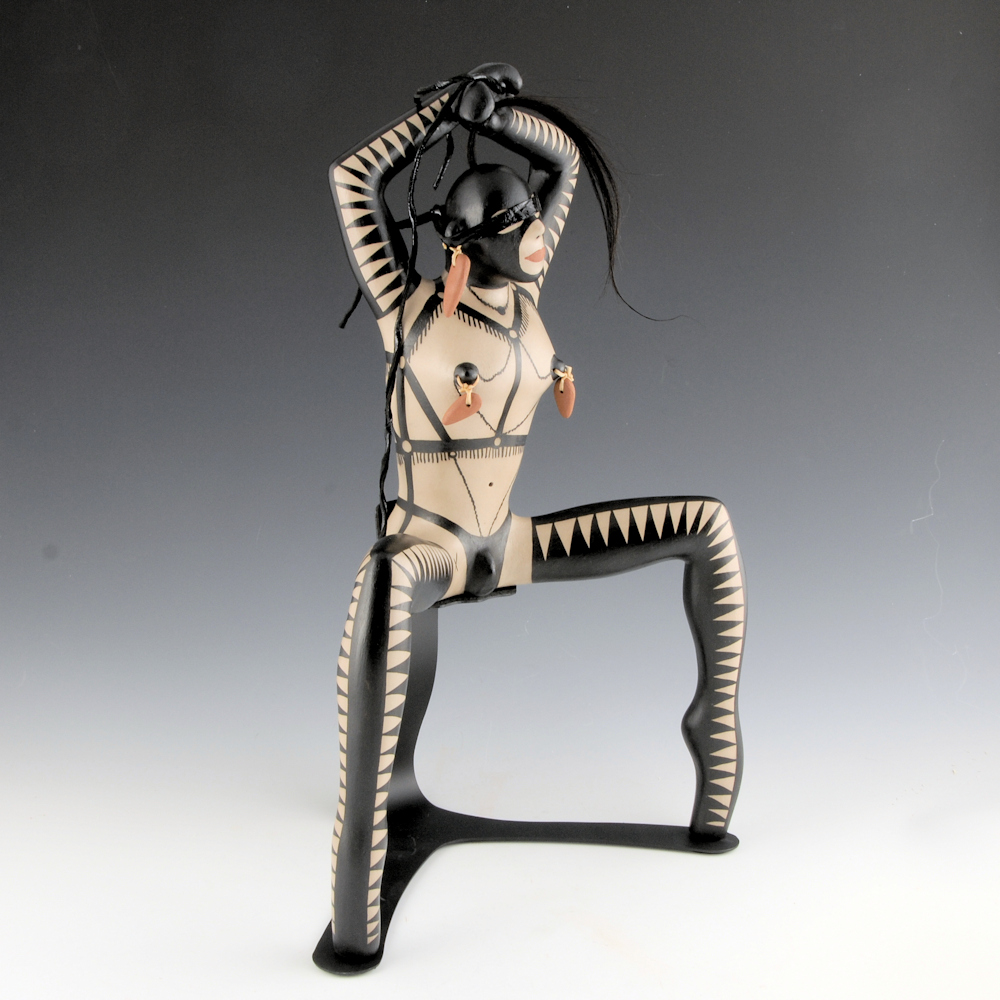 Seated  S&M Figure by Virgil Ortiz, Cochiti, 10"w x 15"h (2009).   Collection of E. J. Guarino.  Photo courtesy of King Galleries.
Virgil Ortiz epitomizes the changing attitudes of collectors and museums with regard to the work of contemporary Native artists.  Not only is his work represented in galleries that specialize in art created by Native American artists, but also in mainstream galleries.  This is due in large part to the artist's refusal to be categorized in an easy fashion.  Although Ortiz works in a variety of media  – digital prints, monoprints, jewelry, fashion – he is most famous for his ceramic art, particularly his sculptures that bring to mind mono figures produced at Cochiti Pueblo in the late 1800s and early 1900s.  Through these pottery figurines of cowboys, Catholic mission priests, circus oddities and performers, politicians, opera singers, and Santa Fe merchants, Cochiti potters were caricaturing and critiquing mainstream America that showed up at or near the pueblo.  The ceramic artists of Cochiti at the time were commenting on and satirizing people they had never seen before who had come to their lands.  The figures created by Virgil Ortiz harken back to those of more than a century ago.  However, many of his figures amaze viewers as they twist in astonishing ways – a striking and difficult achievement in the art of ceramics.  Sometimes covered with swirling tattoo-inspired designs, Ortiz's figures are rock stars, drag queens, clowns, saints, sinners, and sometimes gender-bending characters sporting S&M fetish gear and tattoos.  It is these figures, in particular, that have the power to shock and anger the viewer as well as the ability to provoke laughter.  Deeply rooted in Pueblo traditions, they, like their earlier counterparts, offer pointed social commentary.
Virgil Ortiz's Seated S&M Figure is disturbing not only because of its subject matter but also because of its size.   At ten inches wide by fifteen inches high, the piece is hardly one that can be ignored.  In addition, the details are rather disquieting.  The large figure, wearing a leather harness, sits with gloved hands (bound by an actual leather strip) raised above the black-masked head.  Seated with legs spread wide, the figure appears covered in tattoos.  At first, gender is ambiguous.  Perhaps this is intentional.  The figure appears to have breasts, but on closer inspection, the viewer becomes aware that clamps have been attached to the nipples pulling the chest outward and upon looking still closer, the outline of male genitals can be seen in the thong the figure wears.
Through his Seated S&M Figure as well as his series of S&M figures Virgil Ortiz portrays what he sees in popular culture, which often includes the paraphernalia associated with sadomasochism.
Pitseolak Qimirpik and Virgil Ortiz are daring contemporary artists.   Although their art encompasses a diverse range of subjects, neither artist is averse to creating pieces that are shocking and controversial.  Such works do not appeal to every collector and it would be fair to say that they probably wouldn't be of interest to most collectors.  However, it is important that artists are free to explore any aspect of the human experience they choose and any type of subject matter. Pitseolak Qimirpik and Virgil Ortiz are among the contemporary artists who are liberating Indigenous art from the expected in terms of style, form, and subject.   Until fairly recently, work produced by Indigenous artists has presented a benign, if not glowing, face to the world, although there are noted exceptions.  Aware that, for the most part, the art market preferred colorful, non-challenging, traditional works from Indigenous artists, that is what was overwhelmingly produced.  However, thanks to artists like Pitseolak Qimirpik and Virgil Ortiz that is quickly changing. More and more collectors are willing to acquire Native art that is controversial and challenging in form and content and that is a good thing.