Indigenous Futurism is a concept that embraces literature, the visual arts, film, music, fashion, comic books, virtual reality, and video games.  The term was first coined by Grace Dillon, Ph.D. (Anishinabe) in her introduction to Walking the Clouds: An Anthology of Indigenous Science Fiction, published in 2012 and has developed into an artistic movement.   While most other groups are imagined to have a place in the future, for the most part, Native Americans are thought of as having lived in the past, are just barely considered as being part of the present, and are usually absent from any concept of the future. Of the 338 NASA astronauts since the original Mercury 7 Mission, for example, only two have been of Native heritage: John Herrington, an enrolled member of the Chickasaw Nation, and Nicole Aunapu Mann, of the Wailacki of the Round Valley Indian Tribes.  To combat what they see as cultural invisibility the idea of Indigenous Futurism has been embraced by more and more Native American artists and writers who are creating works that conceive of a future in which Indigenous People are present and play important roles.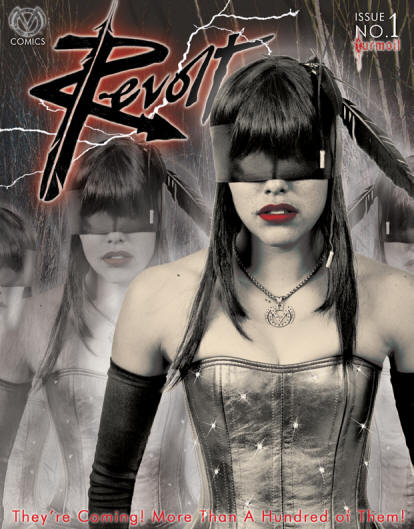 They're coming! More than a hundred of them.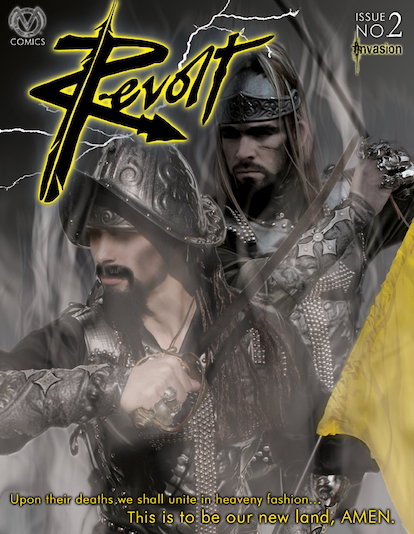 Upon their deaths we shall unite in heavenly
 Fashion… This to be our new land, AMEN.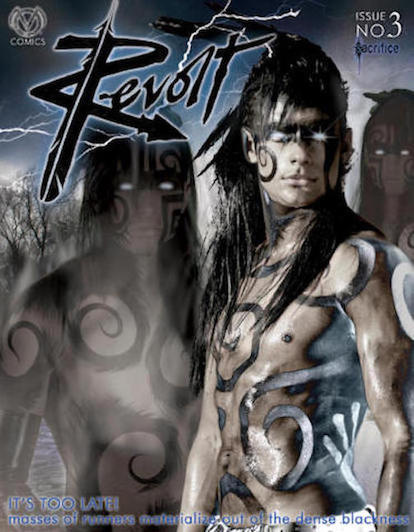 IT'S TOO LATE! Masses of powers materialize out of the darkness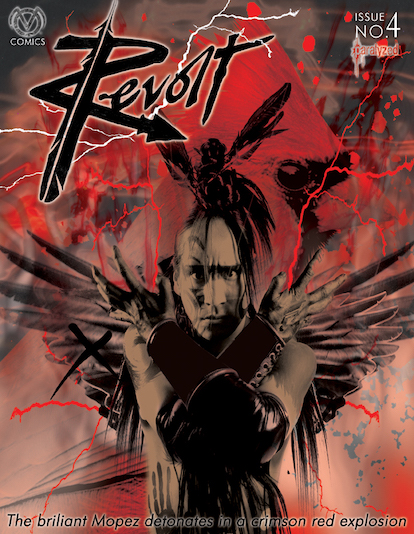 The brilliant Mopez detonates in a crimson red explosion.
 Revolt by Virgil Ortiz, Cochiti, four digitally made, then printed, signed and numbered prints which feature the covers of upcoming "comic books," 12″ x 15″ each individual print, 17/20 (2008).  Collection of E. J. Guarino.
Virgil Ortiz uses various aspects of his art to comment on the Pueblo Revolt of 1680.  To capture the attention of his audience, Ortiz generally sets the revolt in a distant future and uses elements of the comic book format to create his personal vision.  One unusual addition to his continuing series on the Pueblo uprising is Revolt, a series of four digitally created, then printed photographic works created in the style of comic book covers.   As he has done on his pottery, Ortiz employs a combination of design elements from the fashion industry, advertising, traditional Cochiti patterns, and his own contemporary pop imagery, often with a touch of S & M.
In Revolt, Ortiz uses the bold colors most often seen in print advertisements and he adorns his models as he does for his fashion shows: The female, in a leather dress, is blindfolded; the males, in loincloths, armor, or with feathers in their hair, their bodies usually covered in Ortiz's striking signature swirl designs reminiscent of war paint.
          American Diastrophism (Red) by Diego Romero, Cochití Pueblo, lithograph,14 /20,  23.5" x 20.5" (2020).  Collection of E. J. Guarino
Some artists have a positive view of what is in store for humanity in the future while others have a negative one.  Diego Romero has a rather dichotomous perspective.  On the one hand, his vision of the future is quite dystopian and on the other, it is humorous and playful.  That is Diego Romero in a nutshell.
American Diastrophism (the artist produced a red and a yellow version) is a curious work for a number of reasons.  The title refers to a geologic process that produces extensive deformation of the Earth's crust, creating continents, mountain ranges, ocean basins, and other topographical features.  However, this is not reflected in the print's imagery.  Instead, rather than seeing what may happen under the Earth's surface, the viewer is given a vision of what may occur upon it: A man, his back to the viewer, is taking a photograph of what appears to be three soldiers or stormtroopers wearing gas masks, which suggests a highly polluted atmosphere. The red background and blob-like shapes that are descending on the figures add to the ominous tone.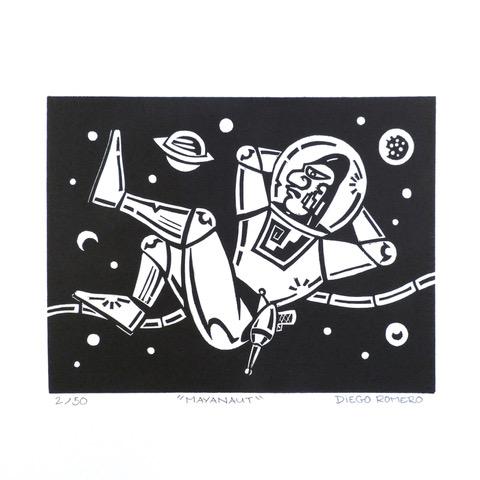 Mayanaut by Diego Romero,  Cochití Pueblo, linocut print, 14/50, 11" x 15" (2021).  Collection of E. J. Guarino
            Diego Romero's Mayanaut is the artist's lighthearted take on the future.  Romero often uses humor in his art, but it is most often a biting satire.  Mayanaut is more upbeat than many of his other creations.  In this work, an astronaut with distinct Mayan facial features appears to be lounging in space.  Wearing a serious expression with his hands behind his head as if lying on a couch on earth, the Mayanaut sports an air hose, spacesuit, and gun as he floats among the planets, stars, and a crescent moon.  In a conversation with the artist on August 21, 2022, I asked him if he thought humans would ever overcome their earthly problems.  In his usual pithy style, he simply responded with, "Space is the place" suggesting that leaving the planet may be our only option.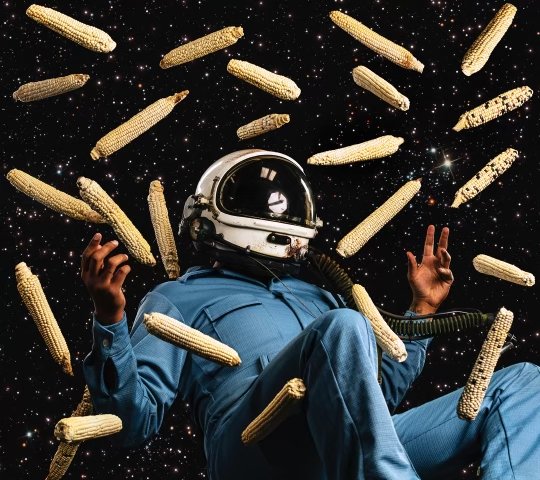 The Zenith by Cara Romero, Chemehuevi; image size: 15" X 17" + 1.5" to 2" white border on all sides, Edition: 1/25 (2022).  Printed by the artist on Legacy Platine paper.  Signed and numbered.  Awarded Best of Class Class Ill: Painting, Drawing, Graphics & Photography at the 2022 Santa Fe Indian Market.  Collection of E. J. Guarino.
Placing an Indigenous person into space is something that photographer Cara Romero also chose to do in The Zenith.  Considering how few Native Americans have actually been to space doing so was quite radical.  According to the artist, "The zenith is the imaginary point directly 'above' . . . it's the highest point on the celestial sphere."
The Zenith is also intended to be a lighthearted work.  The photograph features George Alexander (Mvskoke Creek) floating in a field of indigenous white corn, suspended on fishing lines, in the artist's vision of outer space.  As with all cultures, Native cultures are in constant flux.  However, The Zenith suggests that some things are permanent, particularly with regard to food and that it will be important for Indigenous people to carry their customs regarding food production, preservation, and preparation into the future. "These imaginings, Romero stated, "take me to a place of hope and wellness in the future."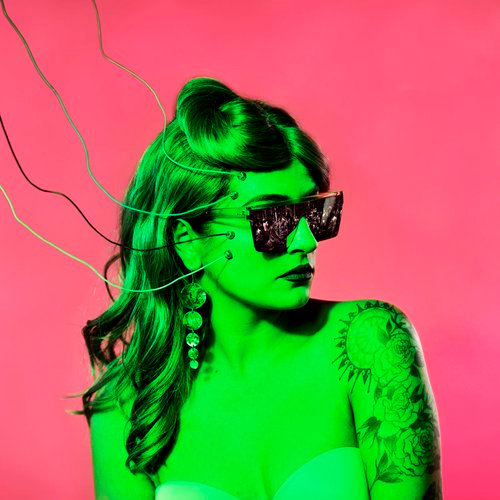 GIKENDAASO by Cara Romero, Chemehuevi; image size: 10" X 10" + 1.5" to 2" white border on all sides, Edition: 15/50 (2022).  Printed by the artist on Legacy Platine paper.  Collection of E. J. Guarino.
Gikendaaso features model Leah Kolakowski as a green woman attached to wires.  It is a striking image, made even more so because of the bright red background. In Gikendaaso, Caro Romero once again delves into the concept of Indigenous Futurism.  In the model's Native language ((Keweenaw Bay Ojibwe), gikendaaso means, "s/he knows, is smart, is intelligent, is educated."  The title suggests that in the future the world will have even greater reason to need the wisdom of Indigenous women. Reflected in the model's glasses are images of Keweenaw powwow dances in the woods – a tradition that has taken place for hundreds of years in the same place. "Here, Romero stated, "we envision they will still be taking place far into the future."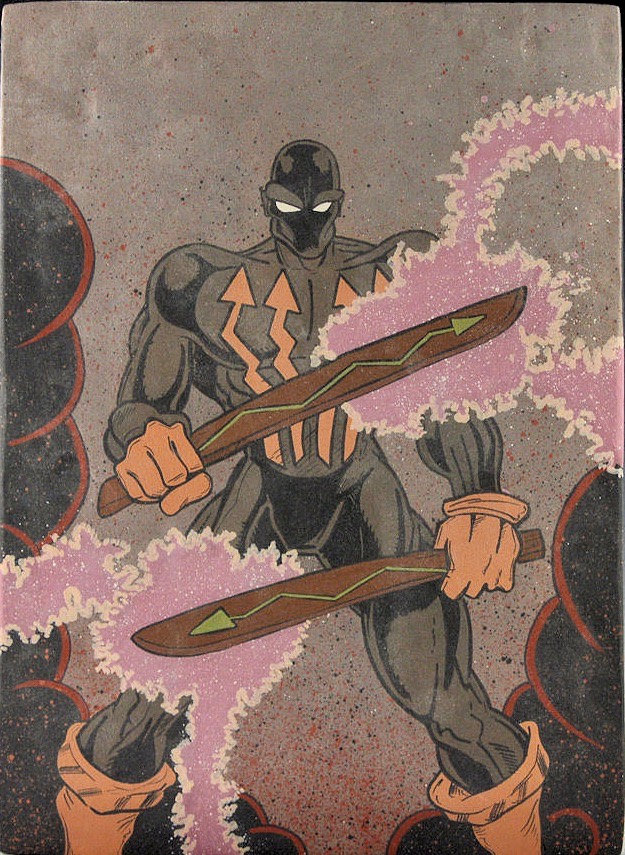 Gan tile by Jason Garcia, Santa Clara Pueblo, 6.5" x 9" (2022).  Collection of E. J. Guarino
Something happened in the world of comic books in 1996 that had never occurred before: Jon Proudstar, a Native American writer, and Ryan Huna Smith, a Native American artist, created Tribal Force #1, the first comic to present a group of superheroes (Gan, Earth, Little Big Horn, and Thunder Eagle) who were given special capabilities by the god Thunder Bird. They were to use these superpowers to protect Native lands and rights from an evermore power grasping high-tech government.
As an artist, Jason Garcia has been influenced by comic books and comic art.  This is reflected not only in his ceramics but also in his prints and drawings.  Garcia's ceramic tile Gan is based on the character in the Tribal Force comic, which, in turn, was inspired by Apache Ga'an dancers.  The character of Gan represents a projection of Native values into a future that has many problems and many possible outcomes.  The figure is surrounded by Garcia's signature clouds and appears to be charged with electricity.  Jason Garcia's tile is hand-built from Native clay.   All of the colors are also derived from Native clay and the piece was traditionally fired.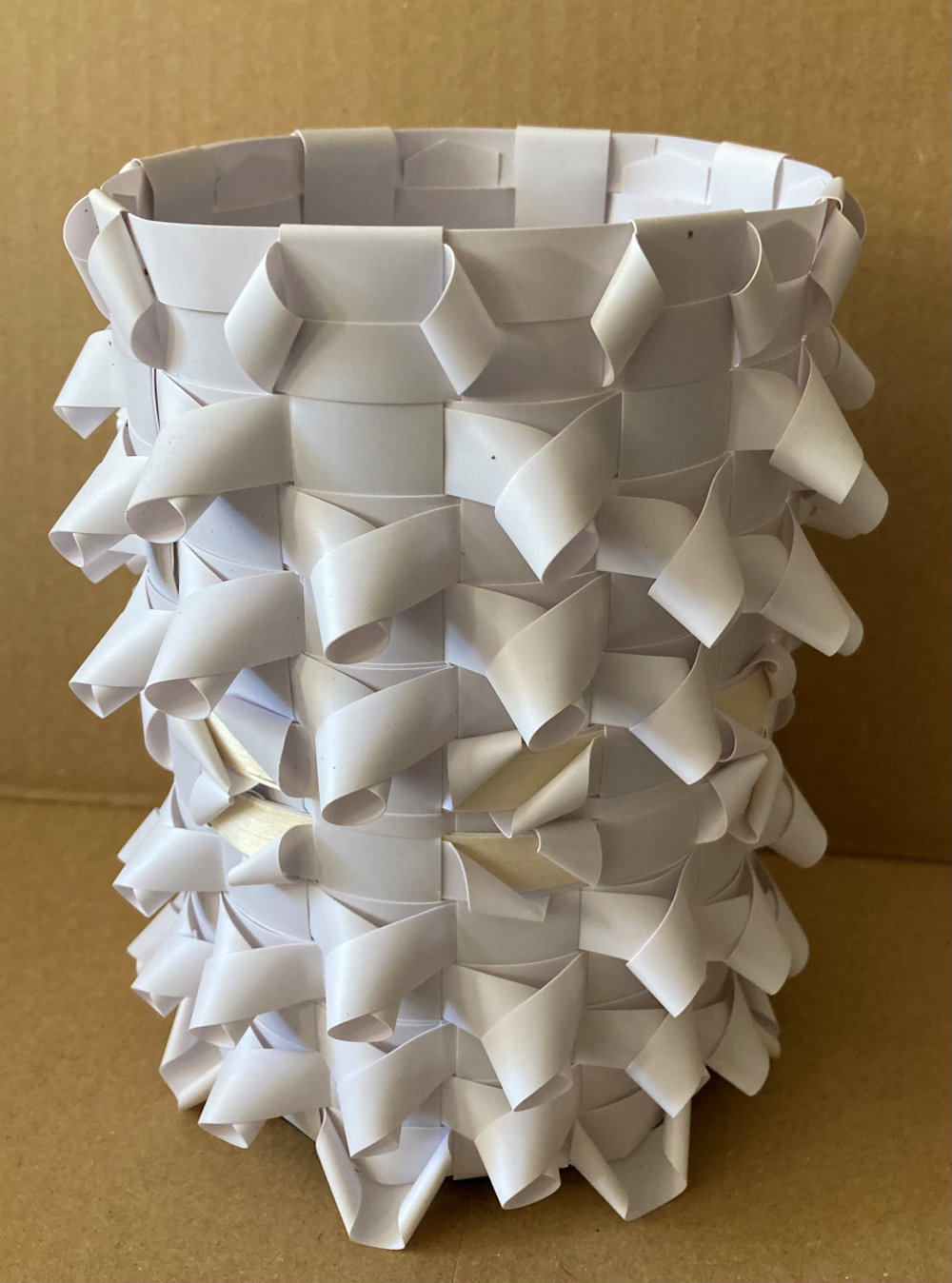 7th Generation Black Ash Basket by Kelly Church, Potawatomi, Odawa, and Ojibwe, white vinyl blind, ribbon, and two strips of black, 7" tall x 5" in diameter (2022).  Collection of E. J. Guarino.
Kelly Church's approach to an Indigenous Future is unique among Native artists and is extremely pragmatic.  Faced with a complete loss of the materials she uses to create traditional baskets, the artist came up with an ingenious solution.  Since 2002, when it was first discovered in Southeastern Michigan, the Emerald Ash Borer has destroyed hundreds of millions of ash trees.  The bark of the black ash tree is the primary material Kelly Church uses in creating her baskets.  The Department of Agriculture has predicted that eventually all of the ash trees in North America will be lost unless this invasive species is eradicated, which seems unlikely.  Faced with this dire prospect Church turned to a material that is readily available: vinyl window blinds.  The new baskets she now constructs are of man-made material and have a bottom held together with a ribbon.  Church also weaves two strips of black ash bark into each basket to indicate the scarcity of this traditional material.  The artist refers to this unique type of basket as 7th Generation Black Ash Baskets to indicate what traditional baskets may look like in the future unless the problem of the Emerald Ash Borer is addressed and solved.  Although the techniques of basket making can be taught to future generations, the traditional materials and the ways of identifying, harvesting, and processing them may soon be lost forever.
In the past, Native Americans, both as creators and as characters, were all but invisible in many art forms such as literature, music, and painting.  When Native people were presented in films, for example, they were usually portrayed as villains who stood in the way of progress and needed to be exterminated.  In artistic visions of the future such as the iconic film series Star Wars, Alien, Star Trek, Blade Runner, and Planet of the Apes Indigenous people simply do not exist.  One notable exception was the Native American character Chakotay who appeared in the TV series Star Trek: Voyager (January 16, 1995 to May 23, 2001).  However, the character was initially given no tribal affiliation.  Later, Chakotay was designated as Sioux and later as Hopi.  The 1995 episode "Tattoo" indicated that the character was descended from a pre-Maya Central American tribe, though no actual specifics were given.  Having been nearly exterminated in the past, Native Americans are particularly sensitive about being excluded from conceptualizations of the future.  As a response, Indigenous artists, working in a variety of art forms, have taken charge of their careers and are creating works that conceive of a future in which Indigenous People not only continue to exist but play important roles.  They are putting the saying "Live Long and Prosper" into practical terms.
Note: See also TO BOLDLY GO WHERE NO ONE HAS GONE BEFORE: Indigenous Futurism.