For the most part, Native Americans are thought of as having lived in the past; they are just barely considered as being part of the present and are usually absent from any concept of the future.  While other groups exist in the futures portrayed in the Star Wars franchise and the various Star Trek series, Native Americans are conspicuously absent, except for Chakotay, a character who appeared in the seven seasons of Star Trek: Voyager. Having been nearly exterminated in the past, many Native Artists have taken control of the narrative and are creating works that conceive of a future in which Indigenous People play important roles.  This has come to be known as Indigenous Futurism, a term first coined by Grace Dillon, Ph.D. (Anishinabe) in her introduction to Walking the Clouds: An Anthology of Indigenous Science Fiction, published in 2012, and is now an artistic movement, which embraces literature, the visual arts, film, music, fashion, comic books, virtual reality, and video games.
As a collector, I came into contact with this concept without even realizing it.  In either 2012 or 2013, as I was entering NMAI in Manhattan to attend an event, I commented to the woman walking next to me about a man who had just ridden his bicycle through the museum's open doors rather than dismounting.  We struck up a conversation and decided to sit next to one another.  As we talked the woman revealed that she was an artist named Skawennati who created her art in cyberspace.  I was intrigued.  Wanting to learn more, I asked if we could keep in touch.  Thus, a friendship was born.
To visit TimeTraveller™ click on the link below:
http://www.timetravellertm.com/episodes/
(Courtesy of Skawennati.)
With much help and education from Skawennati, I eventually wrote "The Ultimate Frontier: Indians in Cyberspace" which predominantly focused on her work TimeTraveller™, a machinima, which is a relatively new practice of making movies in virtual environments.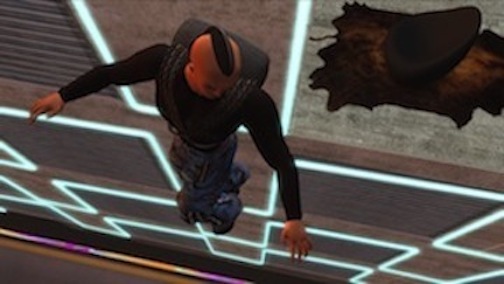 Hunter Hovers Outside the Storage Locker He Calls Home ll, production still from TimeTraveller™ by Skawennati; digital inkjet print with archival inks on poly banner, 36" x 60" (2010).  Collection of E. J. Guarino.  Image courtesy of Skawennati.
The TimeTraveller™ series exists in Second Life, an online world.  Set in the 22nd century, TimeTraveller™ is the story of Hunter, a young Mohawk who, though he possesses many of the traditional skills of his ancestors, feels alienated from the overpopulated, super-commercialized world in which he lives.  With the aid of a new technology called TimeTraveller™, Hunter is able to go on a futuristic vision quest that allows him to move back and forth in time, crossing and recrossing the dimensions of past, present, and our future.  On this journey, Hunter experiences historical conflicts involving Indigenous people and meets Karahkwenhawi, a beautiful, young Mohawk woman from our present era.  It is through her that Hunter begins to see Native issues from a uniquely First Nations perspective.  Although it deals with a number of serious historical and social issues, and many controversial, TimeTraveller™ contains a great deal of humor, often through pop culture references such as the films Blade Runner, Nightmare on Elm Street, The Evil Dead, Halloween, Ghost in the Machine and Friday the 13th.  There are also visual allusions to music icons Boy George, Billy Idol, and Duran Duran as well as to aspects of a consumerist society through logos for McDonald's, Google, and Marlboro cigarettes.

Glider Landing by Virgil Ortiz, Cochiti Pueblo, 5"w x 13"h (2012). (This figure is part of the artist's Velocity Series.)  Collection of E. J. Guarino.  Photo courtesy of King Galleries.
In 2012, King Galleries presented Velocity, a site-specific installation of new work by Virgil Ortiz.  The concept of Velocity was to project the Pueblo Revolt of 1680 into the future to 2180.  Perhaps Ortiz chose to reset something that happened 342 years ago 158 years in the future to suggest that Native people have yet to achieve true freedom and that it may still be a long time coming.  Also, for a contemporary audience, viewing the revolt through a futuristic lens makes it compelling and immediate, rather than a distant historical event.
Some of the most intriguing figures in the exhibit are The Gliders, which are Virgil Ortiz's futuristic version of the Pueblo runners who went from village to village in 1680 with a knotted rope to signal the number of days before the revolt was to take place.  With Glider Landing Ortiz created a gilder who appears to have just touched down.  He is holding a leather cord in one hand and a leather lasso in the other.  The cord has the "knots" that the gliders (as the historic runners before them did) will use to identify the day of the revolt.  (Before the Revolt, runners bearing knotted ropes were sent out to all of the pueblos with instructions to countdown to the day of revolt by untying one knot each morning.)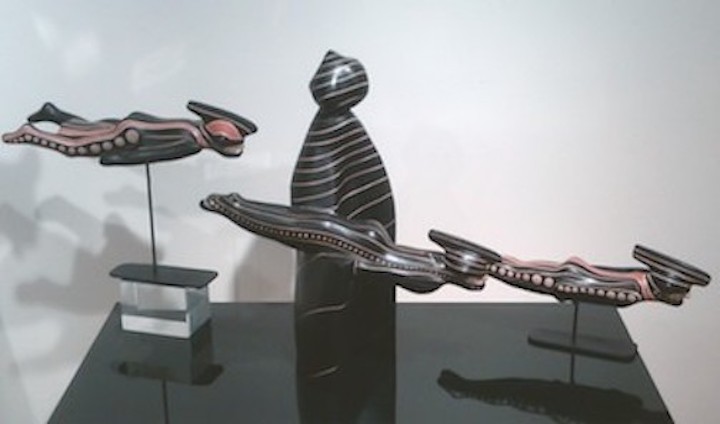 Glider Set with Tent Rock by Virgil Ortiz, Cochiti Pueblo, various dimensions (2012).  Photo courtesy of King Galleries.
One of the most intriguing pieces in the Velocity Series portrays Gliders, the 22nd century equivalent of the 1680 runners, as they fly at top speed from Tent Rock.  In the work, the natural formation of Tent Rock appears to have been personified since its shape is suggestive of a human figure.
As part of the Velocity Series, Virgil Ortiz also created The Translator Unleashed, a video for which he also wrote the music.
Click here to check out the video The Translator Unleashed!
http://www.youtube.com/watch?v=gaTlms_81T4
Reminiscent of other futuristic films such as Alphaville by Jean-Luv Godard, Blade Runner by Ridley Scott and THX11 by George Lucas, Ortiz not only explores a new medium, but also brings to life the ceramic figures he created as part of Velocity and reinforces uniquely Native American ideals: the right to control ones destiny, personal and cultural sovereignty and freedom, became part of the American fabric.
Tribal Force: Native Super Heroes Jar by Jason Garcia, Santa Clara, 7"w x 9"h (2010).  Collection of E. J. Guarino.  Photos courtesy of King Galleries.
Jason Garcia was inspired to create the figures on Tribal Force: Native Super Heroes Jar by Tribal Force, a comic book that is the brainchild of Jon Proudstar, a screenwriter who says his forebears are a mix of Yaqui, Mayan, Jewish, and Latino, and artist Ryan Huna Smith, who grew up on the Chemehuevi reservation outside of Tucson.  Garcia is friends with Ryan Huna Smith, the artist who created the images, who allowed him to re-create on his ceramic jar the Tribal Force Super Heroes.  The narrative is set in a seemingly alternate universe, which bears a striking resemblance to our own.  Tribal Force depicts the usual mega-battle only in this version Native superheroes must stop the U.S. government from bombing the Indians and confiscating their resource-rich reservation land.  Jason Garcia's ceramic piece shows the artist's father reading a Tewa Tales of Suspense comic book, a reference to Garcia's own work.  Around him are the characters Captain Johnny Cloud of the Losers series; Scout, a post-apocalyptic Apache (kind of like Road Warrior); Tribal Force (comprised of Earth, Little Big Horn, Gaan, and Thunder Eagle); and Little Sure Shot of Easy Company (Sgt. Rock comic).  They are all Native American superheroes.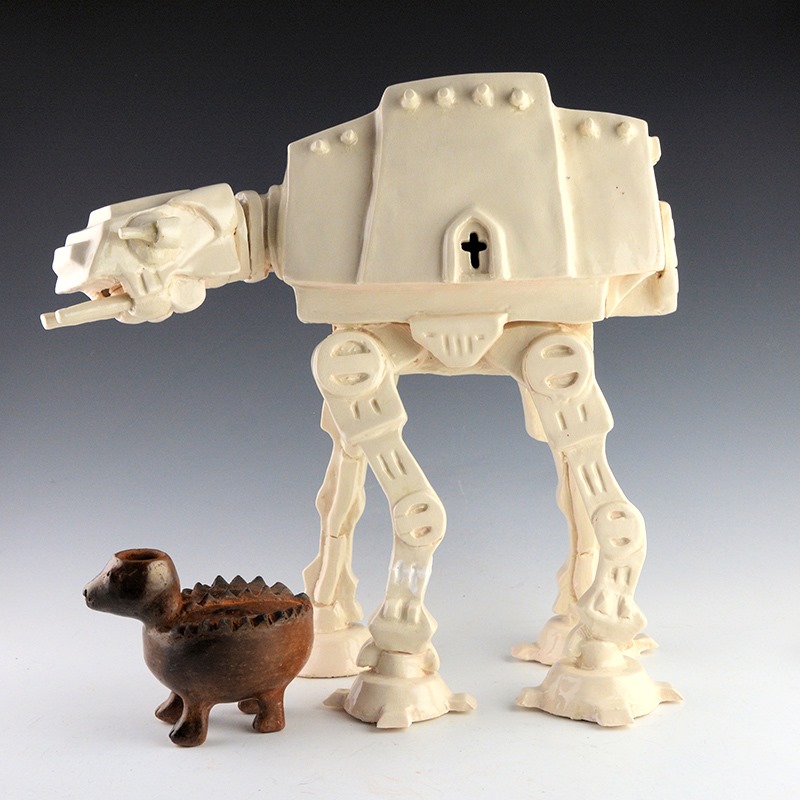 Dominion by Chase Kahwinhut Earles, Caddo: Imperial Walker, hand-built and kiln-fired porcelain, 12 1/2" X 12" x 9" (2020) and Traditional Caddo Alligator Snapping Turtle Effigy, hand-dug and coiled clay from Bahateno (Red River), pit tired in the old way in open ground. with no pre-fining Hand-built and kiln-fired porcelain, 3 1/2" x 4 1/2" x 3" (2021).  On loan to the Minneapolis Institute of Art from a private collection.  Photo courtesy of King Galleries.   
 Imperial Walker  (left), Caddo alligator snapping turtle effigy (right), by Chase Kahwinhut Earles.  Photos courtesy of King Galleries.
From the very first installment, many Native Americans, particularly artists, have felt a powerful connection to Star Wars films.   Many Native filmgoers saw the nine film saga about the struggle of the Rebel Alliance to liberate the galaxy from the oppression of the Galactic Empire a metaphor for the maltreatment their ancestors suffered under the U.S. Government, the Catholic Church, and other institutions.  Quite a number of Native artists have used imagery from various parts of the Star Wars Saga to explore historical concerns by setting them in the future.  Chase Kahwinhut Earles, a Caddo artist, is among them.
In addition to works based on traditional Caddo pottery forms, Chase Kahwinhut Earles has created quite a number of pieces that draw upon characters and futuristic machines seen in the Star Wars movies.  Such creations usually pair a "futuristic" piece with one reflective of classic Caddo ceramics, and are, in essence, an installation.   One of Earles's most powerful groupings is Dominion, which consists of an Indigenized Imperial Walker and a traditional Caddo alligator snapping turtle effigy.  The Imperial Walker has first seen in Star Wars: The Empire Strikes Back (1980).  Known as an AT-AT, this massive machine was employed by the Galactic Empire against any subjects who dared to rebel.  In Earles' version, the gigantic war vehicle is a Catholic Church, which is identified by an entrance in the form cross in the center of the figure's body.  In this way, the artist alludes to issues of colonialism and the introduction of Christianity, and the subsequent suppression of Indigenous religions.  To make his point, the artist paired the Imperial Walker with a piece of traditional Caddo pottery.  The four-legged war machine threateningly towers over an effigy of an alligator snapping turtle, perhaps a symbol of all Native peoples who were unable to escape centuries of oppression and devastation.  Chase Kahwinhut Earles envisioned the Imperial Walker "as the Oppressor come to proselytize and convert us Caddos from already believing in one God, to believing in their God."
"Sunrise Future", Red Clay Maks by Ty Moquino, Santa Clara Pueblo, 8.5" long, including spikes (2022).  Collection of E. J. Guarino.  Photo courtesy of King Galleries.
Born in 2002, Ty Moquino has already made a name for himself among collectors of Native American ceramics as well as those interested in Indigenous Futurism.  To date, the artist has specialized in masks.  Although masks are not unheard of among Native ceramic artists (Glen Nipshank, Roxanne Swentzell, and others produce them), Ty Moquino's are unlike those of any other Native artist.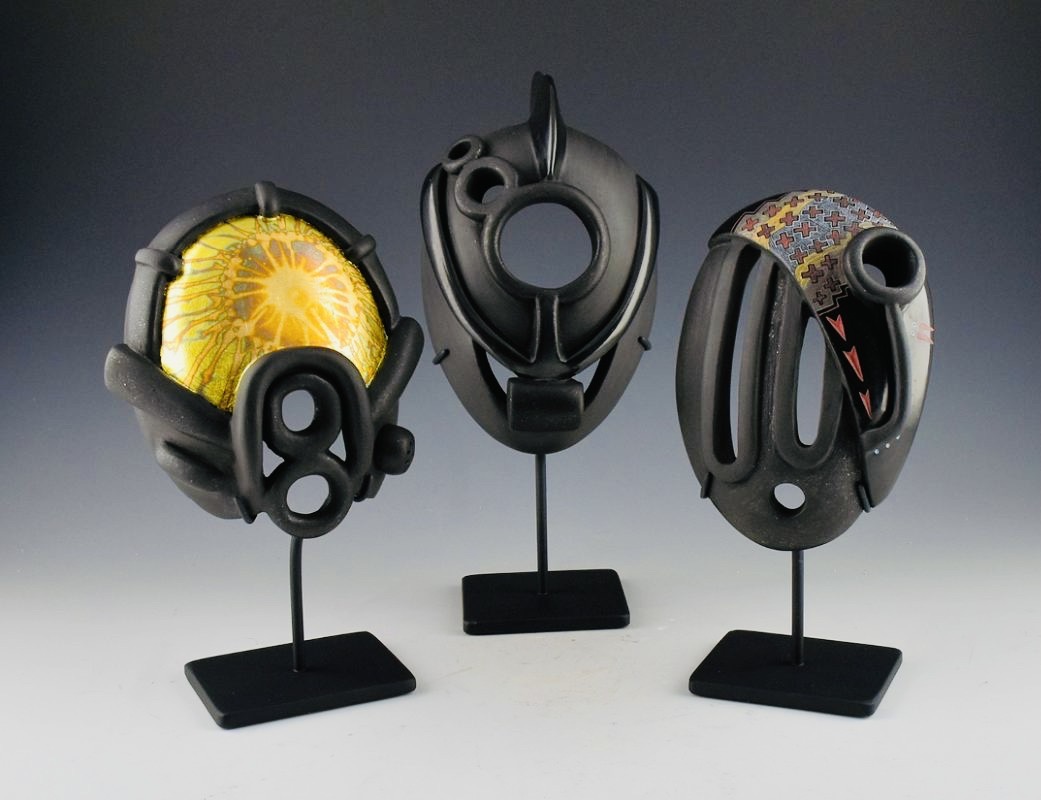 Mask group by Ty Moquino, Santa Clara Pueblo, various dimensions (2022).  Photo courtesy of King Galleries.
Although they could in some way be said to reference traditional Native American mask making, Ty Moquino's creations are futuristic.  Usually produced in groups that reflect a specific theme such as the environment, sustainability, or some aspect of the future, each mask is unique.  Each piece is carved and has a sculptural quality, with stone polished sections as well as matte areas and, often, sections of micaceous clay or gold.  Ty Moquino's work is informed by the science fiction he has read, and, perhaps, by films and TV shows set in the future.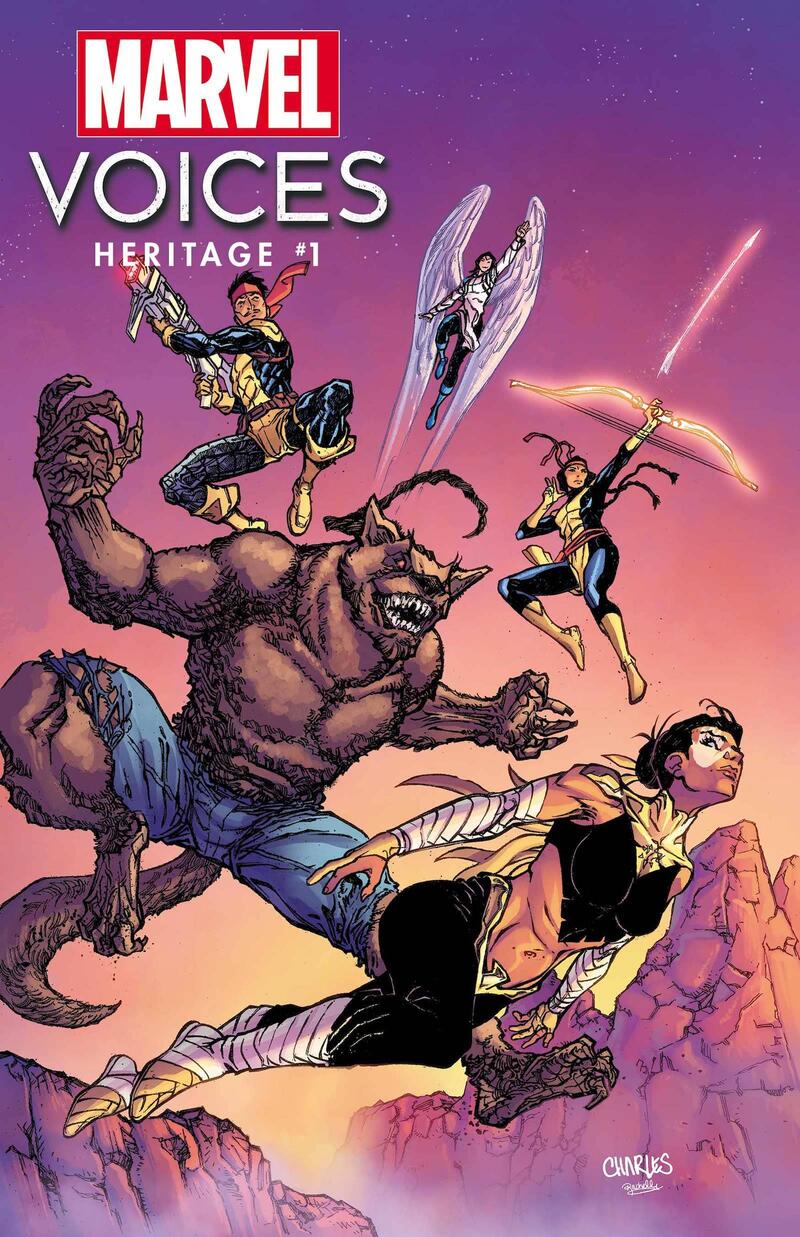 Marvel's Voices: Heritage #1 cover (2022).
            One of the most exciting developments with regard to Indigenous Futurism has been the inclusion of Native American artists and writers in the sphere of comic book art.  This expansion of the comic universe to include Indigenous creators has allowed for new and exciting narratives to be explored and illustrated with colorful, distinctly Native American graphics.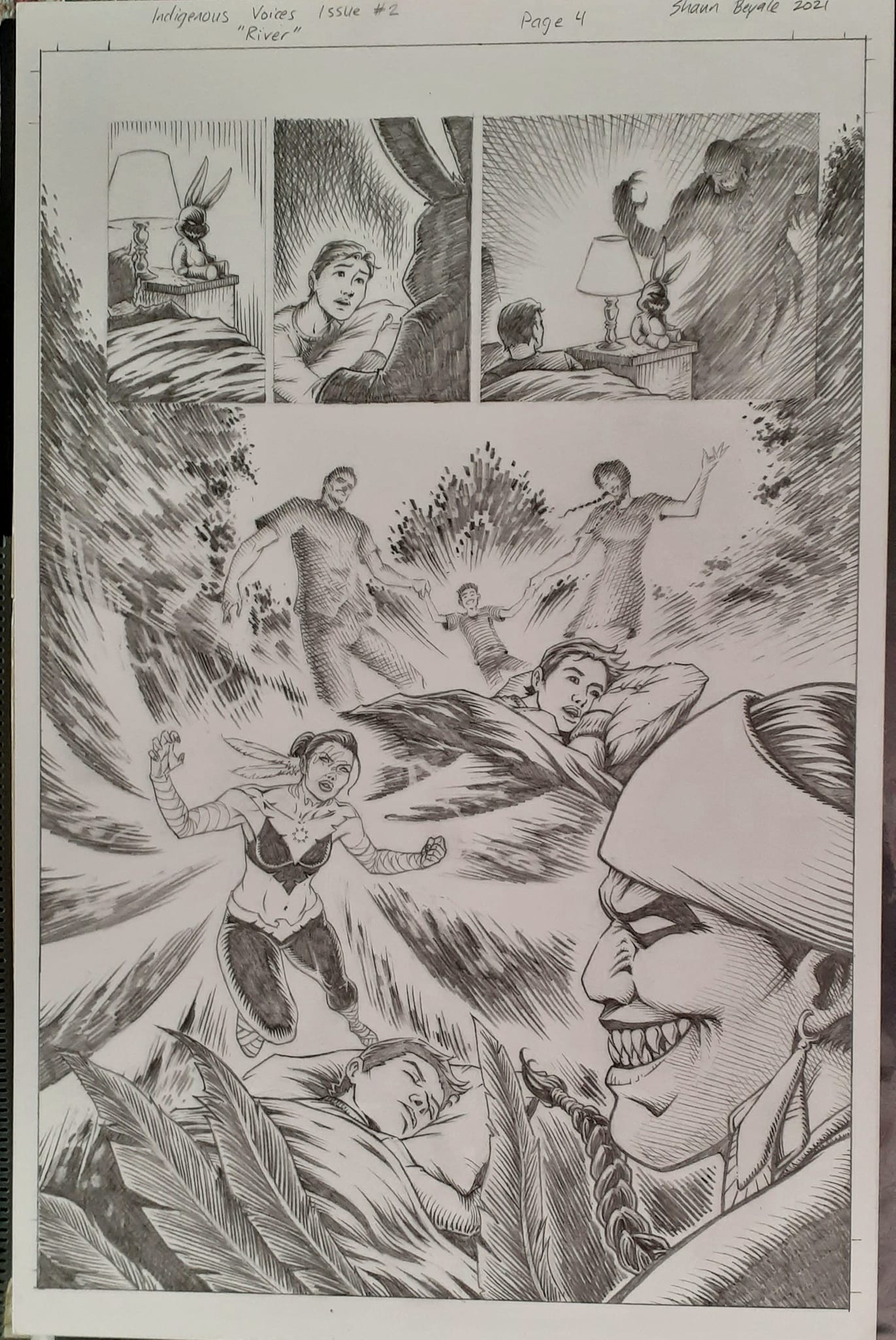 Original pencil drawing by Shaun Beyale, Diné (Navajo) for Marvel Voices: Heritage #1, page 4, graphite on Bristol board paper, 11" x17", graphite on Bristol board paper (2021-22).  Image courtesy of the artist.
                Shaun Beyale was born on the Navajo Nation reservation in Shiprock, New Mexico.  From a young age, he had a passion for drawing.  Beyale grew up without electricity and running water and comic books became a source of entertainment and escape.  In his youth, the artist would draw all day and continue to do so at night by the light of kerosene lamps.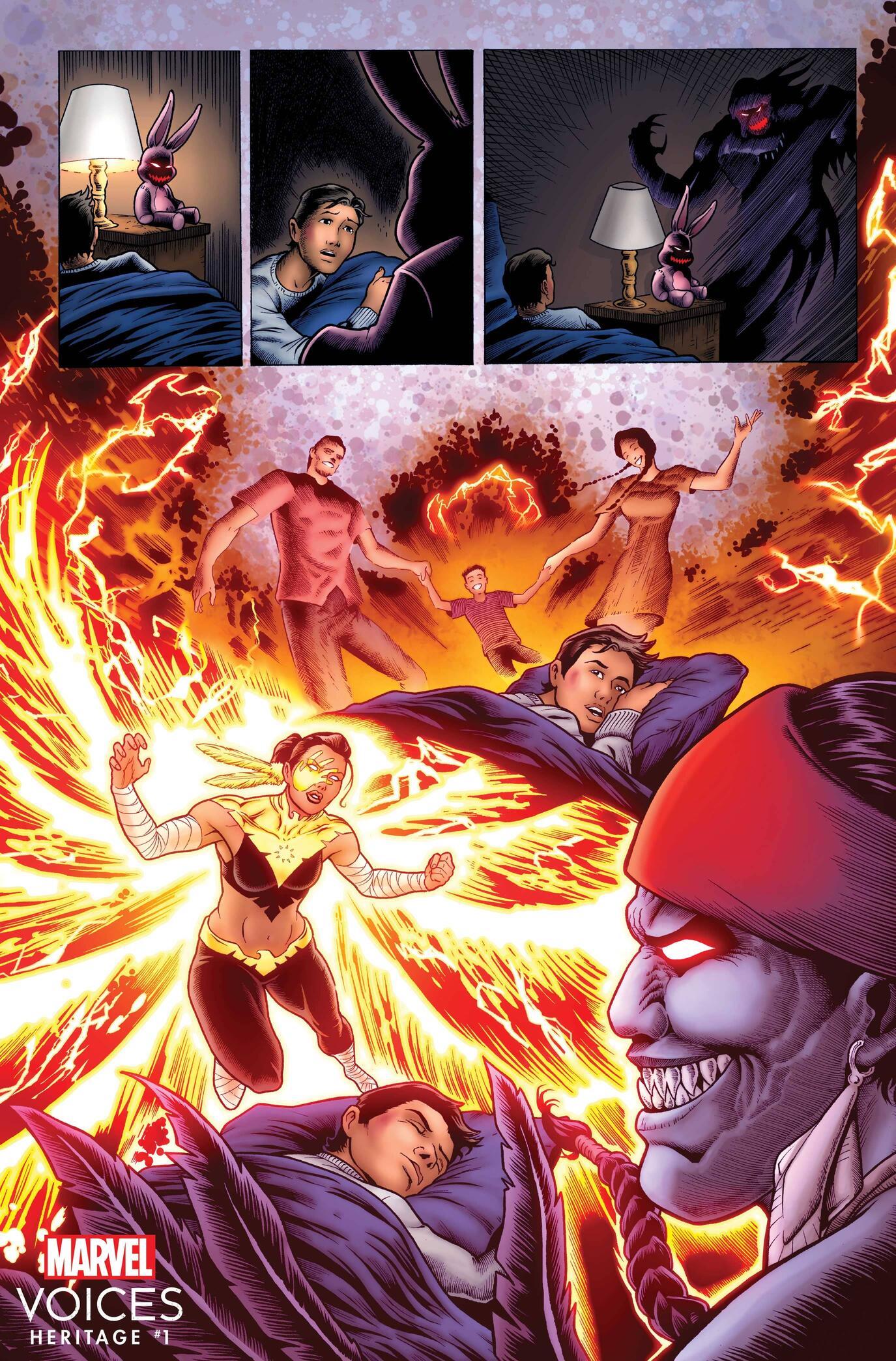 Marvel Voices: Heritage #1, Page 4 based on Shaun Beyale's original pencil drawing, 7"w x 10.5"h (2022).
Marvel Voices: Heritage #1 Includes four stories, which feature some of the most iconic Indigenous Super Heroes in the Marvel Universe.  Shaun Beyale is credited as both an artist and penciller, which is an artist who creates the initial pencil illustrations that are the basis for the finished pages in color.
"River: A Friend in Need" is one of the four stores in Marvel Voices: Heritage #1. The story is by Rebecca Roanhorse (Ohkay Owingeh Pueblo/African American) and Shaun Beyale is listed as the artist.  "River: A Friend in Need" is about River, a troubled young man who is able to talk with spirits, one of whom befriends him and becomes his helper.  The tale is greatly enhanced by the artwork.
Like Superman and other comic book superheroes, each of the Indigenous heroes and heroines displays singular superpowers, exhibits their individual personalities, and does so within the framework of Indigenous traditions.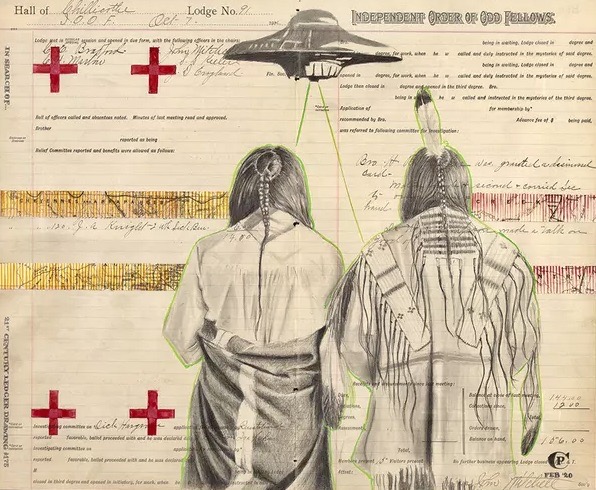 In Search of . . . by Chris Pappan, Kaw, Osage, and Cheyenne River Sioux pencil/graphite, ink, map collage on Odd Fellows Ledger, 18" × 22" (2020).  Image courtesy of Chris Pappan and Blue Rain Gallery, Santa Fe. 
Images of flying saucers frequently make an appearance in Chris Pappan's art.  What they symbolize may vary from work to work – invaders, the unknown, the future.  In Search of. . . is one of Pappan's pieces that includes a saucer.  Two Native figures with their back turned to the viewer appear to be looking at a spaceship that is projecting beams of color toward earth.  On the left side of the page are four red crosses, which may represent the four sacred directions, but may also be a subtle reference to the introduction of Christianity, a foreign religion, to the Indigenous people of the Americas.  It may be that the artist is comparing the coming of Europeans and Christianity to the arrival of beings from outer space.  Both the historical reality and the (so far) science fiction event bear similarities: new arrivals who have previously unknown modes of travel as well as technologically superior weapons.
However, In Search of. . . is not without humor.  The ledger paper the artist chose to use bears the words Independent Order of Odd Fellows.  I would imagine that this is not merely a coincidence.  It makes the viewer wonder just who the term "odd fellows" denotes.  Is it the newly arriving aliens or is the artist alluding to the fact that for so long Indigenous people were viewed as "other?"
The work's title is a reference to In Search of. . ., a TV show that was broadcast every week from 1977 to 1982 and has had a number of subsequent incarnations.  The program conducted inquiries into strange phenomena such as the paranormal, Bigfoot, and, of course, UFOs.  The artist commented on this work as follows:
These works employ the narrative device of an alien invading force; that is Euro-American colonialism through the contest of pop culture iconography vis-à-vis UFOs or flying saucers. In this work the two men are being abducted as a metaphor for assimilation; or could they be searching for the truth?  The title is from the old TV show hosted by Leonard Nimoy.  In my life, I'm still "in search of" my own culture; what it means to be Native; what it means t to be human.  Through nostalgia, as referenced by the title, we are looking to different ways of thinking to inform our present and our future.
An important aspect of In Search of. . . is that it is drawn on paper from an Odd Fellows Ledger, which harkens back to the ledger drawings of the mid to late 1800s.  Ledger art is predominantly associated with Native American prisoners of war who used pages from accounting ledger books, which were one of the few sources of paper they had available on which to record their experiences and memories.  Although Chris Pappan employs ledger paper, his use of  powerful graphics and collage give his work an edginess.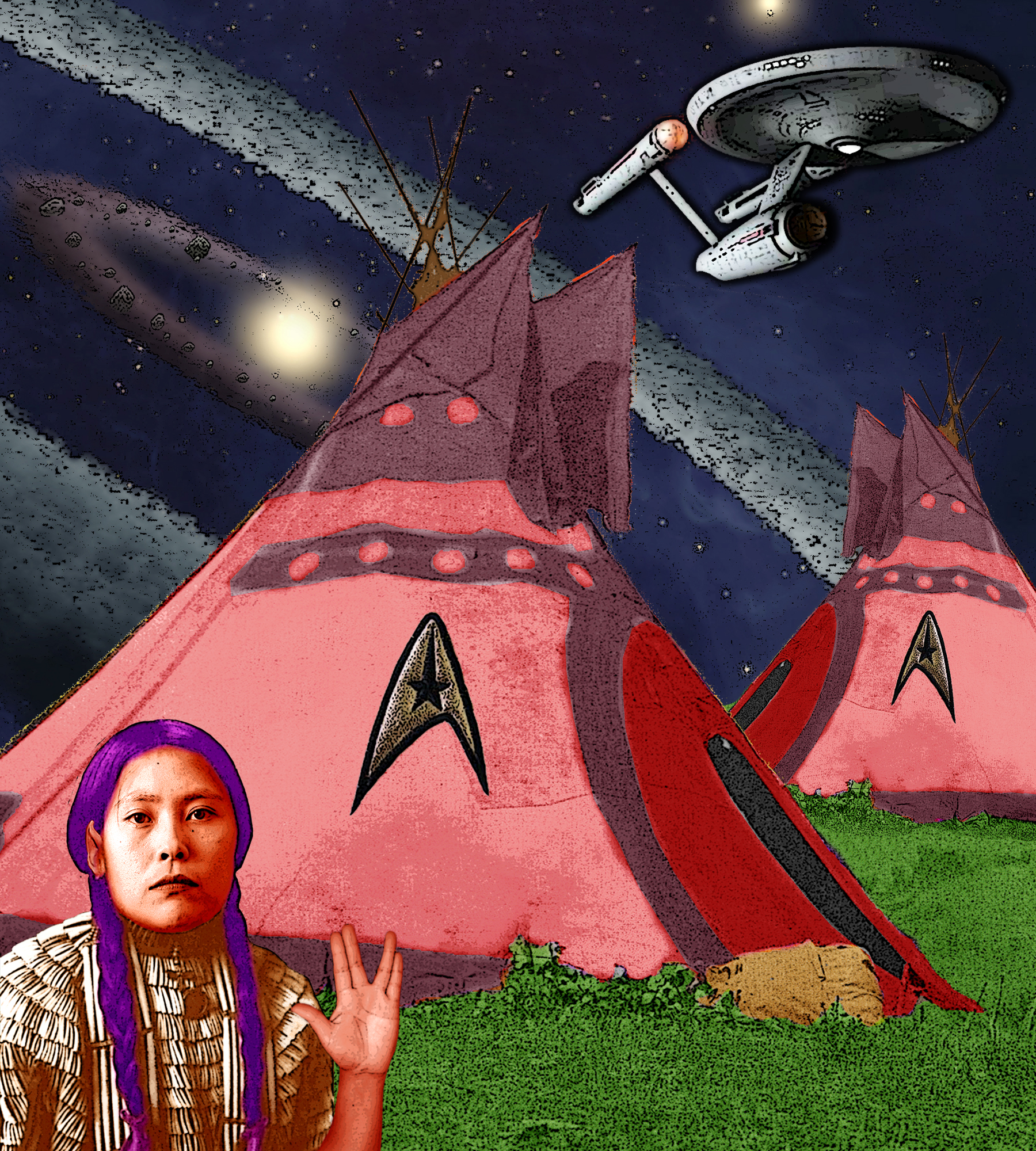 Live Long & Prosper (Spock was a Half Breed) by Debra Yepa-Pappan (Jemez Pueblo, Korean), archival digital print, 22" × 20" (2008).  Collection of MoCNA.  Image courtesy of the Debra Yeps-Pappan..
Although created in 2008, four years before the term Indigenous Futurism was coined, Live Long & Prosper (Spock was a Half Breed) by Debra Yepa-Pappan has become one of the iconic images of that movement.  The artist placed herself in the scene, standing in the foreground wearing Native clothing, sporting purple hair and Vulcan ears, and looking out at the viewer while making the Vulcan hand gesture, which means "Live long and prosper."  Behind the artist are two tepees bearing Star Trek's Star Fleet insignia known as both "The Arrowhead" and "The Delta."  Above looms the Galaxy and hovering in the sky is the Starship Enterprise.   Live Long & Prosper (Spock was a Half Breed) is part of a trilogy, which also includes Hello Kitty Tipi and The Doctor's Companion.
Debra Yepa-Pappan is a digital multimedia artist who creates controversial and complex works dealing with subjects such as heritage and identity.  Using a bold, colorful palette and the unexpected juxtaposition of historical and pop culture imagery, Yepa-Pappan produces works that are thought-provoking, yet fun.  Her work has been influenced by such diverse artists as René Magritte, Cindy Sherman, Andy Warhol, and Barbara Kruger as well as by Plains Indian art.
Indigenous Futurism is an extremely interesting artistic movement, which posits a number of thought-provoking ideas.  What would the present be like if historical events such as colonization had not happened?  If Indigenous concepts of the spiritual and supernatural had predominated, what would have been the outcome with regard to society?  In what state would the environment be if land and animals had not been over-used.  These questions and many more are raised by artists who are part of the Indigenous Futurism movement.  Native artists are also Indigenizing pop imagery, often from iconic film series such as Star Wars, Alien, Star Trek, Blade Runner, and Planet of the Apes, as well as various aspects of American culture to make people aware that Native people survived into the present and will exist in the future.  On July 3, 2013, the 1977, for example, Star Wars Episode IV: A New Hope (1977) premiered and was dubbed in Navajo.  It was the first time a major motion picture had been translated into a Native American language.  In the past, Native Americans, both as creators and as characters, were all but invisible in many art forms such as literature, music, and painting.  When Native people were presented in films, for example, they were usually portrayed as villains who stood in the way of progress and needed to be exterminated.  Many Native artists have embraced one of the famous opening line from Star Trek: "To boldly go where no one has gone before."  Rather than letting others tell their stories – past, present, and future – contemporary Native artists have taken artistic control and are offering an Indigenous perspective in a variety of art forms.  They are to be applauded.