For many years, I would see Holly Wilson's art at the Santa Fe Indian Market and wonder, "Who are these strange little beings, and what do they signify?"  My frame of reference was limited to fairytales and Disney movies so I was curious as to whether the tiny figures were fairies, elves, or pixies.  It was these small sculptures that first drew me into Holly Wilson's work.  More recently I had the honor of attending the artist's solo exhibition at the Bonner David Gallery in New York City.  The more I saw, the more fascinated I became.
The casual observer of Wilson's work might very well miss its complexity and depth.  The artist draws the viewer in through the use of unusual non-threatening, though thought-provoking imagery.  Wilson wants her audience to contemplate the many themes reflected in her work, some of which are quite thorny: self, motherhood, war, family history, and personal experiences.  Some may have the impression that Wilson's work is small in scale; it most definitely is not.  Although she creates diminutive figures they are often part of a much larger work and are characters that are integral to the narrative she is telling.  The fact that Wilson is willing to employ such small sculptures in her work is, in fact, quite daring since so many contemporary artists seem to think that in order to make a big statement their work has to be supersized.
As an artist, Wilson is never didactic; instead, she asks us to participate in her work by visually inviting us to have a closer look and consider the themes she has presented.

Bloodline by Holly Wilson, Delaware Nation, and Cherokee Nation, unique cast bronze with patina and locust wood, 29″ x 22′ x 9″ (2015).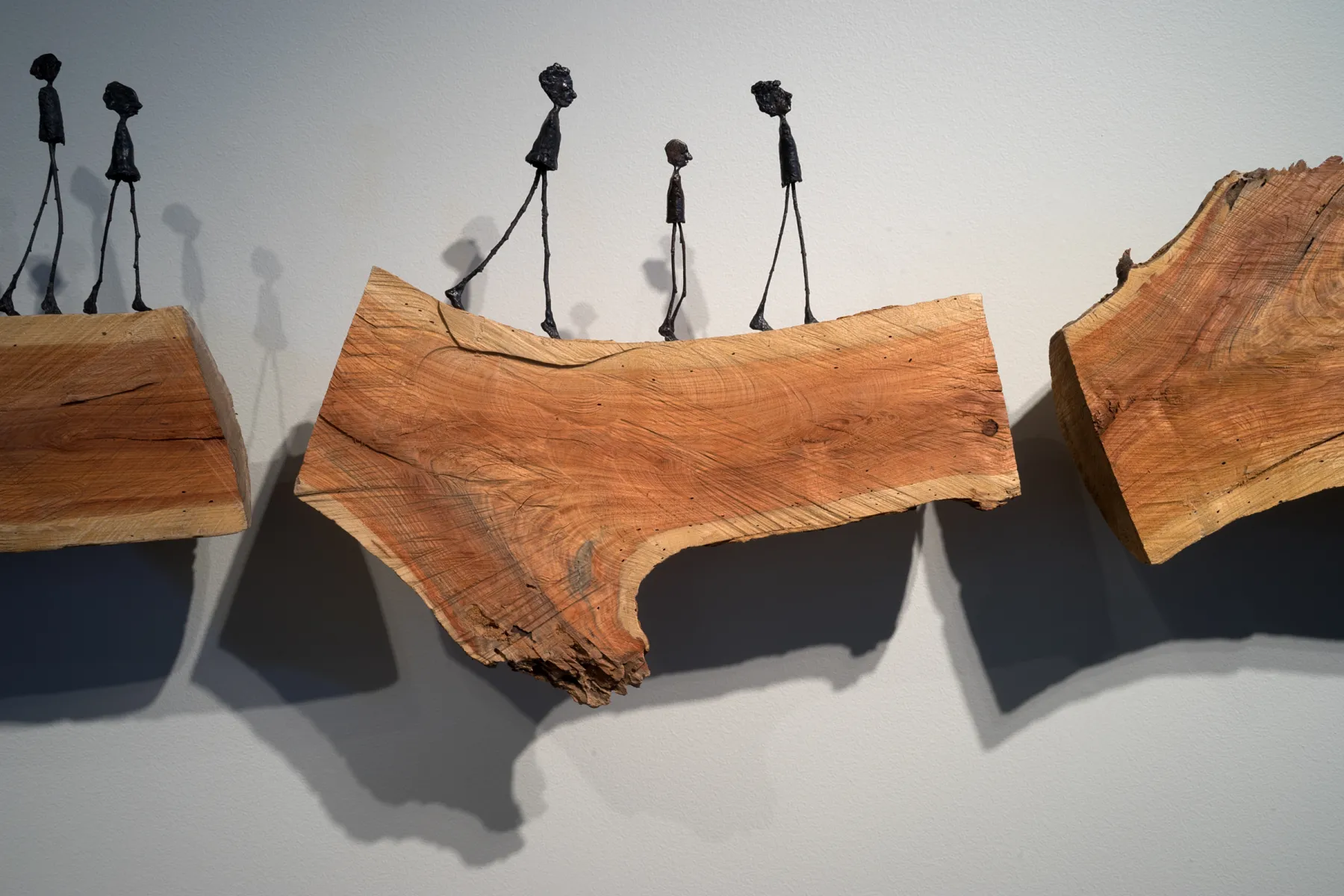 Bloodline by Holly Wilson (detail).
Bloodline is a cycle to which Holly Wilson has returned on numerous occasions.  Each version has a different subtitle, which is indicative of the theme the artist wishes to explore.  The Bloodline Series contains many of the artist's signature works.  "It is the stories of family, history, and identity that brought me to Bloodline," Wilson stated.  "It is a long trail of my Native American history, my bloodline. To be 'on the Rolls' as an American Indian you must prove a quantum of blood verified through birth and death records until you match up to a name on the official 'Dawes Rolls.'  As I began walking through the past to document my blood, with the names and some faces, I wanted to hear them speak and tell their story.  I wanted them to be counted."
          One of the most fascinating aspects of the Bloodline Series is the Cigar Figures Wilson employs.  About them, the artist has stated, "The Cigar Figures come from a childhood Native American story that my mother told of the 'Stick People.'  The 'Stick People' would run through the night and call your name; if you went with them, you were never heard from again. . . .  The Cigar Figures are my reimagining of that story, now a story of family and my past—a complicated narrative of loss, survival, and resilience. The figures are made from real cigars and found sticks cast in bronze. The faces are of the ancestors from my past as far back as I can trace.
Bloodline and the entire Bloodline Series represent very personal works for the artist.   "There are sections for each generation, beginning with my children,"
Wilson explained.  "Though I only have two, there are five figures. Each life is counted and the children who did not survive are remembered with a place on the wood in history, their forms small and their heads bowed. Next, I have my section with my sisters and brother followed by my mother's and father's history weaving back and forth."  Seeing any of the Bloodline variations is a very moving experience.
One of the visual delights of the works in the Bloodline Series is that, when each of the pieces is hung, the lighting casts the shadow of each figure on the wall opposite.  This is intentional.  "This shadow," Wilson has stated, "represents memory for me.  Like a shadow, these memories cannot be held, and in the end, we are all only a shadow in history, shadows on this earth."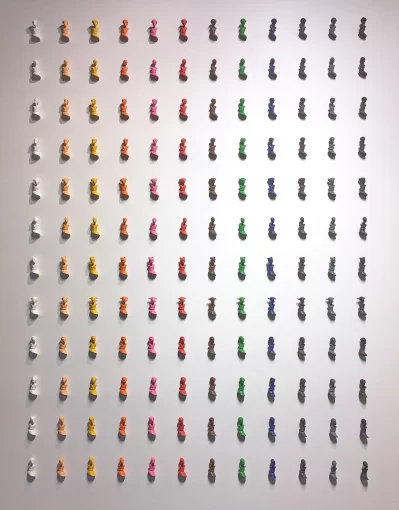 Under Our Skin by Holly Wilson, Delaware Nation and Cherokee Nation, Crayola Crayon, 100" x 70" x 2", (site sets size), twelve girls and each girl is made from the twelve colors in a Crayola Crayon box making a total of 144 girls (various years).
The first time I encountered one of Holly Wilson's iterations of Under Our Skin I didn't know what to make of it.  It was certainly something quite different from what I had come to expect from the artist.  Also, to my surprise, it was bright!  The use of so many vivid colors was unexpected because, up to that point, the works I had seen by the artist utilized muted hues.  Intuitively, I had a feeling that I knew what the artist was trying to convey, but Wilson succinctly communicated what Under Our Skin expresses and what inspired her to create the piece.  "I think if we could see ourselves as all the colors in the crayon box in all the shades," the artist stated, "we could be kinder; we would be able to feel if, just for a moment, another's life and our world could change in such a way that children would not worry about if they are too light or too dark to belong.  We are more than a classification in terms of a position between two extremes . . . .  The way we see others and how one is seen has been a subject that I have had in my life since I was small.  I am both Native American and Caucasian but growing up I felt more times than I care to count that I was not enough of one or the other and that pull made me question all parts of myself. . . .  Where did I fit if I was not a part of this or that group?"  Wilson went on to explain exactly what inspired her to create Under Our Skin: "All this history, this past came to a head one day while getting my children ready for school we were pulling together pencils, colored pencils, folders, and crayons. They had to have 4 sets of 24 crayons each and we had leftovers from sets of the past years . . . and we were combining them together so we'd know how many new boxes would be required.  The kids were talking about their friends at the new school and friends of their past school. In the conversation, they were describing the children . . . .  in a very casual descriptive manner with no malice or notice to the differences. This made me think more about how we see people and how one is judged. The smell of the crayons, the vivid colors, and the thoughts of my youth brought me to this crayon project. How we change our viewpoints of people, and how we judge people based on race, and color.  We are all one below that surface, that surface of the skin, no matter the color, the shape, or the origin."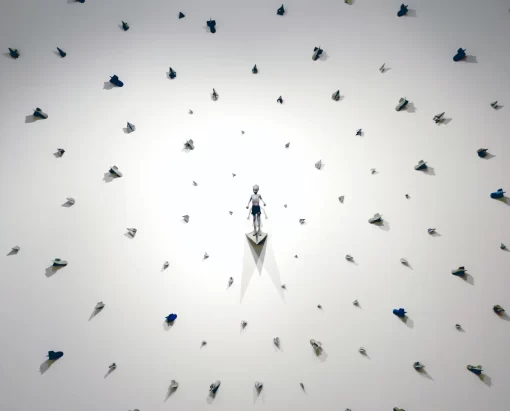 We Need a Hero by Holly Wilson, Delaware Nation, and Cherokee Nation, unique cast bronze with patina,100" x 144" x 8.5" (2015-2021).  Note: work changes in size or display with each place it is installed.
            The first impression one gets of We Need a Hero is that a wall has exploded.  The effect is disturbing and a bit disorienting.  It is also intentional.  Looking closer, the viewer can perceive many small details – airplanes, bombs, and, in the center of it all, a boy.  All these components make up a whole.  "This boy stands tall, ready to defend his world," the artist explained.  "He represents all our children, the children we are to protect and care for in our world. The airplanes are their messages going out into the world. These messages, both large and small, are their stories; some will survive, and some will not go very far. The bombs represent messages that are incoming from both people and society on a daily basis. The blue bombs are called 'Dumb Dumbs' and are used just for practice and have no explosives while the white ones with a yellow ring indicate that they are highly explosive and may cause much destruction. What comes at our children in our society can be very devastating like an explosive tearing at their innocence."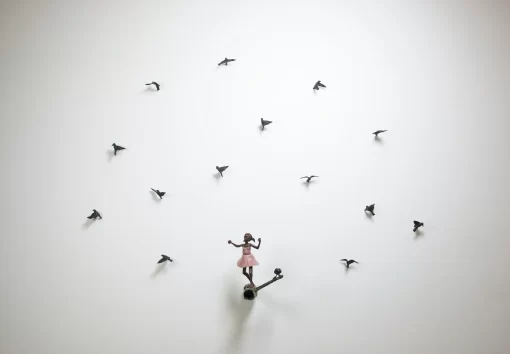 Can You Hear Me Now by Holly Wilson, Delaware Nation, and Cherokee Nation, 30" x 41"x 7", unique cast bronze with patina (2015-16).
Can You Hear Me Now by Holly Wilson (detail).
Although each sculpture in Can You Hear Me Now is small, together they make a large statement about the individual and how each person can be overlooked unless he or she exerts their right to be seen and heard.  In this sculptural installation, a young girl appears to be yelling into the void.  Attempting to be heard, she is surrounded by birds, which may symbolize the many ideas, beliefs, and voices in the world besides her own that may drown her out.   About this very personal piece Wilson stated, "Can you hear me; can you see me? I will no longer stand to the side. I shout out to the winds and the world letting my voice be heard.  As the girl shouts out, the birds scatter in surprise, but the crow remains beside her, the crow a shapeshifter, and the messenger foretold that her voice would be heard.  I find that there are more times than not that as a female and a Native American to be heard one has to use a strong voice from deep inside.  The reaction that follows is both of surprise and intrigue."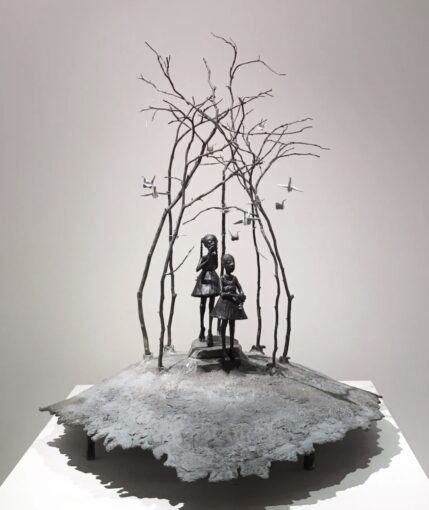 I'm Still Here by Holly Wilson, Delaware Nation, and Cherokee Nation, unique cast bronze with patina, and flex cord, 29"x 27"x 24" (2017).
Although some may find it hard to believe, there are still many people who think that Native Americans are a "vanished race."  Much to my surprise, I discovered this when teaching high school English.  For my students, Indians were people they saw in old movies but had nothing to do with contemporary life.  As far as they knew, they no longer existed.  To make matters worse, they knew nothing about Native Americans beyond what they had seen in old films and TV shows.  Relatively little about the history and cultures of Native Americans is taught in U.S. schools.  Fortunately, this is changing.  Holly Wilson's I'm Still Here addresses this issue.  "The boarding schools cut the hair and stole the language of Native American children," Wilson wrote about I'm Still Here, "But inside, they were still there. My sister lost her hair to cancer and people stopped making eye contact, leaving her to feel invisible.  But she was still there.  The old tree was cut down, but its power to lead to the spirit world is still there. Through everything, they whisper, 'I'm still here.'"  I'm Still Here is a work that speaks to anyone who has ever felt invisible, no matter the reason.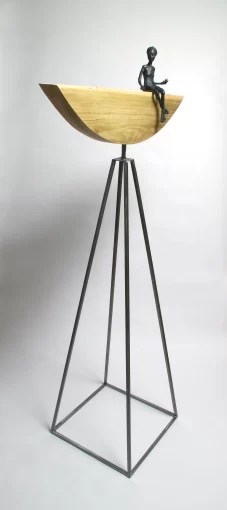 Mother by Holly Wilson, Delaware Nation, and Cherokee Nation, unique cast bronze with patina, poplar, steel, 63"x 31"x 24" (2011).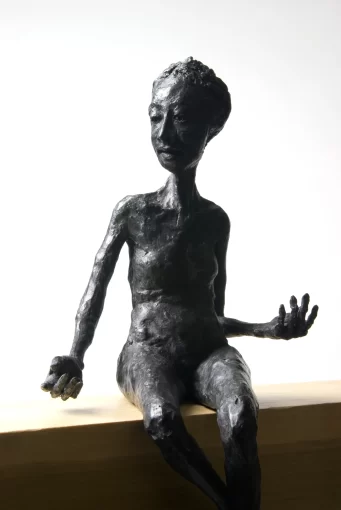 Mother by Holly Wilson (detail).
            Whether overt or lying just below the surface, motherhood is a theme in many of Holly Wilson's works.  "Mothers," the artist has said, "often act as a balancing force in our world.  This figure acts as an archetype of all mothers.  She sits balanced upon a piece of poplar wood.  Her position seems precarious but is secure and necessary . . . .
Wilson's art is extremely personal.  It is inspired by her heritage, her family history, and, very often, her two children.  However, she was not prepared to learn that some felt that being a mother was a negative for an artist.  Not long ago, she recounted an experience, which shocked her when it happened:
I applied for a grant many years ago.  At the time my two children were very young and the project I proposed was how I would use the child's form as metaphor and voice in my work with images of a young girl and boy.  In the past, I have always used my own childhood memories with interactions of family and dreams.  My work had evolved from the view of me to that of my children and their place in the world. There were many stories that had been passed down to me by my mother from her grandmother that addressed motherhood, these now began to resonate within my art.
Though I did not receive the grant the artists were invited to have a conversation with the woman from the organization. She explained that in my proposal where I mentioned my role as a mother and referenced my children as subjects, it was at that point she and anyone in the art world would have stopped reading, I had no response other than shock. Today I would ask if she would say the same thing to an artist like Lucian Freud for his inclusion of family and children in his work. But at that point, I was not prepared for myself and my art to be discounted for the simple reason that I was a mother and working with observations of life.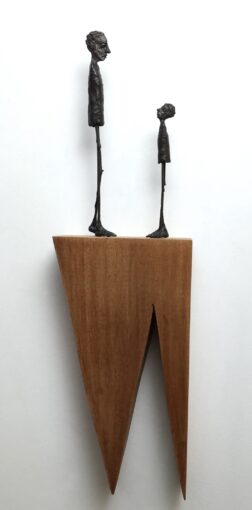 Listening by Holly Wilson, Delaware Nation and Cherokee Nation, unique cast bronze with patina, and African mahogany, 23″ x 7″x 2 1/4″ (2015).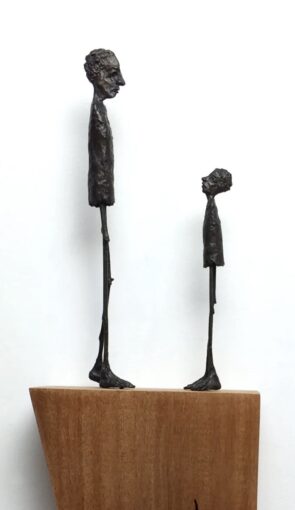 Listening by Holly Wilson (detail).
In an email, Holly Wilson explained that she uses what she refers to as "cigar figures" when "looking at family history."  In Listening, the figures represent a father and a son.  However, this work is part of a series that includes Bond: Mother and Daughter, Three Matriarchs, Brother and Sister, and The Four Matriarchs.
In Listening, a young boy is looking up at an adult male.  However, the viewer is left to wonder who is listening to whom.  Many may assume that the child is listening to a parent, but that might not be the case at all.  It might very well be the grown-up who is listening to the youngster.  One is left to ponder the many possibilities: A dad may be scolding or instructing his son; the lad may be relating something, good or bad, that happened to him.  One of the pleasures of Listening is that viewers are left to imagine exactly what event is taking place.  Each person will come up with an interpretation based on his or her own experiences.  One might imagine that the two figures represent a father and his son, a grandfather and his grandson, or an uncle and his nephew.
Paper Wings: Fearless by Holly Wilson, Delaware Nation and Cherokee Nation, unique cast bronze with patina, 21"x 23" x 13" (2018).
At some point in their life, most people have experienced feelings of uncertainty, depression, disappointment, helplessness, or confusion and didn't know what to do to resolve these emotional difficulties.   In the late 1980s and early 1990s, a saying, which was actually the title of a self-help book by Susan Jeffers, became popular: "Feel the fear . . . and do it anyway."  In essence, Paper Wings: Fearless visually encapsulates this idea.  For this reason, this sculpture resonates with a diverse audience. "Sometimes it is the unknown that we fear," Wilson stated, "so we do not step when it is the step into that unknown that we need to live and breathe. The figure prepares to fly away on her paper wings.  It is a leap of faith that her wings will hold.  In that moment she must be fearless to take the leap."
The artist explained what inspired this particular piece: "It started with looking at my children playing and making their other world; if they needed wings they would make them from paper and sticks tied together.  Their masks were transforming and all-consuming for them. They believed and they became the bird."
As with a number of her sculptures, the figure in Paper Wings: Fearless wears a mask.  About this aspect of her work, Wilson stated, "We use a mask as a facade to be the thing we sometimes can not be, to fill that spot, or give us courage."
Roar by Holly Wilson, Delaware Nation, and Cherokee Nation, unique cast bronze, patina, and locust wood, 18" x 10"x 8.5" (2021).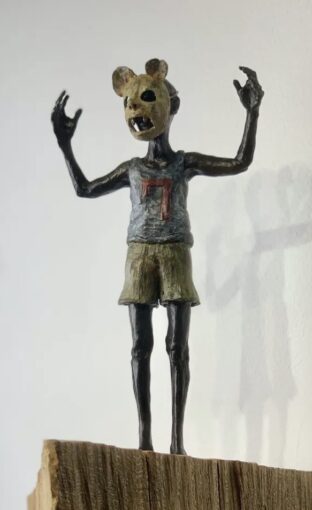 Roar by Holly Wilson (detail).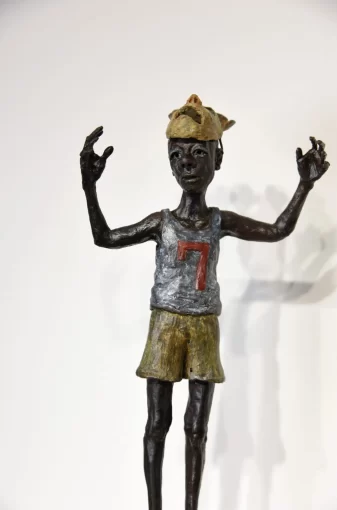 Roar by Holly Wilson (detail).
          I was immediately attracted to Roar, not only because it is visually striking, but because of its theme.   As anyone who knows me can attest, I am not a silent person despite my short stature.  So, the idea of this small figure having a strong voice is very appealing to me.  About this piece, Holly Wilson stated, "In Roar, you see the girl with her hands up, making herself big and wearing a growling mask of a bear to show she is large and fierce, but when you pull her mask up you see her sweet face and one then realizes she is putting on this fierce face to be heard, to be seen.  A mask is a way for one to assume an identity, to become something that, maybe, they do not have the strength or power to do without this shield of power."
I was particularly intrigued by the fact that the figure's shirt bears the number seven.  Wilson explained: "Her shirt has the number seven, which represents the seven directions of the Cherokee: north, south, east, west, above, below, and here.  I see the 'here' as the heart, the self that she is finding in herself."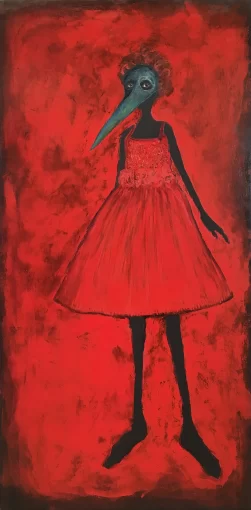 Girl in the Red Dress by Holly Wilson, Delaware Nation and Cherokee Nation, oils and cold wax on birch panel, 60" x 29.75" x 1 5/8" (2019).
 The artist's choice of red as the predominant color in Girl in the Red Dress is important.  Red signifies power.  It attracts a viewer's attention and holds it.  The red background creates the impression that the girl is standing on a fiery cloud.  Although the figure's dress, like the background, is red, she remains distinct, looking very much as if she stepped out of the piece into our three-dimensional world.
Although the use of red may initially captivate the viewer, another element in the work is also intriguing – the girl, like many of Wilson's figures, is masked.  In Girl in the Red Dress, the use of a mask was inspired by the fact that Wilson's daughter did not begin to speak until she was almost four years old; nonetheless, her family understood her.  Perhaps the child's silence was her mask, a shield against the world outside of her family.  "There was this unspoken language we had," Wilson stated, "that I cannot explain even today."
Masks are an important aspect of Holly Wilson's work.  This element is open to many interpretations, but according to the artist, "They are a mechanism to hide or obscure our true intentions, acting as a wall between us and the world, at times protecting us or others. They are also agents of transformation that allow one to become more than what they were, to become brave and powerful.  Girl in the Red Dress has many of these elements. It is that mystery of who one will become, the untold story of one's life waiting behind the mask."
          Many of Holly Wilson's pieces feature diminutive figures, often masked.  It is one of the most fascinating aspects of her art, which she uses as a tool to captivate the viewer.  However, what initially appears to be benign or charming, upon closer inspection, is a deep exploration of challenging issues.  Wilson's use of small sculptures may cause those unfamiliar with her art to think that it is about trivial matters.  It most decidedly is not.  It would also be a misconception to believe that her work is small.  That, too, is not the case.  In many of her pieces, Wilson "works large," either using small-scale sculptures as part of a massive work or creating oversized pieces.  In addition to sculpture, Wilson works in a variety of other media including paint, encaustic, clay, photography, and glass, as well as creating sterling silver jewelry.   As an artist, Holly Wilson is fearless.  Her voice is unique.  To view her work is to hear her roar.
All images are courtesy of the artist.
The author would like to thank Holly Wilson for her invaluable help with this article.