Brand
Dunlap, Carlos (1958 - 1981)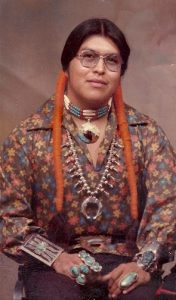 Carlos Dunlap was a son of Carmelita Dunlap.  He was a brother to Jeannie Dunlap, Cynthia Dunlap, Linda Dunlap, and Martha Appleaf Fender.   Carmelita was a daughter of Juanita Vigil, the youngest sister of Maria Martinez.  Carlos learned to make pottery from his mother. He created very large vessels in colorations that ranged from black to polychrome and a distinctive brown. However, it was his painting which remains so spectacular as it was very open and varied in style.
Dunlap, Carmelita (1925 - 2000)
Carmelita Dunlap was a daughter Juanita Vigil and raised by Desideria Sanchez, both sisters of Maria Martinez. She learned to make pottery from her aunts and began making her distinctive vessels in 1955. She was known not only for her complicated designs but the large size of her pottery. She is also the matriarch of a family of potters including children Martha Appleleaf, Carlos Dunlap, Cynthia Star Flower and grandson Erik Fender. Carmelita won numerous awards for her pottery at events such as Santa Fe Indian Market and Gallup Ceremonials. Her pottery can be found in museums across the country including the NMAI and the Denver Art Museum.