Brand
Folwell, Susan (b.1970)

Susan Folwell
Susan Folwell is one of the exciting innovators in Pueblo pottery. Her work is native clay and inspired by traditional designs, but she is constantly experimenting with techniques and clays. She is a daughter of Jody Folwell and sister of Polly Rose Folwell. She has won numerous awards at events such as the Santa Fe Indian Market and the Heard Indian Market. She has been featured in several books, including "NDN," "Free Spirit" and others. Susan has said; "My Earliest recollection I can think of is that my mother gave me a ball of clay.  I decided I wanted to make a snake. It was a long flat tube. She said if you want people to be interested in it, it has to have some character.  I said I thought it had enough character. She said no, so she bent the tube and made it into an "S" and she pinched the nose.  I cried for like an hour, as she pinched the nose and I thought it was now a worm, she swore it was still a snake.  In the end, I was thrilled because it sold for $2.  I was hooked after that."
Yazzie, Angie (b. 1965)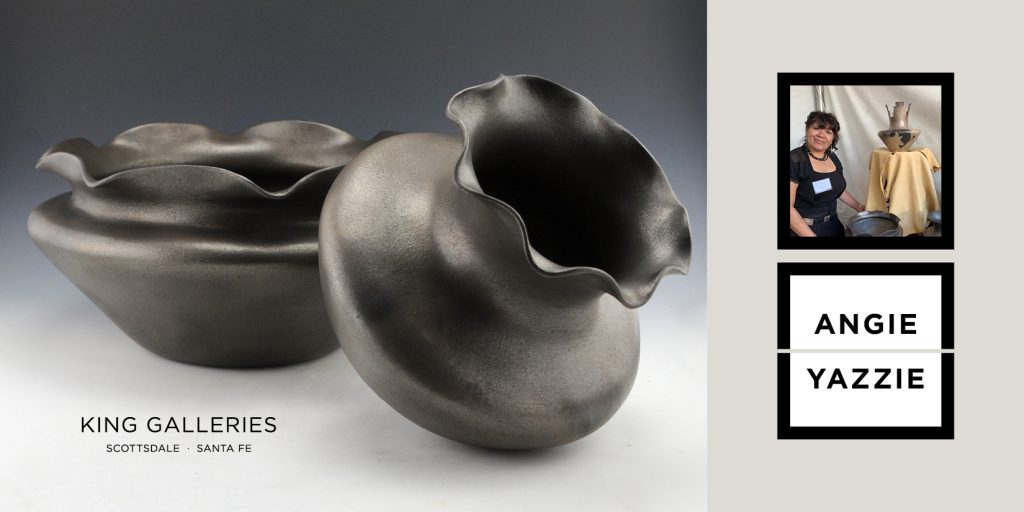 Angie Yazzie is the daughter of Mary Archuleta (Taos) and Nick Yazzie (Dine). Angie was raised at Taos Pueblo. She began making pottery when she was nine years old and learned from both her mother and her grandmother, Isabel Archuleta. She makes pottery from the Taos micaceous clay. Each piece is coil built and wood-fired. Angie has won numerous awards for her pottery, including "Best of Pottery" at Santa Fe Indian Market.