Brand
Lonewolf, Joseph (1932-2014)

Joseph Lonewolf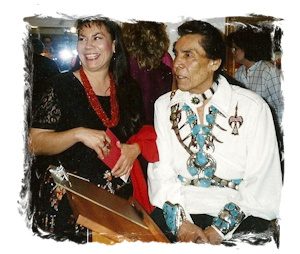 Joseph Lonewolf was a son of noted potters Camilio and Agapita Tafoya and the brother of Grace Medicine Flower. In the early 1970s, Joseph revolutionized the world of Santa Clara pottery by incorporating his sgraffito (lightly etching the surface of the clay) and incised (more deeply cut into the clay) designs in his work. When Joseph and his family gather clay, they do it with the utmost respect. Before the clay can be taken from Mother Earth, they must say a prayer, asking to take the clay and tell the clay mother that they will take her and make her into a beautiful pot. The clay is brought home, and water is added to turn the clay into a liquid form known as slip. The slip is then strained to take out any rocks or debris, and then the clay can be dried, kneaded, and used. Joseph was awarded numerous awards throughout his career, and his work can be found in museums worldwide. He has been featured in multiple books, including "The Art of Clay." He has received the prestigious New Mexico Governor's Award for Excellence in the Arts in 2009 and the SWAIA Lifetime Achievement Award.
Medicine Flower, Grace (b. 1938)
Grace Medicine Flower

Her name alone describes her work and her persona - Grace. Grace Medicine Flower (b.1938) is an elegant beauty among Santa Clara potters, who continues to be one of the most innovative and influential potters working today. Her intricately designed butterflies and hummingbirds remind the viewer of our delicate relationship with nature. Each piece reflects her connection to the earth, the Clay Lady, and the tradition and history of the Santa Clara Pueblo. As a child, Grace was surrounded by potters such as her mother Agapita, her father Camilio Tafoya, and her aunt, Margaret Tafoya. She began to work in clay, making traditionally styled pottery. In the late 1960s, Grace and her brother Joseph were among the first on Santa Clara to start using the sgraffito technique to carve their designs into the clay. Amazingly, Grace uses a knife or a specially sharpened nail to cut and create her masterpieces. Grace recounts how her first piece of sgraffito pottery sold for $11.00, much more than her other traditional pieces. Her early pieces were signed, "Grace Hoover," then signed with "Grace" and a four-petal flower. Today, she signs her work, "Grace Medicine Flower," with a flower beneath her name. All of her work is made in the traditional coil method and then fired outdoors. Grace Medicine Flower has had significant recognition for her innovation throughout her career. Jackie Kennedy-Onassis visited her; she was invited to the White House and had pieces in collections and museums worldwide. In the 1970s, Grace and Joseph were both honored with the New Mexico Medal of Honor to contribute to Santa Clara Pueblo. In addition to these honors, Grace has won significant awards at Gallup Ceremonials and other events. Grace's work moved from small round seed pots with incised animal designs to larger bowls, which combine deep carving with intricately engraved sections. Her "basket weave" bowls give the effect of an exposed basket lying just underneath the surface of the clay. To say that Grace Medicine Flower has changed the face of pueblo pottery would not be an understatement. To own one of her pieces is to own a part of history. While she produced less than 15 pieces a year, the demand among collectors for her pieces continued to rise with each new year and modern innovation.
[button text="Subscribe to New Additions for this artist" style="outline" size="small" animate="blurIn" radius="10" depth="2" expand="0" icon="icon-angle-right" link="https://kinggalleries.com/subscriptions/"]