Brand
Qoyawayma, Al (b. 1938)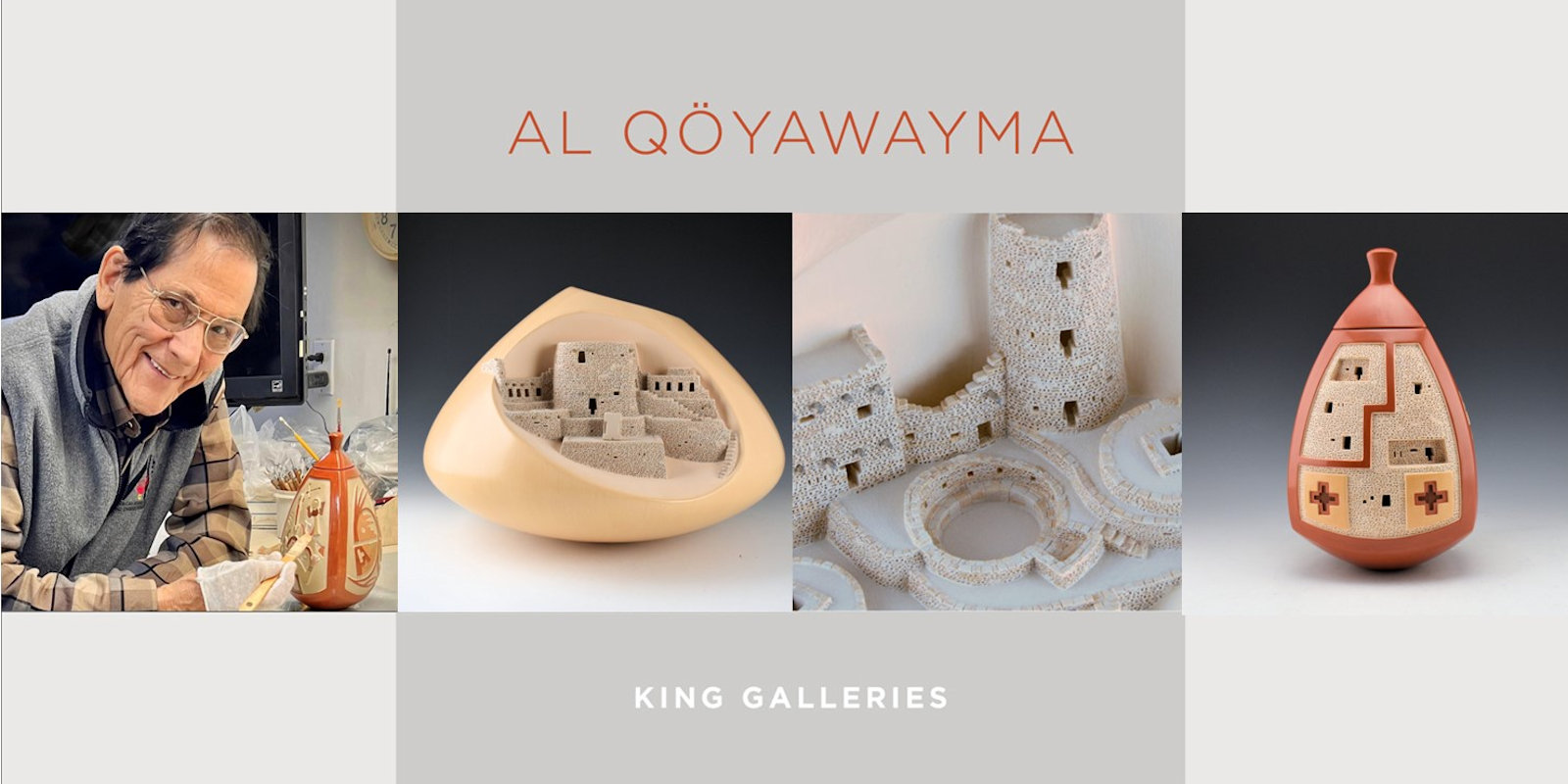 Al Qoyawayma
Al Qoyawayma has created two distinctive styles of Hopi pottery.  The first style embodies figurative sculpted reliefs using the repousse technique, combined with traditional coil construction and tactile stone polished surfaces.  The resulting contemporary Hopi pottery calls forth images of the Southwest with its subtle mix of desert hues, creating an interplay of light and shadow reminiscent of the Hopi land.  This land and the essence of his ancient relatives nurture and inspire the artist.
The second is polychrome and a "futuristic" version of Sikyatki pottery from the 1500s.  The pieces are carved and slipped with various clay colors.  The precision of the carving and the contrasting colors make this style visually dynamic.
Al writes of himself:
"I am of the second generation of Hopi beyond the broken pattern, a pattern, a way of life utterly foreign to the western world.  With the real influence of western civilization, I am the product of two worlds.  Out of our family clan, the Coyote Clan, it was said that we would be the generation to meet the new world and make a change that was our ancient role as the Coyote Clan….to be those who go before.  Therefore, it is only natural that one of our necessary survival skills, as exhibited by our ancestors, should be adapted to today's art world.  Through the gentle hand and guidance of a beautiful teacher, my aunt Polingaysi, I learned the basic techniques and philosophy I now use in my pottery creations.
My clay creations reflect the southwest environment's aesthetic influences and values passed down through our family.  Form, textures, contrasts, shadow, and the softness of desert color hues are foremost in my work.  Oral history and research provide me with emerging themes; identifying who we are is a profound pursuit.  At the same time, my repoussé technique offers a "contemporary" style of ceramics.  A particular tradition does not restrict me; I'm free to innovate.  I find myself trying to "reach" in my creative pursuit as I strive to bring into focus human and spiritual things beyond my reach.  Creativity will always be my challenge."
Al Qoyawayma won "Best of Pottery" at the 2016 Santa Fe Indian Market and "Best of Pottery" at the 2017 Heard Indian Market.