Most often inspired by an idea, Shan Goshorn worked in a variety of media, but her social commentary baskets became her signature work.  Much sought after by collectors, these striking and thought provoking creations employ a diverse range of Cherokee basket forms and weaving patterns.  However, rather than using traditional white or river cane splints, Shan used reproductions of manuscripts, documents, and photographs relating to a wide range of Native American social, historical, and legal issues.  Her use of archival paper suggests a loss of territory and of traditional materials and gathering places.
I first met Shan in March 2013 at the Heard Indian Market.  Andrea Hanley, currently a curator and Membership and Programs Manager at the IAIA Museum of Contemporary Native Arts in Santa Fe, had sent me images of Shan's work but, to be honest, I didn't know what to make of it.  I had never seen anything like it before.  I determined that the first booth I would go to at the Heard Market would be Shan's so that I could see what her work was all about.  It was love at first sight.  Not only was I enthralled with the work, but I fell under Shan's spell, which was considerable.  Not only was she intelligent and witty, Shan was personable.  Everyone who met her was immediately taken with her charm.  She was able to draw people in so that she could tell them about her work, which was often controversial.  It was amazing to watch.  Beaming her wide, infectious smile, she would discuss her pieces and the issues they addressed.  That day, I bought Toxic Web, the first of four baskets by Shan that I was to acquire.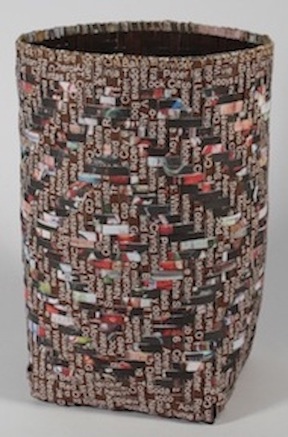 Toxic Web by Shan Goshorn, Arches watercolor splints printed with archival inks, acrylic paint, Eastern Band Cherokee, 6" x 6" x 8.5" (2013).  Collection of E. J. Guarino.  Photo courtesy of Shan Goshorn.
Done in a Cherokee pattern known as "Spider's Web," the brown background splints of Toxic Web are printed with stereotypical names for Indians used to promote commercial products (including mascots), while the splints that create the multi-colored, nested diamonds are printed with bottles of alcohol.  Shan wrote the following about the piece: "The dehumanizing effect of thinking about Indian people first as cartoon characters rather than human beings contributes to the kaleidoscope of poor self-esteem issues that plague reservations, often contributing to substance abuse."
The following year, I was among the first people at Shan's Heard Market booth.  It was raining, but Shan was prepared.  She had plastic containers for each of her pieces.  Collector's and fellow artists alike admired Shan's professionalism.  In a recent Email, artist Bobby C. Martin  remarked, ". . . besides being a beautiful person, Shan was the most organized and professional artist I've ever known . . . ."   After discussing a number of baskets with Shan, I decided upon Unrestrainable.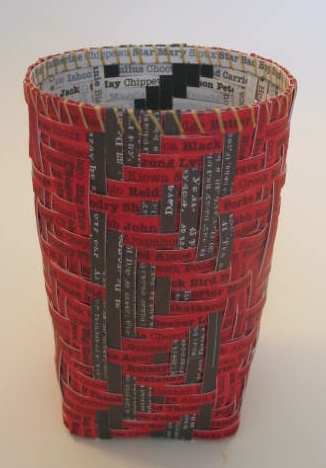 Unrestrainable by Shan Goshorn, Eastern Band Cherokee, Arches watercolor paper splints painted with archival inks, acrylic paint, 4.25" x 4" x 6" (2014).  Collection of E. J. Guarino.  Photo courtesy of Shan Goshorn.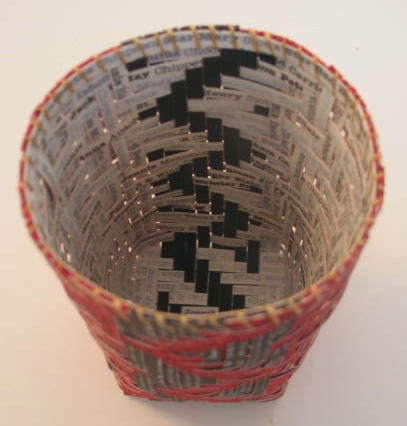 Interior of Unrestrainable by Shan Goshorn. Photo courtesy of Shan Goshorn.
Woven in the traditional Cherokee pattern called "Lightning," this miniature singe-weave basket makes a powerful statement.  The red splints are printed with the names of students who attended the Carlisle Indian Boarding School and were chosen from the ten to twelve thousand students who were enrolled there.  The black splints contain words from the New Testament written in the Cherokee syllabary.  This combination expresses a profound idea.  Shan wrote the following about this piece: "The title and pattern choices compare the power of lightning to the unstoppable force these double conversion attempts had on native culture.  But it is also a tribute that despite the attempted genocides, Indian people were not conquerable."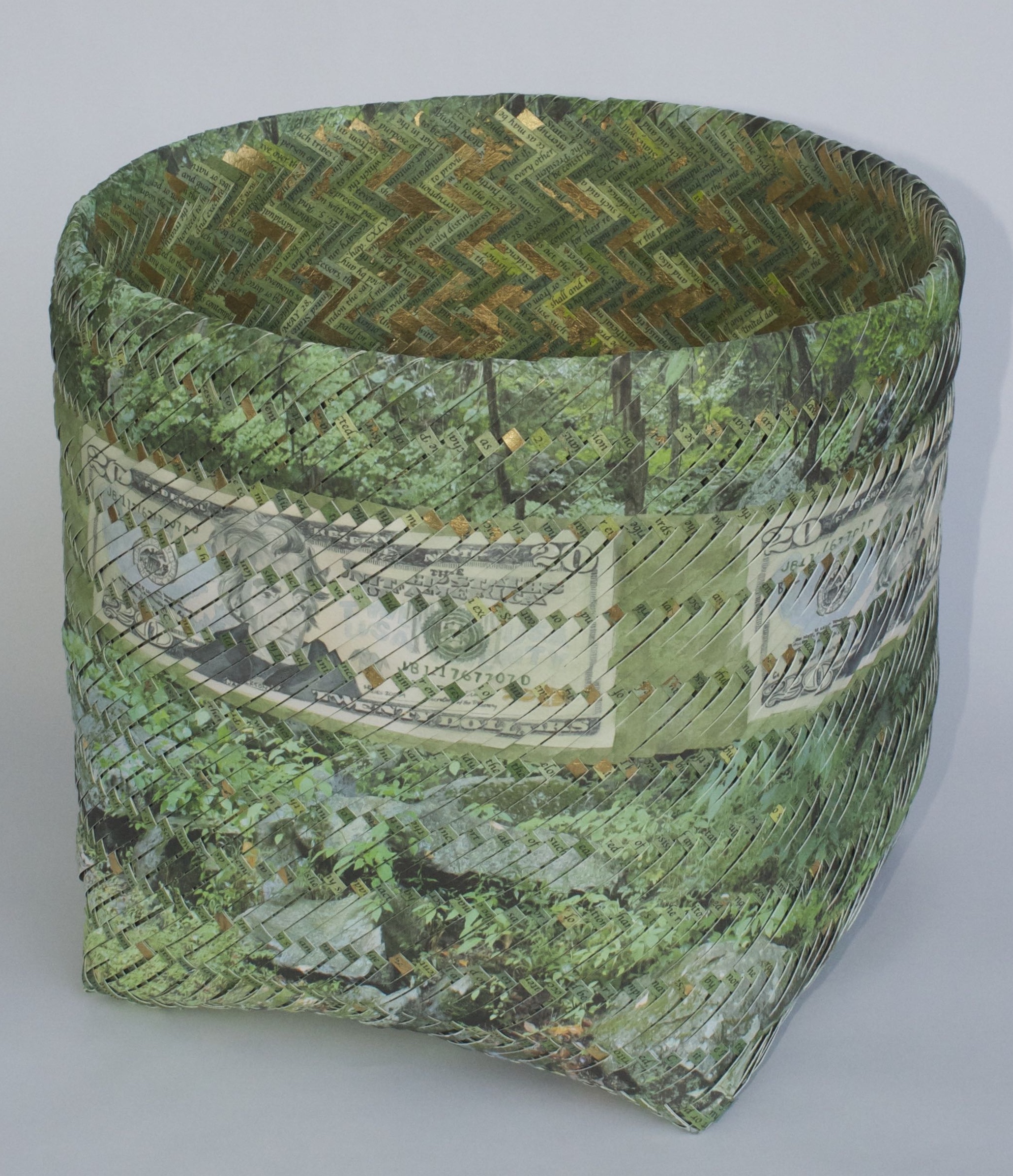 Color of Conflicting Values by Shan Goshorn, Eastern Band Cherokee, Arches watercolor paper printed with archival inks, acrylic paint, gold foil, app. 14" x 14" x 13" (2013).  Collection of E. J. Guarino.  Photo Courtesy of Shan Goshorn.
In 2015, I decided that I wanted one of Shan's large, pieces for my collection and I contacted her about this prior to the 2015 Santa Fe Indian Market.  Shan Emailed me images of pieces she thought I might like and I narrowed my choices down to a few, which she brought to the market so I could get a better look at them.  No matter how long I stared at them, there was one basket I just could not get out of my mind: Color of Conflicting Values.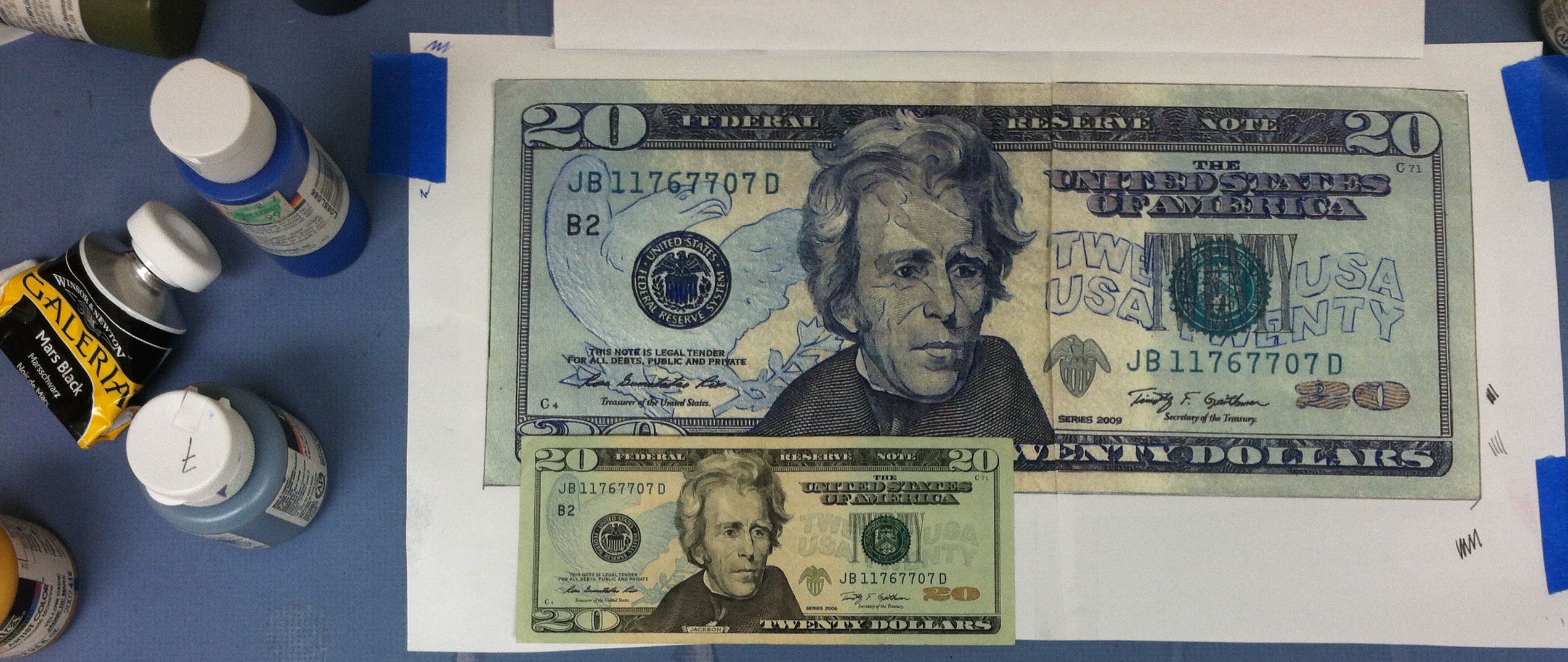 Shan's painting of a twenty dollar bill and an actual twenty dollar bill.  Photo Courtesy of Shan Goshorn.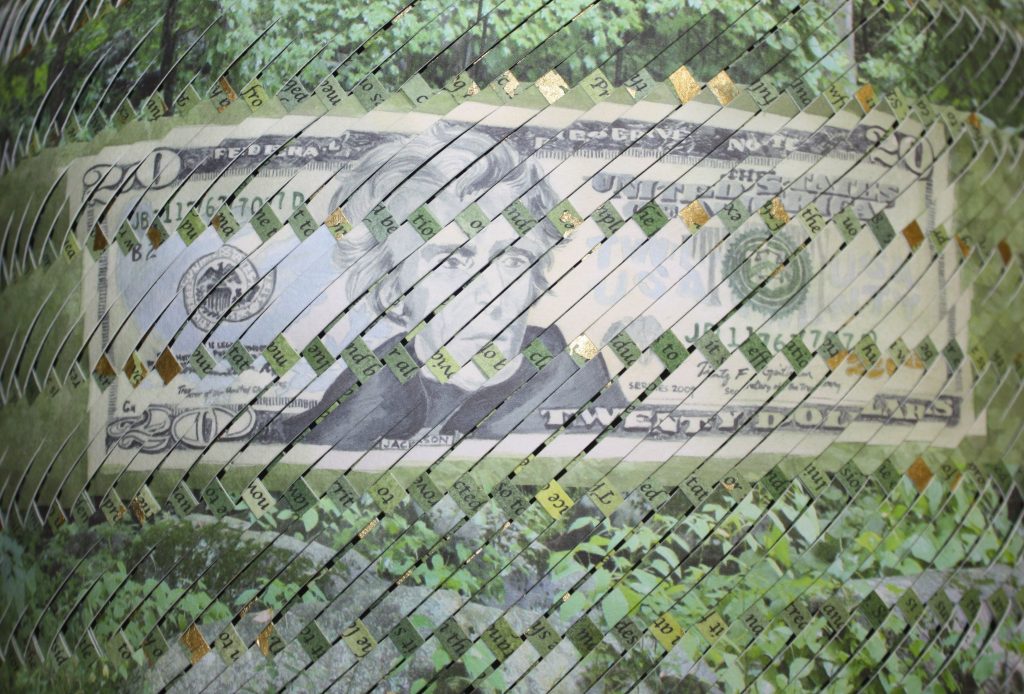 The image of the twenty dollar bill as it appears on Color of Conflicting Values.  Photo courtesy of Shan Goshorn.
The exterior Color of Conflicting Values combines imagery of the forested Cherokee homeland and the U.S. twenty dollar bill.  In an Email correspondence Shan wrote, "While working on this piece, I learned that digital scanners are not able to copy US currency so- in order to meet my deadline- I had to race home from the printers and paint my own version of a $20 bill to use in this piece."   When it came to Andrew Jackson's image being on the twenty dollar bill, it was typical of Shan that she didn't mince words.   "America thinks Jackson was a great leader and celebrates his accomplishments by placing him on our national currency.  The Cherokee consider him to be a traitor of the worst kind," she wrote.  She later went on to write,  "Jackson demonstrated a particularly tyrannical approach to removing Indians from their homeland for personal profit, displacing most of the SE tribes to lands west of the Mississippi so settlers could claim the land. It is galling that his portrait should be on the $20 dollar bill but perhaps this usage best sums up what was valuable to this man."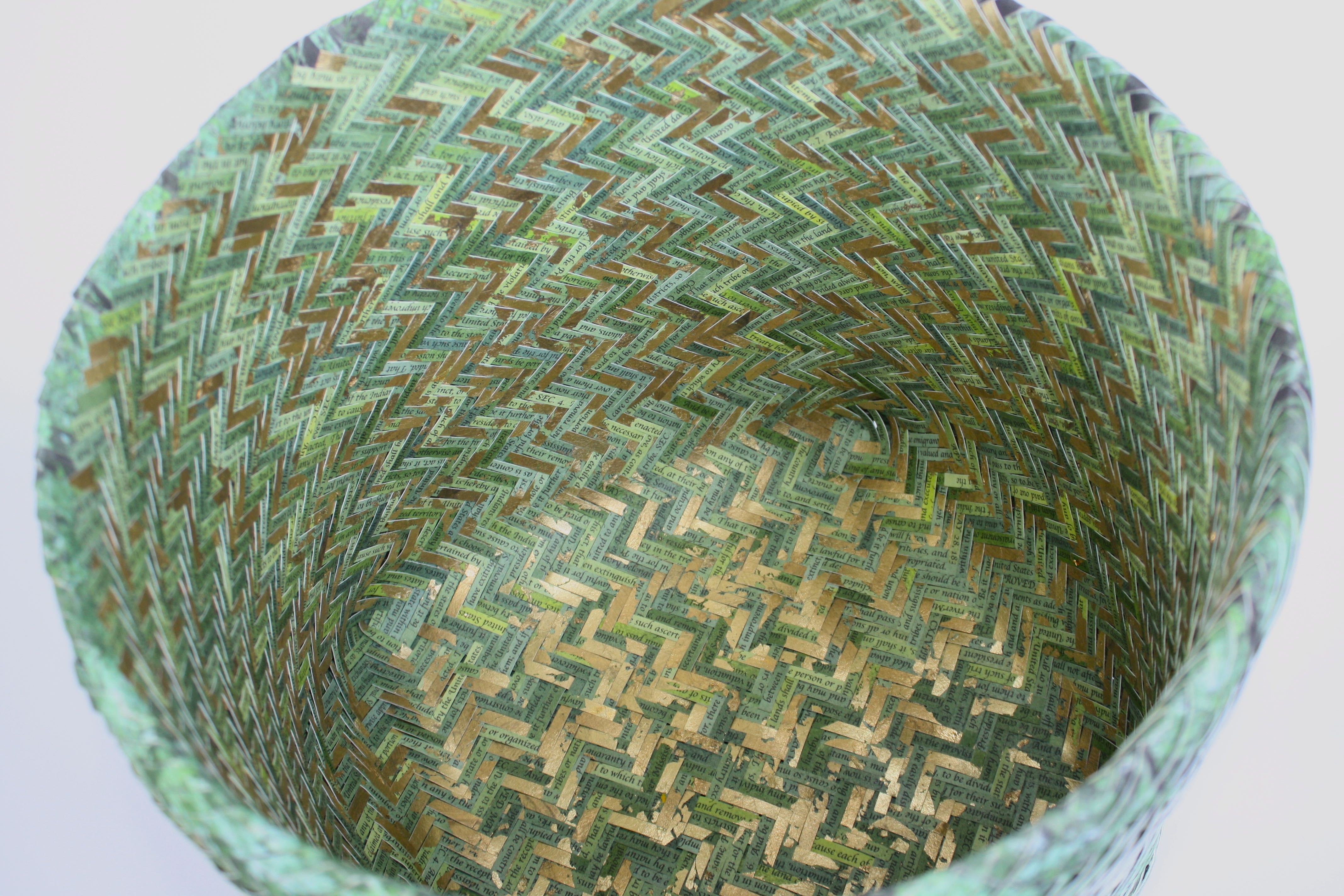 Interior of Color of Conflicting Values by Shan Goshorn.  Collection of E. J. Guarino.  Photo courtesy of Shan Goshorn.
The interior of Color of Conflicting Values is woven from reproductions of the Indian Removal Act of 1830, the applied gold foil suggesting how the discovery of gold accelerated the process of Cherokee removal.  Shan wrote that she chose to use the text of the Indian Removal Act of 1830 because ". . .  this legislature became law under Jackson's leadership and Jackson chose to interpret it to mean that he had final authority to force the removal of Indians when he actually only had the right to negotiate land exchange."  Ultimately, the basket is a comment on a conflict of values in America: Native people place great importance on their connection to their ancestral homeland, while the larger society idolizes material wealth, or as Shan wrote "the almighty dollar."
For quite some time, Shan and I discussed the possibility of my writing an article about her work, but I did not want to begin until I felt I could present something new.  I told her that I needed to come up with "an angle," something that had not been done before with regard to her work.  So, a survey was out.  A great deal had been written about Shan's decidedly modernist baskets, but little, if anything, had documented her artistic process so that viewers could understand how these marvelous works of art came to be.   After acquiring Color of Conflicting Values, which I consider one of Shan's major works, I asked her if she would be willing for me to write an article about how this piece had been created.  By extension, it would give readers an insight into the process by which she created all of her work.  Shan liked the idea and I began writing what became "Woven Wonder: The Creation of Shan Goshen's Color of Conflicting Values" (see August 2016).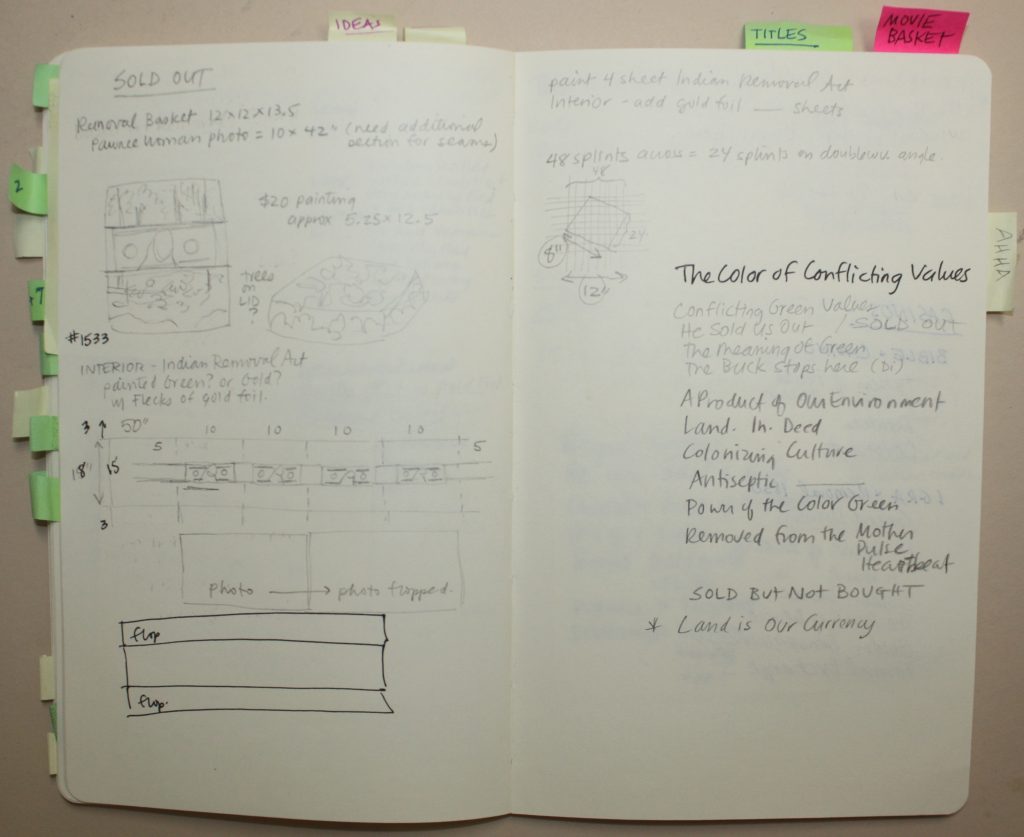 Shan's notebook with notes on Color of Conflicting Values.  Photo courtesy of Shan Goshorn.
Shan was extremely generous, sharing with me sketches, images of Color of Conflicting Values at various stages of its creation, pages from her notebook, and patiently answering my many questions.   About her use of notebooks she wrote, "Mostly I use these notebooks to help me remember my idea. I started keeping more earnest notes once I received my Smithsonian Research Fellowship because I was so bombarded with ideas I didn't want to forget any of them."  Later Shan added, "I have since expanded my use of small notebooks to keep track of my ideas on sheets of archival sketchbook paper, which I am filing in separate folders pertaining to each basket."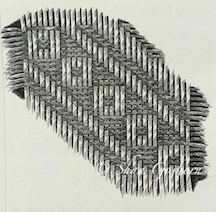 Five original pen and ink sketches by Shan Goshorn of traditional Cherokee basket patterns.  Images courtesy of Shan Goshorn.
It was through our Email correspondence that I learned what set Shan on the path to creating her iconic baskets.  Generally, the techniques for creating a basket are passed on from generation to generation through observation and guidance, usually from a family member.  "After graduating from college," Shan wrote, "I was commissioned by the Department of the Interior/Indian Arts and Crafts Board to illustrate in pen and ink 20 traditional Cherokee basket patterns.  These drawings taught me the math and rhythm of basket weaving and convinced me that I could probably make a basket, but I never had a desire to try until 2008."  That, however, was not enough.  "I taught myself by carefully examining a finished basket," Shan added.  The basket Shan created was well received, which encouraged her to continue in this direction.  Shan had found a way to present subjects, which were often controversial, without being confrontational.
The last time I saw Shan was at the 2016 Santa Fe Indian Market.  I had been in touch with Shan and told her that I wanted to acquire works with images of Native people.  She suggested one of the baskets from her Memorial Song Series and sent photos of baskets for my consideration.  After much thought, I chose Sleeping Bear, Sioux.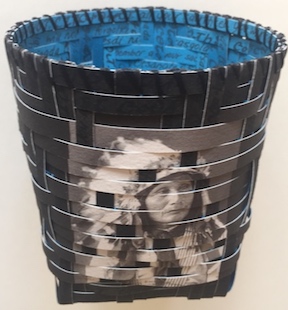 Memorial Song Series, Sleeping Bear, Sioux by Shan Goshorn, Eastern Band Cherokee, Arches watercolor paper splints printed with archival inks, acrylic paint, app. 4" x 4" x 4.5" (2015).  Collection of E. J. Guarino.  Photo courtesy of Shan Goshorn.
            Sleeping Bear, Sioux memorializes Lower Brulé Sioux leader Sleeping Bear in a work that employs a traditional Eastern Band Cherokee single-weave pattern known as "Chief's Heart."  The piece incorporates a photographic portrait of Sleeping Bear by Frank Rhinehart taken during the 1898 Indian Congress in Omaha, Nebraska.  Shan used a printed photo and wove the words of a memorial song into the interior: "We remember your sacrifices.  You will not be forgotten." The Indian Congress attracted over 500 members from thirty-five different tribes.  "Viewing these photos," Shan wrote, "led me to wonder about the course and adaptability of these Indian men and women who were curious enough about their quickly changing world to travel to the event.  These portraits are unique in that they are a non-exotifying collection, simply recording the participants as they were without the glamor of special backgrounds or added props."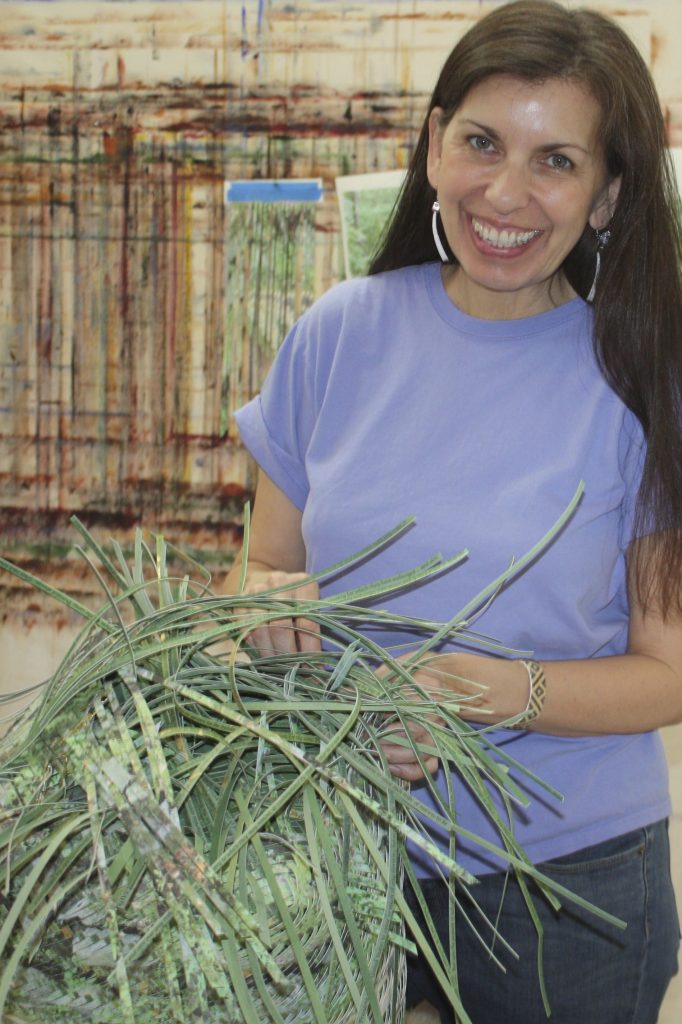 Shan weaving Color of Conflicting Values.  Photo courtesy of Shan Goshorn.
            At first glance, Shan's baskets appear to be benign, even traditional.  What draws viewers in is a form that they perceive as familiar and artistically accessible.  It is only on closer inspection that they realize that the artist has taken a classic form and used it in a decidedly contemporary way.  Where once baskets were used to store and carry various items – particularly food – Shan's creations hold and convey ideas – food for thought.  To mainstream audiences it may seem strange that the artist chose baskets as a medium to explore profound social, political, and historical themes, some of which are quite controversial, but by doing so, Shan found a way to capture an audience's attention in a non-threatening manner, allowing for a discussion of difficult and often painful subjects.  The fact that Shan used traditional basket making techniques with contemporary materials suggests that topics examined in her art are part of the Native consciousness and are also inexorably woven into the fabric of American society.
Shan was not only a success as an artist but, more importantly, she was a success as a person and she had a profound effect on everyone who met her.  For those of us who were privileged to call her friend, her loss is particularly painful.  As with Sleeping Bear, we sing a memorial song for her:  We remember your sacrifices.  You will not be forgotten.