Rising to a height of 11,240 feet above sea level, with a base spanning ninety-two miles, Mount Hood is one of the West Coast's most spectacular natural wonders.  It is the highest mountain in Oregon and the fourth highest in the Cascade Volcanic Arch, a range of mountains stretching from Mount Garibaldi in British Columbia to Mount Lassen in California.  Although its most recent eruption was in 1907, scientists still consider Mount Hood an active volcano since it produces frequent earthquakes deep within the mountain and vents, known as fumaroles, near the summit emit sulfurous steam.  In addition to bearing eleven named and active glaciers, Mount Hood is the source of five rivers: the Salmon, Hood, Zigzag, Sandy, and White.  Today, Mount Hood is the centerpiece of Mount Hood National Forest.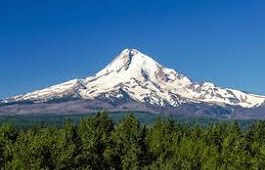 Mount Hood, Oregon
Although Mount Hood National Forest is a major tourist destination, drawing over 4,000,000 visitors annually, for thousands of years it was home to  the Multnomah, Molalas, Kalapuyans, Chinookan, Clackamas Shinookan, Wascos, Klickitat, Kittitas, Yakama, Wanapum, Palus, Lower Snake, Walla Walla, Umatilla, Tenino, and Northern Paiute peoples, many of whom called the mountain Wy'east and regarded it as sacred.  These tribes hunted and fished throughout the area; gathered berries, roots, and edible plants; harvested various grasses for use in basket weaving; and traded with each other.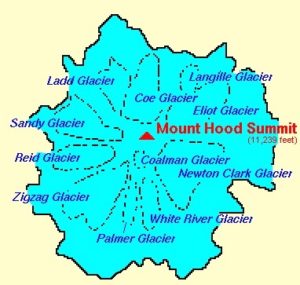 The Eleven Glaciers of Mount Hood
Mount Hood and other mountains in the Cascade Range figure prominently in the traditional stories of many Pacific Northwest tribes.  For the Native peoples of the Pacific Northwest, the mountains of the Cascade Range possessed a malevolent power, which was not to be disturbed.  In their stories these massive volcanoes are fickle and vindictive deities who appear more human than godlike with their romantic entanglements, petty jealousies, conflicts with each other.  In this respect they are not unlike the gods of the Greeks and Romans.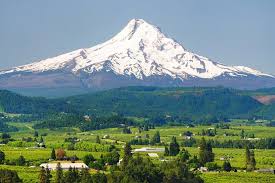 Mount Hood, Oregon
According to oral literature, there was a time when Native people were able to cross what is today called the Columbia River by means of Tamanawas, or the Bridge of the Gods, a natural stone bridge created by a tremendous landslide.  Rather than live peaceably together, the various groups engaged in petty feuds, which upset the Creator who decided to punish the tribes by extinguishing all fires except for one.  That sole source was tended by Loowit, an old woman who, though ugly, was generous and shared her flame with anyone in need.  Such kindness pleased the Creator who bestowed on Loowit everlasting life, a gift the old woman viewed more as a curse than a blessing since it meant that she would forever be old and homely.  Since the Creator could not undo what had been done, Loowit was also given eternal youth and beauty as compensation.  This gift, too, was not without its complications.  In short time, news of Loowit's newfound beauty spread near and far, attracting the notice of the Creator's two sons Pahto and Wy'East who had also been given eternal life.  Wy'East journeyed from the land of the Multnomahs in the south to see Loowit as his brother traveled from the territory of the Klickitat in the north.  Both brothers arrived at the Bridge of the Gods at the same moment and presented themselves as suitors to Loowit, but she could not decide between them.  Filled with jealousy and rage as well as trying to impress Loowit, the brothers began to fight, throwing fiery boulders, burning villages and setting entire forests ablaze.  This greatly displeased the Creator who, in his anger, destroyed the Bridge of the Gods, thus creating the Cascades Rapids.  Next, Wy'East, Pahto, and Loowit were chastised by being turned into mountains.  Wy'east became what is today known as Oregon's Mount Hood while Pahto is Mount Adams and Loowit Mount St. Helens, both of which are in Washington State.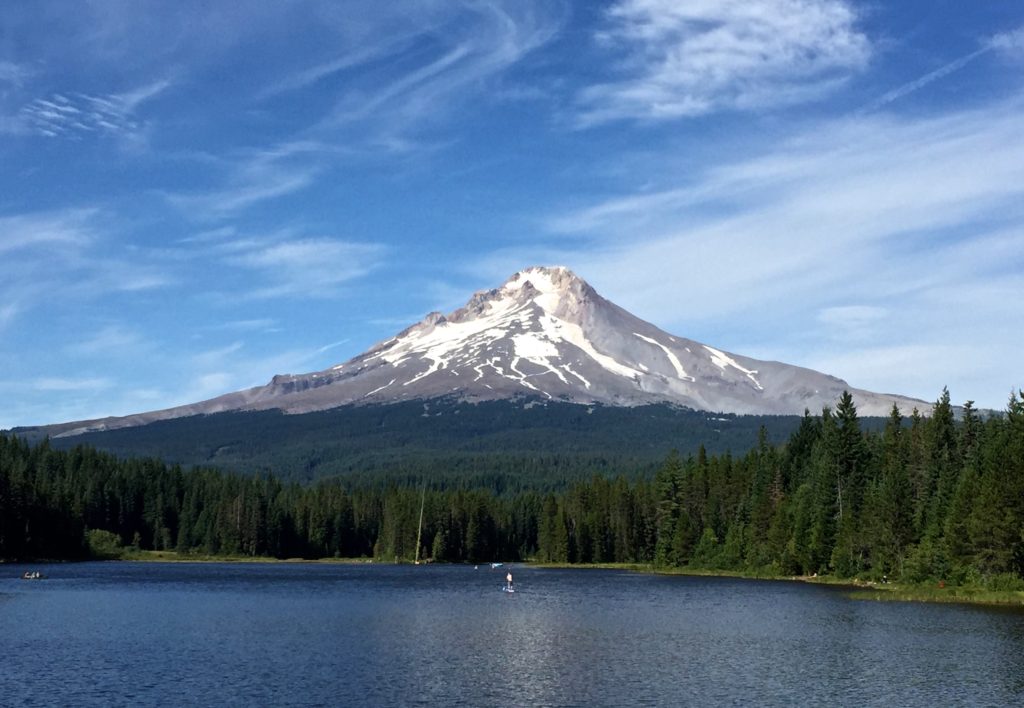 Mount Hood from Trillium Lake
(Photo courtesy of Jeff VanDyke.)
The first white men to see Mount Hood were members of Captain George Vancouver's exploration expedition to the Pacific Northwest.  In October 1792, Lt. William Broughton was ordered to explore the lower stretches of the Columbia River, an area between present-day Oregon and Washington.  Traveling in several small boats, Broughton and his party navigated upstream as far as the Columbia River Gorge, reaching northwest of Mount Hood near the mouth of the Willamette River.  On October 29 Broughton named the peak after Alexander Samuel Hood, a British admiral who, in his lifetime, never laid eyes on the mountain named after him.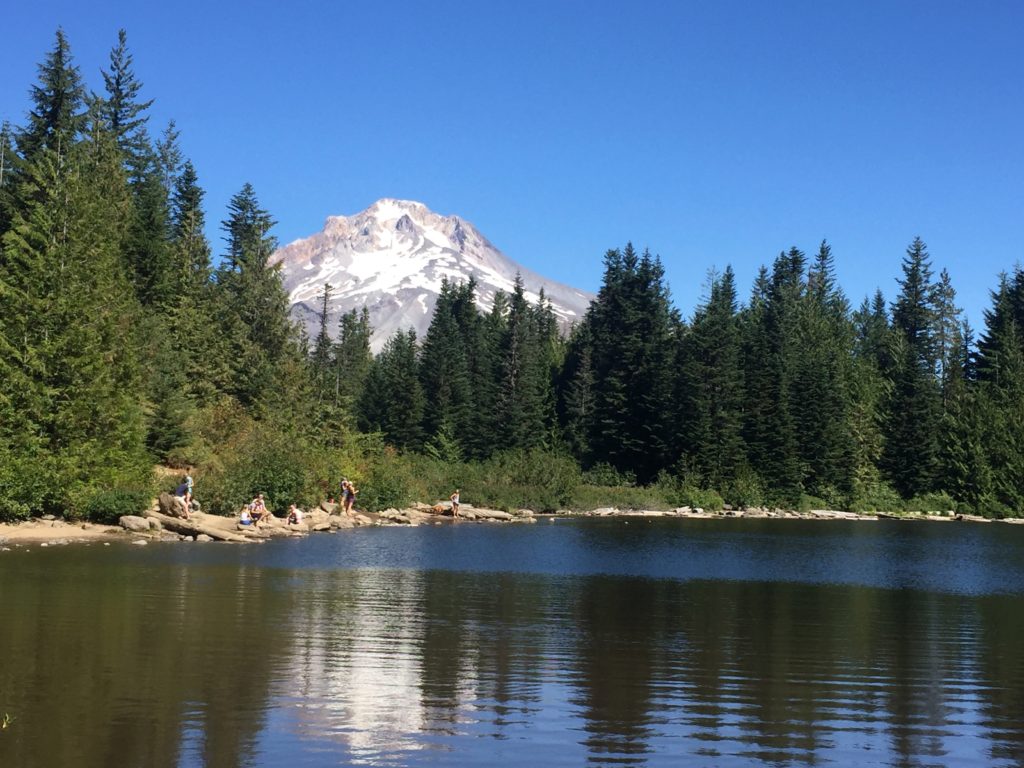 Mount Hood from Mirror Lake
(Photo courtesy of Jeff VanDyke.)
On October 18, 1805, Meriwether Lewis and William Clark became the first Americans to see Mount Hood.  A few days later at what is today The Dalles Clark wrote, "The pinnacle of the round topped mountain, which we saw a short distance below the banks of the river, is . . . at this time topped with snow. We called this the Falls Mountain, or Timm Mountain."  Timm was the Native name for Celilo Falls, the first in a series of cascades and rapids known collectively as The Narrows or The Dalles, stretching for about 12 miles downstream on the Columbia River.  Lewis and Clark later learned that the mountain had already been named and the pinnacle has remained Mount Hood.
For those wishing to visit Mount Hood National Forest, there are many opportunities for lodging.  The Timberline Lodge, built in 1937, is the most famous hotel in the area.   One of the lodge's most popular and thrilling summer activities is a ride on the Magic Mile Sky Ride,  a chair life which takes visitors to an elevation of 7000 feet above sea level and affords spectacular panoramic views of Mount Hood, the Palmer Snowfield, Mount Jefferson as well as nearby valleys and the Cascade Mountain Range.
The closest community to the mountain is Government Camp, which offers hotels, restaurants, and other amenities.  Known to locals as Govy, the town got its name when an army regiment was forced to abandoned forty-five wagons filled with supplies in 1849 because of heavy snow.  For years, the area was referred to as government camp on Still Creek.  Eventually, the name stuck, the two-words were capitalized, and a town was established.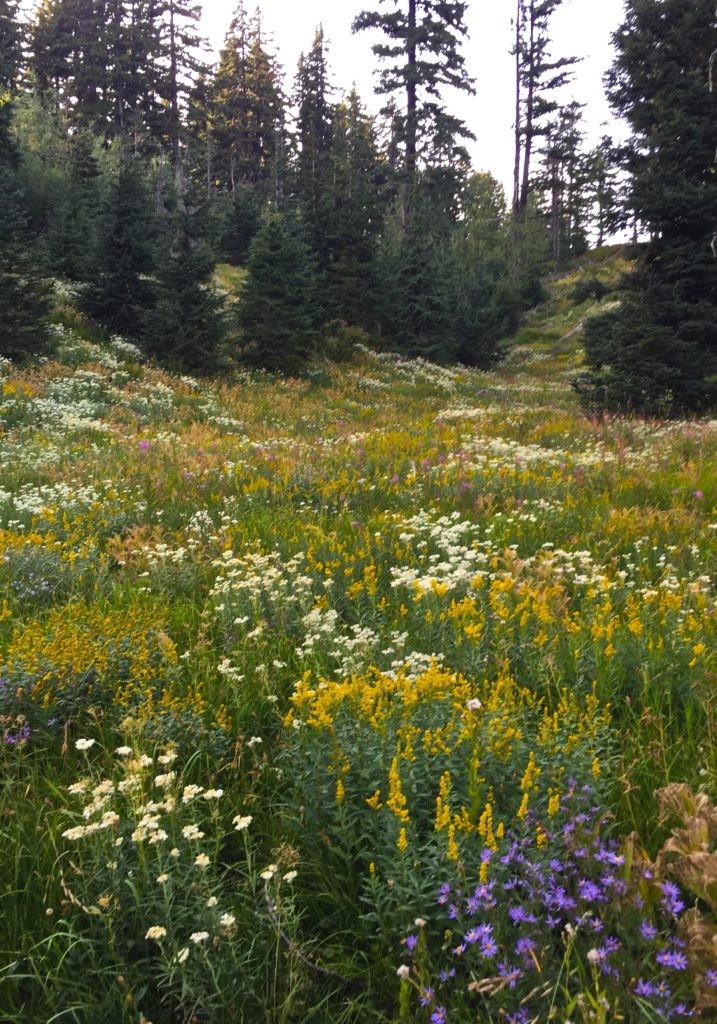 Wildflowers, Hood River Meadows
(Photo courtesy of Jeff VanDyke.)
In addition to the mountain, Mount Hood National Forest offers many opportunities to experience Nature in an area sacred to Native Americans.  Myriad paths lead through old-growth forests to rivers, lakes, waterfalls, and meadows.  Trails range in length from a mile or less to many miles, affording endless possibilities both for experienced and as well as beginner level hikers.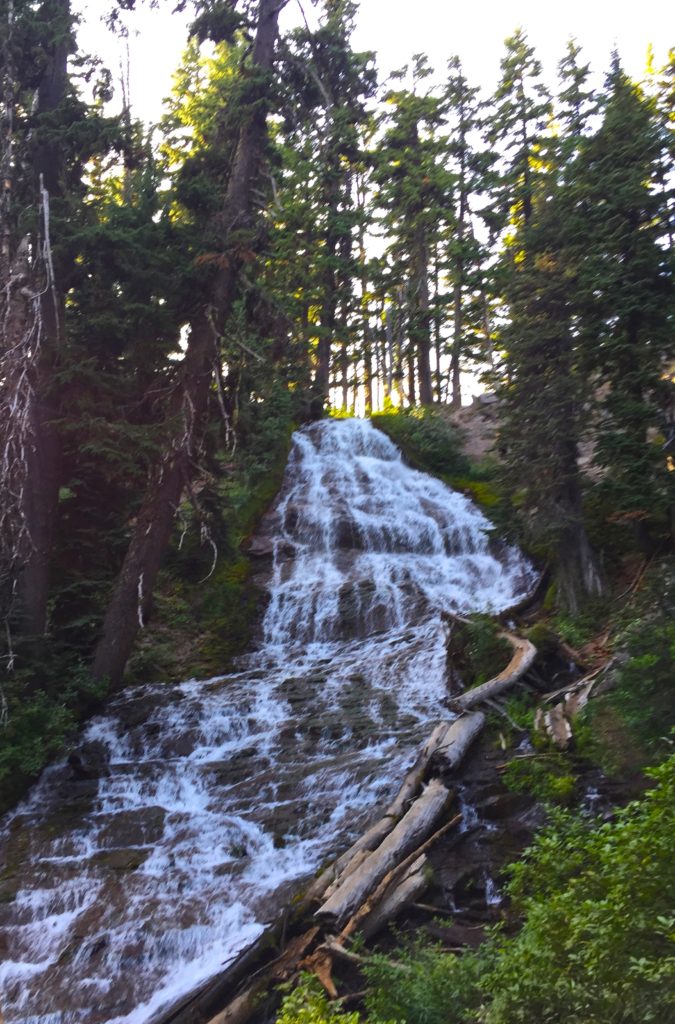 Umbrella Falls
(Photo courtesy of Jeff VanDyke.)
Umbrella Falls, one of the areas most beautiful hikes is located on the southeast side of Mount Hood close to the Mt. Hood Meadows Ski Resort.  From Mt. Hood Meadows Road it is an easy 0.25 mile walk to the falls, passing   nearby Mitchell Creek which meanders through meadows that are filled with Indian paintbrush, cat's ears, lupine, avalanche lilies, and other wildflowers during the months of July and August.  Those wishing a longer hike can continue on to Sahale Falls.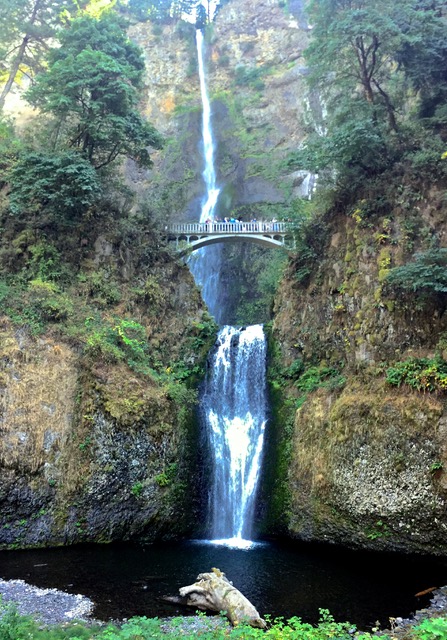 Multnomah Falls, Columbia River Gorge
(Photo courtesy of Jeff VanDyke)
           A picturesque way to reach Mount Hood is via the Columbia River Highway.  Approximately seventy-five miles in distance and the longer of the two routes to the mountain, it is well worth the time since along its length there are  a number magnificent waterfalls that can be easily seen from viewpoints parking areas.  Among the most beautiful falls on this trip are Latourell, Wahkeena, Horsetail, and Multnomah, the highest and most famous falls in Oregon,                          Although Mount Hood can be visited as a day trip from Portland, which is a little over fifty miles away, the mountain and the surrounding forest lands are best appreciated on a longer stay.   Once seen, it is hard to take one's eyes away from Mount Hood and the area's beauty beckons visitors to tarry.