Like so many others before me, I had no intention of becoming a collector when I first started acquiring works of art more than thirty years ago.  I was simply buying whatever I found beautiful to decorate my home.  In those days, the focus was on pottery, in particular pieces from Acoma Pueblo.  It took Betty Johnston, my first mentor, to get me to see beyond one pueblo and consider the work of other ceramic artists.  Over the years, my interests came to encompass basketry, beadwork, featherwork, Mata Ortiz pottery, Huichol art, Native American works on paper as well as Inuit sculpture and works on paper.  Despite my diverse interests, I continue to be obsessed with pottery created by Native American ceramic artists.  My collection began with pottery and I still consider it the heart of the collection.  These days I more actively collect works on paper by Native American and Inuit artists because of space limitations, but it is still hard for me to pass up an exquisite piece of ceramic art created by a Native American artist.
As a collector, my tastes are extremely eclectic, veering between the classically traditional and the wildly eccentric; I'm especially excited when the two are fused, creating something completely new.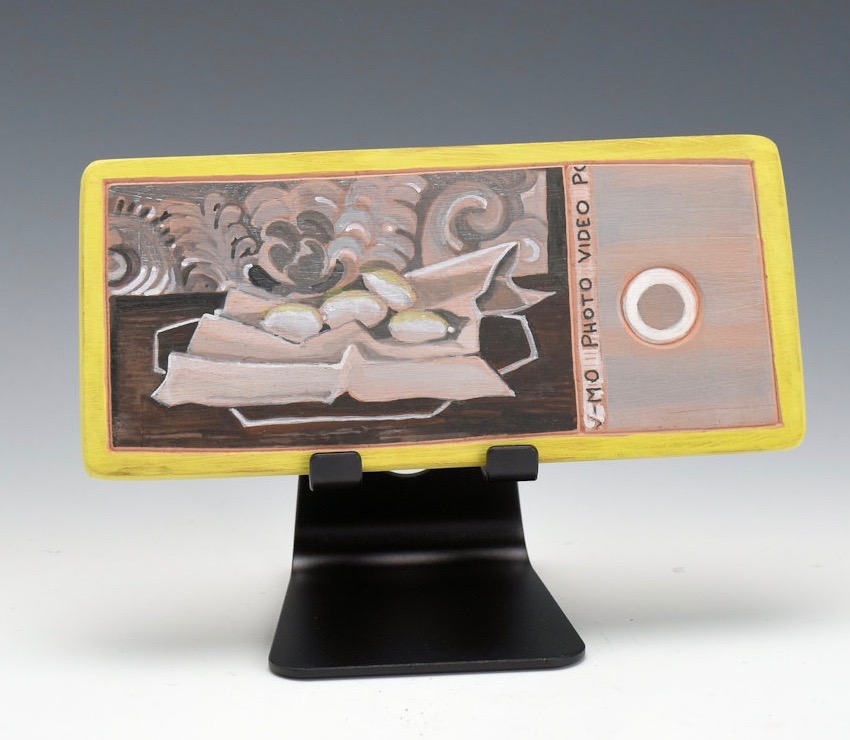 If Life Gives You Lemons (after Victor Higgins) by Susan Folwell, Santa Clara Pueblo, 6.75″ x 3" (2020).  Collection of E. J. Guarino.  Photo courtesy of King Galleries.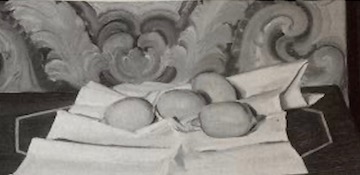 Still Life, Lemons by Victor Higgins, oil on canvas, 13" x 24" (circa 1920s). 
The work of Susan Folwell has a special place in my heart and in my collection. I've been avidly following her evolution as an artist for many years.  Without fail, she never ceases to surprise and amaze me.  One aspect of her work that I very much enjoy is her sense of humor, which she often uses to to point out human foibles or to comment on social or political issues.  At other times, as with If Life Gives You Lemons, her work is sheer fun.
If Life Gives You Lemons is part of Susan Folwell's Taos Light: Monochrome series.  As part of this grouping, the artist created a number of works that are, in essence, ceramic cell phones.  "Each clay tile is carved as a 'cell phone,' and then painted," Folwelll stated. "My Taos Light: Monochrome series is inspired by black-and-white photography of early Taos artists' work found in a book."  These works include painting, but also relief carving to create the "phone."
Susan Folwell began her Taos Light: Monochrome series in 2017.  The ceramic pieces in it were inspired by works created by the Taos Society of Artists between 1917 and 1927.  If Life Gives You Lemons references Still Life, Lemons by Victor Higgins.  Although the image it is based upon is monochromatic, Folwell adds color by painting the cell phone "case" yellow, a sly allusion to lemons.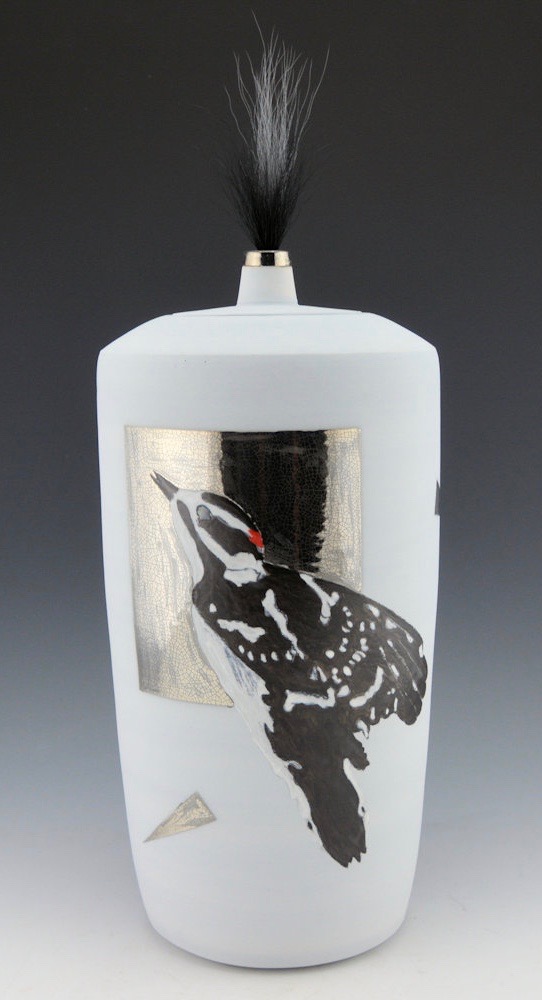 Woodpecker by Jason Wesaw, Potawatomi, lidded jar, 5.75″w x 12"h, ceramic, glazes, underglazes, silver luster, dyed deer tail (2020).  Collection of E. J. Guarino.  Photo courtesy of King Galleries.
I have been aware of Jason Wesaw's work for quite some time, but have only recently been able to add a ceramic piece by the artist to my collection.  Wesaw is a multi-dimensional artist who produces drawings, ceramics, textiles, photographic works, and music.  The artist's strongest influences come from his Pokagon Band of Potawatomi heritage.  Although the Potawatomi do not have a particularly strong ceramic tradition, Wesaw believes that with his ceramic works he is reviving his tribe's connection to pottery by harvesting clay from areas near Lake Michigan.  Through his artwork, Wesaw hopes to make the viewer aware of Potawatomi culture and traditions.
Much of Jason Wesaw's work is spare, employing lines and highly stylized geometric forms as well as strong colors, which have symbolic significance for the artist.  His use of line and color is decidedly minimalist.     Woodpecker and the other works (Blue Jay, Robin, Cardinal) in Wesaw's series of jars portraying birds are a radical departure for him.  Generally, his work employs abstract rather than realistic imagery.  These "bird jars" represent the Potawatomi connection to birds, animals, and all of Nature.  Woodpecker, like the other pieces in the series, contains a single painted bird as the design with silver luster geometric shapes surrounding the jar.  As with all of his ceramic work, glazes and underglazes were used in the creation of the jar and the top of the lid sprouts a dyed deer tail.    Wesaw sees the life force in all things and represents it in his  ceramics through bold colors and simple patterns.  The vessel symbolizes the body, which contains the spirit.  The deer tail suggests the emergence of this spirit.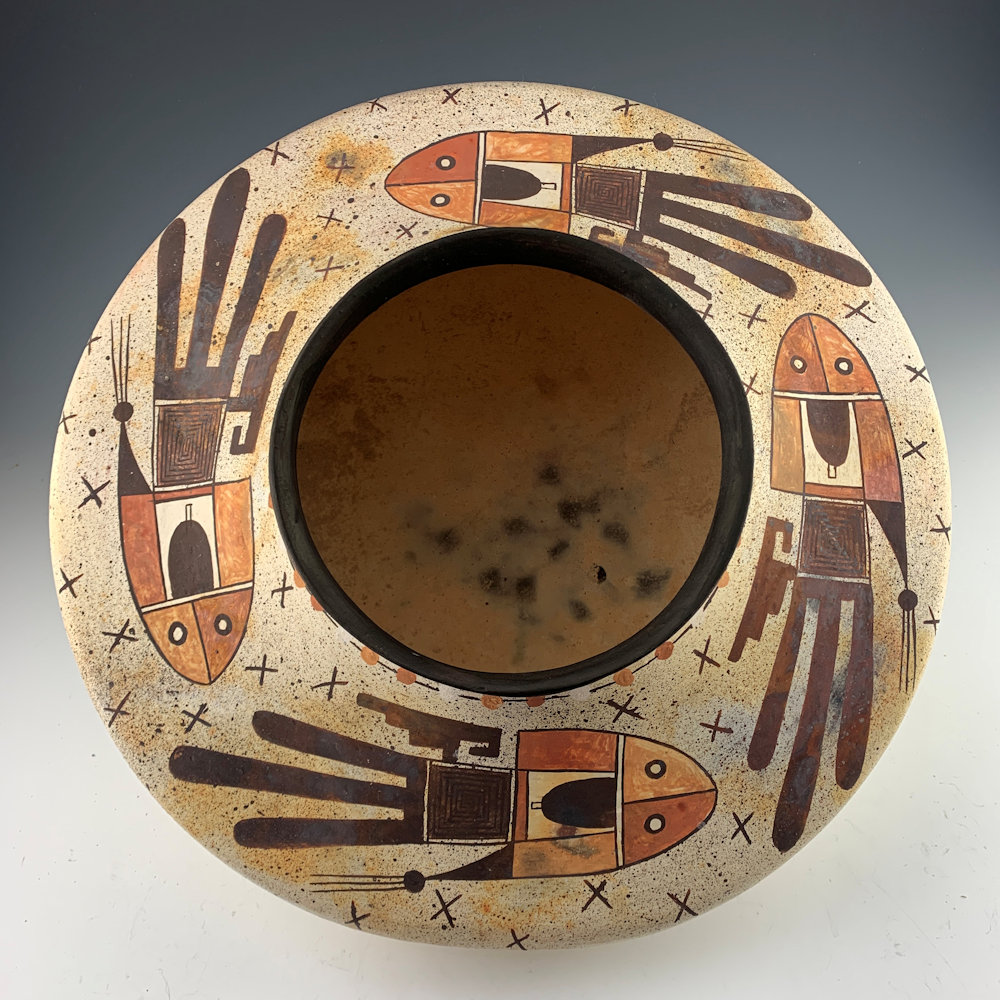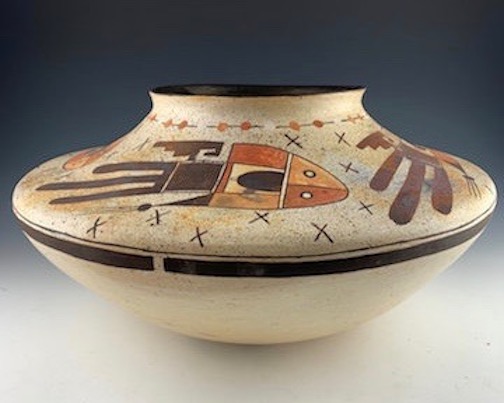 Cloud Beings and Bird Designs by Bobby Silas, Hopi-Tewa, natural clay slips, and bee-weed/mustard plant for the black, 14" w x 7"h, (2019).  Collection of E. J. Guarino.  Photos courtesy of King Galleries.
As soon as I saw ceramic pieces by Bobby Silas I knew that I wanted to add his work to my collection.  It was just a matter of timing.  Silas creates vessels inspired by Siktayki pottery, a distinctive style created by Hopi potters between 1100 and 1600.  In the Hopi language, Siktayki means "Yellow House" and refers to a Pueblo ruin in northeastern Arizona where this type of pottery was first uncovered.   When examples of this ancient pottery form were unearthed by archaeologists in the late 1800s, they caused quite a stir, especially on the Hopi Mesas where Nampeyo of Hano took inspiration from these works, which were often just shards. She visited ancient ruins where she studied the designs of the ancient Siktayki pottery, drew them on paper, and incorporated them into her own pots.
Following in the tradition of Nampeyo and the Siktayki potters, Bobby Silas creates stunning polychrome vessels using local clay from the Hopi lands and firing techniques similar to those utilized by the ancients.  He also seeks out lignite coal, which was used by the Siktayki potters.  Because this coal burns at an extremely high temperature it creates a distinctive coloration and makes pieces fired in this way extremely strong.
Silas's Cloud Beings and Bird Designs vessel is particularly striking.   With Its extremely wide shoulder and slightly turned out rim, the shape is classic Sikyatki.  This large piece is thin-walled and decorated on top with what the artist terms "cloud beings".  Each has a bird on its back and is surrounded by stars.  The brightly colored areas of the pot are all derived from natural clay slips such as bee-weed/mustard plant for the black.  These images are extremely painterly, something for which Silas is becoming known.  Although the body of the work has off-white coloration, because of the use of lignite coal in the firing process, the blushes across the surface are different in coloration from those usually produced by classic manure firings.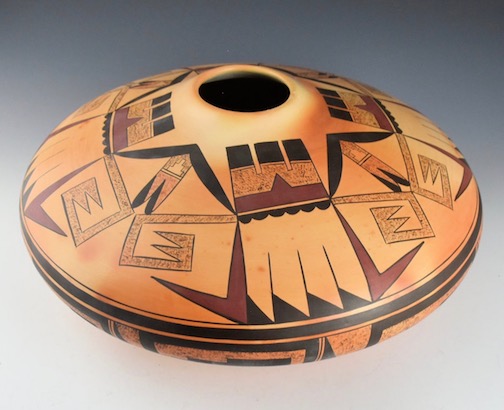 Wide Eagle Tail jar by Debbie Clashin, Hopi-Tewa, natural clay slips, 13"w x 6"h, (2020).  Collection of E. J. Guarino.  Photos courtesy of King Galleries.
              Debbie Clashin's large, exquisitely decorated jars immediately impressed me.  Whether she has created wide jars with small openings that resemble flying saucers, massive storage jars, tall jars that look like beakers, or sizable plates, her work can only be described as elegant.  Not only are Debbie Clashin's vessels hand coiled and painted with Native clays and slips, but they are also traditionally fired, which makes them even more astonishing because the more massive a piece is the more likely it is that it will not survive the firing process.  Each vessel is decorated with the artist's stylized interpretations of ancient Hopi symbols, particularly from the Awatovi Ruins, an archaeological site on the Hopi Mesas.  When Clashin's Wide Eagle Tail jar became available I immediately acquired it, knowing that it is one of her most beautiful creations.
For over fifteen years the ceramics I collected were decidedly traditional.  However, in 2002 the course of my collecting was changed forever when I saw the first installment of Changing Hands: Art Without Reservation, curated by Ellen Taubman and David Revere McFadden.  Needless-to-say, the two subsequent exhibits in the series also introduced me to art and artists that were totally new to me.  If not for Changing Hands most of the art that is currently my collection, particularly the ceramic works, would not be there.  Because of those three exhibits, I am constantly looking for work that is thought provoking, pushes boundaries, and is visually exciting.  The ceramic works created by Susan Folwell, Jason Wesaw, Bobby Silas, and Debbie Clashin certainly fit those criteria.