As a former teacher, I tend to view all educational institutions with a critical eye and, it would be fair to say that, it takes a great deal to impress me.  It seems that there is often so much cant where education is concerned.  However, a school that clearly fosters learning, artistic talent and a love of art, rather than teaching to tests, gets my attention.  That was my impression on a recent visit to the Institute of American Indian Arts in Santa Fe where I met administrators, teachers and students all happily devoted to a love of learning.  While there I met quite a number of student artists.  To my surprise and delight, not all of the students were in their twenties but were of varying ages.  I was also fortunate enough to be at IAIA for "A Tribute to the Mentors," an exhibit of student art.  What I saw was amazing.  Clearly, IAIA is doing something right.  Pieces by Justus Benally, Terrance Clifford, Shaun Beyale and Terran Last Gun (see "Back to the Future", Part 1)  certainly caught my attention but I am also intrigued by the work of Dawning Pollen, Sharon Lewis, Heidi Brandow, Laura Walkingstick, and Carly Feddersen.  Like their male counterparts, these female artists are creating interesting and powerful works in a variety of media.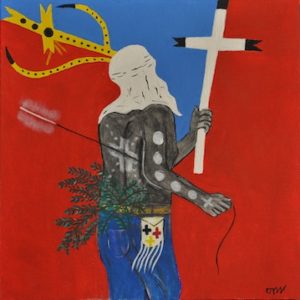 Untitled (Dancer, Whiteriver, AZ) by Dawning Pollen, Taos Pueblo, acrylic paint on canvas, 12" x 12" (2014).  Photo courtesy of the artist
          The first time I saw Dawning Pollen's untitled painting of a dancer from Whiteriver, Arizona I knew that I was looking at something very special.  The artist was not simply documenting a particular activity or producing a portrait of a specific person.  In creating this image of a Native dancer, Pollen's work is also an exploration of form and color and, as such, boldly captures the viewer's attention.   Although the artist is from Taos Pueblo, she was inspired by Whiteriver Apache Crown dancers.  The Crown Dancers consist of five men, four representing the cardinal directions while the fifth is considered a clown or trickster who protects the others and the ceremony by driving away evil beings with his bull-roarer, a slender piece of wood suspended from a string which the dancer swings in a circle to produce a humming sound.  These men represent the Gaan, or Mountain Spirits and are also referred to as Mountain Spirit Dancers  The figure in Pollen's painting represents a clown since he carries a bull-roarer.  His body and crown are decorated with sacred symbols and he also holds an Apache cross, which stands for the four sacred directions.  The dancer also bears an evergreen branch, which symbolizes the Gaan's mountain home.  During the ceremony, the men embody the Mountain Spirits who are very important to the Apache people.  These spiritual beings were sent by Usen, the Creator to teach them how to live in harmony and to protect them from epidemics and from their enemies.  According to Ms. Pollen, "At my pueblo they are said to come from the stars.  They bless the people through their song and dance.  Only men are allowed to participate.  They dance during the night around a fire; they dance in the daylight, too."
According to the artist, the color choice of red, white and blue was intentional, indicating patriotism and that she is an American artist of Native ancestry.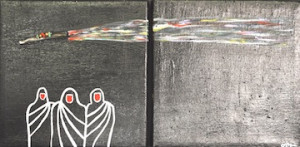 Untitled (Watching the Night Sky) diptych by Dawning Pollen, Taos Pueblo, acrylic paint, abalone shell, turquoise, coral, brass beads, each section 6" x 6" (2014).  Photo courtesy of the artist.
             Painted in a sparse style with applications of abalone shell, turquoise, coral and brass beads, Dawning Pollen's untitled diptych is at once mysterious and mystical.  According to the artist, "It's a painting about men from my pueblo (Taos) who are watching the sky at night, trying to determine what ceremonies need to be done.  The comet or shooting star is above them . . . ."
The three figures, created with a few lines, have a timeless quality against the blackness of the canvas, which suggests the vastness of the heavens while the three dimensional additions give the work color and a textual quality.  Because they are composed of just a few lines and each face is a patch of red, these enigmatic figures become symbols of the human quest to find something beyond mere earthly existence.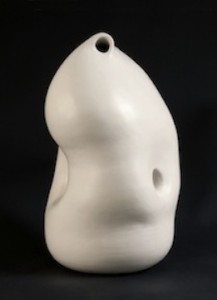 Untitled by Sharon Lewis, Acoma, white earthenware vessel form, 17" x 34" x 12" (2013). Photo courtesy of the artist.
            When most people think of art produced by Native Americans pottery is often the first thing that comes to mind.  However, many contemporary Native ceramic artists are challenging rigid constructs that would narrowly define what they can and cannot create.  Among them is Sharon Lewis whose work is focused on creating sculptural and abstract ceramic pieces.  Lewis' work is a combination of what many would consider traditional and non-traditional: She hand builds each vessel with white earthenware commercial clay using coil and slab construction; she next applies a white commercial terra sigillata, an ultra refined clay slip, to the form's surface; it is then burnished with a soft cloth for a satiny finish; then the piece is fired in a kiln."  For some, the idea of a Native ceramic artist incorporating commercial elements and using a kiln is tantamount to sacrilege, though it is something other American artists do all the time.  In an Email correspondence, Ms. Lewis explained, "I believe that all clay comes from the earth and has spiritual value. . . .  I have done traditional firings, but I would like to explore different types of firings. . . .  With my schooling, I feel it is appropriate to break away from my tradition, still keeping in mind the legacy that was passed down by my ancestors.  Perhaps, my approach will lead to a new legacy that continues to honor my ancestral tradition. . . ."  Ms. Lewis added, " As I work I think about the songs and prayers that accompany traditional pottery making and the spirit of the earth and clay.  I create work that constantly evolves in form, yet retains my Native traditions. . . .  These vessel forms have an organic quality to them that evolved from the combination of contemporary ceramics inspired by older ideas. . . .  When I create, I envision the legacy of Acoma Pueblo women crafting pottery a hundred years ago."
Much of the artist's work is suggestive of the human form.  About this aspect of her art the artist said, ". . . I allow my intuition to create shapes that incorporate contemporary abstractions of the female form to capture the essence of the feminine within each vessel. . . .  The vision of each vessel as an individual person being transferred into a new contemporary form is how I connect to each piece. . . .  The vessels sometimes have soft curves or a swelling belly that implies child bearing . . . .  I think about what a Native woman's body looked like in historic times and what most Native women look like today."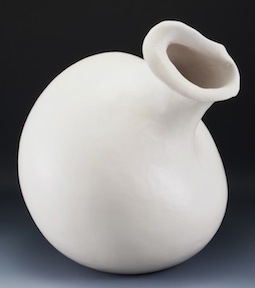 Untitled (Stomach) by Sharon Lewis, Acoma, white earthenware vessel, 14" x 33" x 10" (2013). Photo courtesy of the artist.
             In addition to her biomorphic vessels that suggest the female form, Sharon Lewis is also inspired by other aspects of the human body.  One of her pieces takes it shape from an internal organ.  Commenting on this vessel, the artist said, "The pots emerge more from my memories of childhood, such as memories of my mother and food.  Food for me represents mother, love, affection and security.  In thinking about this, it led me to create a vessel resembling a stomach.  The stomach is also where our deepest intuition resides.  This is where we get a 'gut feeling' of what is right or wrong."
            Although she realizes that her work is considered unconventional by traditionalists Ms. Lewis said, "I would like to think that someday my work will be considered traditional because everything changes. . . .  Hopefully, my work will stimulate dialogue among viewers and other artists."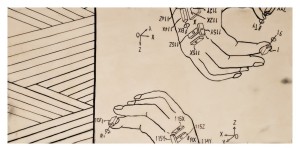 Object: Hand + Mechanism by Heidi K. Brandow, Native Hawaiian & Diné (Navajo), mixed media on panel, 24" x 48" (2013).  Photo courtesy of the artist.
            The work of Heidi K. Brandow was brought to my attention by Andrea Hanley, the Museum Membership & Program Manager for the Museum of Contemporary Native Arts, and by fellow artist Dawning Pollen.  A painter, printmaker and draughtsman, some of Brandow's work incorporates images of strange and colorful figures reminiscent of video games, cartoons and the work of Japanese artist Takashi Murakami.
For the past year, the artist has been working on a series titled object/objectification about which she stated, "Post-colonial theory suggests the process of 'gendering' as a socially constructed concept with implications of oppression and control, imposed by Western hegemony.  This process is reflected in the assumption of authority over land, people, and animals. Remnants of this assumption are evident in examples such as the following: human initiated land changes, dominance over animals, and a growing disregard for humanity. This series of work examines this theory as it occurs in human relationship to objects, while also noting the eventual transformation to the process of objectification." Object: Hand + Mechanism is part of the series.  In this mixed media work Ms. Brandow has drawn the human hand with draughtsman-like precision but each appears to contain a non-human mechanism resembling computer parts.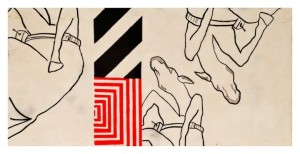 Object: Animal + Mechanism by Heidi K. Brandow, Native Hawaiian & Diné (Navajo), mixed media on panel, 24" x 48" (2013).  Permanent collection of the Museum of Contemporary Native Arts.  Photo courtesy of the artist.
 Object: Animal + Mechanism is also part of Brandow's object/objectification series.  In this work, rather than a human hand, the viewer is confronted with images of horses but each has some sort of mechanical device wrapped around its middle.  Of the works in her current series Ms. Brandow  stated, " . . .  I am conveying my observations on human relationship(s) to objects (mechanical devices, technology) and animals. Visually, I am interested in conveying my sense of a discord that exists between the juxtaposition of electronic devices or mechanisms and the human form.  Simultaneously I also find that there is, and can be, some type of harmony that exists between the two. Perhaps this eludes to the enduring human fascination with technology, its applications, and possibilities in human life. "
Ms. Brandow is a graduate of IAIA and is currently represented by the Zane Bennett Gallery in Santa Fe.
When Andrea Hanley also suggested I look at the work of Laura Walkingstick I had no idea of what to expect.  What I eventually saw, however, fascinated me because Ms. Walkingstick's art defies easy categorization.
The artist draws inspiration from the world of children, particularly dolls and other playthings, but her creations are art, not toys.  Although she has been influenced by the work of Richard and Berdina Crowe, who make Cherokee wooden dolls, Ms. Walkingstick's art is based on narratives of her mother's childhood experiences and her own memories.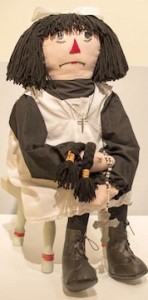 Boarding School Ann by Laura Walkingstick, Eastern Band Cherokee, cloth, copper, leather, nickel silver, glass beads, fresh water pearls, 3ft tall (2013).  Photo courtesy of the Louva Hartwell.
          Although it references the classic Raggedy Ann doll, Boarding School Ann wears a frown rather than a smile, has drab clothes instead of a colorful frock and she holds a Rosary and her braids have been cut off as was often done to Native children at Indian boarding schools.  According to the artist, "Boarding school Ann is about my mother's boarding school experience.  She couldn't speak English and was punished with her mouth being washed out with soap.  My mother's name is Ann and my dad's name is Andy.  My mother was too poor to have toys. She grew up during the 1940's.  I researched the height of boarding school era and found it was during the time Raggedy Ann was created.  Hence, 'Boarding School Ann' for Native little girls.  Ann also has the I Love You heart on the chest, but her heart is broken."  This piece can be described both as a soft sculpture or as an installation piece.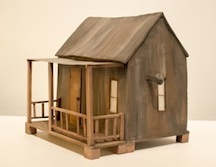 Exterior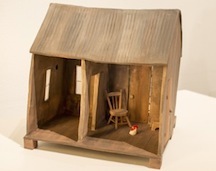 Interior
Ann's Doll House by Laura Walkingstick, Eastern Band Cherokee, clay wood, copper, brass, plastic chicken head, 12" x 12" x 13" (2014).  Photo courtesy of Louva Hartwell.
Translation: My Chicken (Rooster) Story  –  One time all of us kids sat on the floor as my grandmother told us some scary stories, and there was a hole in the floor. All of our chickens would roost under the house and some would go in the trees. This rooster was tall and black. That night my grandmother was telling scary stories. That black rooster popped its head through that hole in the floor and scared all of us kids, and we didn't know which way to run. The house was almost dark. The only light we had in our house was a small oil lamp and fireplace. However, that was one of my funny stories my children and grandchildren like to hear.
– Ann Walkingstick-Arneach
Translation: My Cat (Kitten) Story  –  Back when I was a little girl, I use to look at books and see kids on a bed with a cat or dog reading. I use to think how nice and warm it would be if I had a pet to put on my bed. However, my grandmother would never let us do that. One day one of our cats had baby cats; you know what went on in my mind…The mother cat had her babies in a box outside and under our house. After two or three weeks, I had to have one of those kittens. So that night I waited until everyone was asleep then I got up, went outside and under the house, and got myself a kitten to sleep with. I could hear the kitten purr and I must have gone to sleep listening to the kitten. Next thing I knew it was morning. I could hear my grandmother in the kitchen. I got up so fast and looked for the kitten before my grandmother found out. I looked under my bed and covers and I didn't see it, so I went to change my nightclothes. I was taking off my nightgown, and I found the kitten hanging on the back of my night gown- dead. I had laid on it during the night. I pulled the kitten off my gown, ran, and put it back into the box with the others. Later on, that day my grandmother asked us if we knew that one of the kittens was dead. I didn't say a word. I was too scared to tell my brothers and sisters that I had laid on the kitten. I never had any luck having pets.
– Ann Walkingstick-Arneach
A sculpture, an installation piece, a mixed media work with objets trouvés – Ann's Doll House can be said to fit all of these categories.  Based on her mother's childhood memories, the artist said, "This is a doll house to represent the house my mother grew up in.  It was over 100 years old and made of wood planks. It was a four room house with an outhouse and two bedrooms.  I centered the attention on the living area where there is an adult wooden chair and a child's wooden chair.  Her grandmother was telling scary stories when a chicken popped it's head through the knot hole in the floor.  Doll houses were represented by ones wealth because only wealthy people could afford to collect doll houses. Today, little girls have plastic Barbie Dream Houses.  My mother didn't know any different."  There is another surprising aspect toAnn's Doll House: it has a sound component.  ". . . it has my mom telling her childhood stories in Cherokee about the rooster and the other about a kitten," Ms. Walkingstick stated.  "Because she was punished in boarding school for speaking Cherokee, I allow her to freely speak Cherokee about her childhood I want people to hear her beautiful language."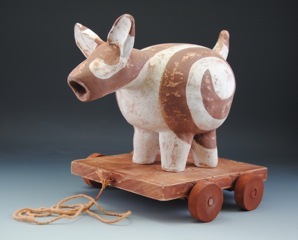 Rez Dog Pull Toy by Laura Walkingstick, Eastern Band Cherokee, clay, wood, metal, cotton string, acrylic, 12" x 8" x 9" (2013).  Permanent collection of the Museum of Contemporary Native Arts.  Photo courtesy of the artist.
           Rez Dog Pull Toy is a mixed media ceramic work that has a somewhat surreal quality that was inspired by Mississippian dog effigies as well as the  childhood memories of the artist's mother.  "This is about my mother," the artist said, "and the reservation dogs she played with since she didn't have toys. She would say, 'Children don't have an imagination today.' She would pretend the dogs were her baby dolls. Research shows dogs have been around for ages and are considered Man's Best Friend. How appropriate to make it a 1950's pull toy to represent the Mississippian effigy of a dog."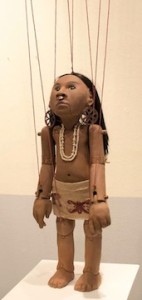 Control is Not Forever by Laura Walkingstick, Eastern Band Cherokee, clay, copper, bone beads, cloth, leather, wood, synthetic hair, acrylic, 25"h x 10"w (2014).  Photo courtesy of Louva Hartwell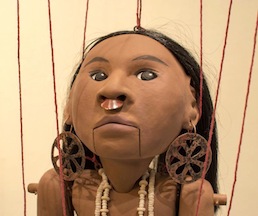 Control is Not Forever (detail).
          Although to the most superficial observer Control is Not Forever might appear to be simply a marionette, it is actually an emotionally powerful form of sculpture.  Because it looks so familiar and accessible, the viewer is drawn in, at first unaware of the darker aspects of the piece.  "My father told me he use to put on puppet shows for the neighbor children.  I once had a bird marionette as a little girl," Ms.Walkingstick stated.  "This piece is about control.  As an only daughter of my father, he was always protective of me.  I was almost kidnapped at the age of 4 in the 1970's.  This young girl is innocent, strong, determined and under the control of the wooden controller.  Red strings represents authority and are attached to her body.  She maintains her strong will and determination to become free."  Pondering just who is "pulling the strings" is open to a number of interpretations, which makes the piece endlessly intriguing.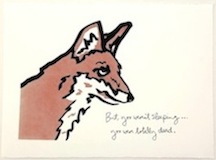 Fox Says by by Carly Feddersen, Colville Confederated Tribes: Okanagan, Arrow Lakes.  screen print, 11" x 15" (2014).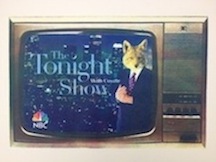 Tonight Show With Coyote by Carly Feddersen,  Colville Confederated Tribes: Okanagan, Arrow  Lakes, CYMK screen print, 15" x 22" (2014). Photos courtesy of the artist.
Recommended by fellow IAIA artist, Sharon Lewis, Carly Feddersen's art was another surprise.  Currently, Ms. Feddersen is concentrating predominantly on printmaking.  She draws inspiration from the traditional stories of the Plateau people, pop culture and the work of her uncle, famed artist, Joe Feddersen.  A number of the artist's works employ the character of Coyote or Fox, underscoring the humor and irony that are important aspects of Feddersen's work.  For many Native American groups, Fox and, more often, Coyote are important culture figures.  They are noted for their sly intelligence and stealthy behavior and are most often portrayed as tricksters.  These two characters usually give sacred gifts to humans but also demonstrate the outcome of bad behavior by illustrating human shortcomings.  They can also be a creative force, educating and helping humans though they embody a comic paradox – clever as well as foolish; teacher as well as troublemaker.  Most often, their lack of foresight gets them into trouble but their cleverness gets them out of it.  No matter how difficult a situation Fox or Coyote may find themselves in, they always survive.
In prints such as Fox Says and Tonight Show With Coyote, these two characters are given a contemporary incarnation.  In Fox Says, the wily creature tries to excuse, if not downright lie, his way out of an awkward situation, not unlike many of his human counterparts.  ". . . I strive to amuse people through my art."  Feddersen stated, "When I created Fox Says, I wanted to illustrate Fox's role in resurrecting Coyote when he accidentally kills himself.  In stories from the Plateau, Fox jumps over Coyote's body and brings him back to life but Coyote always wakes as if he's been napping."
Tonight Show With Coyote casts the iconic animal as a TV personality, suggesting that Coyote's role and that of the Tonight Show's host are quite similar – to hold up to ridicule human vices and foibles, especially with regard to those in positions of power.  According to Feddersen, "Tonight Show With Coyote is something that came out of the desire to put Coyote in modern context/popular culture and see where his place would be. With his talent for imitation and playfulness, hosting late night television seemed a natural fit."
Meeting so many artists who studied at IAIA has been enlightening.  These men and women, of varying ages, are willing to experiment with media that are thought of as traditional and also to explore those that are considered non-traditional.  In some cases there is a blending of the two.   Artists who study at IAIA are acutely aware that they are influencing the course of Native American art.  While looking to the future, they continue to draw inspiration from a culturally rich past.