Late in her life, Inuit artist Napachie Pootogook began to create a series of drawings documenting life as it was once lived by her people, thereby creating a body of work the likes of which had not been seen before.  At the time Napachie produced these works, what collectors, curators and the general public wanted and what they mostly got were benign images of Arctic wildlife and, for the most part, romanticized versions of traditional life as it was once lived on the land.  What Napachie created was something very different and very daring.  In addition to portraying the positive side of Inuit culture such as social gatherings and historical events, she also he revealed many things that she found deeply troubling, which others would have preferred to have kept hidden.  Many of these drawings were exhibited as part of a larger body of work in the spring of 2004 at the Winnipeg Art Gallery (WAG) and the following year at the National Gallery of Canada.  At that time, noted archeologist and art historian, Jane Sproull Thomson wrote that these works were "far removed from the familiar, tourist-friendly Arctic. They illustrated real events and real people, incorporating into each drawing a section of syllabic text to explain the circumstances and the people depicted. They were honest, authentic and intensely personal."
Unlike the work of her mother, Pitseolak Ashoona, Napachie's drawings often deal with the darker aspects of traditional life.  She wanted to document Inuit culture as it was, not as people imagined it.  Napachie created drawings that showed what it took to survive in the harsh Arctic environment, contact with non-Inuit, myths, legends and local history, happy social events such as singing, dancing and athletic contests as well as scenes of hunting and fishing.  However, she also dared to produce works that depicted prejudices, jealousy, violence, murder, suicide, child and spousal abuse, alcoholism, theft, rape, the sexual exploitation of women and, perhaps most shocking of all, cannibalism.
Although the subject matter of Napachie's drawings was often intense, each work was beautifully executed with an exquisite use of line.  With regard to the final drawings, Pat Feheley, owner of Feheley Fine Arts and an expert on Inuit art, wrote, "Her drawing style was also greatly different from before, including full use of the sheet, energized lines and inclusion of landscape and text."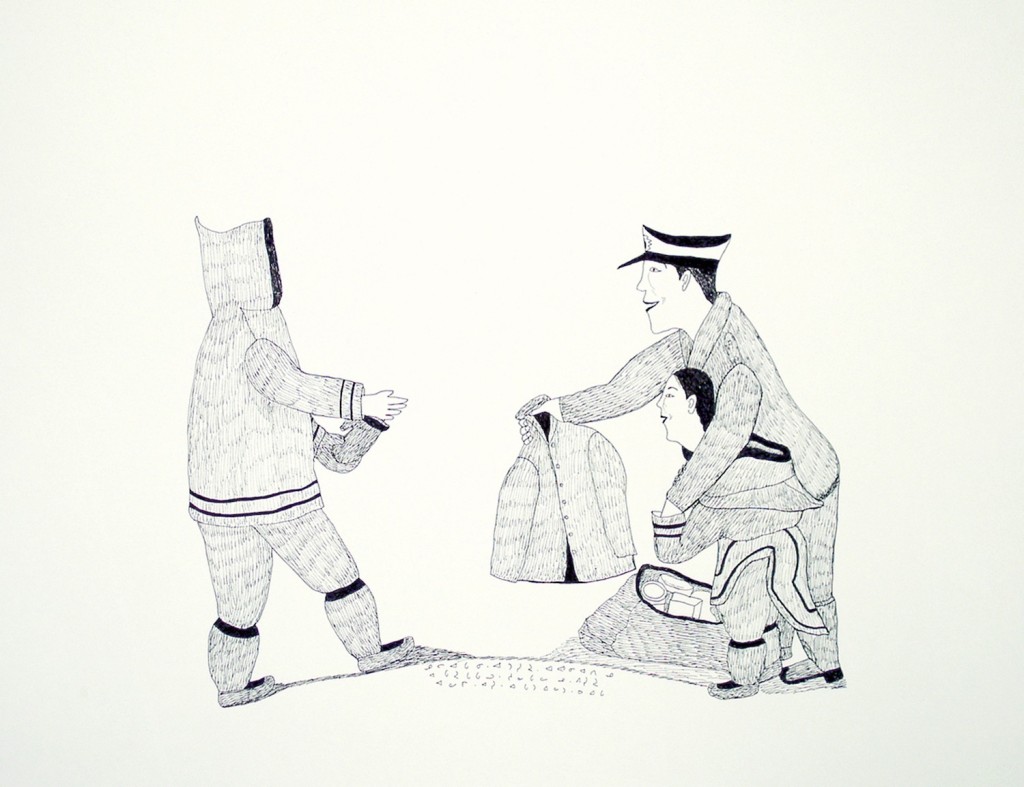 Trading Women for Supplies by Napachie Pootoogook, Ink, Inuit, Cape Dorset,20" x 26" (1997/98).  Collection of E. J. Guarino
 Translation of the artist's Inuktitut incription: "The captain from the bowhead whale hunting ship is trading materials and supplies for the women. As usual, the man agrees without hesitation."
Trading Women for Supplies documents the sexual exploitation of Inuit women by men – Inuit and non-Inuit.  In a 1991 interview with author Odettte Leroux, the former Curator of Contemporary Inuit Art at the Canadian Museum of Civilization, Napachie said, "As for the historic scenes, I have not actually seen them.  I used to know some half Inuit a long time ago and I heard tales, that is why I have that style.  I heard that the men used to trade their wives for some kinds of things – like tobacco or other things, with the white sailors.  That is why there are half Inuit – it's because the sailors used to want women for an exchange of things even when or if a woman had a husband.  I have depicted that scene from the things I heard about in the past, not because I have seen something like that happening."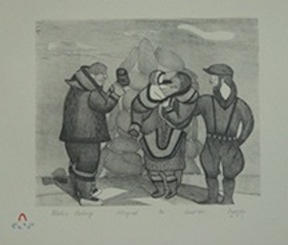 Whaler's Exchange by Napachie Pootoogook, lithograph, Cape Dorset, 20" x 16," Cape Dorset Annual Print Collection, #21, edition of 50, (1989).  Collection of E. J. Guarino
This subject was obviously troubling to Napachie who made a number of drawings about it but also earlier produced Whaler's Exchange, a 1989 print.  Again, speaking in a 1991 interview with Odettte Leroux, the artist said the following about this work: "This one [to the right] is a white man, and these are a couple – I depicted a white man asking to use the man's wife for a pot of tobacco in return.  The Inuit men used to consent for their wives to be used by a white man."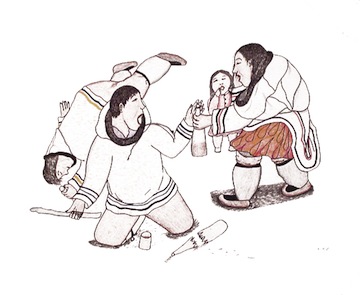 Untitled (Alcohol) by Napachie Pootoogook, pencil crayon and ink, Inuit, Cape Dorset, 20"h x 26"w (1993/94).  Collection of E. J. Guarino
           Among Native people, alcoholism is a sensitive topic and rightly so since much too often they have been stereotyped as drunks.  Nonetheless, Napachie boldly took on this subject as a way to address her own struggles with alcohol in Untitled (Alcohol).  About this work Phillip Gevik, director of Gallery Phillip in Toronto, stated in an Email correspondence, "Napachie is known for depicting the realities, including the joys and the hardships, of Inuit life.  This scene is intended as social commentary – once Aboriginals began re-locating to communities, they began to partake in activities introduced to them by the white man.  One of these was, of course, the consumption of alcohol.  Napachie, in the Canadian Museum of Civilization Catalogue of her work, freely admits to her own use of alcohol because, quite simply, she assumed 'it was what [she] should do.'  In a short time, however, she quickly realized its negative effects, as she illustrates here: a mother, daughter in arm, tries to wrestle a liquor bottle away from her husband as a family member lies unconscious nearby."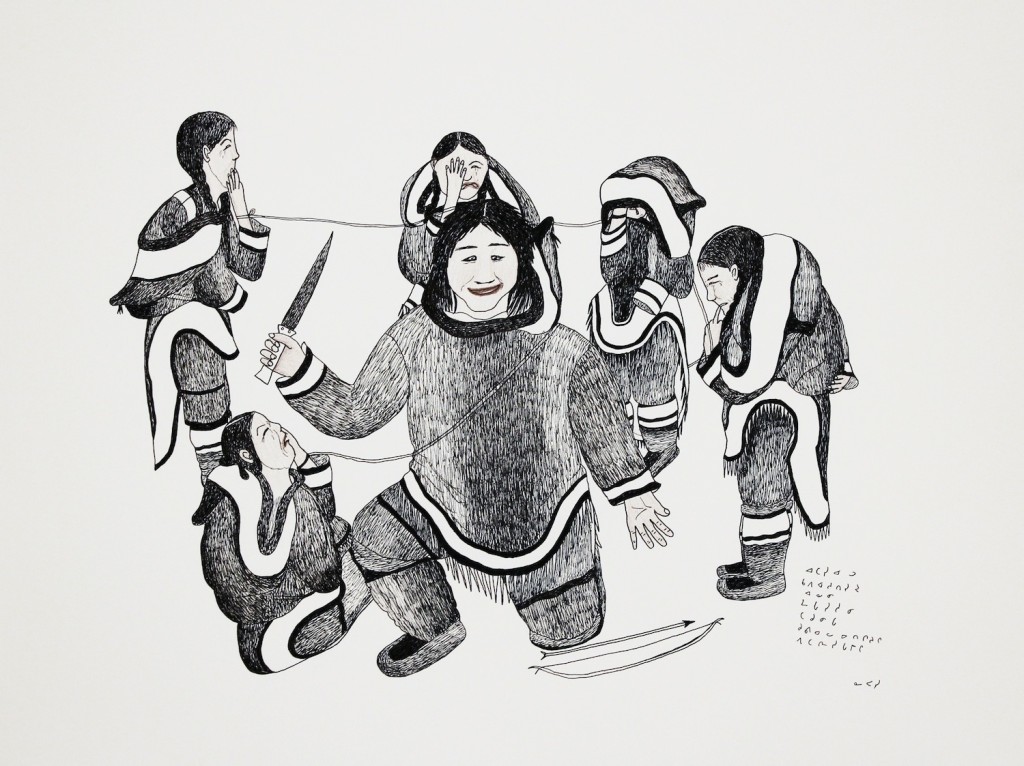 Male Dominance by Napachie Pootoogook, ink & colored pencil, Inuit, Cape Dorset, 26" x 20" (1995-1996).  Collection of E. J. Guarino
 Translation of artist's Inuktitut inscription: "Aatachaliuk is scaring women to ensure his domination, before he claims them as wives, after slaying his male enemies.  He did this to hide his soft side."
In Male Dominance, Napachie presents the viewer with another disturbing scene: a man who has murdered the husbands of five women so he can claim them as his own.  The man looks out from the page with a self-satisfied smile while the women, who are connected to each other and to the man by a rope, are clearly frightened and grief-stricken.  Inuit women were often abducted against their will to become a man's wife.  Sometimes, if a desired female was already married a man would simply kill her husband and claim her as his own.  Considering the vast expanses and harsh environment of the Arctic, there wasn't much the women could do, especially if they became pregnant. They were at the mercy of the man and all they could do was hope for the best.  If they resisted or rebelled, they were subjected to beatings.
Napachie created a similar piece titled Composition (Aatachialuk Hugging Women After Killing Their Husbands).  The artist's inscription reads: "Aatachialuk is trying to cheer up these women after killing their husbands.  He used to be very kind to the women and tried to keep them happy.  He made a large tent for the women to gather in."
Although the spelling of the man's name varyings in the two works, Napachie was referring to the same person.  In an Email correspondence, Brad van der Zanden, the gallery manager at Fehehely Fine Arts, explained, "Sometimes when we have the translations done the spelling can vary.  This person appears in a few of the drawings. . . .   I think Aatachialuk is the correct spelling."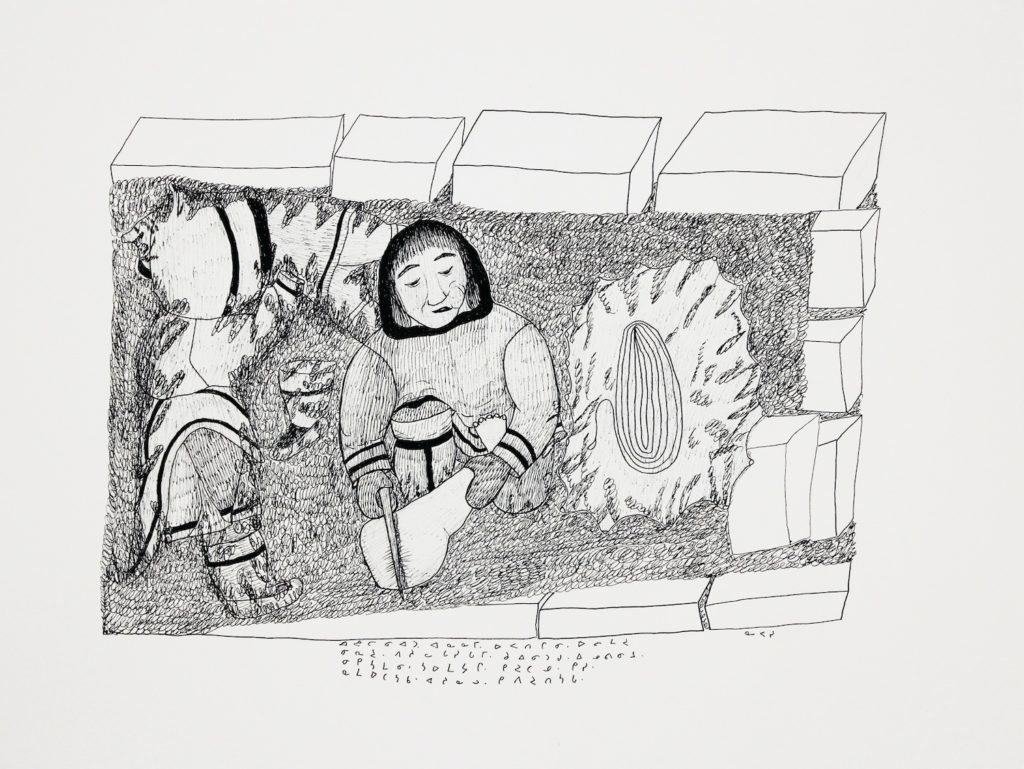 Composition (Eating His Mother's Remains) by Napachie Pootoogook, ink, Inuit, Cape Dorset, 20" x 26" (1999-2000).  Collection of E. J. Guarino
Translation of artist's Inuktitut inscription: "He is chopping up and eating his mother's rump before leaving.  He is also preparing to take the human remains by wrapping them in seal skin and using the rope to bind it."
Arguably the most shocking of Napachie's drawings, Composition (Eating His Mother's Remains) is, like all of the late works, exquisitely rendered.  The artist has taken a potentially explosive subject and handled it with sensitivity.  Although it has been practiced around the world and throughout human history for varying reasons, cannibalism is considered by many to be the ultimate taboo.  However, it was not part of Inuit cultural practice.  When it occurred it was the result of prolonged famine.  In an Email correspondence, Pat Feheley explained that Composition (Eating His Mother's Remains) " . . . is actually one of several drawings that we have about this incident.  Often Napachie would do a series of works about the same person or event.  It is not clear that she died naturally although nothing indicates that he had killed her.  Cannibalism certainly was prevalent during starvation times and I expect that someone had told Napachie about this particular man."
I first became aware of Napachie Pootoogook's controversial drawings in 1999 when I saw "Three Women, Three Generations: Drawings by Pitseolak Ashoona, Napachie Pootoogook and Shuvinai Ashoona" at the McMichael Canadian Art Collection.  The exhibit was a revelation since it included works dealing with aspects of Inuit culture that were unfamiliar to me.  I quickly realized that in order for my collection to show the depth and scope of Inuit graphic art it needed to contain such material.  I immediately determined to acquire examples of artwork dealing with the darker side of traditional Inuit life, especially those produced by Napachie Pootoogook.  In 2005, Trading Women for Supplies was the first such piece to enter the collection.  Six months later Untitled (Alcohol) was added.  It was another nine years before Male Dominance and Composition (Eating His Mother's Remains) were acquired.  Napachie, as most curators and collectors refer to her, made it possible for her daughter Annie Pootoogook, her nieces Shuvinai Ashoona and Siassie Kenneally, and her nephews Johnny Pootoogook and Itee Pootook to express their unique contemporary visions.  "She was the first artist," Pat Feheley stated, "to liberate drawing in Cape Dorset from the expected style and subject matter of traditional images, leading the way for so many."  Equally important is the fact that without Napachie's documentation of traditional Inuit customs and history they might be lost to future generations.
This article is dedicated to Pat Feheley in appreciation for her patience and support.