Most people would never connect a 1960s Hollywood movie about an ancient Egyptian queen, staring Elizabeth Taylor, with a Native artist and an Italian-American collector and expect the combination to result in a wok of art.  They would be surprised to learn that this very mixture produced Elizabeth as Cleopatra by Sarah Sense.
I was first introduced to Sarah Sense in March 2012 by Andrea Hanley who, at the time, was the director of a gallery and is currently Membership + Program Manager for the IAIA Museum of Contemporary Native Arts in Santa Fe.  At the time, I suggested to Sarah the idea for a commissioned piece based on Cleopatra but the idea didn't immediately intrigue her.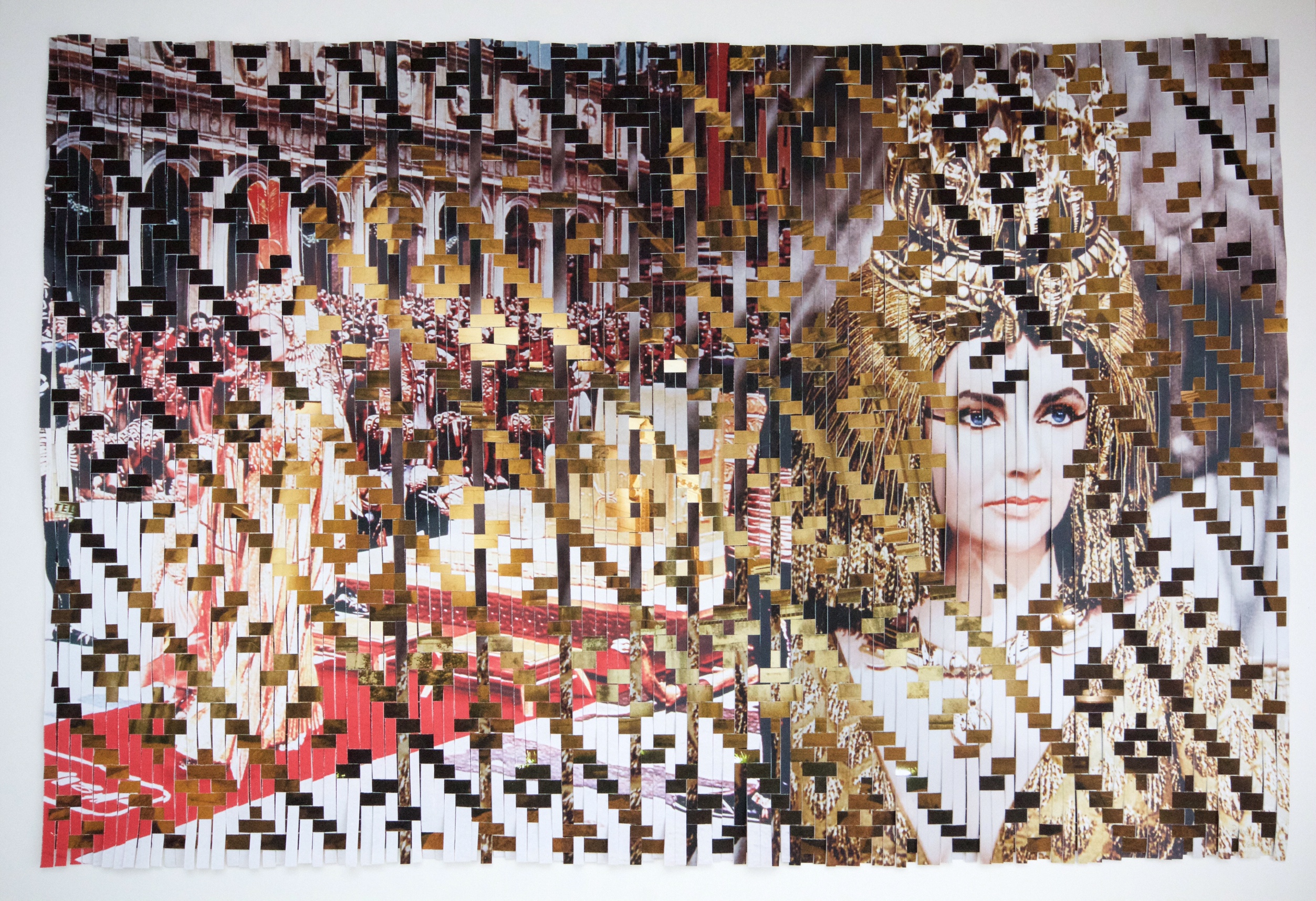 Elizabeth as Cleopatra by Sarah Sense, Chitimacha/Choctaw, archival inkjet prints, tape, 18" x 27" (2015).  Collection of E. J. Guarino.
I had seen the 1963 film starring Elizabeth Taylor when I was sixteen years old and it made a great impression on me.  I went on to study and, eventually, teach film and, over the years, it seemed to me that Cleopatra was better than the critics of the era had claimed.  It is one of the most opulent, expensive and, more importantly, literate films of the twentieth century.  The film's screenplay was written by Joseph L. Mankiewicz (who had won Academy Awards as director and writer for All About Eve), Ranald MacDougall and Sidney Buchman from a book by Carlo Maria Franzero.  The film was nominated for nine Academy Awards, including Best Picture and won four: Best Cinematography, color; Best Set Direction – Art Direction, color; Best Costume Design, color; and Best Special Effects.
Although an historical epic, I clearly remember that, at the time of its release, the love lives of it's stars far overshadowed the ancient scandal of Cleopatra and her two lovers, Julius Caesar and Mark Antony.  To this day, the torrid affair between Elizabeth Taylor and Richard Burton always seems to swirl around any discussion of the film.  Adding to the media frenzy was the fact that, although originally budgeted at $2 million dollars, the film became the most expensive film ever made at that time, eventually costing $31 million and almost bankrupting 20th Century Fox Studios.  Adding to this mix was the fact that Elizabeth Taylor signed a record-setting contract for the then unheard of sum of $1 million but, because of filming delays, her salary ballooned to $7 million.  All this became fodder for the gossip columns.
Elizabeth Taylor came to Cleopatra already mired in scandal and gossip.  When Taylor married Michael Todd, her third husband, in February 1957, crooner Eddie Fisher, who was married to Debbie Reynolds, America's sweetheart, was  the best man and Reynolds, matron of honor.  Shortly after Mike Todd's death, Taylor and Eddie Fisher began an affair.  He and Debbie Reynolds soon divorced.  This was the 1950s equivalent of the Jennifer Aniston, Brad Pitt, Angelina Jolie scandal of the early 2000s and was referred to in many publications as "The Scandal  of the Century", though Taylor and Fisher would soon be at the heart of, perhaps, an even bigger scandal.
During the filming of Cleopatra, which lasted from 1960 until 1963, Elizabeth Taylor met Richard Burton and the two began a very public affair, which made headlines worldwide since both were married to others – Taylor to Eddie Fisher and Burton to actress Sybil Williams.  At the time, there was so much moral outrage over the affair that even L'Osservatore Romano, the semi-official newspaper of the Vatican, weighed in by printing an Open Letter in which Elizabeth Taylor was criticized for her "erotic vagrancy".
When I originally proposed Cleopatra as a subject to Sense, I told her that the idea was completely intuitive.  I wasn't exactly sure what the connection was but I felt strongly that there was one.  To be honest, Sarah wasn't so sure.  To entice her, I Emailed her photos from the movie as well as film clips and urged her to see the entire picture, paying particular attention to the scene of Cleopatra's entry into Rome, one of the most spectacular in cinematic history.  At the time, the film was approaching its fiftieth anniversary.
At first, Sarah had doubts about the project.  Over the course of the next few years, we discussed it via Email, by phone, and during a couple of dinners when she was in New York.  By then, I more or less knew why the film, the historical figure and Sarah were connected in my mind.  As I explained my thinking, she warmed up to the idea and then got excited about it.  Once Sarah accepted the commission, I patiently waited to see what she would create.
In August 2014 Sarah Emailed me saying, "I am working on your Cleopatra piece.  I am thinking of using images from an Indian Princess photo shoot I did in New York in 2007. . . .  I am looking at all these fantastic gold accents and gold in contemporary fashion.  I am becoming obsessed with yellow gold, and thinking about the gaudiness of Cleopatra and contemporary fashion.  I think that your request is timely.  I am seeing a lot of 'Cleopatra-style' or, should we say, 'Hollywood's Cleopatra' influence in fashion right now.  It is the same as Native beauty being over-sexualized with Hollywood film.  I think you are on to something!"
Sarah then went on to explain her ideas for the piece.  "I was thinking of making the piece 11" x 33" or 16" by 60" . . . .  I am looking at movie posters and was thinking of three images, with a head shot on both sides of her with Richard Burton."  This was her original concept for the piece, which changed over time.  I indicated that the 16" x 60"  size concerned me because it would present storage issues.  I made one other suggestion: if possible, the dimensions of the piece should be 12″ x 36" so as to mimic 70 mm Todd-AO, the wide screen format in which the film was shot.  Sarah then recommended the work be 16" x 36".  Ultimately, the work's dimensions became 18″ x 27".
In my mind, the link between Sarah Sense, the Cleopatra of antiquity and the movie character was Sarah's own beauty, intelligence, creativity and strength of will.  Another factor was that she had previously referenced films in her Hollywood Series with works such as Gone With Him, which incorporated images from Gone With the Wind, so I was confident she would create something incredible.  However, more importantly, the historical Cleopatra desperately tried to prevent Egypt from being colonized by the Roman Empire.  I saw this as a connection to Native Americans who struggled against European colonizers.  Of course, the irony is that Cleopatra was a member of the Ptolemaic dynasty, which was of Macedonian Greek origin and ruled Egypt after Alexander the Great's death for 275 years. Throughout their dynasty, Ptolemaic rulers only spoke Greek, refusing to speak Egyptian.  Cleopatra, however, did learn to speak Egyptian and, to consolidate power, had herself depicted as the reincarnation of the great Egyptian goddess, Isis.
Ultimately, Sense decided to abandon her concept of using images from the 2007 Indian Princess photo shoot as well as her idea of incorporating headshots of Taylor and Burton.  Instead, she chose to focus on the scene of Cleopatra's entry into Rome, which I had originally suggested to her.
When Elizabeth as Cleopatra was completed I asked the artist to give me her thoughts on the piece.  She replied, "Cleopatra riddles me a bit . . . as I realize it raises a lot of questions – in some ways it seems that there is no connection to my work and in other ways it feels like there are some innate comparisons in linking theatrical with self-identity as an artist when using the self in the art.   Also, ties from relating personal experience with the acting or, in my case, personal experience affecting subject and concept."
I also posed a technical question about how the artist achieved a gold metallic quality in the image.  According to Sense, "The goldish color in the background image is the Diocletian Palace in Split, Croatia, shot in the evening so it really comes across gold in color."
The title of the piece intrigued me and I asked the artist how she came up with it.  She replied in detail: "Usually when I'm working on a piece a title grows on the piece. I start to call the art by name. Usually it's very simple or has a reference to color, concept, idea, or description of what is in the work. Rarely do I try to pack in a lot of information into a title, as I prefer for any complexity that may be in the piece to come through in the work itself. For Cleopatra, I started calling her Cleopatra, but I think that there is meaning in the actor, Elizabeth Taylor as well; we talked a lot about the artist/actor crossing over into the roles. Elizabeth becoming Cleopatra; her life as an actress having it's own dramas, particularly in shooting this film there is a story of her own romantic drama, that then can be played out in some ways through the film – which I believe is why you wanted the piece to be made. Often I find that when collectors want to commission a work, it is a sort of fantasy being played out.  There is an idea that is inspired by the artist's work or practice and then offering that association to the artist for creative interpretation is clearly driven by the collector's ideas. The conversation of the piece is actually the creation period. It's being made in my mind and then the physical creation happens.  It is difficult to do commissions. I always struggle with them to some extent."
The artist went on to say, "For Cleopatra, I think that you found a connection in the artist's personal life crossing over into the drama in the film, or her practice. I think that when you learned first hand through personal correspondence that my personal life was intimately woven into my Weaving Water series, you got this idea to connect imagery from your fantasy of Elizabeth Taylor and her hardships as an actress and then to my own hardships to creating something that really effected my personal life . . . .   I did go back and forth about including myself in this piece, but I think that as the maker I was in it without the literal imagery.  Since I included my photography of a palace in Split, Croatia, I was asserting my own experience.  I think that for these reasons, this piece should be called, Elizabeth as Cleopatra."
          I suspected that the commission had been a challenge for the artist and I asked her about it.  "I struggled with associations to the Chitimacha weaving. It took me a long time to make the piece, it was a very slow process for me.  These weaving patterns have been a part of my practice for eleven years now and they are a way that I express myself.  I prefer to communicate visually, and for me that visual communication is weaving.  What was hard about this commission was trying to honestly understand the connection to my self and my weaving practice. I finally realized that it was a relationship to the artist. Maybe you don't or didn't have a personal relationship with Elizabeth Taylor, but you do have a personal relationship with me.  And while you admire film, you are a collector of fine art. Once I came to realize these truths, it was easy for me to make the piece."
Since the commission had been difficult, I wondered how the artist had finally connected with the concept that had been proposed.  Once again, Sarah's response was fascinating.  "The ultimate connection," she stated, "would be my own personal romantic journey that I've been on for the past few years.  This personal drama that is a part of my life, a part of my art, my research.  I don't compartmentalize my life, I try to live my life connected – love, family, life, art, travel, research – it's all my reality and it is all what makes up my self and my life. This is what fascinates you about Hollywood gossip – and me too – I love it."
When I first suggested to Sarah Sense the idea of the Cleopatra Commission (as we referred to it for over two years) it was out of pure intuition.  I simply had a feeling that there was a connection between the artist, the historical figure, and the actress portraying her though I could not express it.  I knew that this would be a demanding commission for Sarah but, I also believed that ultimately, as an artist, she was up for the challenge.  When I received Elizabeth as Cleopatra I was stunned because I immediately realized that I was looking at a masterpiece.  As a collector, it was a dream come true.
The author would like to express his sincerest thanks to Sarah Sense for her art and her invaluable help with this article and to Andrea Hanley for introducing him to Sarah.